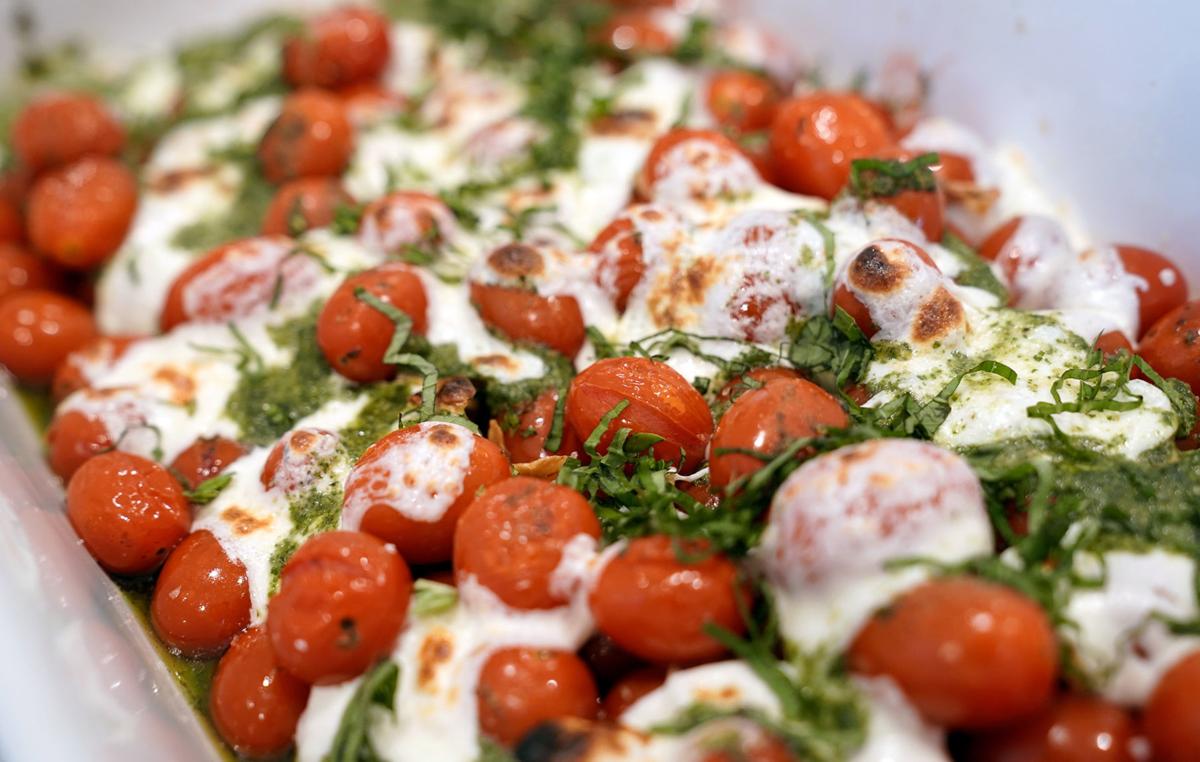 One of the best ways to take full advantage of our short Western New York summers is to visit as many area farmers markets as possible. It's an activity that has the coincident benefits of getting you outside, supporting the local economy, reducing your household's contributions to climate change (in-season produce and foods shipped shorter distances generally have a smaller carbon footprint) and—hopefully—increasing your consumption of nutritious plant-based foods.
But sometimes our eyes are bigger than our stomachs—and our crispers. When local produce is lush and abundant and attractively displayed, it's easy to buy way more than we know what to do with. If you have a CSA share, the challenge of using all those vegetables and herbs before they go bad can be even trickier since you have no control over your weekly allotment. A person can only make so many loaves of zucchini bread.
To help you make the most of your haul, we asked local chefs about their favorite local summer produce and how they like to cook with them at home.
Corn on the cob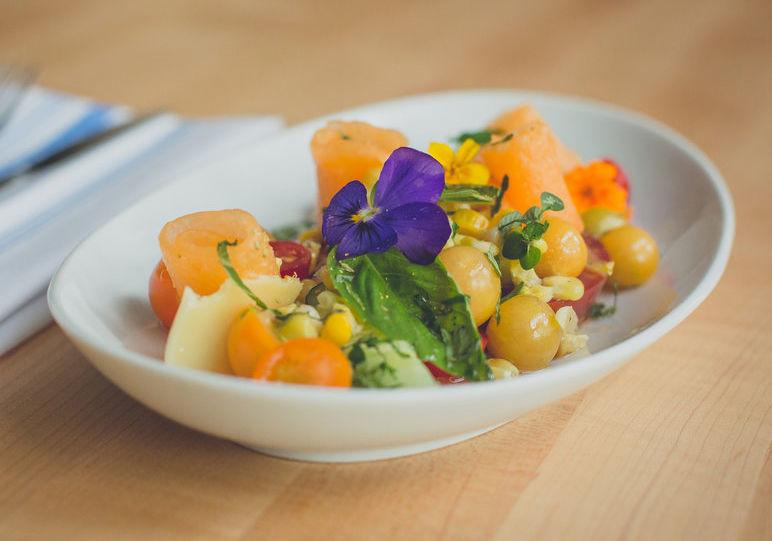 For many, local corn is a highlight of the season. At its best, the corn we eat fresh (as opposed to varieties used for grits and cornmeal) is complexly sweet and creamy thanks to high proportions of two forms of carbohydrate—simple sugars and water-soluble polysaccharides. Once picked, the simple sugars present in fresh corn rapidly convert to a third carbohydrate: starch. Starch is tasteless, tends toward chalkiness and robs corn of its natural sweetness, which is why corn should be eaten as quickly as possible after they're harvested.
That said, the propensity of simple sugars to convert to starch differ from cultivar to cultivar. Modern horticulture has made it so that some types of fresh corn are especially resistant to starch conversion, affording us sweeter, storage-friendly ears. Those same cultivars can also be lacking in water-soluble polysaccharides, however, depriving them of richness and that pleasantly milky mouthfeel. Which is only to say, your corn experience can vary widely depending on the type of corn you're eating, not to mention the particular conditions of the growing season.
All in all, though, fresh local corn is a godsend. So when it is available, generally mid-July through September, Brad Rowell, chef-owner of the Grange in Hamburg, makes sure to celebrate it. On the Grange's menu, corn pops up in many iterations, from a corn and pancetta pizza or corn soup with crème fraiche and pickled local peppers to a salad with mint over thinly sliced prosciutto. To keep the party going long past peak season, Rowell even pickles corn to serve on the Grange's pickle plate for months to come.
At home, Rowell likes to keep things simple. He recommends grilling shucked ears until they char and blister and then slathering them with preserved lemon-chili butter, which he describes as easy to prepare and great to have on hand year-round.
To make it, Rowell mixes one pound of the best butter he can get his hands on with one-quarter cup each chopped fresh parsley, mint, preserved lemon or lemon zest and pickled chilies or Calabrian chilies (or substitute a large pinch of chili flakes). Rowell promises that whatever butter you don't use on your corn freezes well for future use—if it makes it that far.
Tomatoes of all sizes, shapes and colors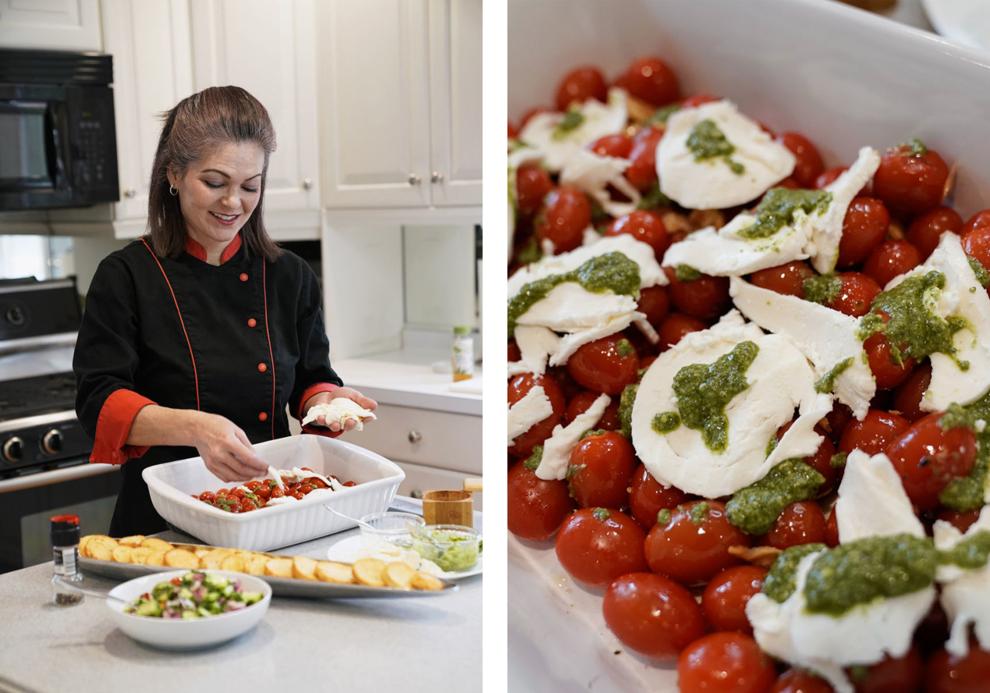 Vying for primacy in the hearts of locavores is the tomato in all its tart, bulbous, sometimes craggily forms.
Depending on the resource you consult, tomatoes are the second most consumed "vegetable" in the United States. (Botanically speaking, tomatoes are a fruit, but the U.S. Supreme Court ruled them vegetables in 1893 for tax purposes, and, culinarily, they are treated as such.) Contributing to their popularity and practical recategorization might very well be tomatoes' high concentration of glutamic acid—a compound that gives MSG and many animal proteins their characteristic savoriness.
Of course, not all tomatoes are created equal. The sweetest, most complexly perfumed tomatoes are those allowed to ripen to their fullest expression on the vine, as is the case with most of the local, in-season specimens you find at area farmers markets. Conversely, the tomatoes readily available in supermarkets year-round are picked while they're still green and underdeveloped but at their heartiest, making them easier to transport. The red color of supermarket tomatoes is spurred by a dosing of ethylene gas, which does nothing to improve their flavor.
What's more, many of the tomatoes found in supermarkets were genetically designed to look pretty on a shelf and withstand long freight journeys, all to the detriment of their taste. An added benefit of local tomato season is the availability of a wide range of heirloom and other obscure tomato varieties, each with their own distinct flavor profiles and cooking applications. Where one variety might be perfect for, say, stuffing with a grain salad, another might be ideally acidic and meaty for BLTs. A friendly farmer working the local market circuit will surely walk you through the differences among them.
Chef Linh, a classically trained personal chef with a nutrition-focused cooking ethos, looks forward to warmer weather precisely because of the promise of ripe local tomatoes it offers. She is especially fond of the bounty yielded by Oles Family farm in Alden, which distributes its produce to local restaurants and the general public through its Promised Land CSA program.
"They are not certified organic, but they have used organic practices for years, so it is what I use for all my clients," she testified.
Chef Linh, whose clients include busy Western New York families, professionals and NFL athletes, advises that tomatoes are best left on the counter because refrigeration is detrimental to their taste and texture.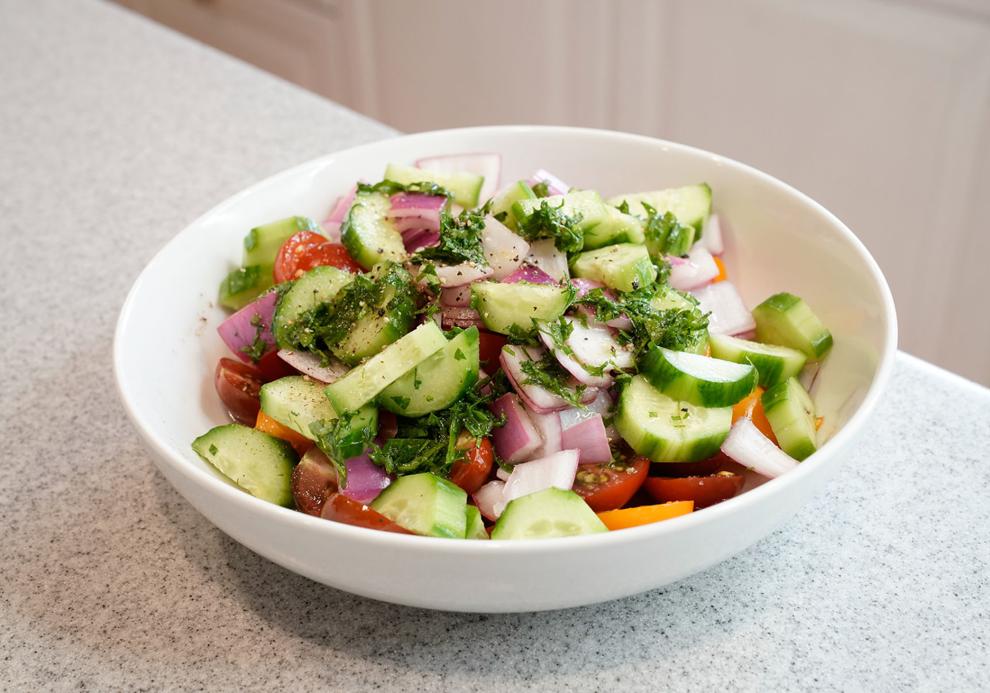 In her own kitchen, she likes to throw together a quick salad of chopped tomatoes and seedless cucumbers, fresh dill, sliced red onion (pre-soaked in cold water for 20 minutes or so to lessen their bite), olive oil, red wine vinegar, salt and pepper. A perfectly ripe tomato doesn't need much in way of enhancement, after all.
Another dish that has served Chef Linh well is her baked caprese salad. To make it at home, simply toss two pints of grape- or cherry-sized tomatoes with two minced garlic cloves, olive oil and salt in an 8-inch pan. Bake the mixture in a preheated 325-degree oven for 10 minutes. Remove the tomatoes from the oven while they are still whole, being careful not to let them split or burst. Once cooled, top the tomatoes with slices of fresh mozzarella and a healthy drizzle of pesto. Broil the whole thing for a few minutes to melt the cheese, then serve promptly with good, crusty bread from your favorite bakery. Chef Linh calls baked caprese perfect for entertaining or served as a light supper with a green salad or grilled chicken.
Cukes for days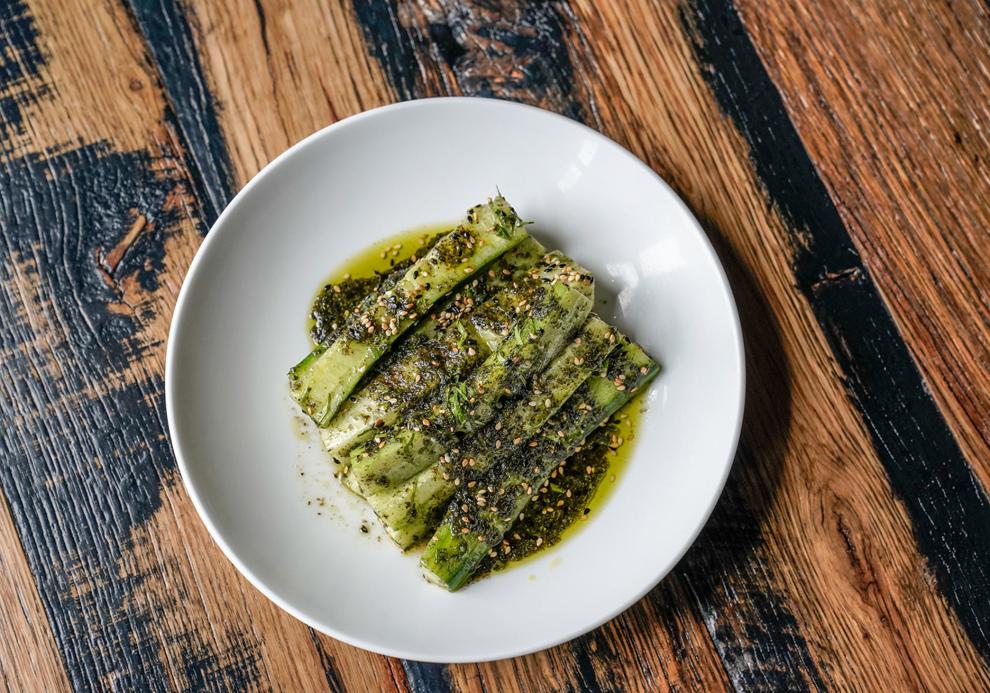 And then there was the humble cucumber. A member of the squash family, with delicate, melon-like aromas, cucumbers are more complicated and versatile than we give them credit for. While corn and tomatoes are busy reveling in the ardor of their legions of devotees, cucumbers are patiently flanking tubs of Bison dip and cold-pressed hummus on picked-over crudités platters region wide, waiting for their day in the sun.
Fortunately for cucumbers, they have at least one ardent champion: Joseph Fenush, chef de cuisine at Toutant in Buffalo.
"Obviously, they are pickled in various ways by almost every culture on earth," he said, explaining his fandom. "Many people like them muddled in their gin or vodka. They can be crushed into a chilled soup, and I'm pretty sure I remember my mother slicing them thinly and baking them in tomato-y glaze on top of her meatloaf. But my absolute favorite thing to do with cucumbers is to grill them. Yep, I said grill them."
To grill cucumbers at home, Fenush recommends marinating them in almost any kind of oil infused with herbs and spices. He suggests olive oil with a touch of sesame oil, fresh basil, jalapenos and black pepper, but any combination you can dream up will do the trick. Then place the marinated cucumbers on the hottest part of the grill for just a couple of minutes—until they've earned some marks or color but not so long that they get mushy. He also advises against any acid in the marinade, which could break down the cucumbers and make them too soft to grill. Instead, try a squeeze of fresh lime or a splash of vinegar or any pickling liquid you might have on hand just before serving.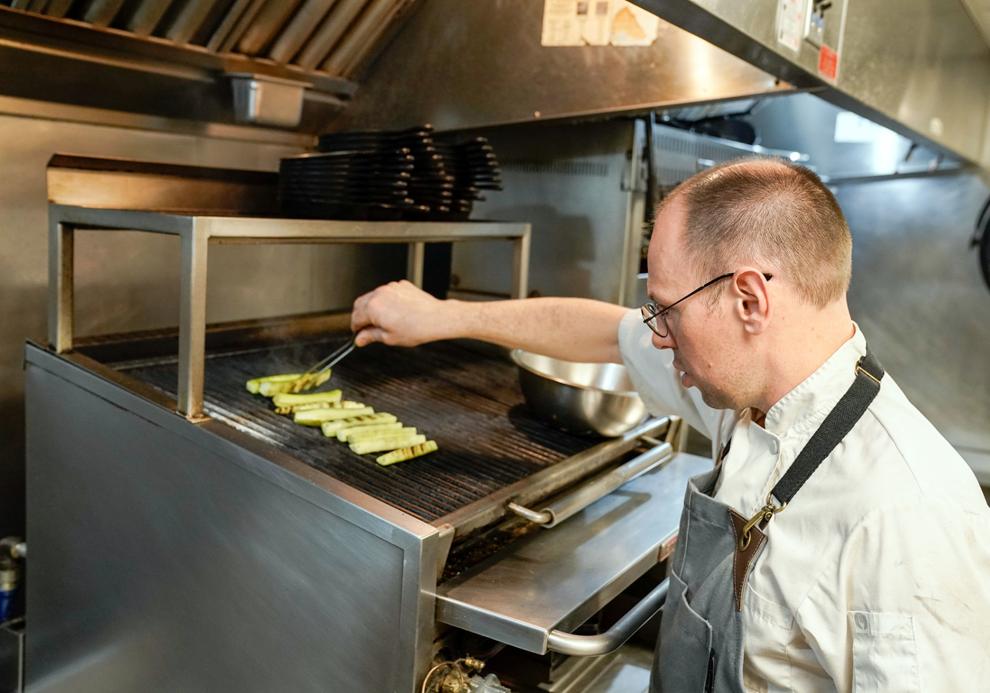 To take the dish one step further, Fenush says to peel your cucumbers first, and then rather than discard the peels, completely char them over the grates in a grilling basket. The petrified peels can be blended with nori to a fine powder, which you can use to season your marinade.
"That would really amplify the grilled flavor and umami of it all," he envisaged. "Of course, it would all be more fun and tastier if you were drinking some Pimm's and sherry muddled with cucumber and lemon juice outside in the July sunshine while you did it."
But then again, what isn't better with a little Pimm's and sherry and mid-summer sun? Cucumber not optional.