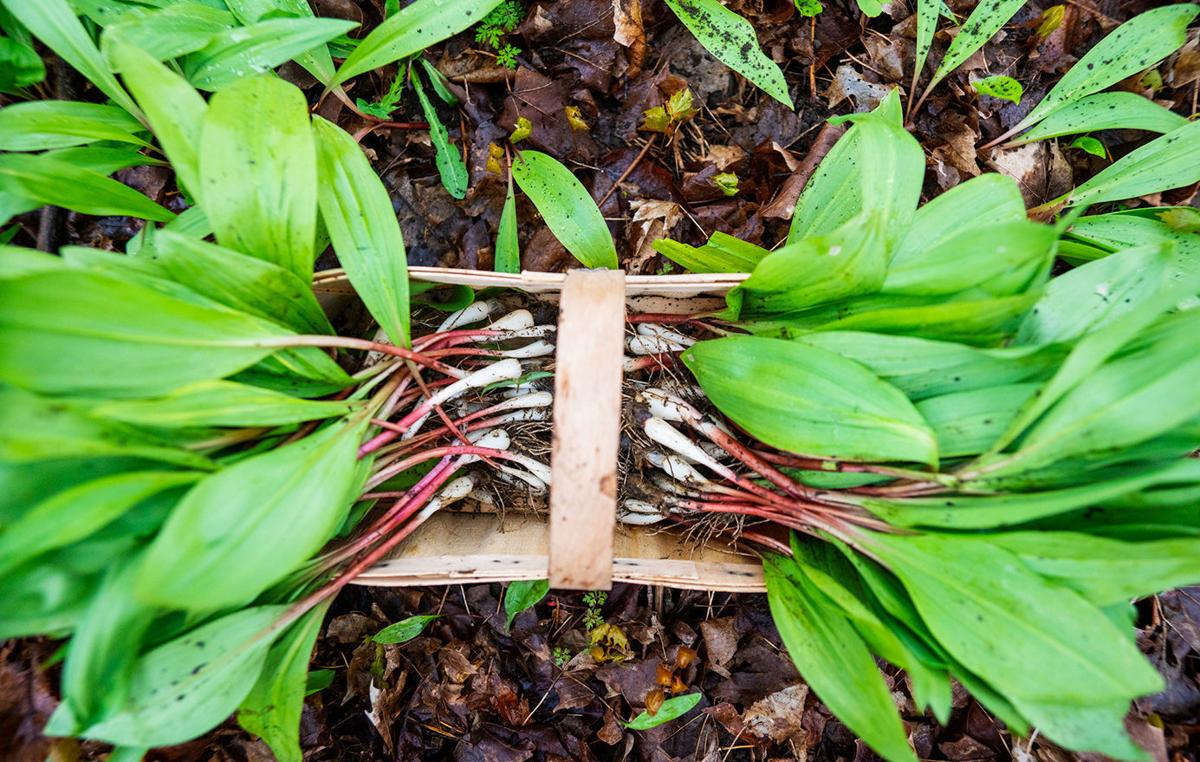 When I was first assigned this story, the only ramps I knew were of the parking and skateboard variety—not the wild onion.
But now, I'm a woman obsessed.
Because ramps, also known as spring onion, ramson, wild leek and wild garlic, are one of nature's limited-time-only releases. Their notoriously short season spans from mid- to late-April until mid- to late-May.
It's not only the when that makes ramps so hard to track down, but the where too.
"Ramps are picky about where they grow. It's in the spring in low light. Native to eastern North America, they can be found in rich moist soils of our deciduous forests in higher elevations," said Lauren Makeyenko, director of education at Buffalo Audubon.
If you've never seen them before, ramps look like scallions. There's a bulb, a stalk and then one to two broad leaves. The leaves should be dark green and the stalk itself should be purple-ish.
Their evasiveness makes them incredibly en vogue, especially to chefs and fervent foodies out to capture their mild onion but strong garlic flavor. There are even festivals dedicated to ramps, like one Waynesville, North Carolina, that has been going on for over 85 years and describes the vegetable as, "a true culinary delicacy celebrated for its pungent aroma and the bold flavor it brings to food."
Before you book your plane ticket, you should know there are several local restaurants that embrace ramps during their short annual visit to our area. The details on these menu items, like the plant itself, are cagy because restaurants typically don't have a clear idea of when the ramps will arrive or how much there will be.
But here's what I was able to dig up:
Jay's Artisan Pizzeria in North Buffalo uses them as replacements for garlic or green onion on their pies. In the past, Jay's has offered several iterations including ramp with ricotta, ramp fonduta and ramp pesto. Marble + Rye previously featured a ramp-infused gin cocktail with aquavit, Cocchi Americano, lemon, tomato water, husk cherry bitters and rich garam masala syrup. And in recent years, The Grange Community Kitchen in Hamburg has offered a grilled ramp tartine, wood roasted ramps with Buffalo mozzarella and ramp and asparagus pizza.
My best advice to those interested in tasting this mystery plant as prepared by a professional is to simply be on the lookout for seasonal spring specials. (These spots are all offering takeout menus, but it remains to be seen if ramps make a special appearance). They'll likely pop up in other places too.
As a wild edible, you can also forage for ramps yourself. But it's important to know how to do so sustainably as ramps have been overharvested in recent years due to their growing popularity.
Lauren Makeyenko shed some light on best practices:
Leave the bulb alone. "For every bulb you take, it can take up to seven years to be replaced between seed germination time and the plant to reach reproductive maturity. If the bulb must be taken, which again is not recommended, it is best to leave the roots in the ground."
Don't forget the leaves. "The leaves are super yummy and do not harm the plant if harvested—especially if only one of the leaves per plant is taken."
Go big. "You should harvest from a large, well-established area of plants and never take from more than 25% of the plants that exist."
Local farmers may also be able to get their hands on a bundle, so keep your eyes peeled if markets open for the season this year. But come with some cash because the demand has also driven up the cost.
After you've scored your fair share (yes, leave some for the rest of us), don't forget to clean your ramps. They are picked during a very muddy time of spring and dirt will likely remain. Rinse thoroughly and pat them dry. To store, you'll want to roll them in a damp paper towel, put in a plastic bag and keep them in the fridge, which will now smell like garlic for the foreseeable future.
Whether you pick them from the forest floor or the Entrees menu, recognize the remarkable.
"Ramps are a treat. A springtime connection to the world around us," Makeyenko said. "Enjoy them in small quantities and know that they are only around for a little bit of time each year. Just the sight of them will bring a smile."
Be the first to know
Get local news delivered to your inbox!