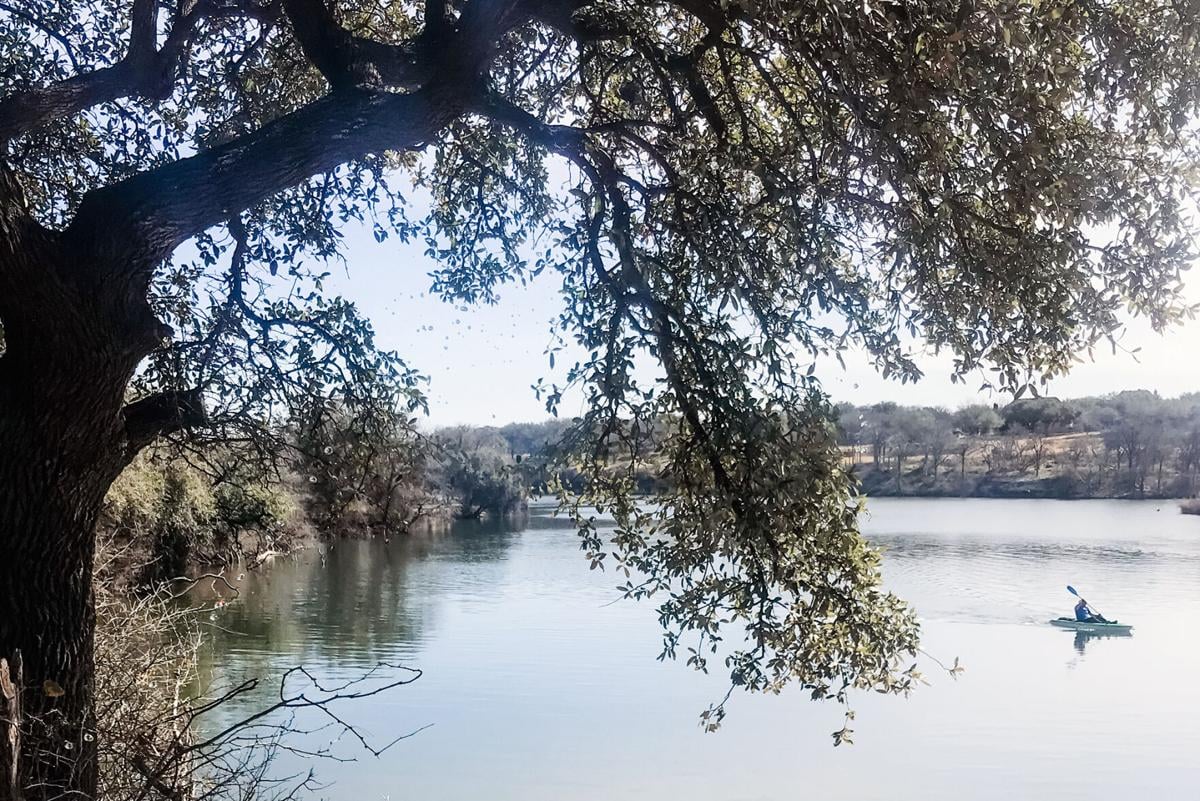 We rode past the most serene lake, just a few ripples from a paddling kayaker ever so slightly disturbing the water's peace.
RV life lends itself to plenty of biking opportunities, and the trails here just north of Austin, Texas, are full of hidden treasures. One minute you're riding through a narrow trail, lined with huge oak trees towering over your head—the next, you're zipping by all sorts of cacti and aloe vera plants.
As we continued riding along, we stumbled upon the most magical sight. Nestled in the wooded trails was a Wishing Tree! All different shapes and sizes of paper donned the tree, tied with various multi-colored yarn, each containing a wish. Some were as simple as "I wish my brothers would play with me," while others wished to "live more in the moment."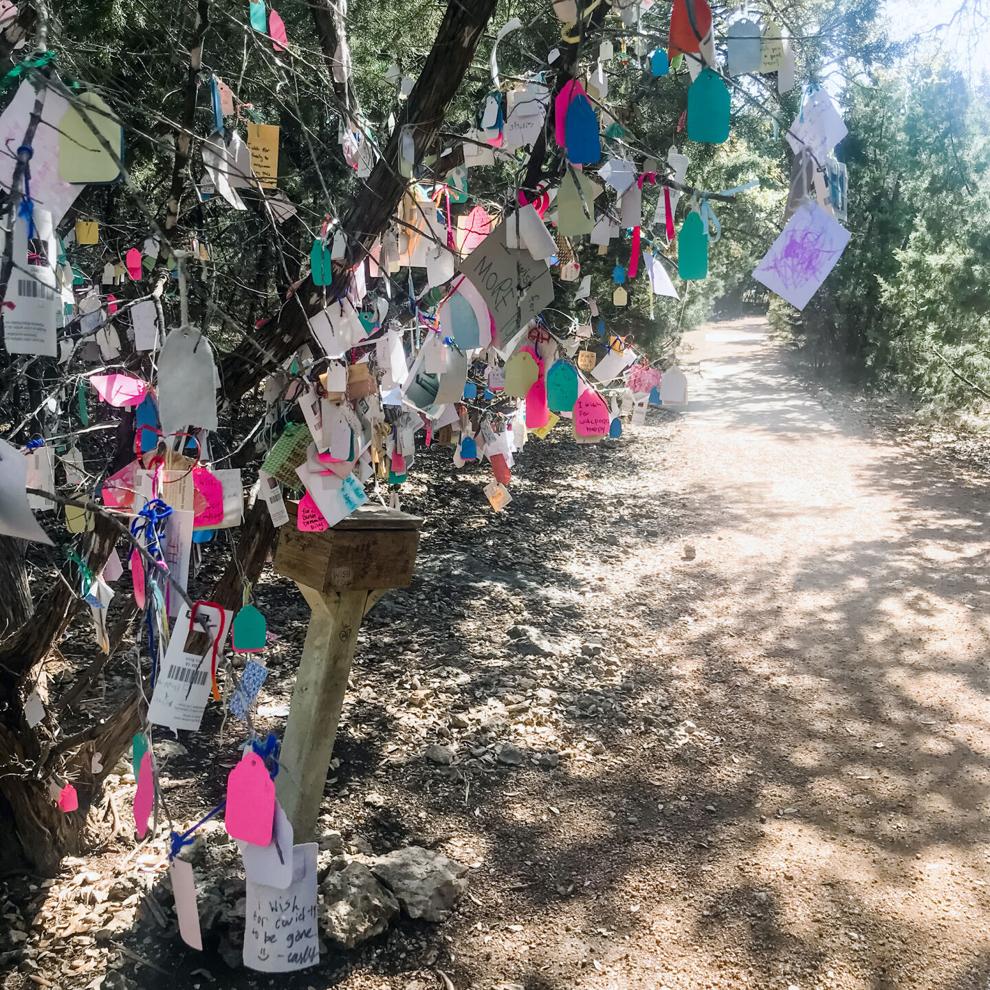 As I began to look around the tree and read over more of the wishes people had left, it dawned on me just how similar we all really are. We're having the human experience after all, and whether you're 5 or 85, I believe what we truly want at our very core is to simply feel seen, heard, loved and accepted.
I was so inspired by what appeared to be hundreds of wishes, I decided to contribute my own to the collective Wishing Tree: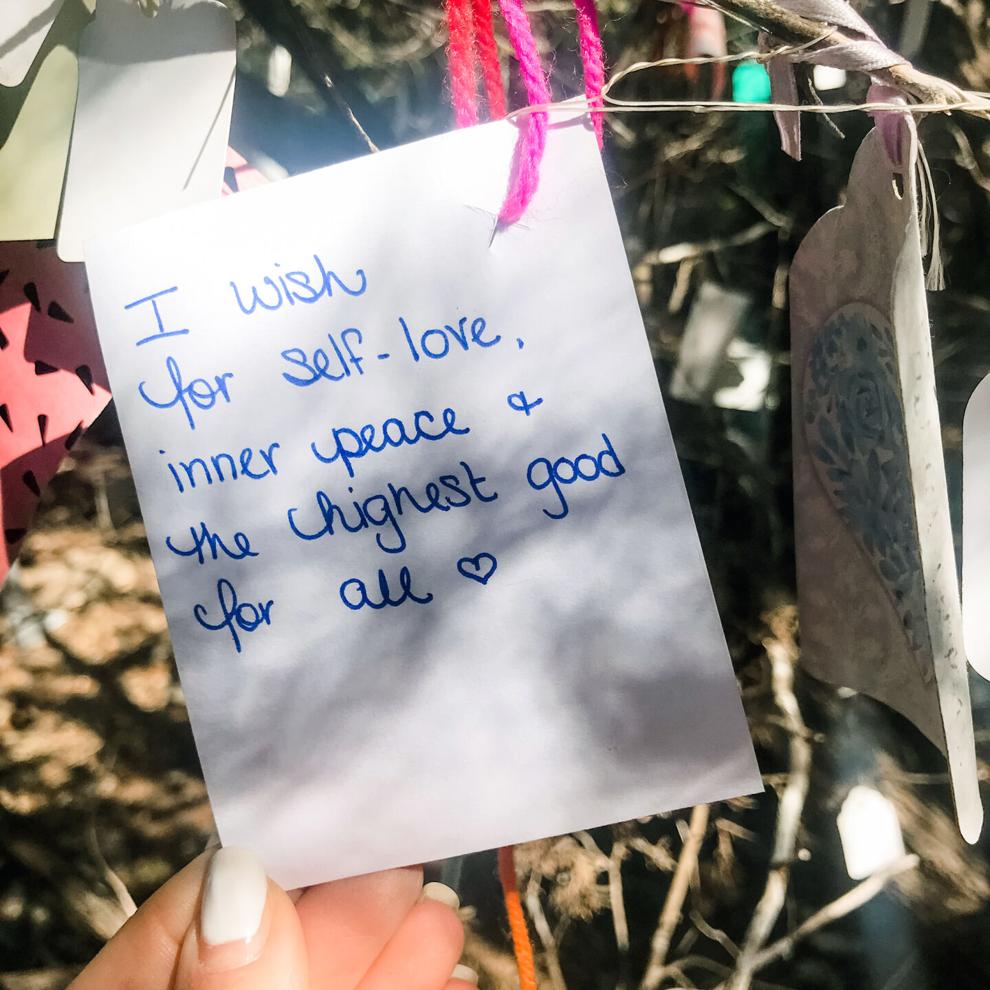 "I wish for self-love, inner peace and the highest good for all."
After I hung up my wish, I was reminded of my sweet 5-year-old niece who once looked me straight in the eyes and, without a shadow of a doubt, said, "I love who I am." I looked at her fondly, thinking, "don't ever lose that self-love, baby girl."
But my next thought: "Why, as we get older, does our society not foster that sense of self-love that seems to be innately within us from birth?"
About a year ago, a friend of mine asked a group of us to write a list of every single being we loved. After we had finished, she asked if we had included ourselves on that list. I looked down at the paper in hand, my name nowhere to be found. I couldn't believe I didn't even think of including myself.
It was in that moment I realized I hadn't been nurturing my own self-love, so I decided to spend the next year focusing on just that. And I'm glad I did because it has become the foundation for life out on the road.
I developed a mindfulness practice that I still use today, which includes daily journaling, meditation, affirmations and expressing gratitude for all that we have and all that is yet to come. I made more time for play and cultivating creative expression. I began honoring my energy, setting boundaries and letting go of what no longer serves me, whether that's people, behaviors, lifestyles, jobs, beliefs—all of it.
And I decided to keep at least one small promise to myself daily, which ultimately led to more self-trust and confidence in my purpose and worthiness. The result? I stopped abandoning myself and began making more conscious life decisions in alignment with my personal truths.
We must always remember, deep down, we are all that same 5 year-old we once were. It's up to each of us to tap into our inner child, still so full of curiosity and imagination, and rediscover our self-love in order to reclaim our power and attract a well-balanced, abundant and fulfilled life.