"For me, it's very important to make art functional and accessible," says artist Laura Cott. She points to a set of breathtakingly vivid coasters painted with alcohol ink. "Each one is its own painting. They're sealed with resin so they're heat- and water-resistant, and you can use them in your home."
This concept—which she succinctly describes "functional art for your home"—is key to the pieces she creates for her company, LaCott Fine Art.
"Art is a very visceral thing for people," she says. "When you see a painting, you need to have a reaction to it in order to want to have it in your home. It's kind of intimidating for people, specifically for someone who thinks, 'Oh, I'm not creative. I don't know anything about art.' I want to take away that stigma or that fear of accessing art into your life."
From tea kettles and mugs to the aforementioned coasters, her work can be used every day but also serves as "a beautiful painting on its own that brings a little pop of color to your home."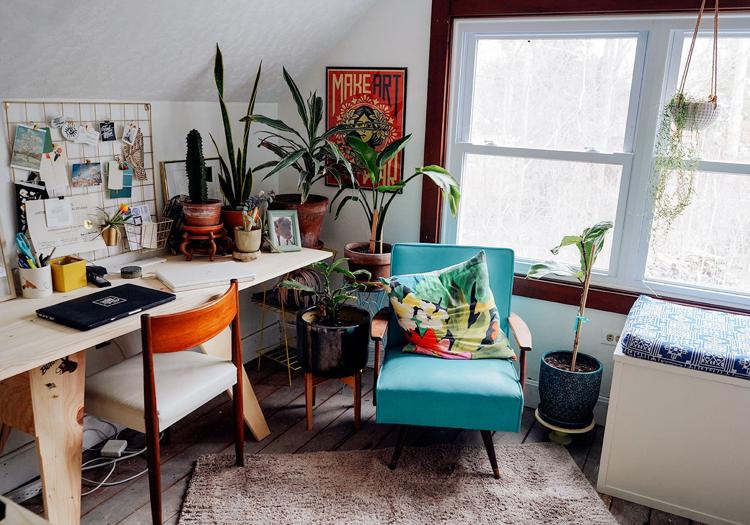 Pops of color are found in abundance at her Orchard Park home studio, a bright, homey space in which the Derby native creates her alcohol ink and watercolor paintings. Much of her watercolor work is centered on greenery—plants, leaves, flowers.
"I'm inspired by my surroundings," Cott says. "I'm also a minimalist when it comes to my artwork. I think a leaf or a single stem can lend itself to that simple style. I love color, but when it comes to the greenery, I like the calm that it creates. I live in the Southtowns—I'm surrounded by woods—and I'm naturally drawn to nature as an inspiration."
While the world around her inspires much of Cott's work, she also trusts her mind: "A lot of it is working from life. But I'm also utilizing the foundations that I have as an artist to come up with a composition. I try to pull internally as much as I can."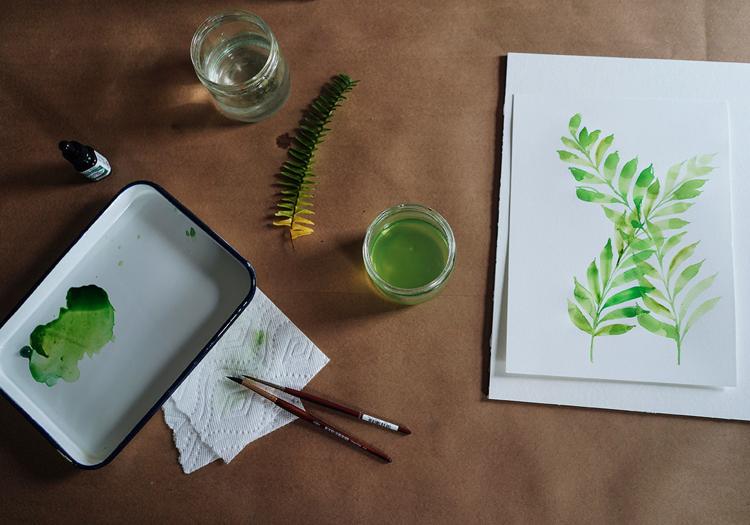 These are the types of lessons Cott instills in her students at MUSEjar, the art studio and shop in East Aurora. While their robust lineup of in-persons classes are on hold, you can find a collection of online classes at musejar.com—including Cott's Watercolor Painting: Lemons + Stems.
When teaching at MUSEjar, Cott says she "uses a majority of the skills I've acquired in my life." Her original plan was art education. She received a Bachelor of Fine Arts in painting at Buffalo State College and planned to become certified. Ultimately, she decided against that path. But at MUSEjar, her love of inspiring others is put to good use.
"I think I have an ability to connect with people," Cott says. "I view my teaching as part of me making art accessible to people. It's very gratifying to see a student who says they can't do something then finish it and be proud of it."
Cott's own artistic process starts with online research. Next, she sketches out a concept and considers color mixing and compositional planning.
"I do a lot of practice exercises and pieces, and if I stumble upon one I really like, it becomes a jumping off point," she says. "A lot of it happens in the moment, but the fundamentals of the painting—composition, color—are planned out."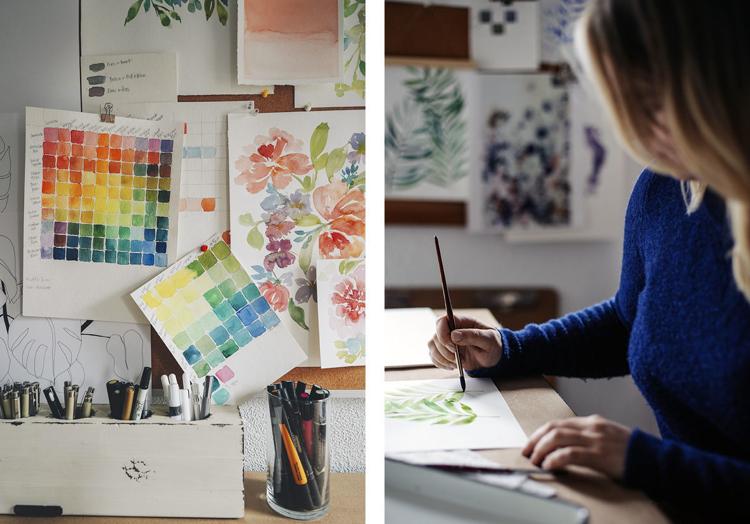 Cott "flips back and forth" between mediums, which lends a unique variety to her work: "I don't like to feel boxed in when it comes to a medium. But ultimately, I think my style comes through—you can see me. There are so many cool things out there to explore so I feel like I'm forever a student. I'm drawn to learning and mastering new things."
While Cott grew up in the Southtowns, she was hesitant to leave the Elmwood Village—until she saw the studio potential, an apartment with an exterior entrance, in the Orchard Park home she now shares with her boyfriend, Joshua Fabi.
"When he showed me this space I was like, 'OK, I think I can handle it,'" she says with a laugh. "It's an inspiring space. Going to the studio is a routine. To be able to separate myself and go into my workspace helps me be more productive."
Her long-term goal is "for this world to be my everyday world," she says. "I would love to be self-sufficient. I also really want to push the education part of what I do. I'd like to make it more accessible online, and beyond Western New York."
Cott even speaks of transitioning her work into more of a lifestyle brand, and helping people bring art into their everyday world.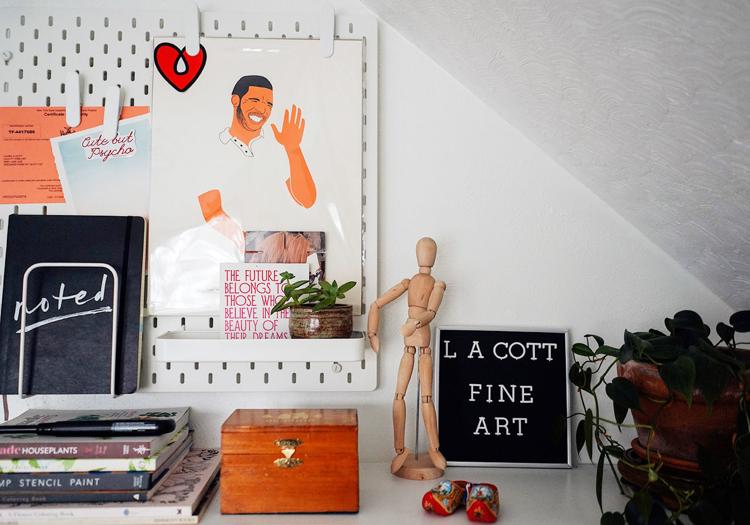 "People buy a print but then they don't know how to put it on their wall, they don't know how to frame it, where to go, how many they should get," she says. "I'd like to be able to show them how it lives in the world as an example. Let me help you frame it. Let me help you put it on your wall. Let me figure that out for you."
The process of creation, for her, is a therapeutic one—but so, too, is seeing where the process ends.
"Let's take a handmade mug. Even though it's a functional piece—you can drink out of it—someone still made it with their hands. There's still a process to get there. I look at painting the same way. There was a process to get there, and now it lives in your home. It's a part of you. It's bringing you some type of joy. That's why for me, fitting art into a functional space and having it live and play off of the other elements in your home is very important."
Be the first to know
Get local news delivered to your inbox!