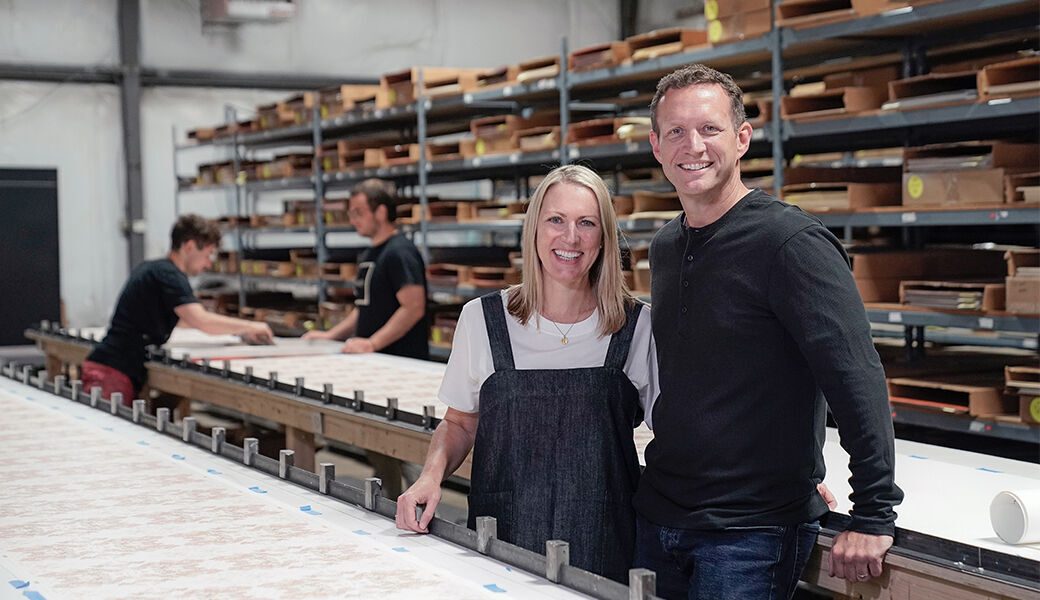 When Traci Ackerman decided to start a company that handmade wallpaper featuring Charles Burchfield's original designs, she knew she wanted to keep the whole production local. But she didn't realize that it would be so easy to do.
"Serendipity has been the theme from the beginning. I never thought I'd be doing this," Ackerman said from the C2 paint warehouse in Amherst that holds Red Disk's printing operations. "All the things that have just lined up together, it was totally meant to be. I didn't have to force any of it."
She was volunteering at the Burchfield Penney Art Center when the idea of reproducing its namesake's original wallpapers came up. And after a long and fruitless search for a company that could produce them, Ackerman decided to rely on local artists to realize her vision.
Red Disk debuted in 2017 with four Burchfield recreations, but with a modern-day twist.
"Part of the whole project is not to reproduce his original wallpapers," said Ackerman. "They are exactly according to what they did in the '20s. We try to take one or two colorways that are original and offer them, but we were really excited to recolor them and make them more contemporary."
As Red Disk started branching out into different designs, it was the Buffalo art community that they returned to for inspiration.
"We want to give artists a new platform, so we've been reaching out to local artists and trying to translate their work to wallpaper," Ackerman said.
There are now three local artists—Cassandra Ott, Karen Matchette and Gretchen Weidner—who have lent their designs to wallpapers in Red Disk's collection. They're also in the process of introducing a new pattern from Jozef Bajus inspired by his year-long sabbatical to Peru.
The company continues to expand both its production and offerings but is careful not to get too big too fast. Red Disk takes themselves seriously as artists and want their designs to endure.
"Our designs, I'm hoping, will become timeless because they are works of art. They aren't following a design trend. It's not just a pattern on a wall," Ackerman said.
Screening art into wallpaper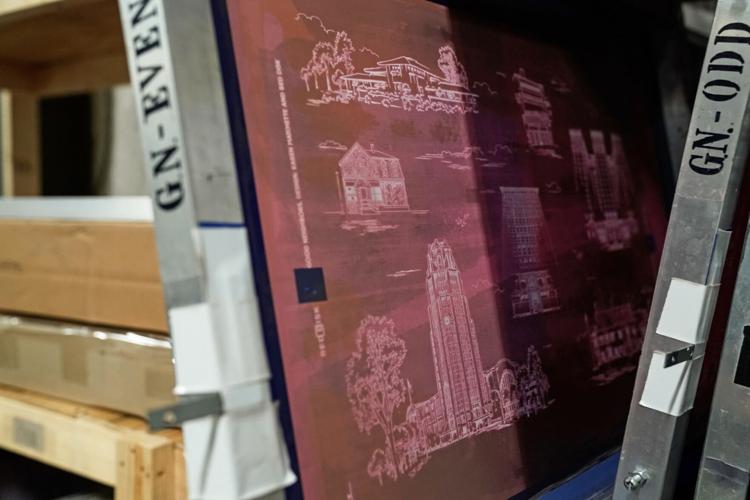 The true first step in wallpaper creation is turning a design into a series of screens. Lead printer and graphic designer Nathan Deganis-Librera uses a computer to break down a pattern into printing layers based on color and position.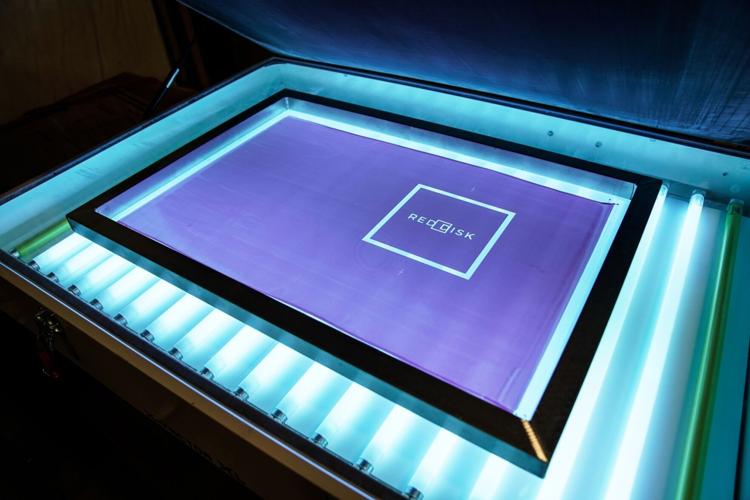 Each layer is printed onto a clear plastic sheet to create a stencil, where its section of the pattern is outlined in black. The stencil is then laid on top of a printing screen that's been filled with a water-soluble emulsion and placed under lights to set. The emulsion hardens where the stencil isn't blocking it but stays liquid where the black lines were printed. Once the lights have set the stencil pattern, water is run through the screen to wash away all the soft parts, revealing a print-ready screen.
Plain white paper is rolled out onto the tables. Red Disk sources high-quality paper that's both easy to install and remove, as well as recyclable. It's printed in 30-foot sheets—and both tables in the workroom are 39-feet long, so they can produce 60 feet of wallpaper at a time.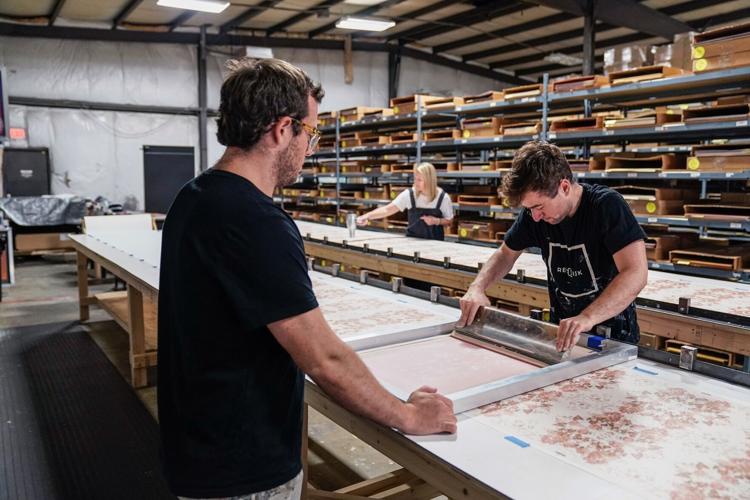 The screens all have brackets built into the sides that fit registration blocks on the table. The blocks can be moved to accommodate different screen sizes: Some patterns repeat every 12 inches, others 18 or 24, so they need to be reconfigured based on which pattern is being printed that day.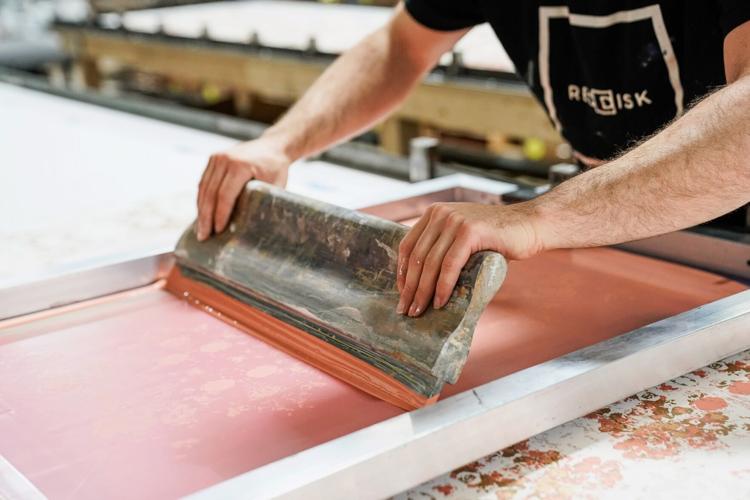 Once the screen is lined up, it's filled with a little C2 paint that's then drawn across it with a squeegee. The pressure forces paint through the screen and onto the paper. This takes two employees, one to hold the screen in place and the other to draw the paint across it. The printers leave one repeat worth of space between each printing in order to let the first ones dry before they come back in and finish the piece.
The paper dries pretty quickly on its own since very little paint is used for any given layer, but to help it along, a third employee uses a hair dryer blowing on the paper to set it even faster. It takes just a few minutes to do each layer, but patterns can have 20 or more starting with a background color, and so can take several hours to finish.
Be the first to know
Get local news delivered to your inbox!