Kait Niland was just looking for a unique Christmas gift to give to her friends and family when she made her first batch of candles. Now, 14 years later, it's her full-time career.
"I found a make-it-yourself kit and I made these little teacup candles that didn't smell like anything and I'm sure no one ever even burned them," says Niland, the owner and sole employee of Niland Candle Company. "They were kind of weird, but I was really happy with how they came out."
The memory of those gifts may have faded quickly in the people she gave them to, but it got under Niland's skin. She started researching candles and how they're made—and learned that many contain chemicals called phthalates (pronounced fay-lights) that can be harmful once burned.
"Those chemicals are what makes you have a stronger fragrance to cover odor but that's what causes a headache or sneezes or scratchy throat, and I'm like 'why do people burn this?'" Niland said. "People don't smoke, they don't want second-hand things in the air, so why would we burn something toxic?"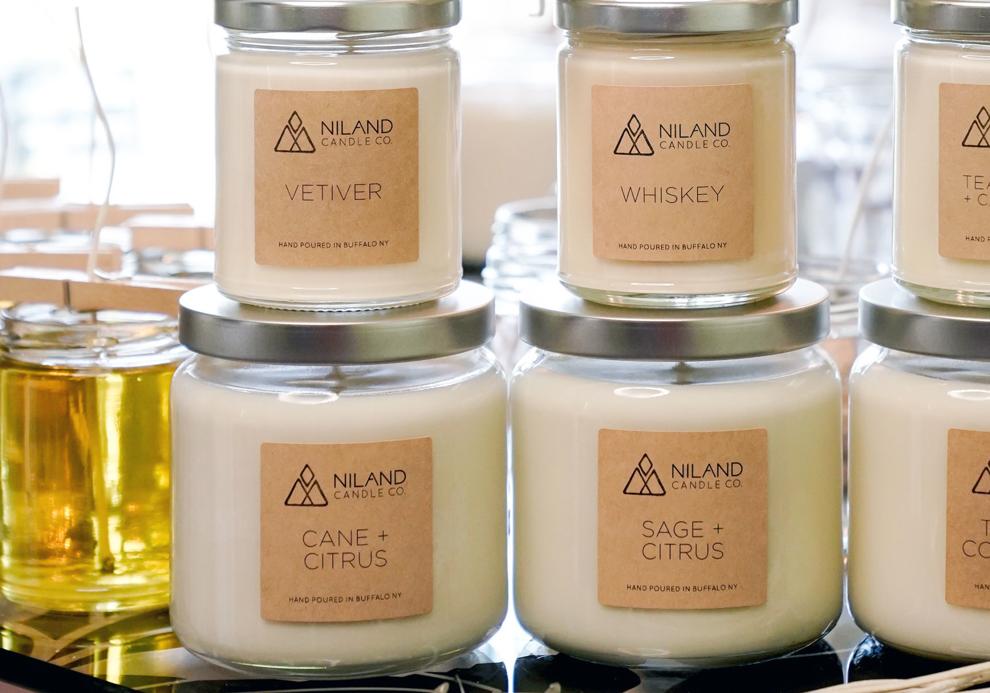 As she learned more about the science behind candles, Niland continued to make them for friends and family, experimenting with her own cleaner blend.
"Everything I buy is all phthalate-free and dye-free so it's as natural as you can get with a fragrance oil. I don't want it to be intrusive in your space, I just want it to be a part of you and be around," she said.
After a few years of testing and learning, a serendipitous twist set her off on a path towards making candles full time. While working for a company that provides private label products to hotels, she got a request for soy candles. Instead of sourcing them, she decided to fill the order herself.
From that point on, she didn't look back. Using her knowledge from working in advertising and marketing, she designed a brand, launched a website and started selling her candles at shows—and eventually in stores, including her "storefront" at ShopCraft on Elmwood, where she also works.
Concocting clean, fresh scents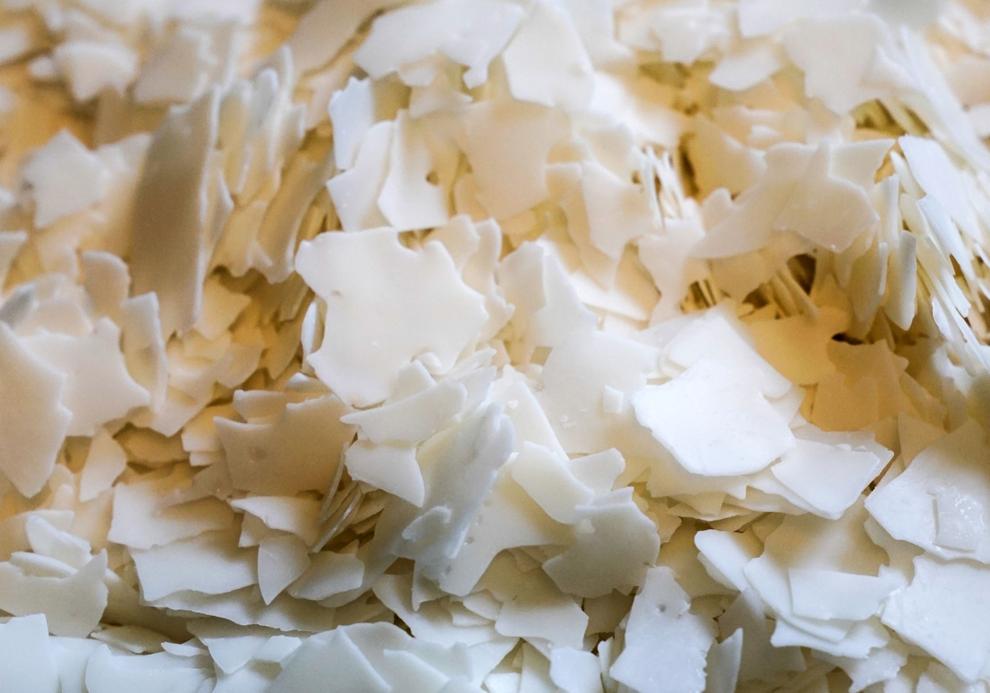 Wax on, wax off. The first step in candle making is melting the wax, which comes as flakes in a bag, so that fragrances can be added. Niland does this in a double boiler with a built-in thermometer so she can make sure the wax won't burn, which can happen at about 220 degrees.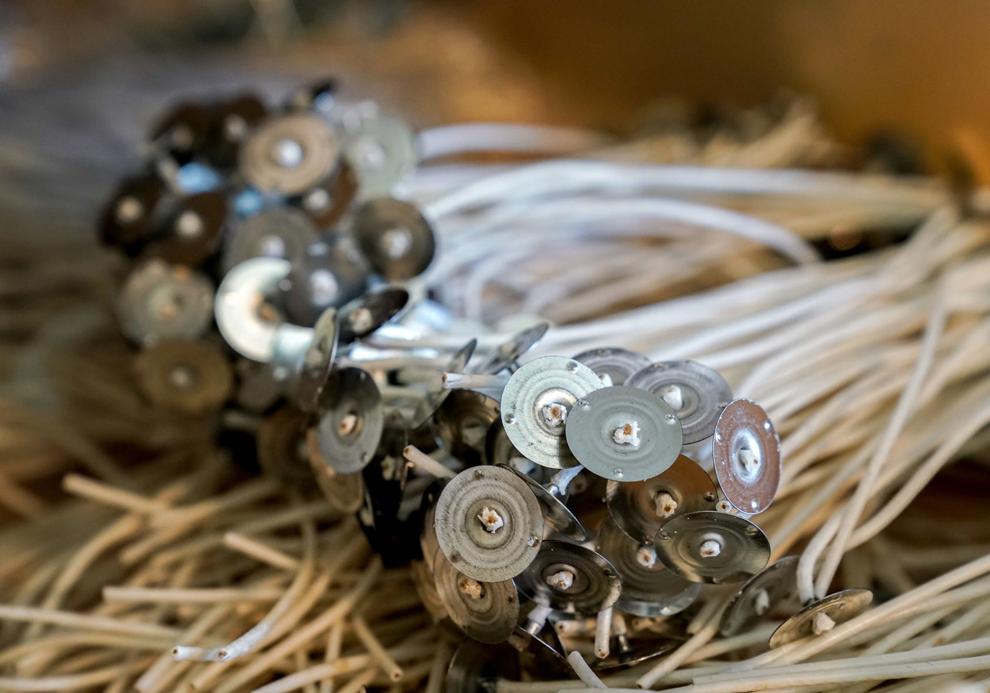 Smell the flowers…or sage, or whiskey. Once the wax is fully melted and at the ideal temperature for that particular scent blend, Niland adds the fragrance oil into the double boiler of wax. She uses different amounts of oil depending on the scent—each behaves differently in a candle, and she tests each fragrance thoroughly to achieve the desired effect. Though her favorite ones tend to be muskier, like her sage-citrus or whiskey, she creates sweeter scents as well.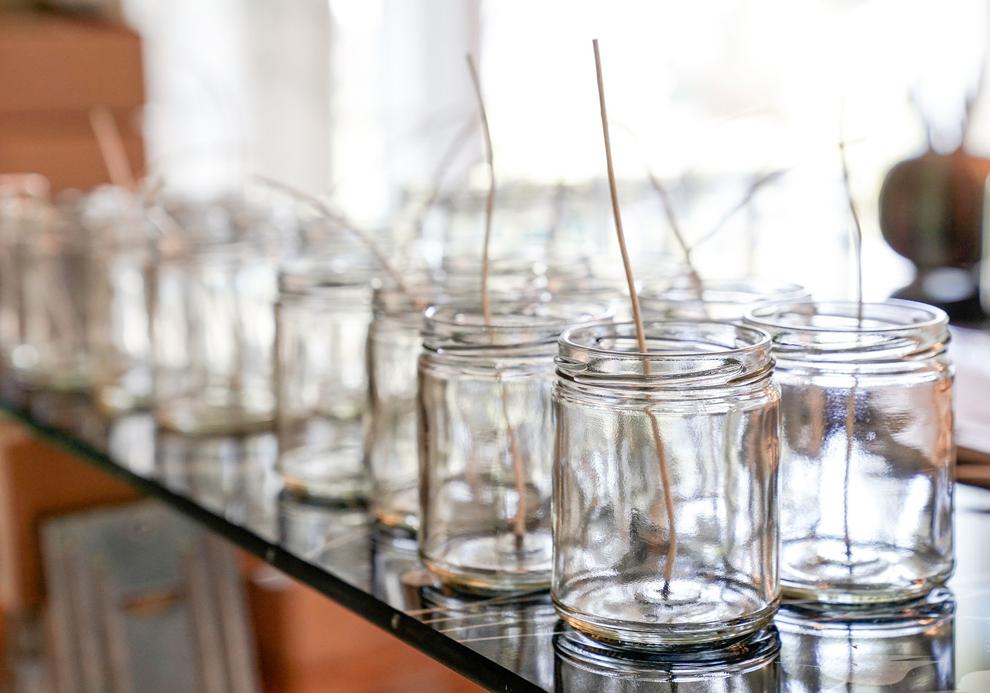 Ready the runway. Niland's work table, which her father specially crafted for her, is covered in rows of plain glass jars awaiting the wax. She places a wick into each one, affixing it with hot glue to the bottom of the jar.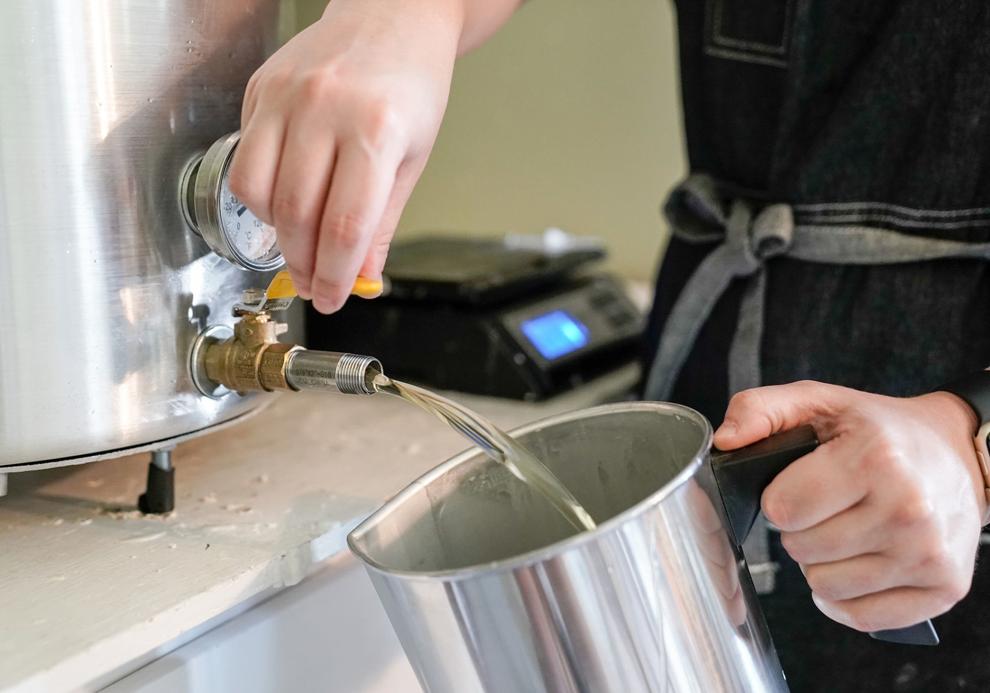 Make it rain. Niland is now ready to jar. Her double boiler can melt 50 pounds of wax in 90 minutes—enough to fill 106 jars—so for assembly, she decants the melted wax through a spigot into a smaller easy-to-pour kettle. She then hand pours into each jar, ensuring that she doesn't pour over the wick and that the wax is level in the container. She then clips each wick with a clothespin to keep it upright and out of the wax.
Recycle, reduce, reuse. Niland trims each wick to fit the jar. They come at double the length that she needs, so she saves the untouched trimmed portion to reuse as another wick later. (She also refills jars that her clients clean and send back to her at a discounted price.)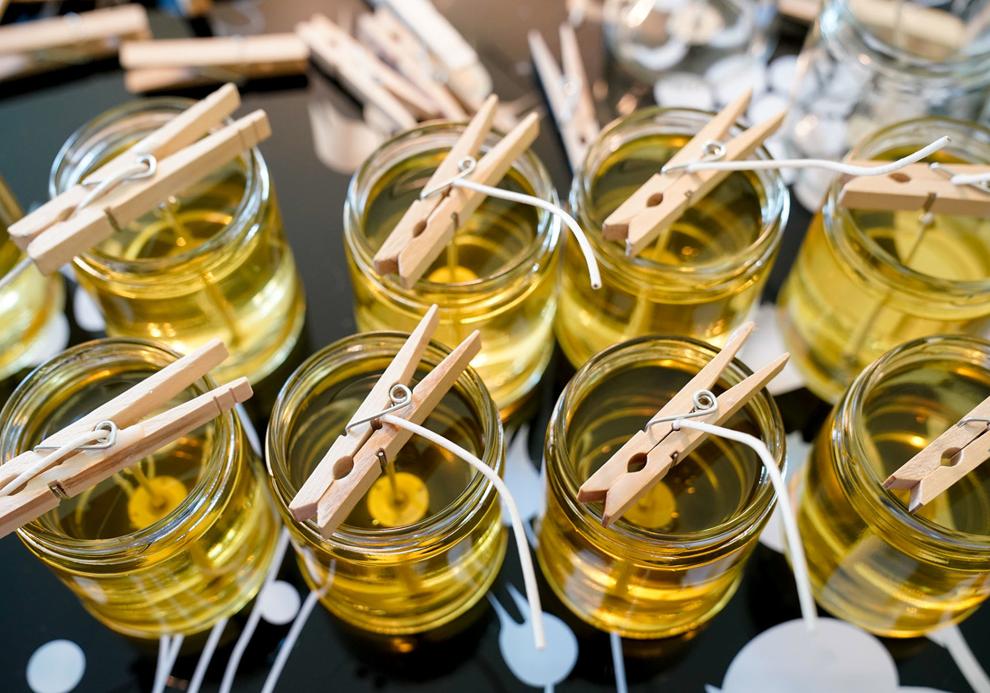 Ready for their close-up. The filled jars are then left out for the hot wax to cool and harden. If the wax is smooth and level inside, the jar is ready for its final step: adding the lids and labels. Each product gets two labels, one on the bottom of the jar with the ingredients and one that proclaims the scent inside.