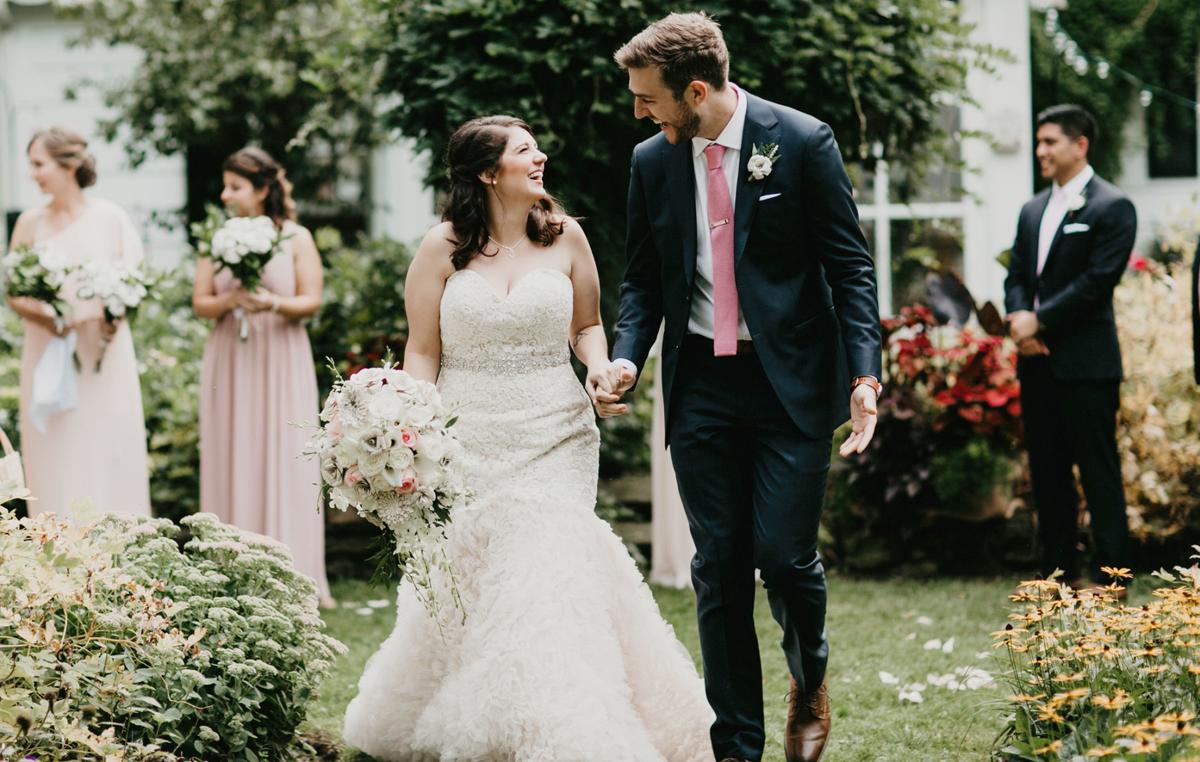 Ellina knew of Joe for years before they met—he was her older sister's roommate's brother, and they would joke about their younger siblings getting together one day. (Though Joe was none the wiser.) But it was a chance encounter after the annual outdoor hockey game between rivals Michigan (Joe) and Michigan State (Ellina) that brought them together for the first time during their junior year. She was excited to finally put a face to a name, while he was preoccupied with the dinner that awaited him right after.
This accidental meeting led to Facebook friending, chatting and then coffee, which turned into dinner. Then another hockey game. "And after that, the rest is history," Ellina said.
The now Seattle-based couple decided on Ellina's hometown of Buffalo for their September wedding—with the ceremony in the backyard of her childhood home followed by a reception at Hydraulic Hearth.
"To celebrate our love for each other, we wanted a wedding day that would be the embodiment of who we are as a couple. We wanted no frills, good drinks, only the closest friends and family, and an uncompromising sense of laughter and love to last the whole weekend in Buffalo," says Ellina. "People traveled from all over to celebrate with us, and we wanted to throw the most Joe and Ellina party we could."
---
Getting ready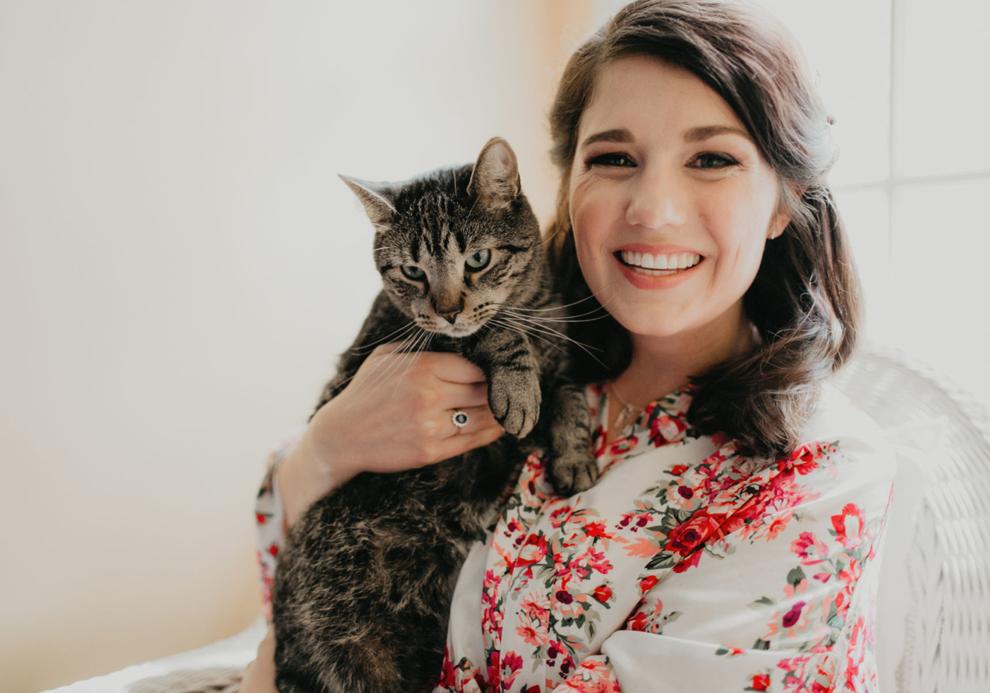 "Simon! He is truly our baby, and a momma's boy for sure. We've had him for seven years and love him more than anything. Simon is the weirdest, cuddliest, sweetest cat in the world. He greets us at the door to tell us all about his day (he talks a lot), he sleeps on my pillow, he knows how to give a high-five and he's stolen the heart of everyone that has met him. My side of the family has asked who will get custody of Simon if something were to happen to Joe and I. No joke. They love him that much."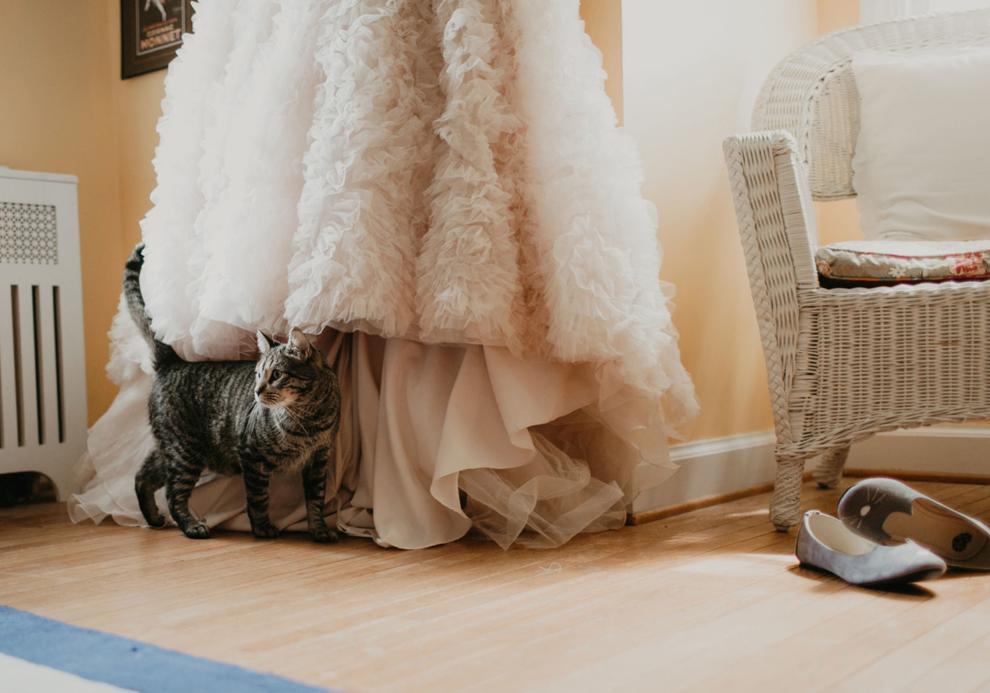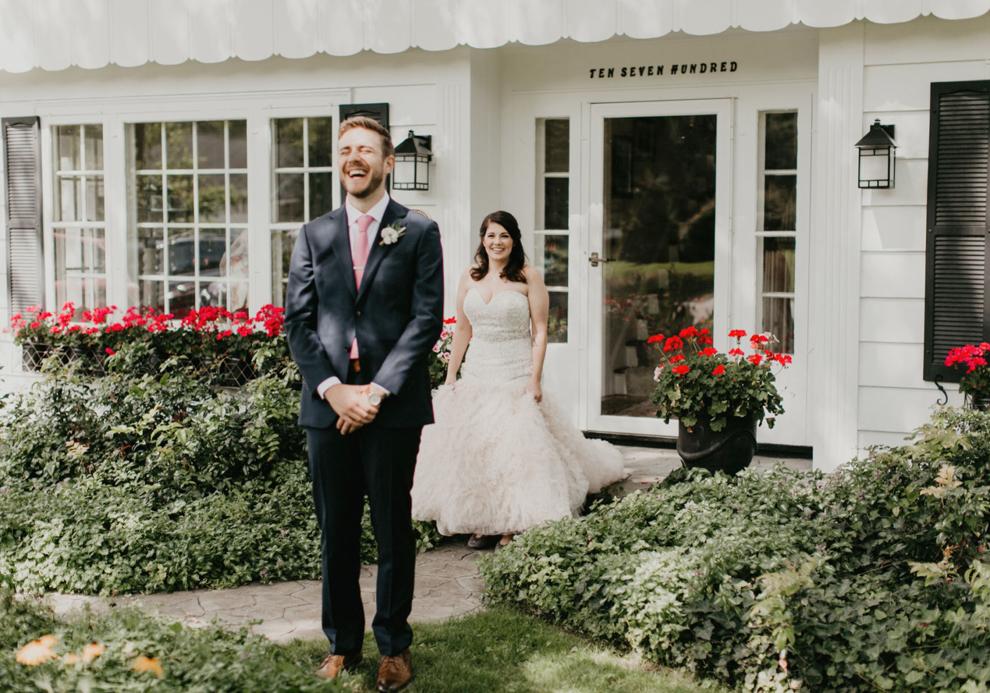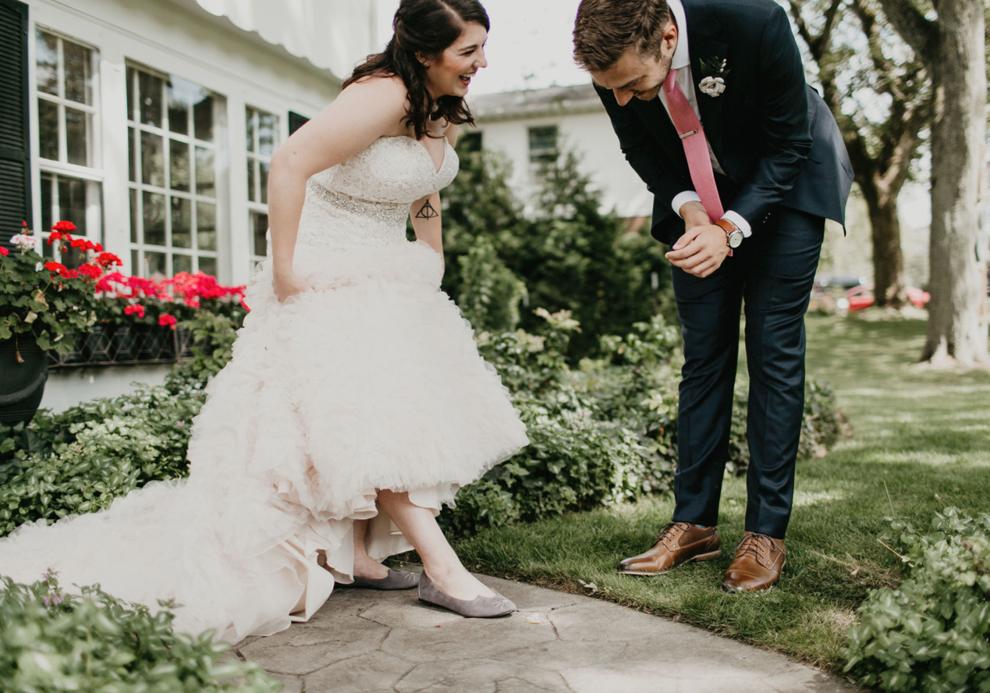 "We couldn't have our big day without him, he is a big part of our little family. We are lucky he's such a chill cat to travel all the way from Seattle to Buffalo to celebrate. I also found shoes that looked like cats and Joe gifted me a necklace to represent Simon to keep him involved in every part of the day."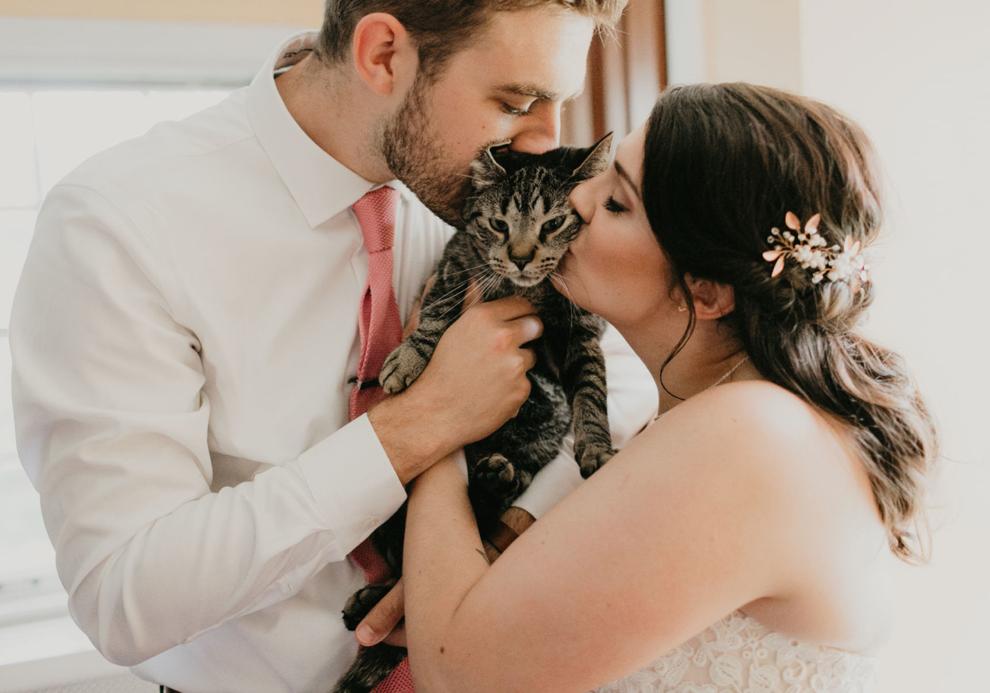 ---
The ceremony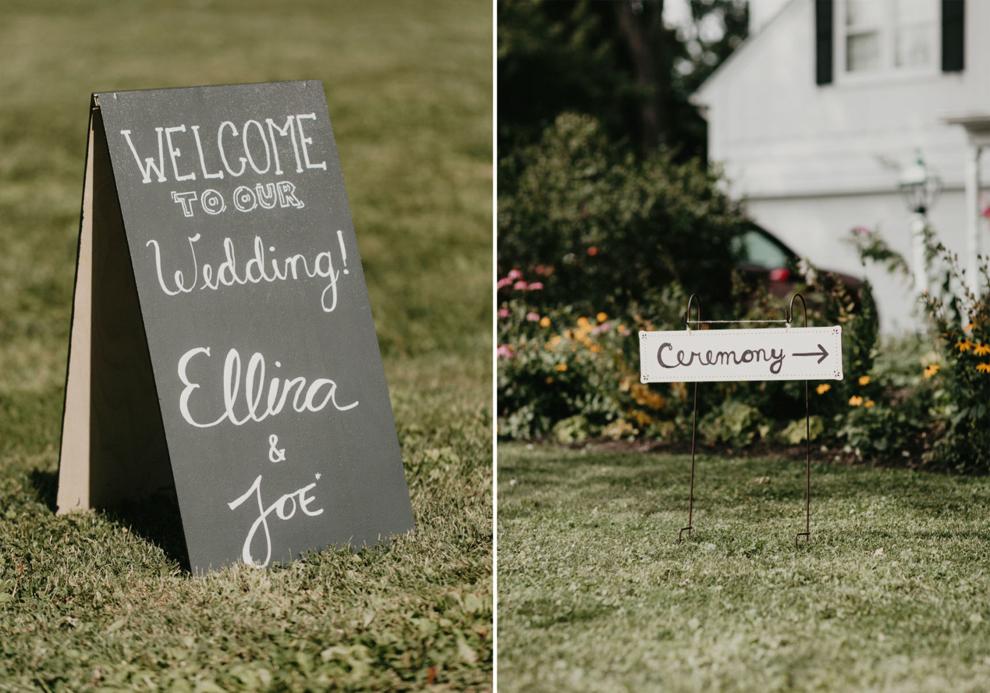 "My childhood home in Buffalo holds a special place in both our hearts. I was born and raised in that home, and when Joe started making trips to Buffalo it quickly became apparent just how special it was to the family," says Ellina. "During wedding planning, when my mom offered the backyard as a location, there wasn't any doubt in our mind. This had to be it."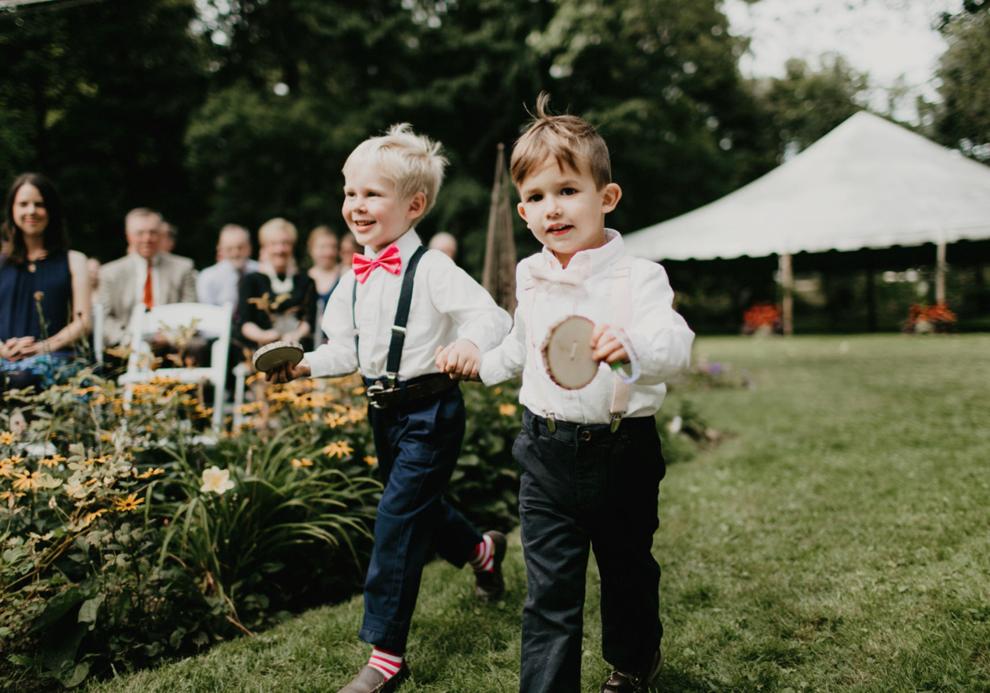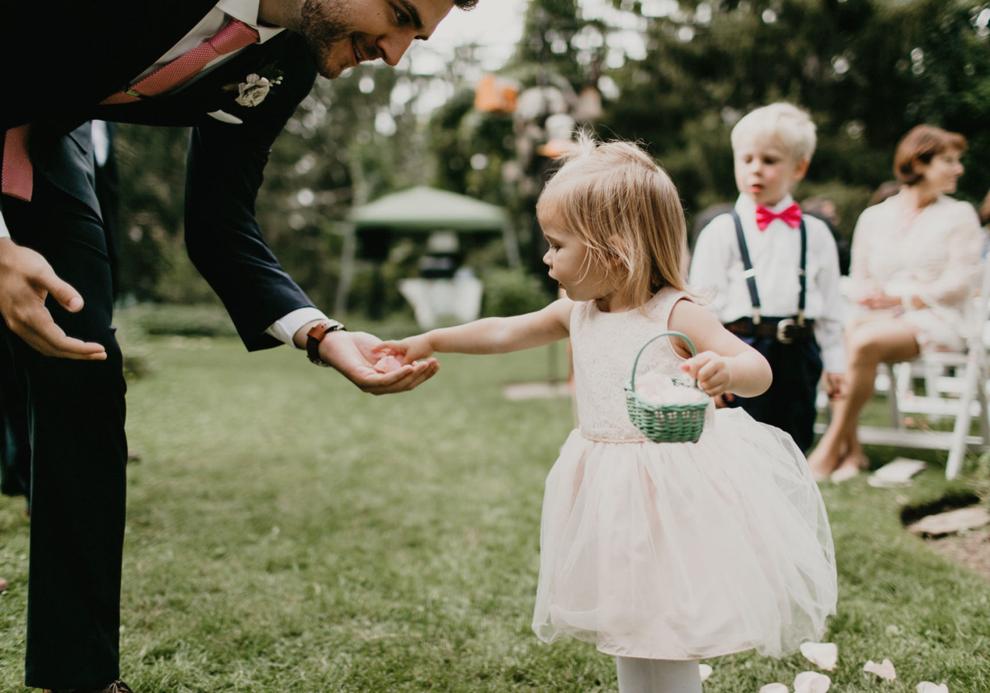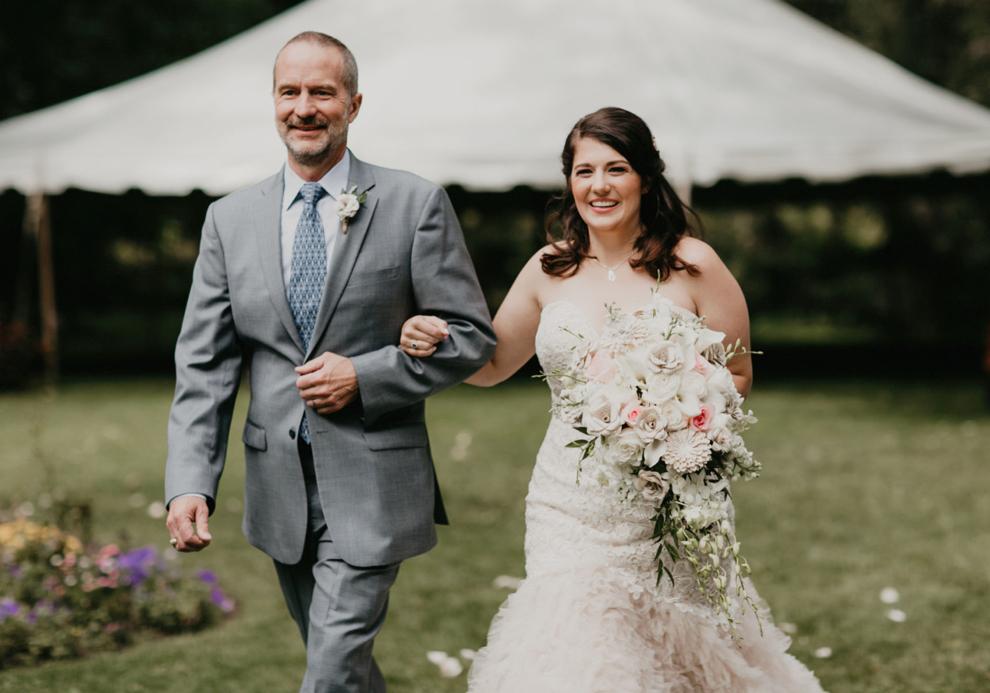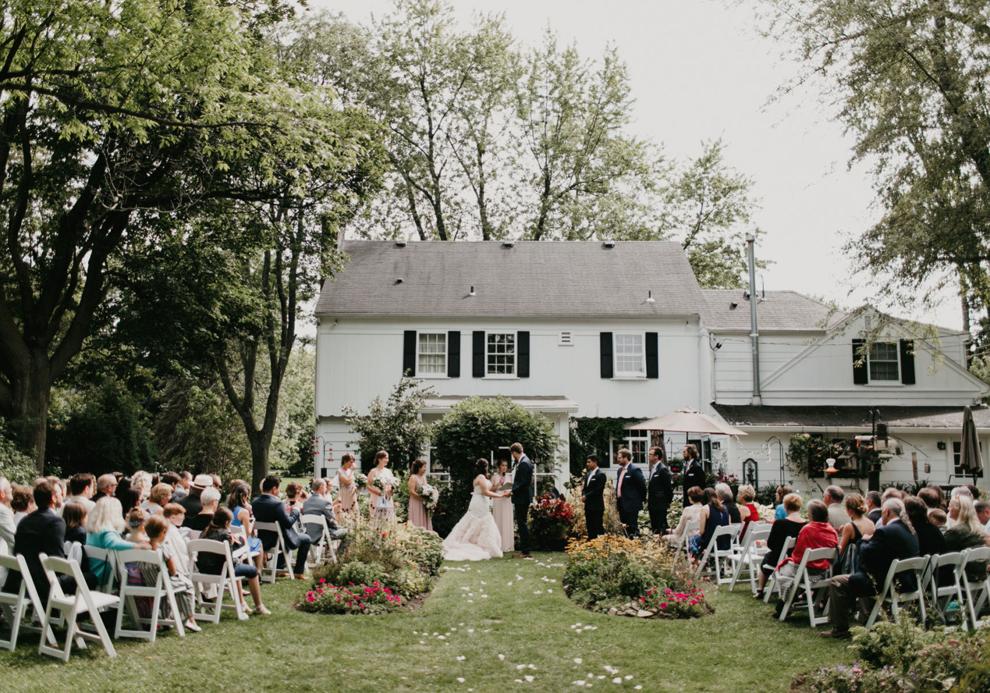 "Nancy, my mom, loves to garden and it absolutely shows. Not only was there plenty of space, but the yard was lush with greenery and beautiful gardens. She put in so much work making the backyard especially perfect for our big day," says Ellina. "One of my absolute favorite photos that I have framed from our amazing photographer is a wide shot of the ceremony with the gardens and the house in the background. It was just perfect."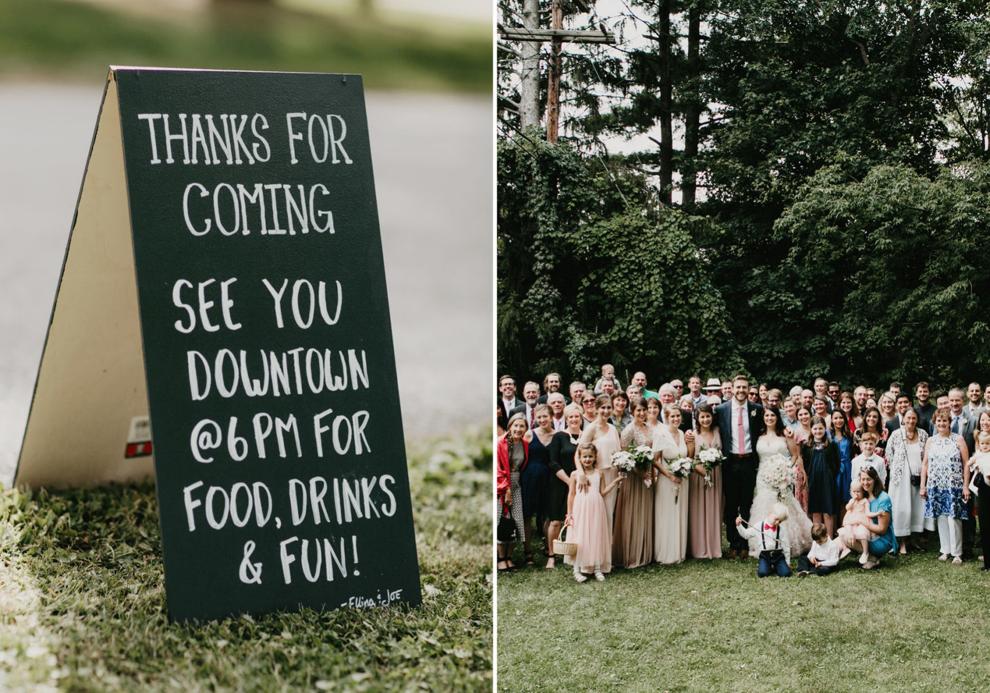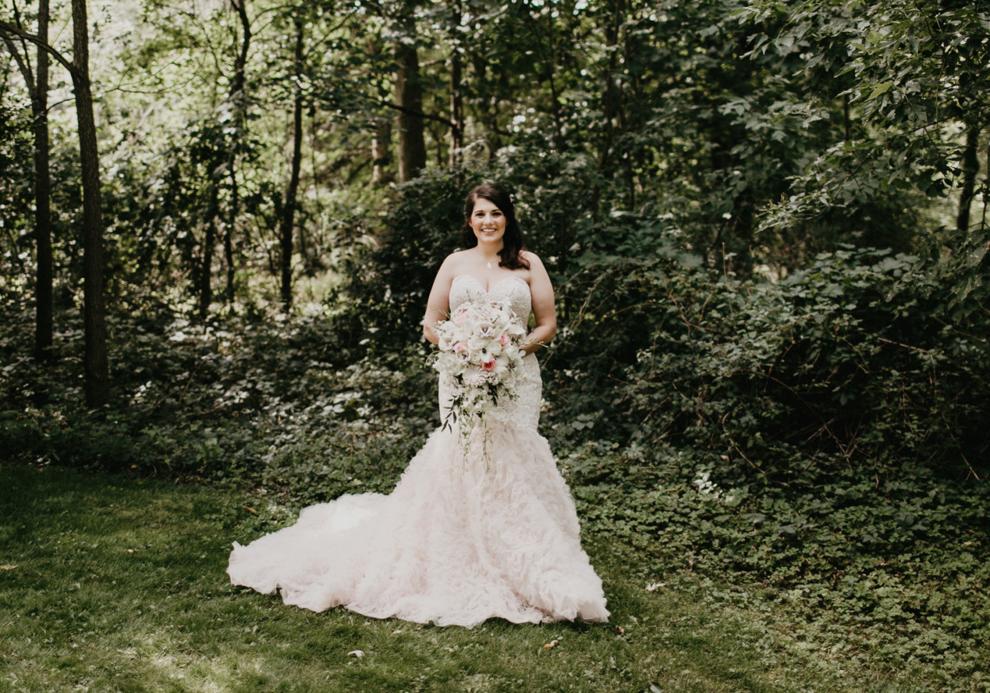 "I grew up on Harry Potter—it's the first book I remember reading and it is something that defined my childhood. It was the seed that helped my love of reading grow; it helped define my values and identity as a kid growing up; it opened up my creativity and gave me a magical world to hide away in. So I wanted to show off that piece of me in small creative ways," says Ellina. "The flowers were a small detail that I thought would look beautiful. I used second-hand books and made flower after flower after flower. I may have accidentally given myself a hot glue gun burn on my hand the week of the wedding due to them. But now I'm a pro and I was so happy with the result. My florist also did an amazing job of including them into my bouquet."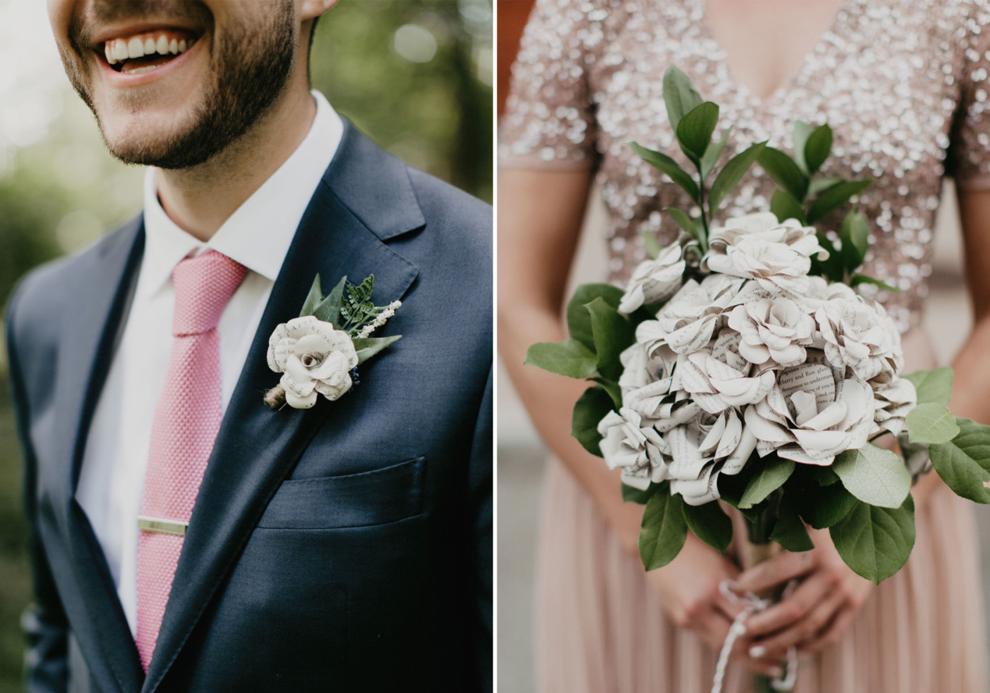 ---
The reception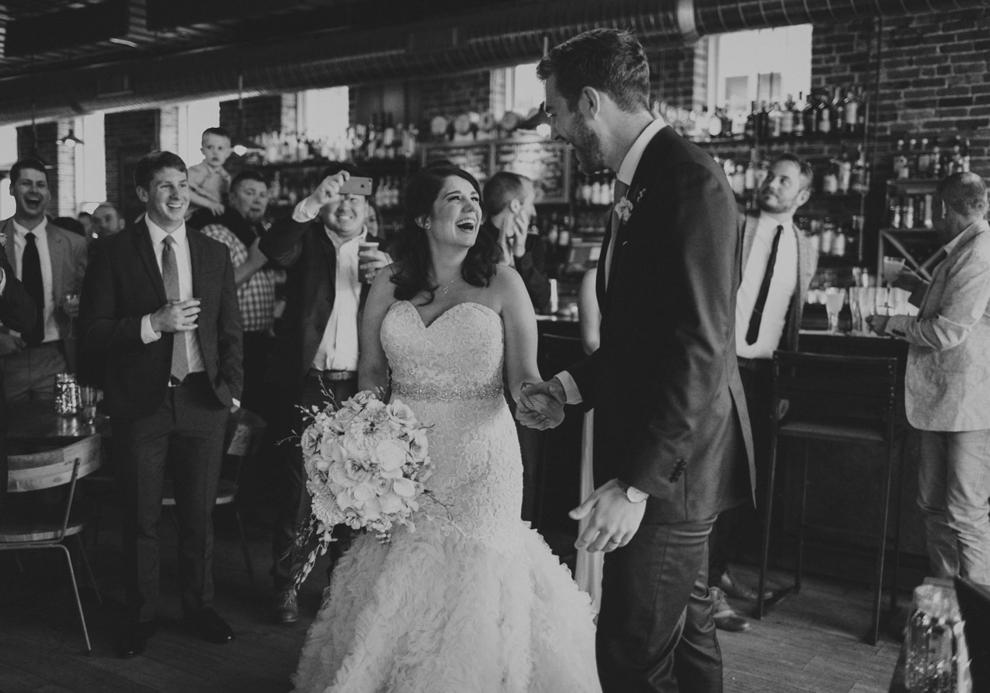 "For the reception, we wanted to keep the coziness going. We aren't fancy people and we aren't traditional. So when I was looking around, we didn't want the regular ol' banquet hall, or anything that may be overly beautiful but would be out-of-this-world expensive," says Ellina. "We also wanted to show off Buffalo to our out-of-towners. One of the first places we thought of was Hydraulic Hearth—it has such a warm, welcoming feeling and represents Joe and I so well. Friendly staff, growing part of town, great food, amazing cocktails, plenty of Christmas lights and a beautiful indoor / outdoor combo space. It's a perfect cozy location and it's such a beautiful space already, we hardly had to do any decorations. It had the perfect vibe and Harry, the owner, was just amazing to work with. They were so kind and helpful. They even let us include a specialty cocktail on the menu—a cocktail made by my dad called the 'Just MarReed.'"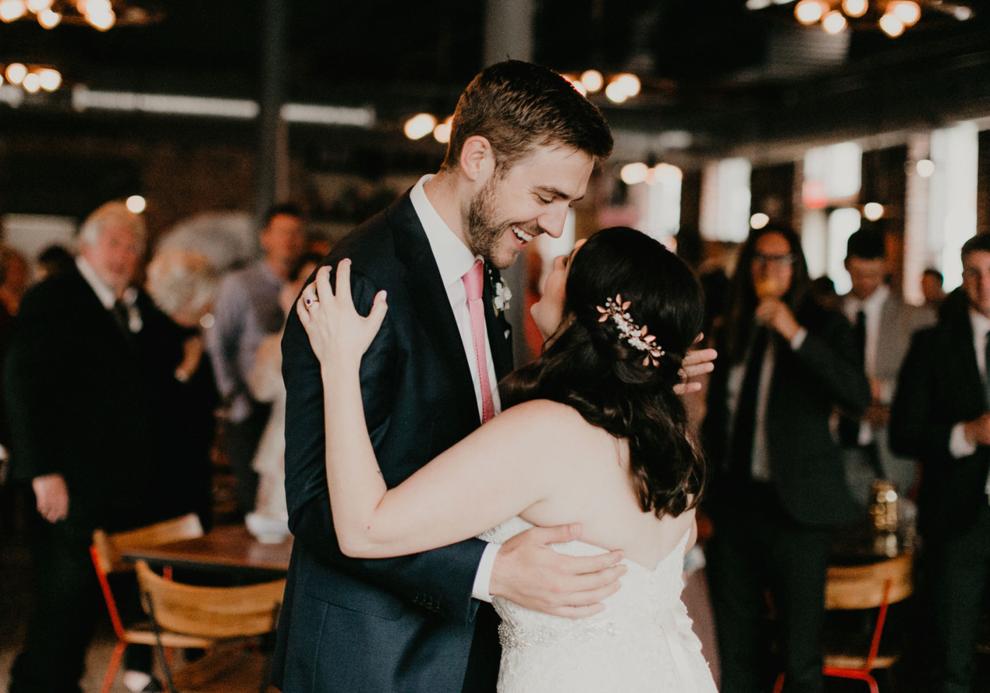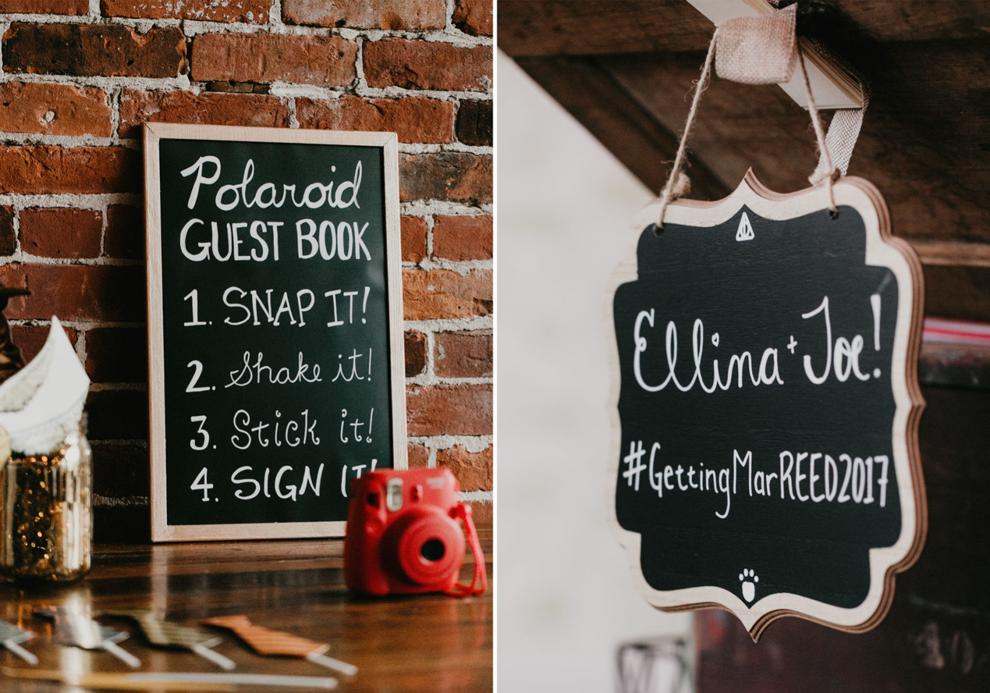 "We made our own decorations," says Ellina. "We asked family and friends for help, and we found fun ways to get people involved the whole week surrounding the wedding."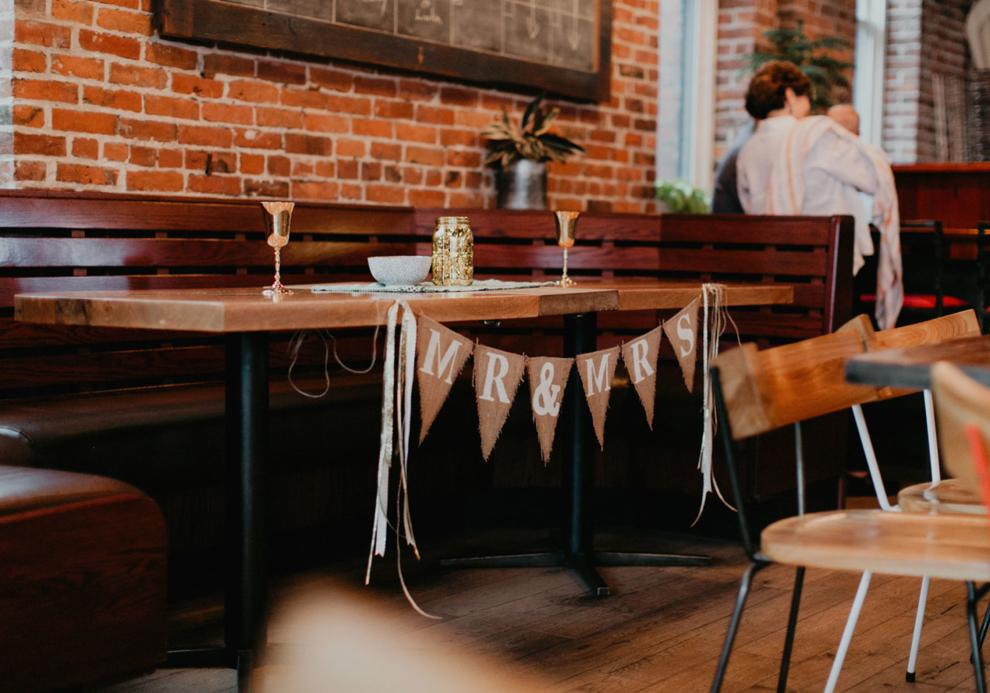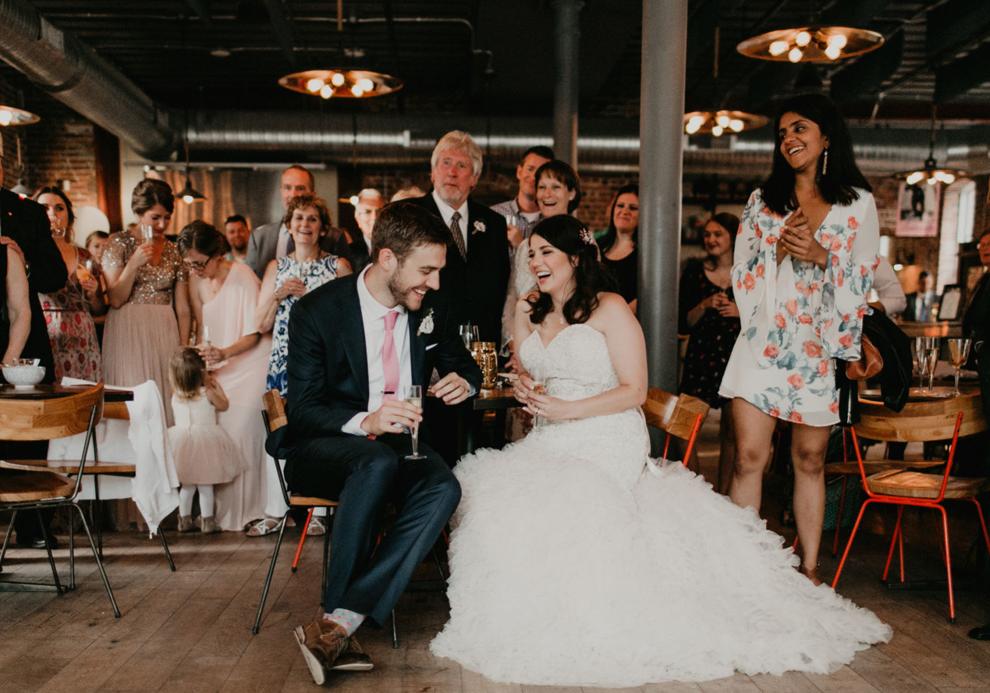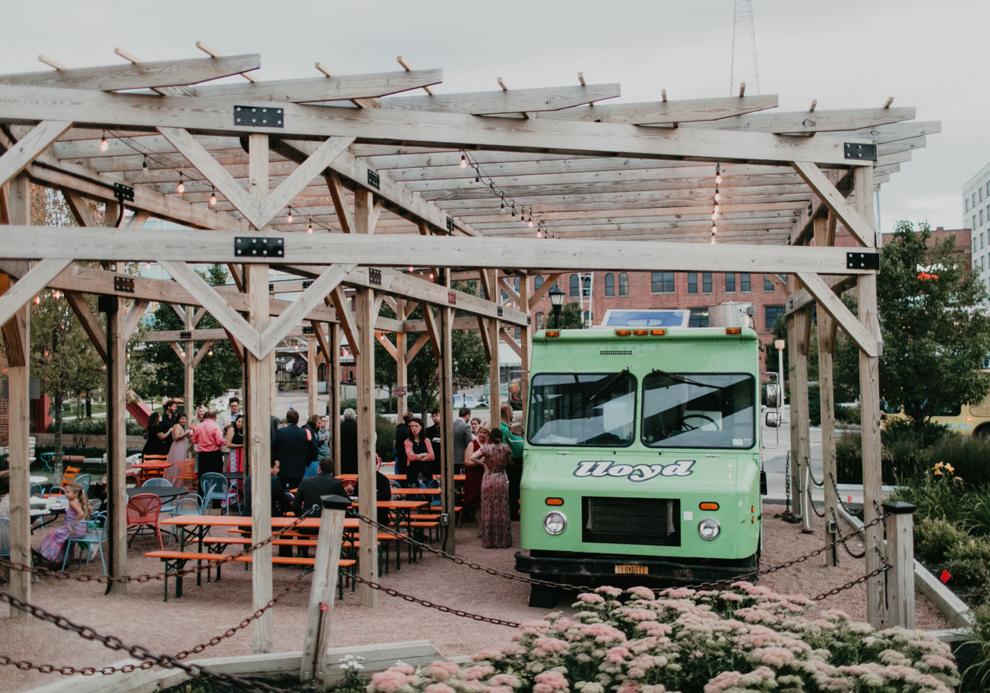 "We ordered our favorite food, tacos, from our favorite place, Lloyd Tacos, because why not?" says Ellina. "It was actually one of the first places I took Joe on his first visit to Buffalo. Back when it was just the white, unwrapped food truck!"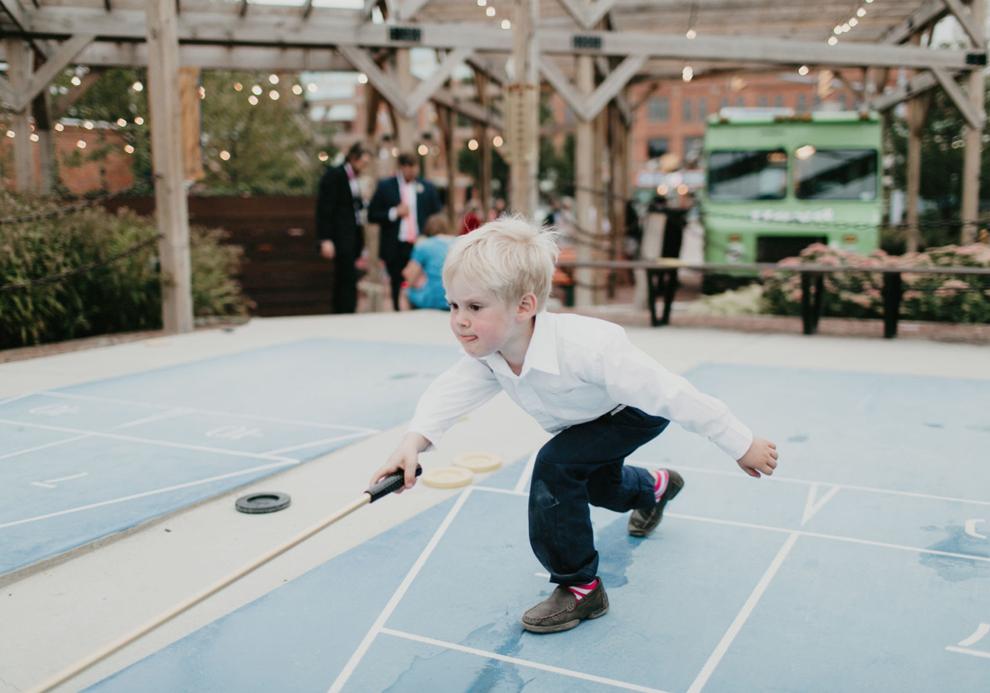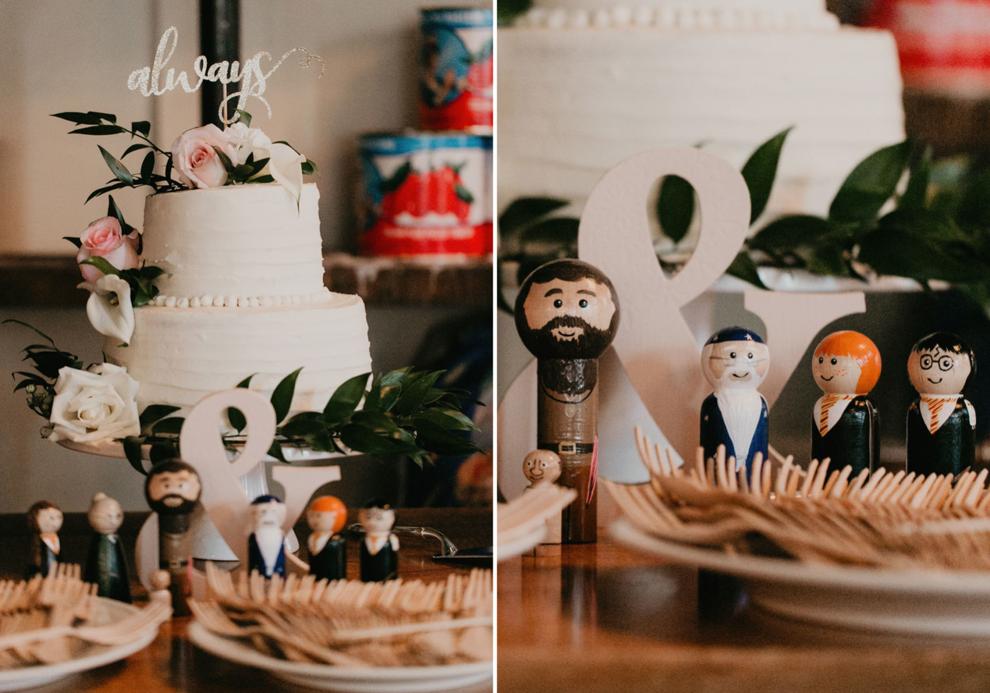 Ellina's mom not only made all the desserts for the evening—including the two-tiered wedding cake—and she also surprised the couple with the tiny Harry Potter peg dolls.
"When I look back on the day, I remember it in flashes," says Joe. "Hilarious moments of being on the dance floor with college friends. Or scarfing food at our little newlyweds table late at night so we could get back to drinking and dancing with family. Quietly and peacefully standing with Ellina taking our photos between the ceremony and the reception. Downtown Buffalo, Saturday afternoon, fresh from a sprinkle of rain, no one around but a few honking cars wishing us congratulations. I remember eating sandwiches and having a drink with my brothers while getting dressed. I remember being terribly nervous about saying my vows to Ellina, and then feeling those nerves wash away when the words felt absolutely perfect for that moment in time. Snuggling Simon, running errands, post-reception drinks downtown and so many laughs to count—I remember these small bursts of joy and laughter and love. And when you add them up, and throw in a few photos from our awesome photographers, the day comes rushing back. I wouldn't change anything about it."
---
The details
Who helped the couple make it happen
Cake Ellina's mom, Nancy Stein