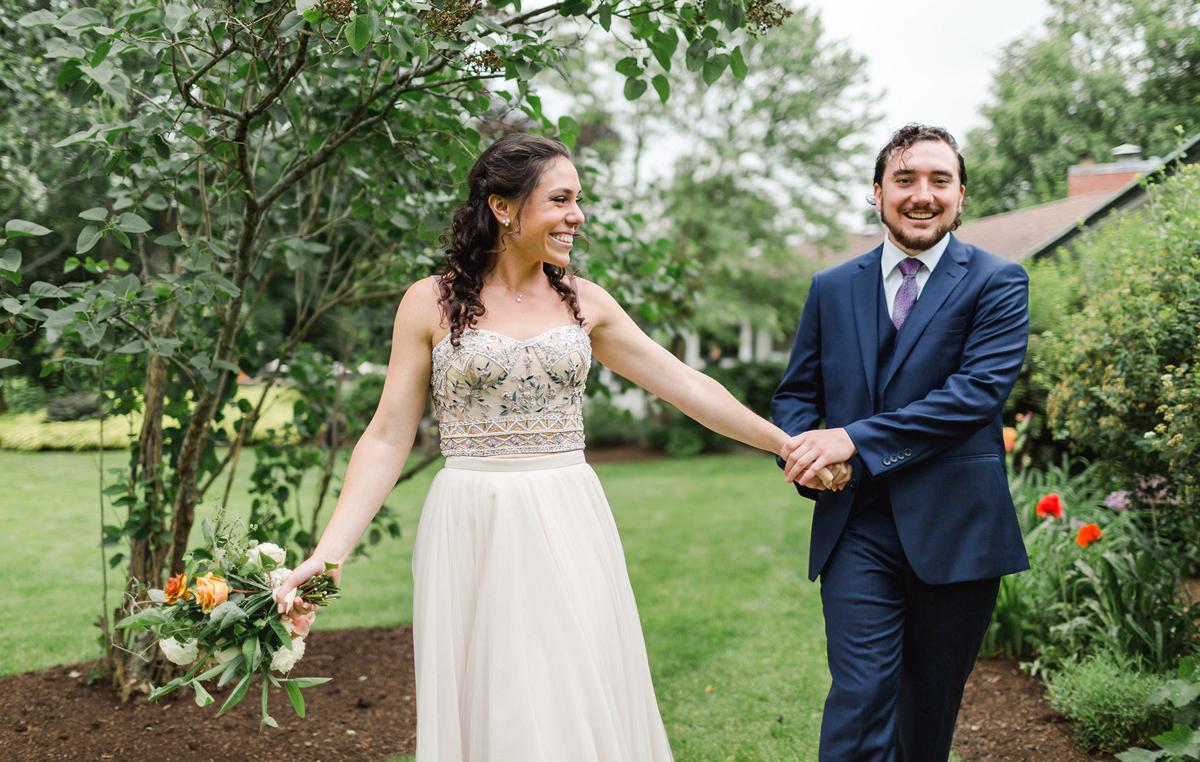 They envisioned a backyard wedding from the start.
Elana Korn and Daniel Myers first met in June of 2014 playing on a kickball team comprised of their mutual friends—and quickly realized they grew up just a few miles from one another and attended neighboring high schools.
Buffalo has always been their home base, and the two couldn't imagine getting married anywhere else. When the couple announced their engagement to their families, they immediately asked Elana's parents, Charles Korn and Deborah Raiken, about hosting.
"My parents were ecstatic," said Elana. "My mom said that she always secretly hoped there would be a wedding in the backyard."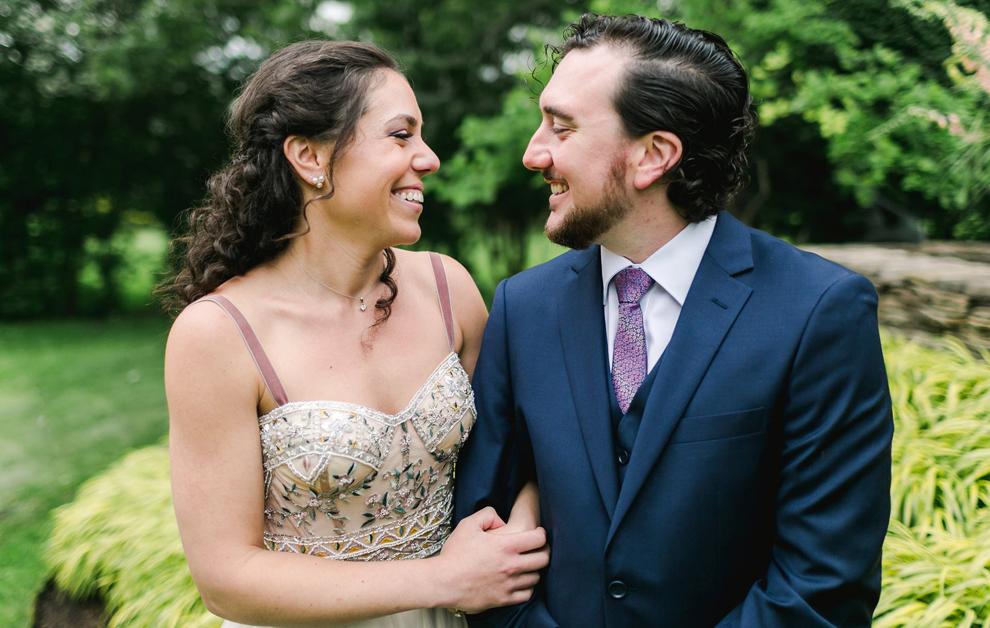 Set five years to the day after they started dating, the June wedding took place at the ideal time of year to show off the lush, colorful beauty Elana's parents had created in their backyard. Two hundred friends and family gathered to witness their union.
"Creating the wedding from scratch allowed us to be creative and custom in everything we did," said Elana.
They started by taking down the backyard swing set that was built when Elana was five. Grass was grown in its place, and Elana and Dan stood in that very spot during the ceremony.
The swing set wood was used to build their chuppah—a Jewish symbol of the home you build together as a married couple—and the ladders were used to make decorations for greens and florals. The covering of the chuppah was made from Elana's mother's wedding dress, and Elana wore her Nonnie's jewelry.
Built from the ground up, their wedding wouldn't have been possible without the help of not only a team of professionals, but also family. Elana's cousin Susan created the bridesmaid's handbags. Dan's cousin David conducted the ceremony.
Dan's mom Jean made the cake, and Elana's cousin Janie made the cake topper—which the couple loved so much they replicated the design on t-shirts and handed them out to guests as favors.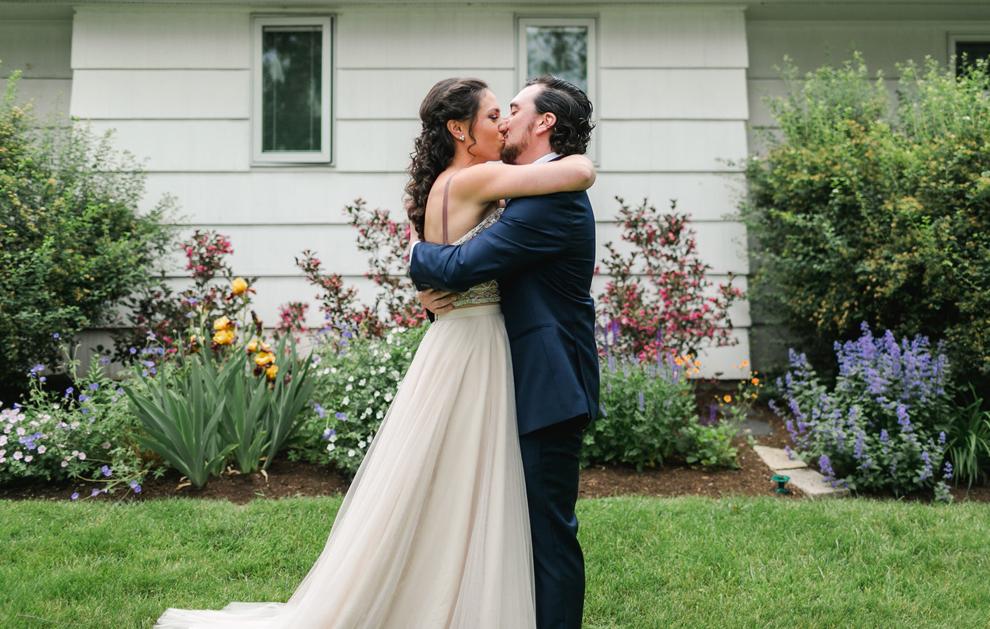 From the gorgeous sailcloth tents and the seasonal floral arrangements to the delicious food cooked fresh on site, the professionals finished bringing Elana and Dan's vision of "relaxed elegance" to life.
"I am so grateful to have been able to (create) a perfect reflection of Dan and I," said Elana. "It took extra planning and commitment to make it happen but it was unique, meaningful and ours."
---
The details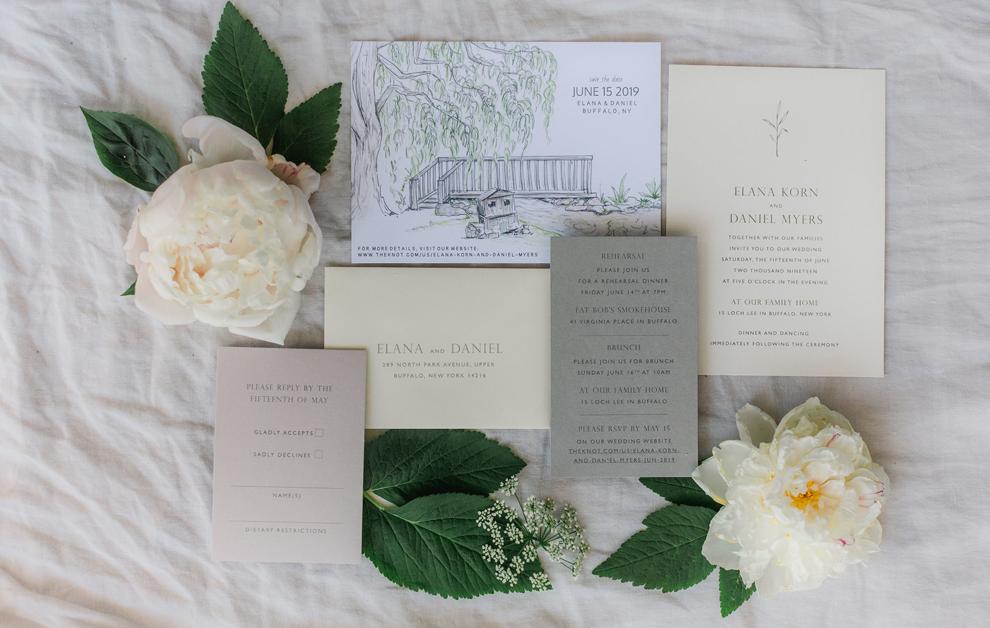 Both the save-the-date's and the wedding invitations were a reflection of the space in which Elana and Dan would be married. The save the date's incorporated elements sketched to paper from Elana's parents' backyard, and the invites matched their color and style.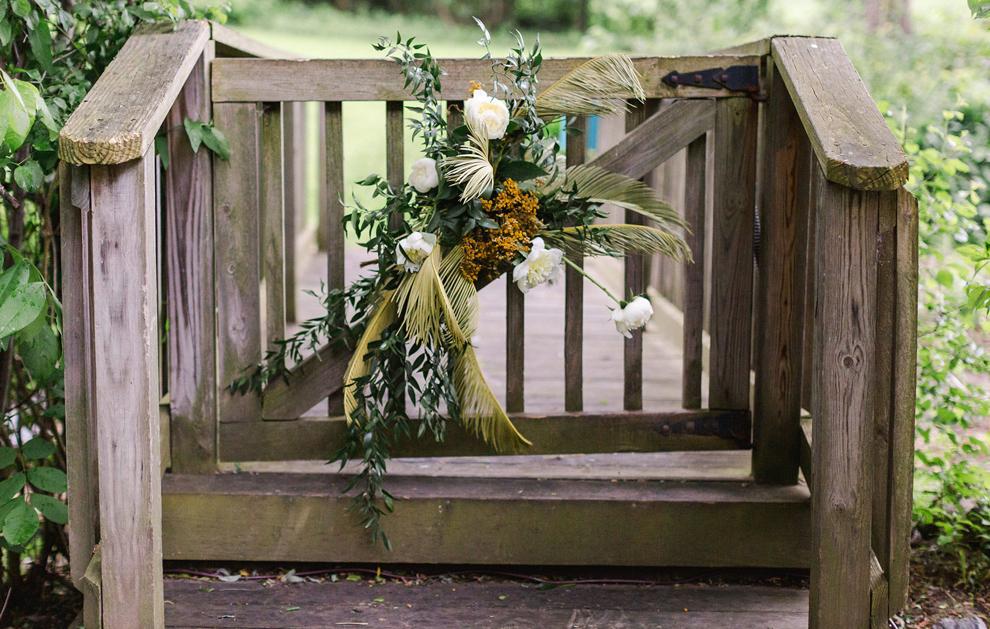 "Marrying Dan at the house I grew up in, in a backyard we both love, was perfect," said Elana. "My mom's garden looked amazing!"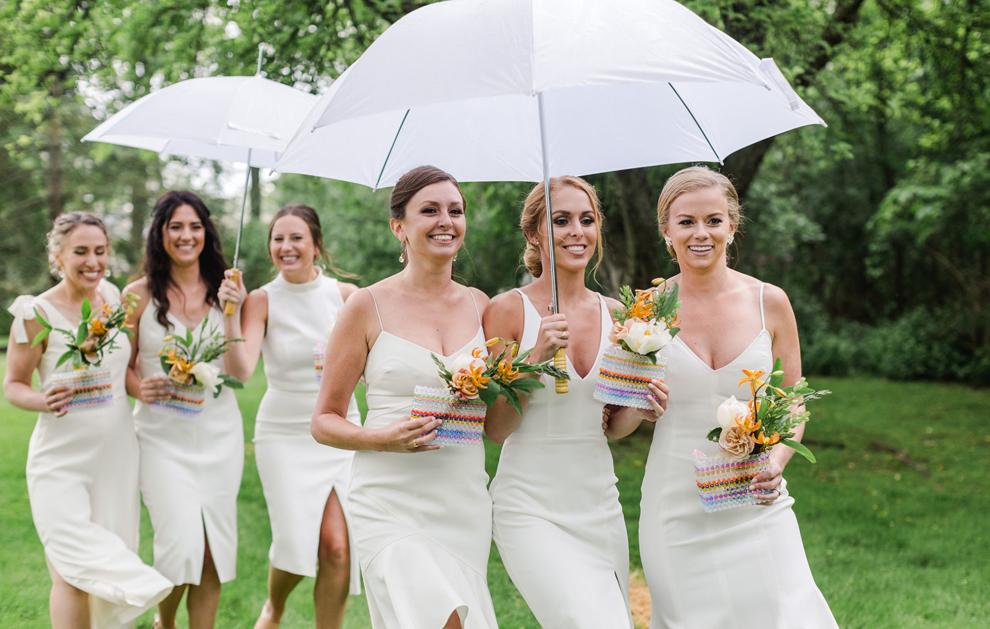 The bridesmaids each carried their flowers in Little Merry handbags, which Elana gifted them when asking to be in the wedding party. "The handbags are extra special because my cousin Susan Korn, of Susan Alexandra, designed them," said Elana.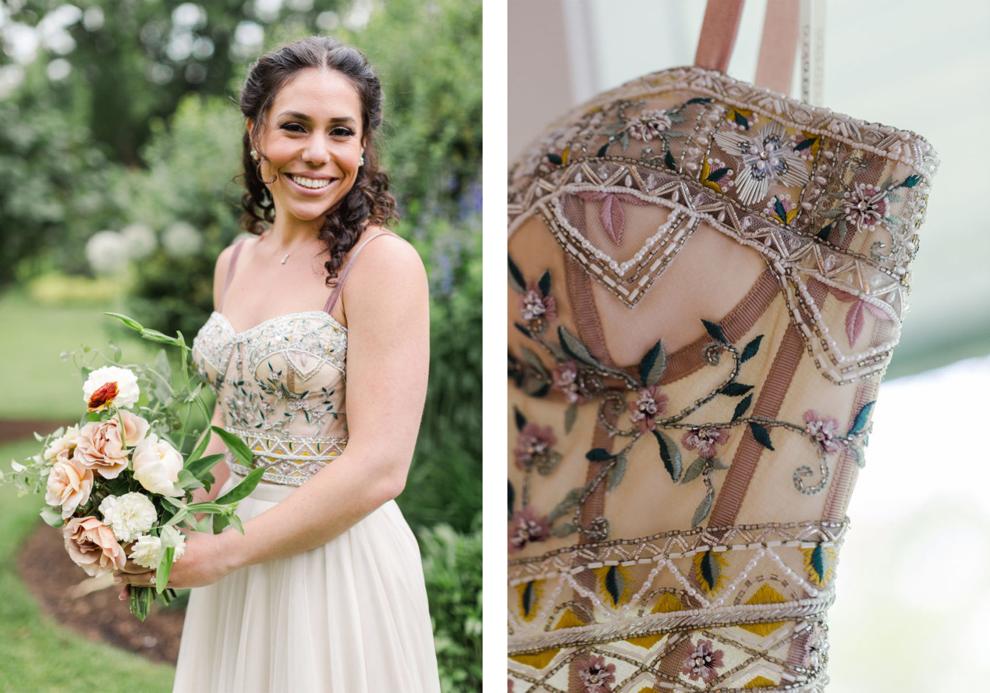 "My dress was not very conventional, or white, but it was very me," said Elana. "I immediately envisioned the bridesmaids in white alongside it. I knew no one else would be wearing it so they would stand out."
Elana and Dan did not have a religious ceremony—she is Jewish, and he is not—but there were a few elements the couple were drawn to and opted to include.
"We used the wood from (my childhood) swing set to build our chuppah covered by my mom's wedding dress and willow branches from the backyard," said Elana. "My dad referenced the parallels to 'The Giving Tree' in his speech."
The couple also opted to read their own vows during the ceremony.
"Reading our vows to each other tucked into a small space with everyone we love was so special," said Elana.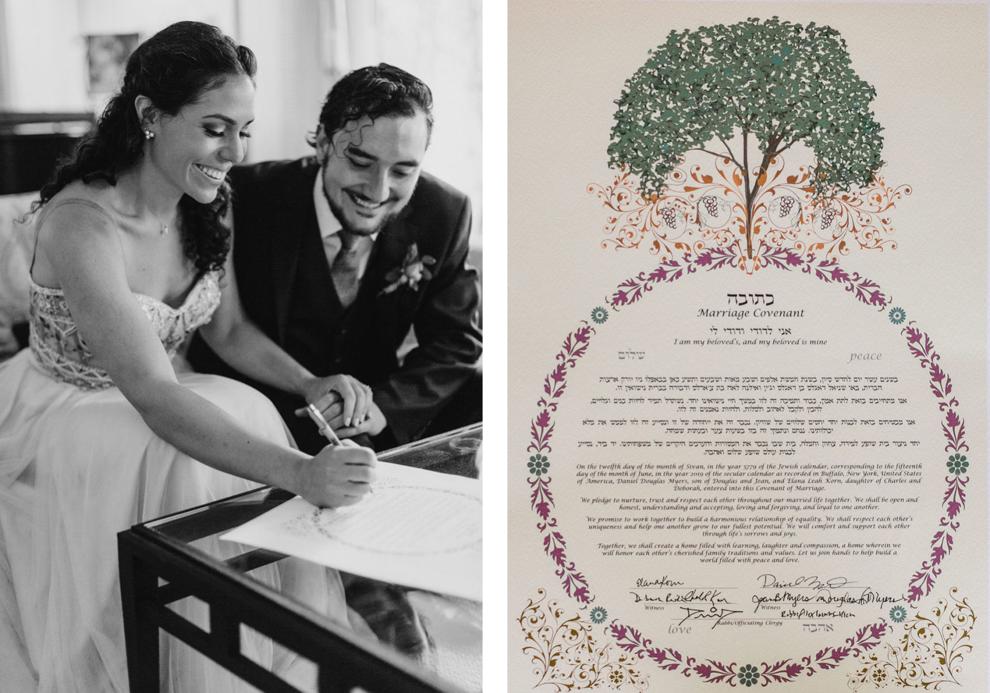 In the Jewish faith, the ketubah is a marriage contract signed by the couple, witnesses and the officiant.
"We chose a secular text which was beautiful, and we are excited to frame it to have in the house," said Elana.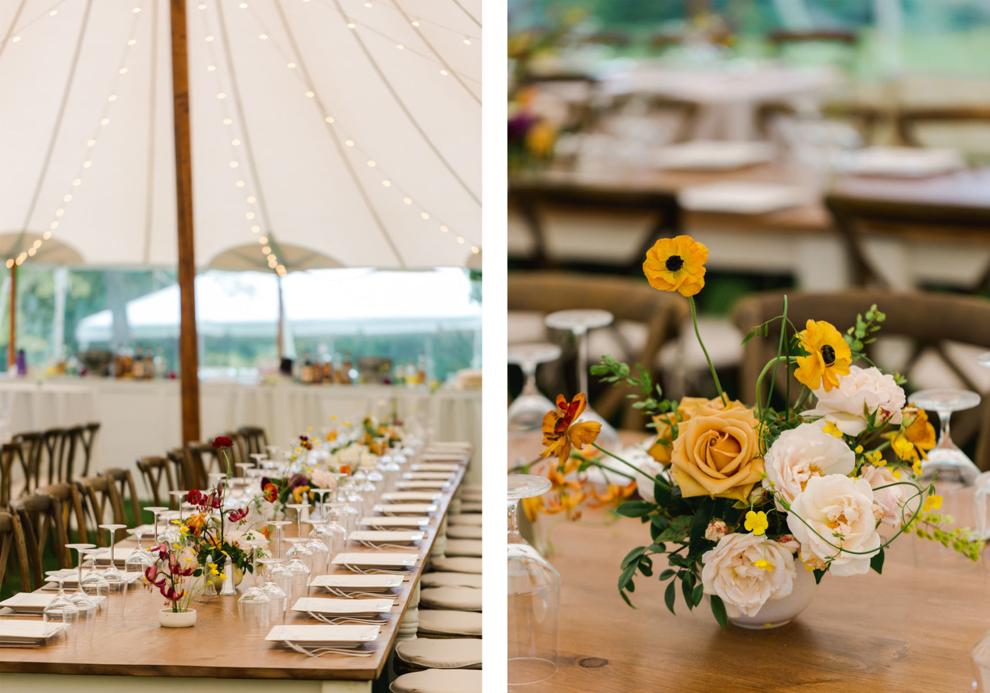 A backyard wedding meant that Elana and Dan had to start from scratch with their venue.
"A production of this scale would not have been possible for us without Syrie Roman of Social Maven," said Elana. "She was the ringmaster."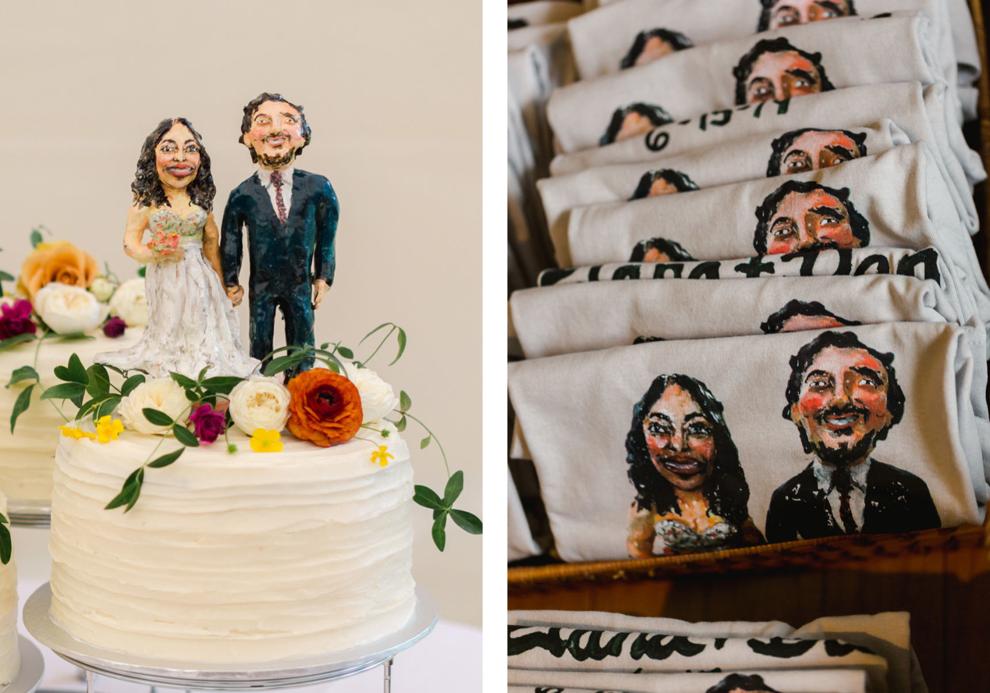 The cake topper was created by Elana's cousin, artist Janie Korn.
"We loved it so much we put it on a t-shirt which we gave out as favors!" said Elana.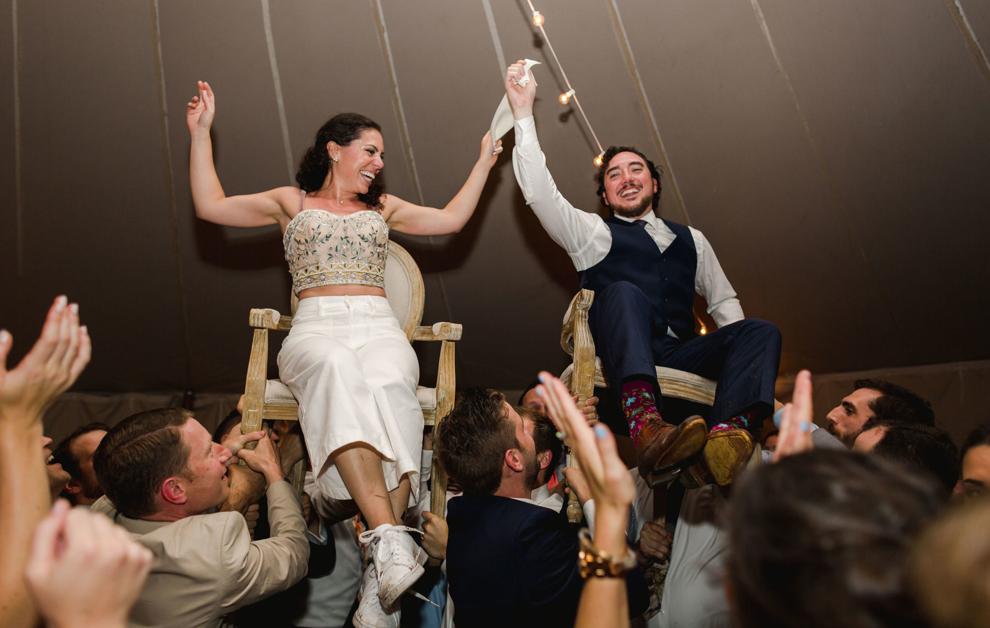 The dancing never stopped, and the guests stayed even after it ended.
"The party was just epic," said Elana. "The dance floor was overfilled the entire time."
---
Dream team
Who helped the couple make it happen
Makeup / Shianne Valetta and Chantelle Sutherland