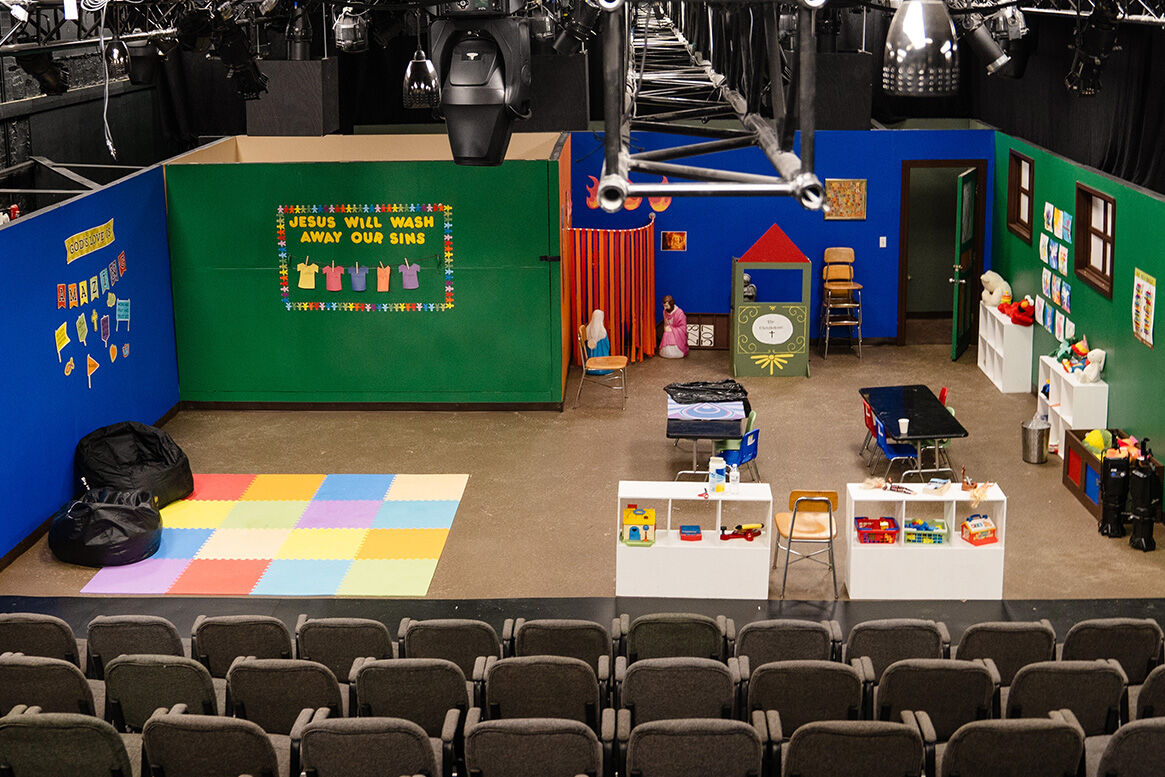 Live theater is so much more than what's visible to audiences on stage. It's months of minutia, all choreographed into a final production that has to be flawless—after all, there are no retakes or do-overs once the spotlight starts shining.
As audiences and artisans return to bask in the transportive magic of the stage, local theater companies have been gearing up behind-the-scenes for months to make these shows happen. While each organization's process varies, most share similar steps to take their troupes from off-season to opening night.
Scott Behrend, artistic and executive director for Road Less Traveled Productions, shared insights into the long to-do list his theater undertakes to put on a play.
Picking the plays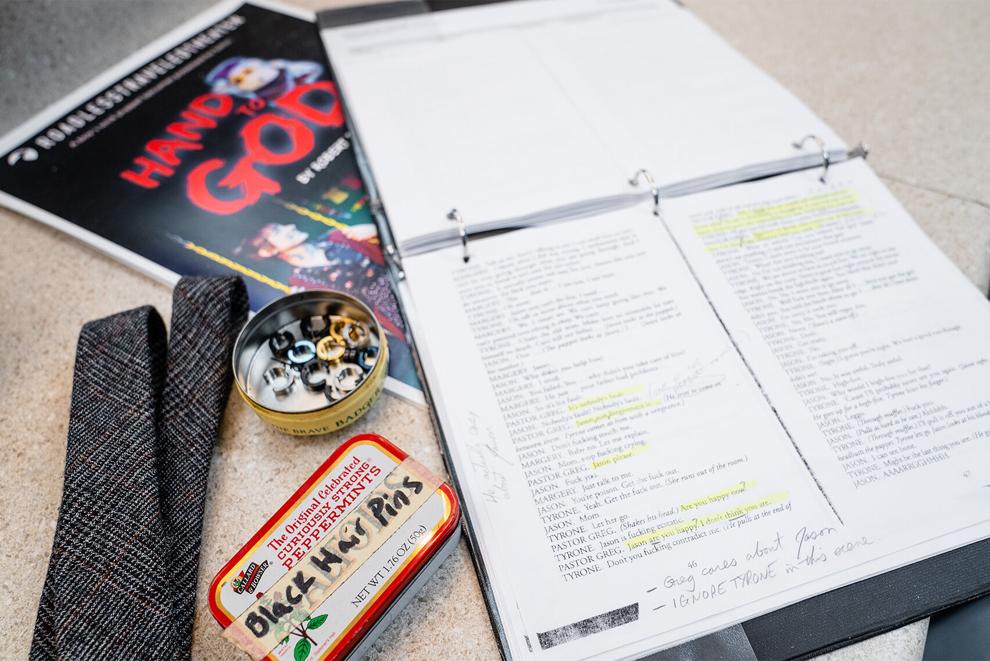 Behrend keeps what he calls "a never-ending pile" of plays from local writers and national talent from which to pull around five each season. He'll look for plays that pique Road Less Traveled audience interest, fit within the budget and will result in theater that's imaginative, addresses social issues and current topics in the community and nationally and, most importantly, makes theatergoers think after they've left the show.
Scheduling the shows
Once the plays are selected, the calendar comes next. Show dates depend on when the director or certain actors are available, when other theaters are opening shows and the schedules of intended audiences. (Shows geared toward college-aged attendees, for instance, wouldn't be staged during university breaks).
Behrend says determining the show order is a lot like crafting a playlist with the right flow.
Filling the roles
The director is selected first, then that person is instrumental in selecting the rest of the personnel, from cast members to craftspeople. Road Less Traveled attends Theater Alliance of Buffalo open auditions to identify some of its talent, while other roles require actors to come in and read for a part individually.
The company also maintains a core ensemble of artists on staff that include actors, technical directors and designers for sets, sound, costumes and more. The company will add additional skillsets as needed depending on the show.
"Hand to God," for instance, which reopens November 4 after Covid-19 cut its debut short in 2020, employed a puppeteer; other productions have required dialect coaches, a fight director, an airbrush tattoo artist and somebody to mix up pints of fake blood every night. Each show can employ between 20-50 people total.
Building the set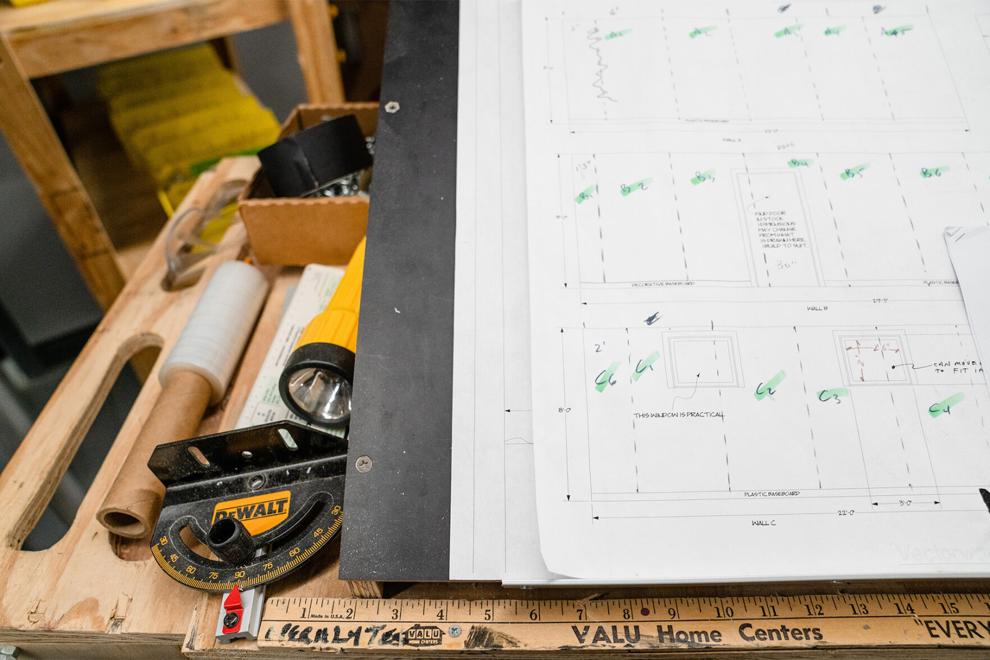 Set designers work closely with the director to bring their vision to life in the built environment on stage, and then the technical director engineers and builds the whole set. They take into consideration things like which pieces should be built versus imagined, whether a portion of the set will need to support human weight and which pieces will need to stay static or move.
Adding light and sound
Once the set is built and installed, technical details like lighting, music and sound effects are dialed in. The teams responsible for the set, tech and costumes are in constant collaboration with the directors to make sure the creative vision is cohesive and everyone knows what the other teams are doing.
Rehearsing the roles
The cast begins rehearsals five weeks before opening night. The entire company—actors, director, production team, everyone—gathers for the first read-through so everyone can get a sense of the flow and feel of the piece.
Two weeks before opening is "tech weekend" at Road Less Traveled, where all of the actors take to the fully built set on stage, and the lighting, blocking, sound, cues and timing are all fine-tuned.
Costuming the cast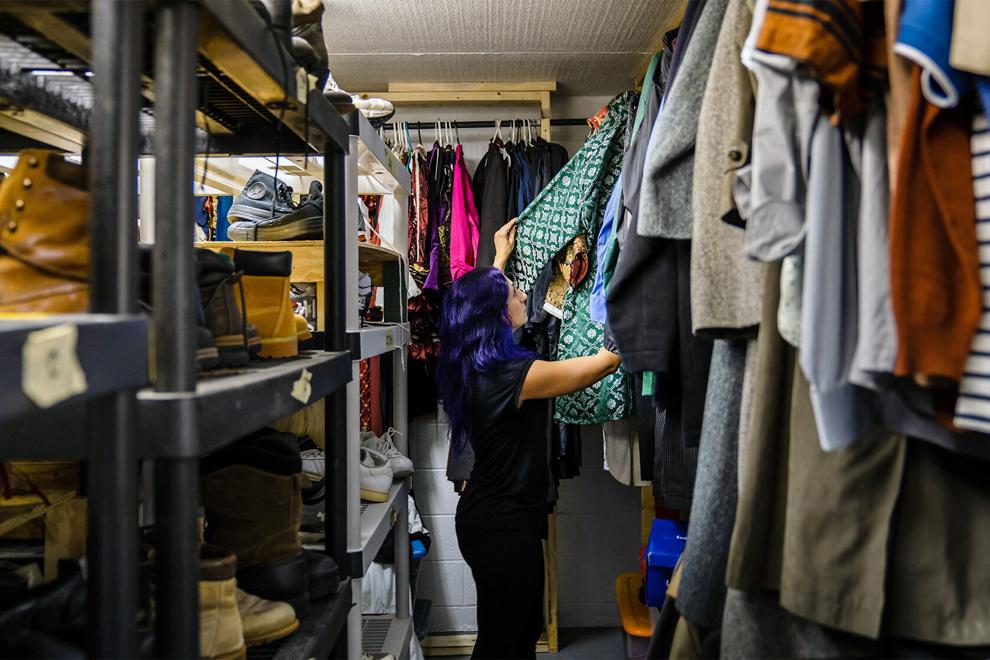 As the set begins to take shape and rehearsals are underway, the costume designer pulls together all of the outfits and accessories for each role in each scene. Some garments are found, some are made and others are a mix; all are fit to the actor who will wear them.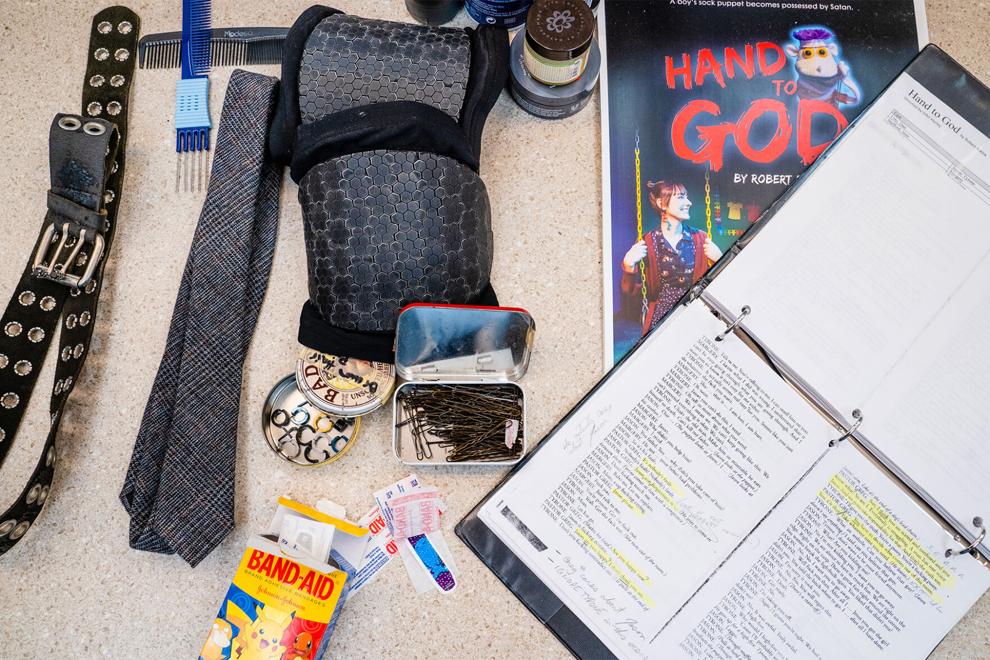 Costumes are part of the final rehearsal during tech weekend's full run-through.
Finding the props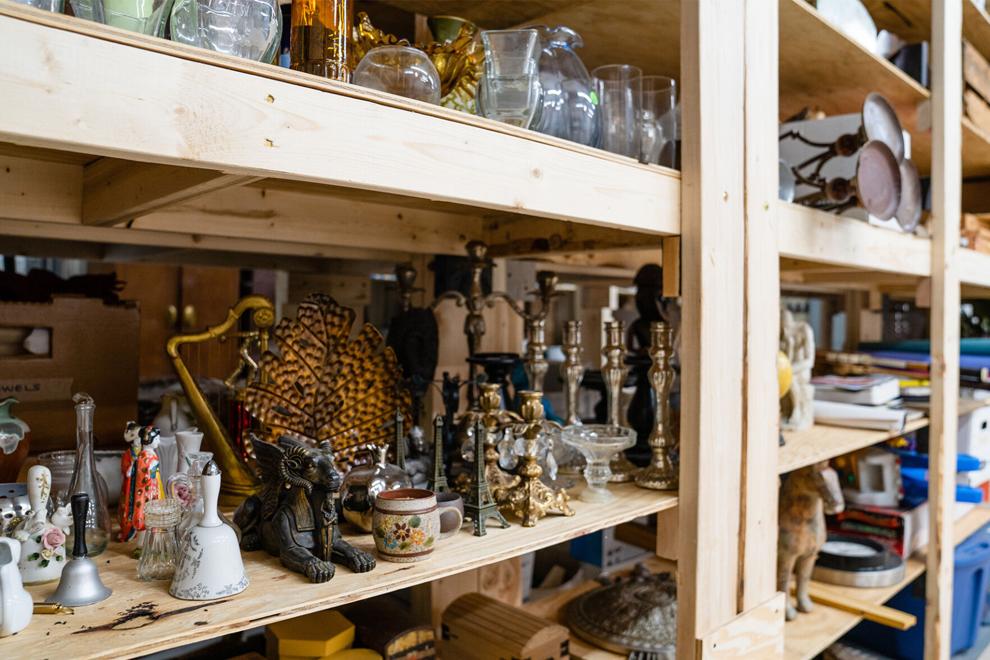 A prop master is responsible for finding anything the actors touch during the performance, from suitcases and books to weapons and spatulas. The prop master also fashions "doofers"—stand-in rehearsal props that'll "do for" now until the actual prop is sourced, or if the prop is too fragile to be handled repeatedly before the performance (like a vase or real flowers).
Minding the budget
As a 501(c)3 organization, Road Less Traveled Productions builds detailed budgets ahead of time for each department and meets continuously to make sure everything stays within the allotted costs.
Promoting the show
Advertising starts when the season is announced and is ongoing every day until the last show closes. Marketing plans include sourcing imagery for posters and ad placements, working with a social media specialist, coordinating interviews with local broadcast and print media, getting on all the area calendars and listings, email campaigns, website updates and so much more.
Producing the playbill
This year Road Less Traveled Productions will be switching to digital playbills for each show (with a handful of printed versions on hand for those without devices), which gives them more room for content without page-space constrictions and reduces the use of paper. The company works for months to secure advertisers and sponsors for the playbill, then writes and designs a comprehensive publication for each show.
Managing the minutia
Behrend's office is a command center of sorts, where he keeps track of every single detail of every single show. There's a 4-by-8-foot white board on the wall with the whole season of plays listed alongside the personnel for each, plus several spreadsheets, countless lists, Word docs and calendars to organize every receipt, schedule, delivery and to-do.
Selling the tickets
Ticket sales typically start in February for a September show, starting with season subscriptions until mid-summer, then moving to individual ticket sales. A box office manager coordinates group sales, finding as many as 10 or 20 seats together and making sure everyone gets their digital or printed tickets.
Getting ready for guests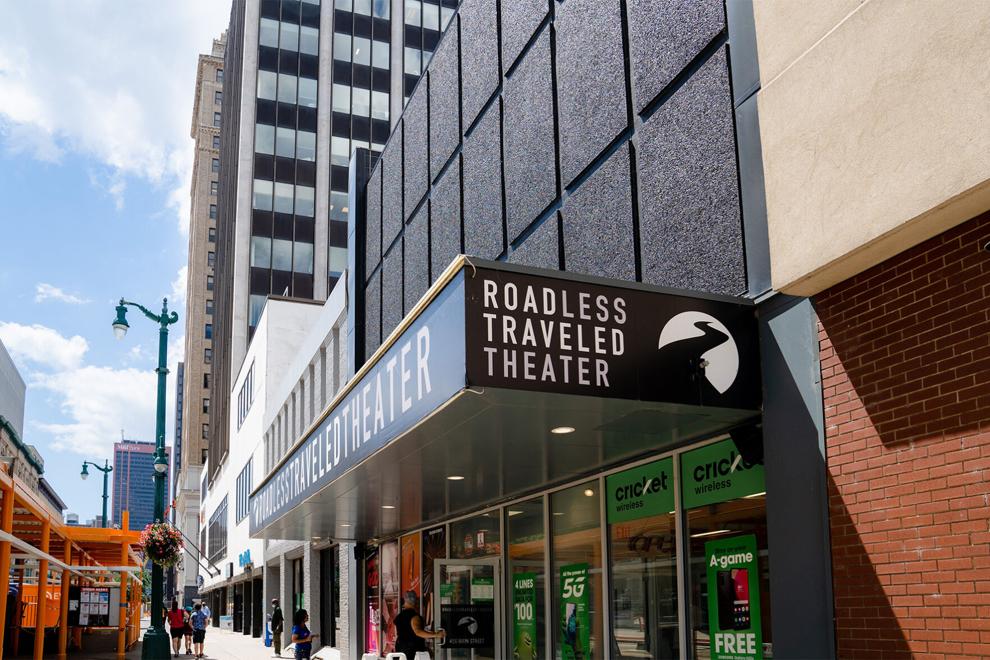 The Road Less Traveled Theater was just built in 2018, so maintenance is minimal. A cleaning company comes through several times per production and scours the seats and lobby. The house manager hires ushers for each production, schedules bartenders for the lobby and makes sure the bar is stocked. The technical crews will test the lights and sound one last time just before guests arrive.
Raising the curtain
After months of preparation, it's showtime. Road Less Traveled Productions open on a Thursday night, and each play runs for four weeks with four performances per week.
Throughout the season, as the company is performing one play, it's already starting to work the next show at the same time