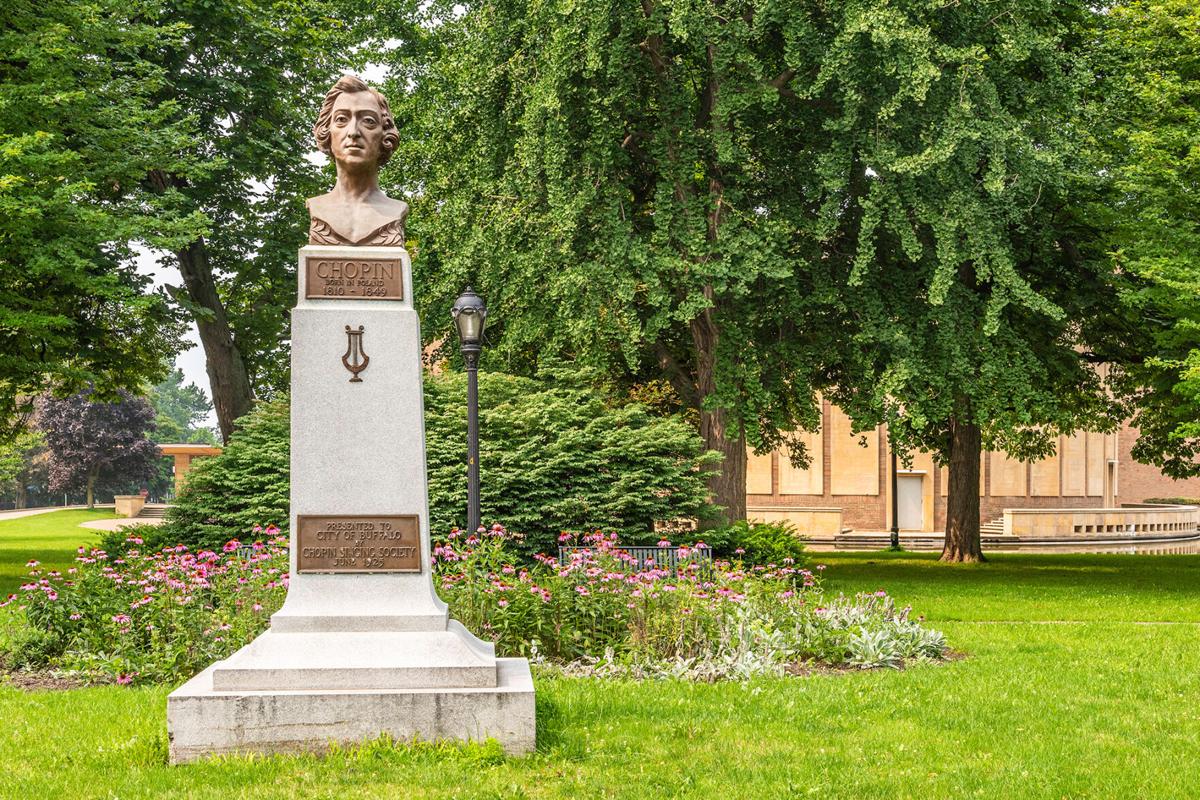 "Now some of these details could be part of the myth. The myth often precedes you and perpetuates," said Thomas Mazur, my father and the nephew of the mythical figure in question.
The truth is that my great uncle, Josef Mazur, was a stained glass artist, muralist and sculptor whose work can still be seen in Buffalo, Chicago, Detroit, Michigan, Philadelphia and the walls of my childhood home. A fact that never fully dawned on me until, like my father, I was older.
"Growing up, we always knew that we had an artist in the family. But he was born in 1897. My father was born in 1907, so that's a 10-year difference. Joe was already in his 50s when I learned of the scope of his work and his status in Polonia," added Mazur.
This is a story about my great uncle—but also one about appreciating the art that's right under our noses before it's too late.
Josef Mazur was always a talented artist. So much so that he studied at Albright Art School (before it was a museum) and the Art Students League in New York City, where upon graduation he already had quite a name for himself in the art scene. He even painted camouflage in World War I.
What did Joe do with all of that big-city cache?
He came back home to work in Buffalo, where he was given an artist's welcome—in the form of a commission to make a sculpture of Frédéric Chopin. The sculpture originally stood in front of the Buffalo Museum of Science to represent Poland's contribution to arts and culture. You can now find it outside of Kleinhans Music Hall.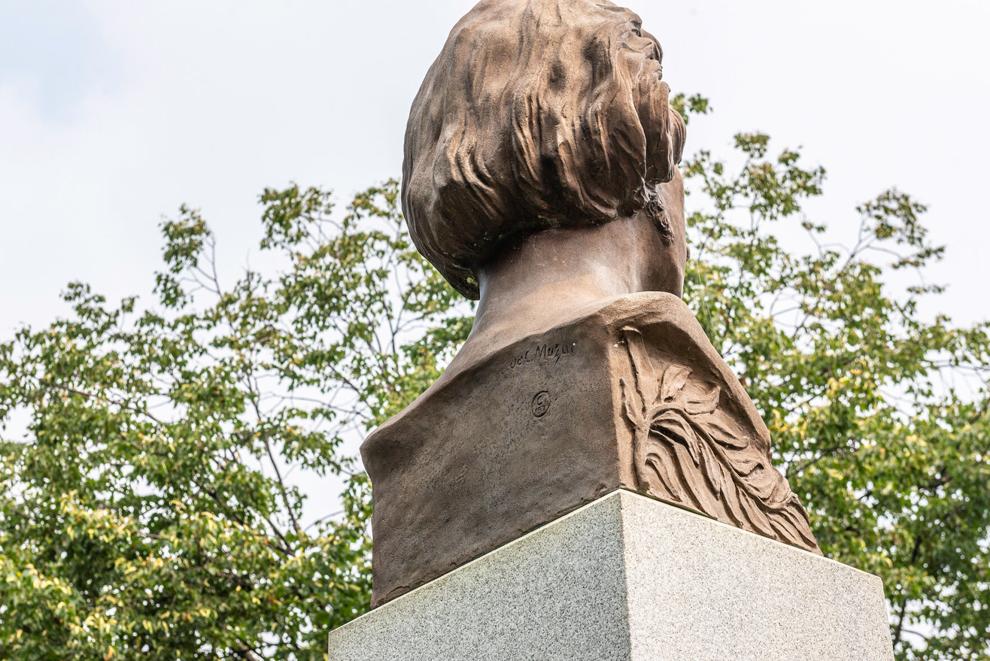 Josef's next commission would be career defining. St. Stanislaus Bishop & Martyr Church needed all of their interior murals to be painted. And they wanted the nice Polish artist who just came back from New York City to do it. Josef accepted the job and with the help of my grandfather, who acted as his foreman and did all the charcoal stenciling and marbling effect, developed an area of expertise.
"St. Stan's was an important church. It had a lot of parishioners. It's like the cathedral of the Polish community and what got him well-known in the East Side of Buffalo," Greg Witul, stained glass and Josef Mazur historian, told me.
These murals would often be painted on large canvases and then plastered on the church walls. It's also said that Joe's wife, Stefa, served as the model for female figures, especially Mary, the mother of Jesus. There does appear to be a family resemblance.
After the success of St. Stan's, Joe was approached to do St. Adalbert's Basilica and Transfiguration Church. He was becoming a well-known ecclesiastical painter and eventually expanded to stained glass windows, where he established a definitive "Mazur style."
"When Joe was coming up, he experienced the three most influential styles of stained glass in the 20th century. Attending St. Adalbert's Basilica as a child, the Franz Mayer of Munich and Franz Xaver Zettler windows were some of the first stained glass that he had been exposed to. Joe would carry their style of detailed event windows and scenic figural panels with him," said Witul.
"Later he would incorporate some of Charles Connick's Gothic Revival ideas into his windows, by eliminating highly painted backgrounds and replacing them with simple cobalt blue or other colored glass. He's being clearly influenced by what is happening around him, but taking the best of those things and making it his own."
Josef's stained glass windows can be found throughout several churches in Western New York including St. Margaret's in North Buffalo, St. John Kanty's in Buffalo and Saints Peter and Paul in Hamburg.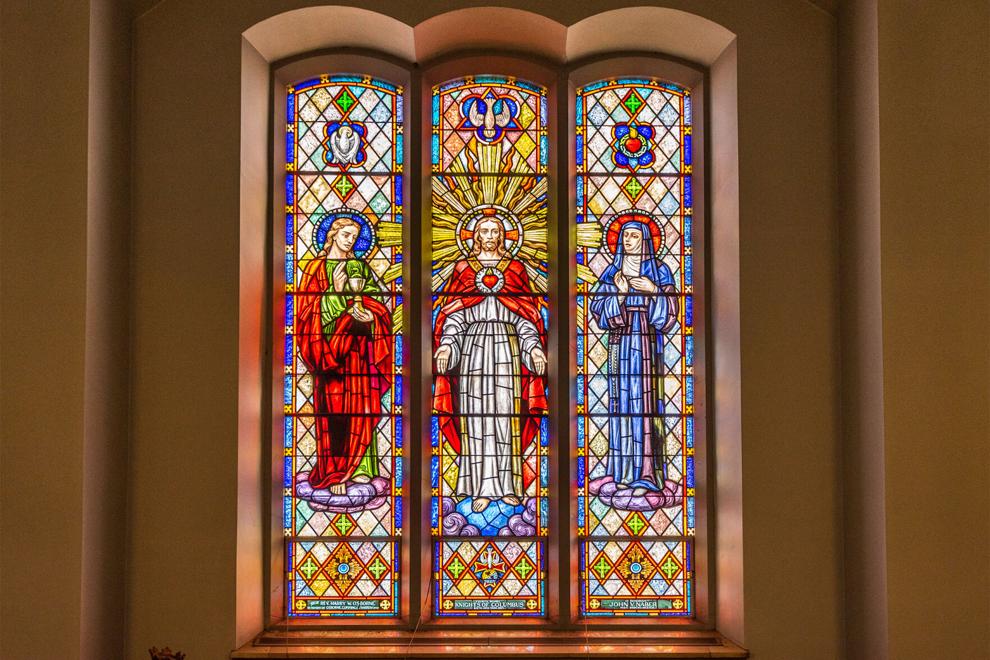 With his newfound prominence, Joe took the opportunity to hide some Polish Easter eggs in his art.
"By working with Polish-American churches and organizations, Joe would further add to the medium by creating windows of figures and scenes found nowhere else in the U.S., such as the Lamp of Polish Writers and Artists at the University of Buffalo, St. Kunegunda at Holy Cross Cemetery and Our Lady of Czestochowa at St. John Kanty's in Buffalo," Witul explained.
Speaking of the University at Buffalo, Josef also donated stained glass medallions for their Polish Room. In true Joe fashion, each medallion celebrates an important Polish cultural figure, including Nicolas Copernicus, Marie Curie, Tadeusz Kościuszko and Casimir Pulaski. However, when the collection moved in 1970, the medallions went missing.
This story's own Greg Witul tracked the Curie medallion down on eBay and alerted the University. The seller generously donated it back to the Polish Room, where it still can be seen today in Lockwood Memorial Library on UB's North Campus.
This is sadly not always the case with Josef's art, which included an estimated 100 murals and 50 stained glass projects in Buffalo's East Side Polish churches alone.
As churches began closing in our area, some of them were boarded up and others were bought and reused for other purposes, with the original and sprawling work still inside.
"If you let the property go, the artwork decays. There's no bringing it back. When you have a huge structure, like a church, where can you put that art except for another church or another big venue?" questioned Mazur. "People fight to save the building, but what's that worth without the wherewithal to save the art?"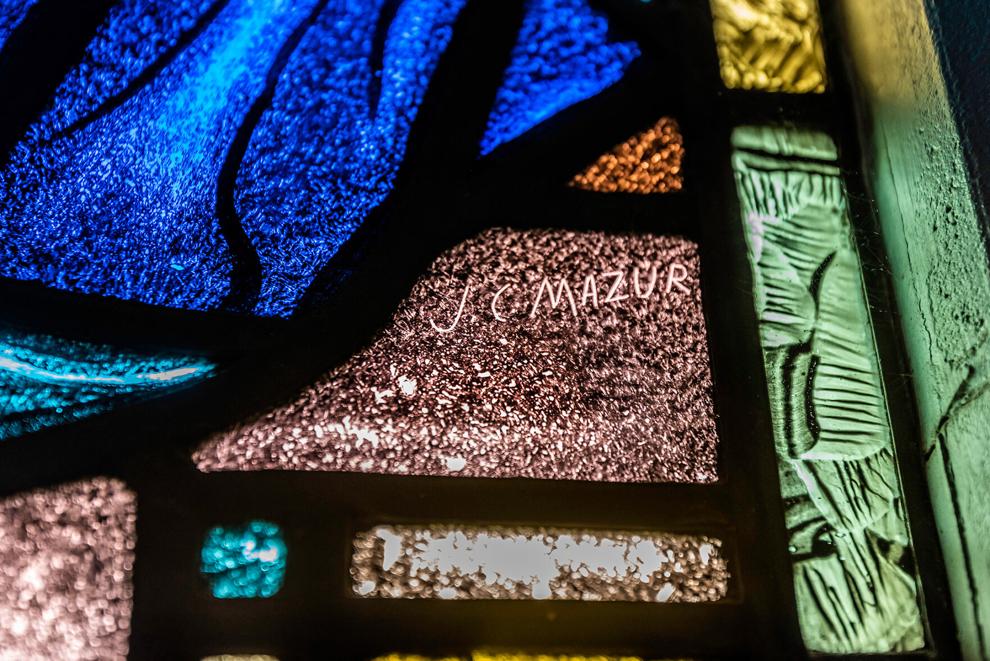 This problem is not exclusive to the work of my great uncle. Unfortunately, most public art runs the same risk. Whether it's natural aging, which requires expensive restoration efforts, or large-scale pieces getting lost as buildings are closed or bought, art can slip through the cracks.
In this way, Joe's story is a cautionary tale—to seek out art. Because it always has worthy stories to uncover and pass on.
"Josef is a product of this city. He grew up two streets down and three streets over from my grandparents," said Witul. "And he came back. It's special to have an artist of that caliber choose Buffalo. He could have stayed in New York City and made a completely decent living as a commercial artist. People should know that because his work is slowly eroding away. But there's still some out there and we should appreciate it while we still can."
A guide to Josef Mazur art in WNY
Joe did numerous sculptures, murals and stained glass windows throughout our region. This list is an array of his many mediums.
His signature changed over time across his work—it became a game for me to find it each time.
Statue of Frédéric Chopin outside Kleinhans Music Hall
One of Joe's earlier works after returning to Buffalo from New York City. It's signed "Jo. C. Mazur."
Murals at St. Stanislaus Church
Considered the "Mother Church of Polonia," St. Stan's was the church that started it all. Joe did all interior murals. It's his most expansive work.
Murals and Stained Glass Windows at St. John Kanty Church
Joe did all murals and stained glass windows on the altar. The uniquely Polish icon, Our Lady of Czestochowa, is featured above the altar and to the right. It's signed "Joseph C. Mazur."
Stained Glass Windows at St. Margaret's Church
Joe did all the interior stained glass windows. You'll notice simpler colored glass used as backgrounds for the figures, which was a deliberate move away from the busier backgrounds of the day. His signature "J.C. Mazur" appears on the window with Mary and Jesus.
Stained Glass at Ss. Peter & Paul
66 E. Main Street, Hamburg
Joe did The Resurrection, The Ascension and The Baptism of Jesus murals in the left and right transepts.
Stained Glass Medallion & Lamp at UB's Polish Room
Lockwood Library on UB's North Campus (Mary Talbert Way, Buffalo)
The Marie Curie medallion still remains, as well as a beautiful lamp that honors Frédéric Chopin, Adam Mickiewicz, Ignacy Jan Paderewski and Juliusz Slowacki. Everything is signed "J.C. Mazur."
Sculptures at Villa Maria College
240 Pine Ridge Road, Cheektowaga
Before entering the main building, you will see several sculptures on the outside of the building, including an Alpha and Omega. All were done by Joe.
Cartoons at the Library at Villa Maria College
240 Pine Ridge Road, Cheektowaga
There are three "cartoons" in the library's Quiet Room. These designs are an interesting look at the blueprint that would eventually become an intricate stained glass window. The series is signed "J.C. Mazur."
Life-Sized Portrait at Pulaski Club of Olean
1104 North Union Street, Olean
Joe did a life-size portrait of General Casimir Pulaski in 1929 as part of the sesquicentennial (150th anniversary). It hangs in the lobby.