An 100-year-old club is actively expanding its efforts to build broader community connections. West Side Rowing Club, one of the oldest of its kind in the country, is a nonprofit with both a mission and long tradition of teaching the youth of Western New York to participate in the sport of rowing, also known as crew. Founded in 1912 as a men's club, WSRC included women as of 1978; female rowers are now the majority.
"We believe that rowing should be accessible for all," said Bill Maggio, a legacy rower and WSRC board member, adding that the commitment to "doubling down on the club's original mission" is deep.
"Rowing in Buffalo, and the WSRC, is rooted in the Lower West Side."
The club is using support from the Community Foundation of Buffalo and a recent $350,000 Ralph C. Wilson Foundation grant to extend outreach and funding for its youth learn-to-row summer programs. Increasing access and inclusion for youth who actually live in adjacent and nearby neighborhoods are a main focus, as is offering adaptive rowing for para-athletes.
"We're intentionally building and broadening programs to remove barriers," said Maggio. "Expanding diversity is really important."
WSRC is building awareness for its programs while also helping families with participation costs and transportation needs. Some of its main outreach methods and entry points for families are partnerships with Buffalo public and charter schools, Niagara Falls School District, Boys & Girls Clubs and Willie Hutch Jones Educational and Sports Program.
Crew camp's initial focus is on engaging kids, with the hope of developing a passion for the sport.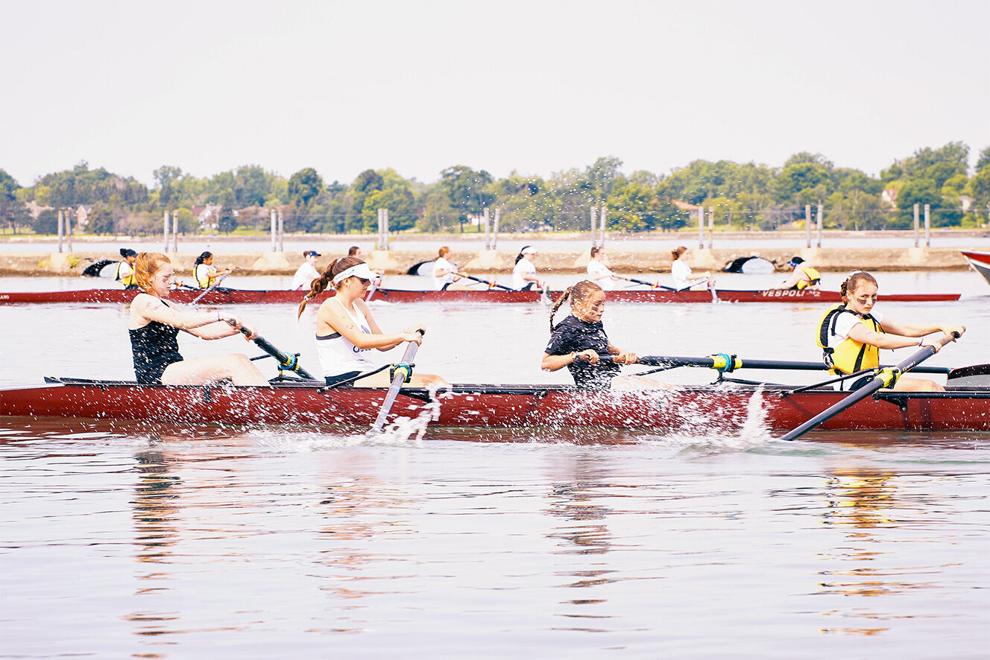 "Our goal is introducing kids to rowing. At first, it is not about racing, it's about falling in love with it," said Hannah Blum, crew camp director for the past six years. "We want everyone to feel welcome and included. We do our best to give one-on-one attention, keep the ratio at one coach for every 10 kids."
"I was honestly not expecting it to be this fun," said Kaitlin Kendrick, 14. "It turns out that everyone was really nice and welcoming. And I think I'm going to keep rowing."
"I like the camp; the boats are really cool. It's fun to be on a team," added siblings Christopher and Nasir Jones, who are 12 and 13. "I think I would continue rowing, if I get used to it."
Because of the club's community involvement, multiple engagement tracks can coincide with former learn-to-row kids going on to become coaches.
"If they come back as coaches, we're helping develop their coaching skills while they're teaching middle school kids how to row," said Blum.
Making sure that all feel included and accepted is ingrained in the crew camp, and club, experience.
"We want to make sure that kids in the summer program see themselves as a part of WSRC, not just someone showing up for a few hours for camp," said Blum. "Our mission is to get and keep kids rowing—without putting a burden on the family. No one should be limited because of lack of funds or transportation; if a child wants to row, they can row."
Safety and comfort levels on and around the water also play an important role.
"There is a range of experience among participants. Some may not have experience being around water or swimming," said Ian Suchan, WSRC director of community outreach and administration. "We try to ease any worries. Everyone wears a life jacket, and our motorboat serves both as a coaching and safety launch—though it's rare that someone ends up in the water."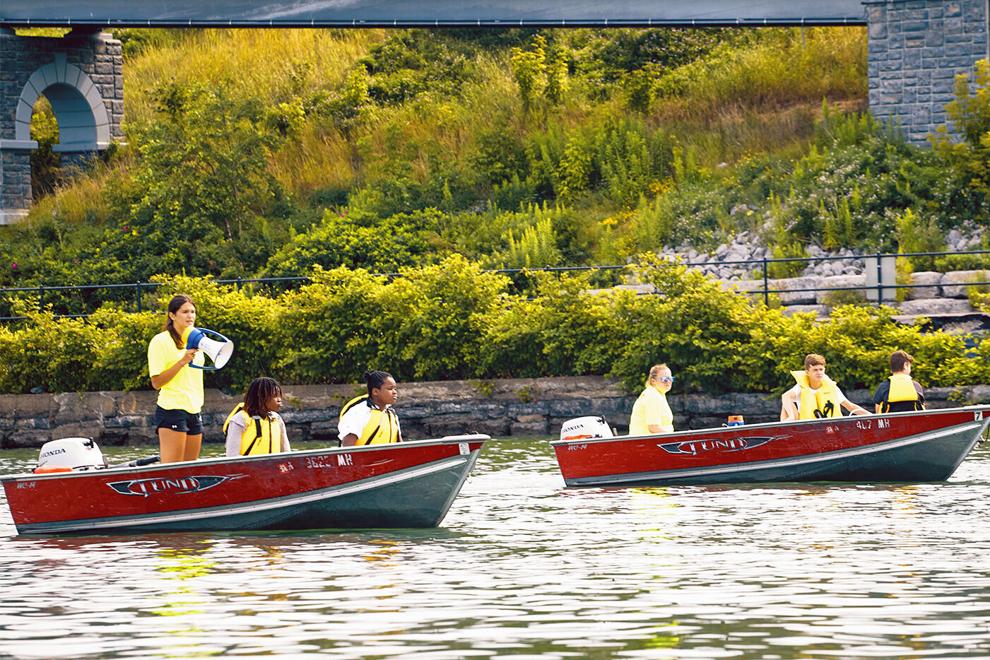 "We validate their emotions and remind them of the context. While some may have more experience, we are all in the same place. We work to help everyone feel safe and respected," said Blum. "We emphasize community-building and teamwork, and you can see their fears ease away and they become more confident."
The success of the program is borne out partly by "repeat customers," for example, when older siblings have been through the program and then a younger sibling wants to try it. Families see the changes in their kids and trust the club to offer a quality program.
"In addition to learning a sport, youth sports are about developing skills and collaboration; finding the ability to set ego aside and be part of a group," said Blum. "We try to lead by example with genuine diversity, equity and inclusion. That comes through in the quality of rowing and the happy faces at the end of the day."
"Since the sport is not as mainstream, we're asking people to trust us and try something new," said Suchan. "And when they do, they may learn valuable lessons through their tangible achievements. The sport directly rewards how much work you put into it—to excel, you don't have to be a certain size or shape. Lessons like that, and the fact that you're working directly with people around you to move the boat forward—these benefit kids throughout their lives, whether they choose to stick with the sport."
With opportunities to continue to participate in rowing year-round, kids who want to grow with the sport can.
"Our doors are always open," Suchan added. "We've been teaching kids and youth for over 100 years. And we're not stopping—we're actually growing."