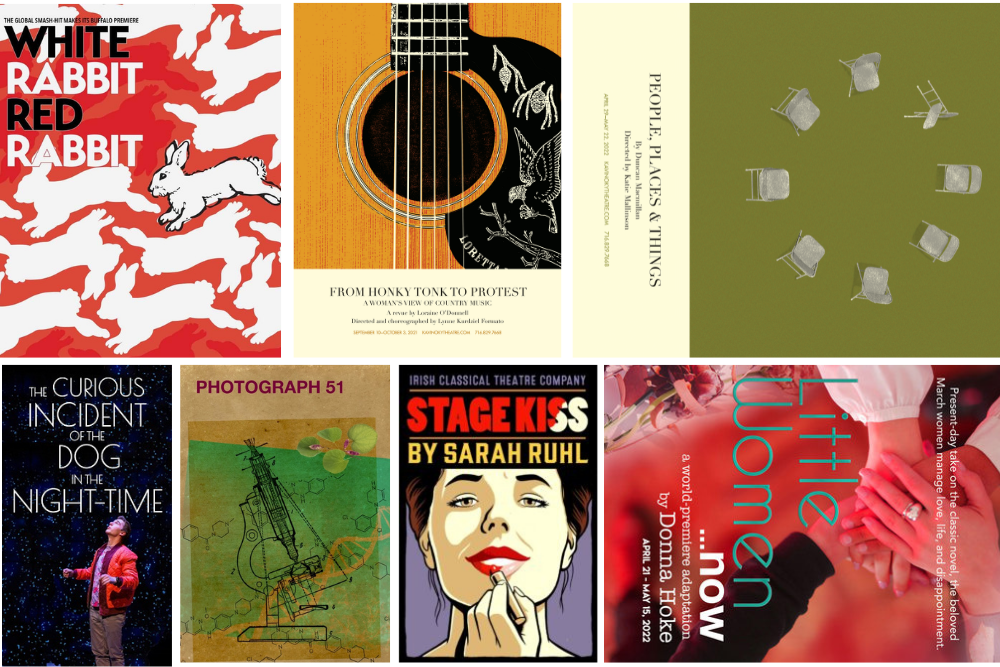 It's been a long 18 months for Western New York's theater community. While our local companies were wonderfully and wildly creative in offering virtual and inventive alternatives during the pandemic intermission, nothing quite rivals the experience of live theater—actually in a theater. With live actors. And with a thoughtfully spaced and safe audience, all sharing an experience.
Local theater companies are slowly and carefully returning to the boards to proffer a slightly truncated fall season. Though Curtain Up—the annual launch of Western New York's season—is taking another year off as all the theaters aren't opening their seasons on the same timelines.
"We can make a bigger splash next year," said Doug Weyand, the previous vice president of Theatre Alliance of Buffalo.
Buffalo's theater community is active, engaged and close-knit, so it's no surprise that the creative class like to see each other's productions as much as the rest of us. Actors and creative team members agree: the thing they are most excited to see this season is us, the audience.
Here's a look at what else they're eagerly anticipating.
"I'm most looking forward to seeing the work of new Executive Artistic Directors Kate LoConti Alcocer at Irish Classical Theatre Company and Chris Handley at Alleyway Theatre," said Randy Kramer, MusicalFare Theatre's artistic and executive director.
Handley's inaugural season begins September 9 with a one-person production "White Rabbit Red Rabbit," where the solo performer changes for each show with no repeat performances.
"It's this totally inventive and audacious play by Iranian playwright Nassim Soleimanpour that asks the audience the old question, 'If everyone jumped off a bridge, would you?' " said Handley.
"Aside from seeing our wonderful theater community thrive again, I am most excited to see the amazing Kristen Tripp Kelley tackle the role of scientist Rosalind Franklin in Jewish Repertory Theatre's season opener," said Mary Kate O'Connell, artistic and executive director of O'Connell and Company of "Photograph 51."
Some companies, like Theatre of Youth, are still busy organizing their seasons: "We're still navigating our reopening possibilities," said Tracy Snyder, TOY's executive director. But in the meantime, TOY is participating in the All for One Productions collaborative with Road Less Traveled Theater, Irish Classical Theatre Company (ICTC) and MusicalFare to stage "The Curious Incident of the Dog in the Night-Time," which will come to Shea's 710 Theatre.
"It closed the day it opened, due to Covid," said Scott Behrend, artistic and executive director of Road Less Traveled Theater. "I've never seen it with an audience, and I'm excited for that cast to finally get to do it. It has some awesome design elements and amazing projections."
ICTC is delaying its slightly shorter season's start until January. "Because of our intimate, in-the-round space, it was most prudent for ICTC to gently phase in live programming, ensuring a safe and relaxed environment for our patrons, staff and artists," said LoConti.
D'Youville Kavinoky Theatre is reopening with a grand backdrop for its season thanks to a recently completed, multi-phased renovation of the space, including replacing the seats and carpeting and installing a new, state-of-the-art sound system (along with debuting an updated theater name).
Actors Peter Palmisano and Kelly Copps, cofounder of Second Generation Theatre, are both looking forward to "People, Places, and Things," a powerful show about a fellow actor's struggles with the rigors of the profession and demonizing substance abuse.
One silver lining of the forced theater pause was the opportunity for local companies to rethink or reimagine their offerings.
Prop master Diane Almeter Jones is "looking forward to building a more diverse and inclusive experience on the production side of the table."
Actor Mary Craig hopes that this season isn't "where we left off but reflects where we dare to go."
D'Youville Kavinoky Theatre is staging a women-dominated season, where all five shows are directed by women and three are the work of female playwrights. Kicking off the season is "From Honky Tonk to Protest: A Women's View of Country Music," a revue conceived by the theatre's Loraine O'Donnell with music from a host of female songsters. Lynne Kurdziel Formato will direct and choreograph.
Road Less Traveled Theater is living up to its name and staging local playwright Donna Hoke's modern adaptation of the classic "Little Women...Now"—a world-premiere twice delayed. Jones said it's a women-driven, diverse and powerhouse production." Doug Weyand, MusicalFare's marketing and production coordinator, is looking forward to this production, too.
Plan your season
From Honky Tonk to Protest: A Women's View of Country Music
The Curious Incident of the Dog in The Night-Time
People, Places and Things