Since its founding in 1862, the Buffalo History Museum has been a faithful steward of our region's rich heritage, helping to share and preserve the stories of the people, places and moments that have shaped Western New York. Its permanent collection includes more than 100,000 physical objects, 20,000 books and 200,000 photographs—and now, for the first time, many of those photos are making their way online through the museum's new picture store (more on that later).
To celebrate this milestone, we've selected three stories that come to life on the digital store and documented what you'll find in those same spots today.
Remnants of an architectural wonder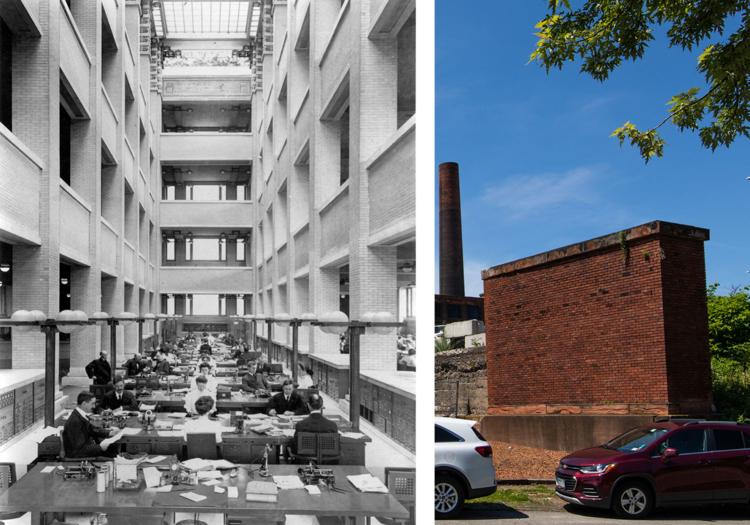 Long before Larkinville became synonymous with Food Truck Tuesdays, the Larkin Soap Company made waves throughout the City of Buffalo and national retail industry. The hugely successful mail-order conglomerate was founded by John D. Larkin, who commissioned legendary architect Frank Lloyd Wright to design his first commercial property: the Larkin Administration Building.
Completed in 1906, the innovative headquarters was designed for peak productivity—and well ahead of its time. Wright incorporated a rooftop garden, custom-designed desks and chairs, radiant heat and air conditioning, a first for office construction. At the center was a five-story atrium, where natural light cascaded down from skylights and onto the balconies and floors above.
The building was lauded around the world as the foremost in office construction, and continues to inspire historians, architects and Wright fans alike, despite its unfortunate demolition in 1950. Now, only a single pier remains in the present-day Larkin District—a tiny fragment of what was, arguably, the most significant architectural work in Buffalo's history.
Threads of a shopping mainstay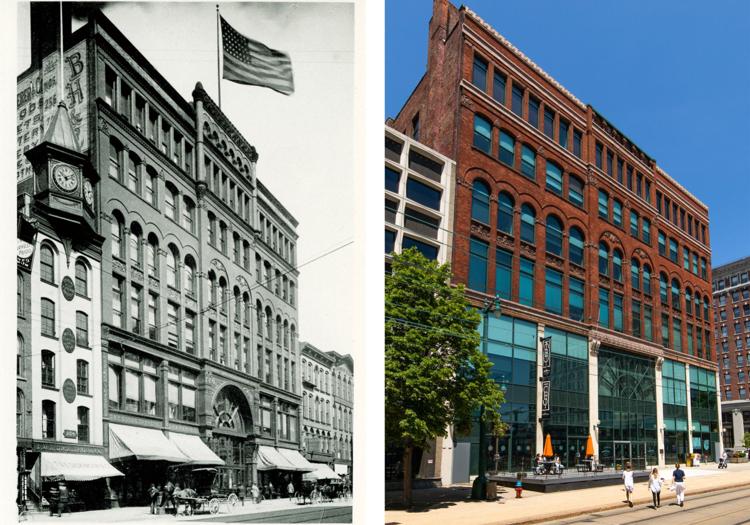 Before families—and family life—migrated to the suburbs, retail boomed in Buffalo. During the early to mid-1900s, shoppers flocked to the city, carrying bags from Sattler's, marveling at the AM&A's holiday displays and perusing the racks at Kleinhans clothing store.
Many Buffalonians fondly recall Hengerer's, which has roots back to 1836 and would ultimately merge with Sibley's in 1981, according to Michael Rizzo's book, "The Glory Days of Buffalo Shopping." By the time this 1896 photo was taken, the William Hengerer Company was developing a reputation for being "first in everything" and would soon be the biggest department store between New York City and Chicago.
Depicted here, the store was originally located at 268 Main Street before moving up the block in 1904 to a newly constructed six-story building at 457-471 Main. The next tenant at 268 Main was the Sweeney Company department store, which was known, Rizzo writes, for progressive policies like an eight-hour workday and cooperative employee association. Today, the building, clad in red brick and Medina sandstone, is owned by advertising agency Crowley Webb, and pays homage to Buffalo's downtown shopping heyday with its name, The Sweeney Building.
Echoes of extra, extra!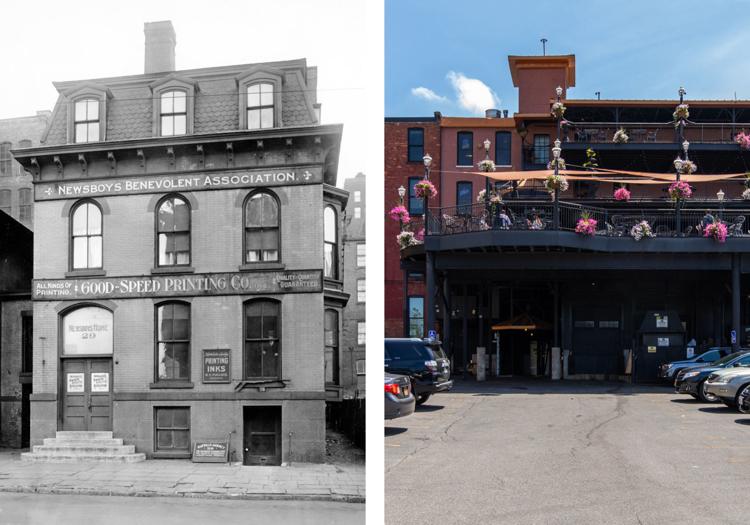 At the turn of the 20th century, newsboys were a fixture on the streets of Buffalo and most American cities, as they hawked papers well into the night and during all weather conditions. Newsies, as they've become known thanks to the hit Broadway musical, were just one visible form of child labor that went largely unregulated until the 1930s.
Locally, newsboys went on strike in 1890 against the major papers, and in 1906, the Newsboys Benevolent and Athletic Association was incorporated in Buffalo as "a social center and association for mutual benefit of newsboys," according to a 1921 directory of community services. It boasted a membership of more than 1,200 current and former newsboys, making it the largest organization of its kind in the world.
This photo shows the association's headquarters at 29 Franklin Street, situated near the Italian Quarter, an immigrant neighborhood along the Erie Canal where many newsies resided. The facility provided a gym, reading room, games and dances in an effort to keep the boys safely off the streets at night. The building has since been demolished and is now a parking lot for the Pearl Street Grill & Brewery and Lofts on Pearl.
A snapshot in time
With the Buffalo History Museum's new online Picture Store, owning a piece of the region's rich heritage has never been easier. The store—found at buffalohistory.smugmug.com—went online in November, after museum staff spent years searching for a web platform to help share a snapshot of its extensive collection with customers near and far.
"The Buffalo History Museum has been providing Buffalo-area images to authors, scholars, publishers and the media since the typewriter and darkroom era," explained Cynthia Van Ness, director of library and archives for the museum. "In spite of the cost-saving and time-saving advances made possible by image scanning and electronic delivery, we and our customers were frustrated by how labor-intensive and offline most of the process still was."
The store launched with some of the museum's most frequently requested images, including the Frank Lloyd Wright-designed Larkin Administration Building and early civil rights activist Mary B. Talbert. From there, it has expanded to include popular subjects—like the Pan-American Exposition, Olmsted Parks System and Buffalo's most prominent architectural works—as well as more off-beat photographs, all driven by demand. When customers request an image, it's uploaded to the store too, bringing it up to more than 1,800 images by June alone.
"We get requests from all over the world for historic Buffalo images," said Van Ness, noting that the most common uses are for books, films, and home and office decor. "The store makes it easier for everyone to tell the Buffalo story."
Be the first to know
Get local news delivered to your inbox!