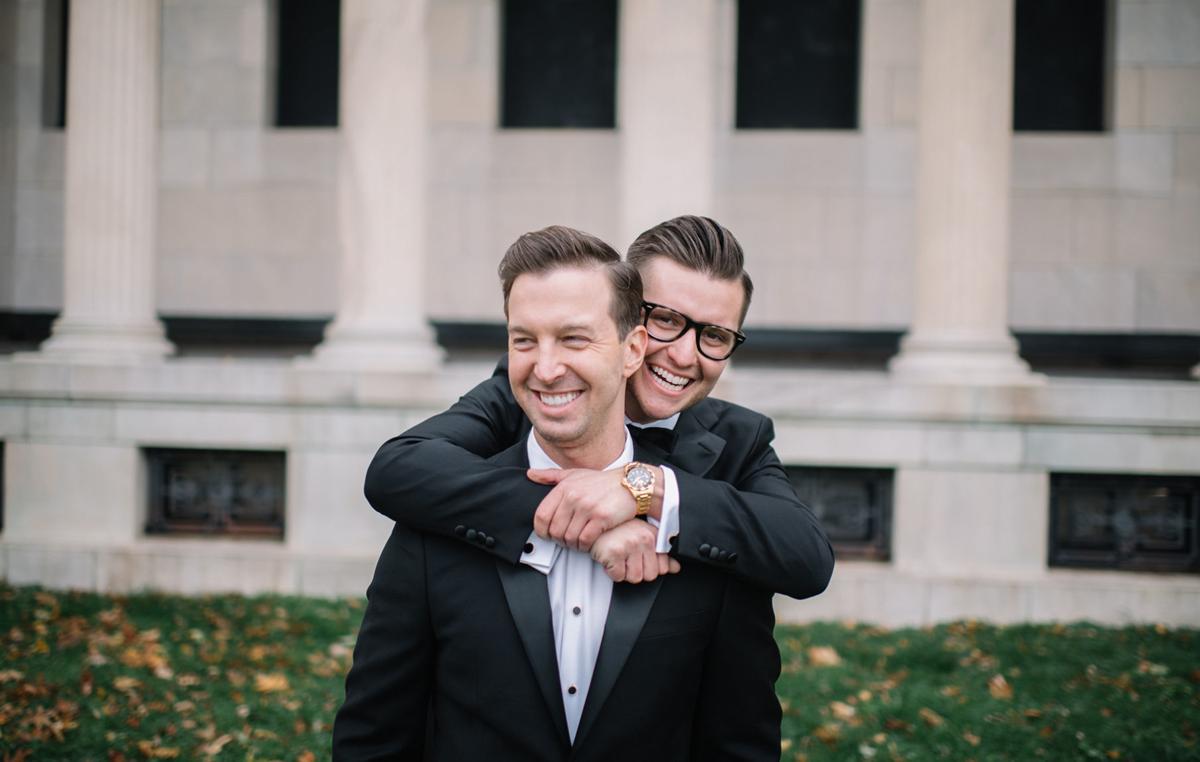 As many love stories go, James Zawodzinski Jr. and Ryan O'Laughlin met through a mutual friend. Inseparable since their first date at Toutant, the Kenmore couple dreamed of a big wedding—including a church ceremony.
James and Ryan set out to find a place that would welcome them. They both grew up Catholic, but that unfortunately wasn't an option, as same-sex marriages aren't recognized by the church. From the moment they learned about Westminster Presbyterian Church, they knew they'd found the perfect place.
Located on Delaware Ave., Westminster has supported LGBTQ+ since the 1970s and advocated for the first gay wedding in the state. The couple then renounced Catholicism and became Presbyterians.
Meeting with Pastor Rev. Dr. Thomas H. Yorty for the year leading up to their wedding was an important part of the process. Their church ceremony featured a string quartet and choir performing "Ave Maria," and the sermon covered themes of joy, acceptance and faith.
"We couldn't have asked for a better ceremony," says James. "It was a gift to Ryan and me in the best way."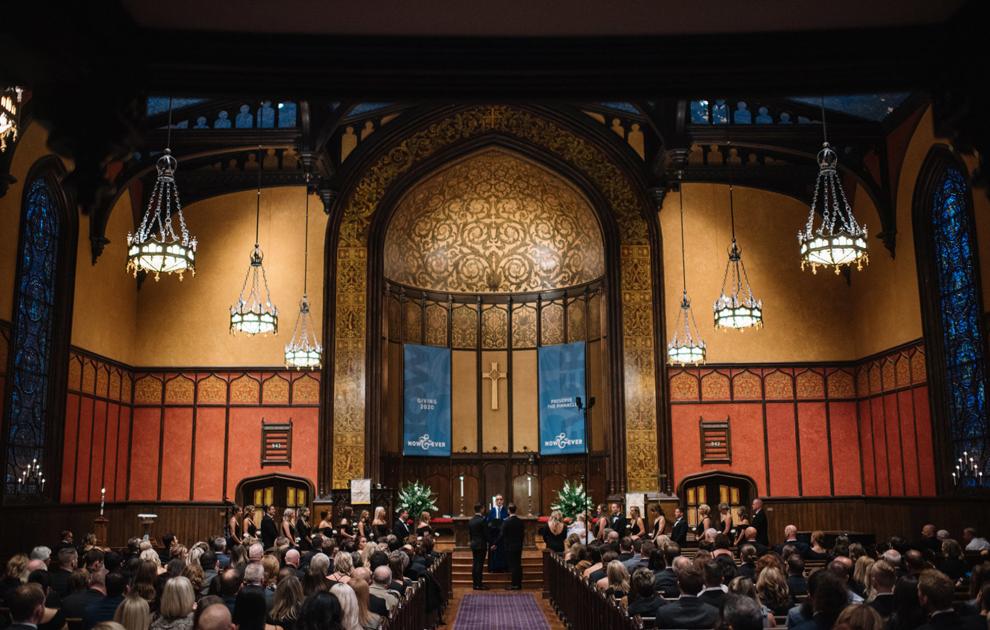 The couple had only one venue in mind to complete their November 2019 celebration—The Admiral Room, which they booked before the venue had even opened. James and Ryan, who share a mutual appreciation of old architecture, were instantly drawn to its history as the original Marine Trust Building and how perfectly the space aligned with their "majestic, ornate" vision for the reception.
Changing into matching white dinner jackets and seeing the decked-out space together for the first time was a magical moment to start their life together as a married couple.
"Walking up the marble stairs and seeing the venue how we imagined, just us, was special," James said.
"Turning around and seeing it swarmed with everyone was an amazing moment."
---
The details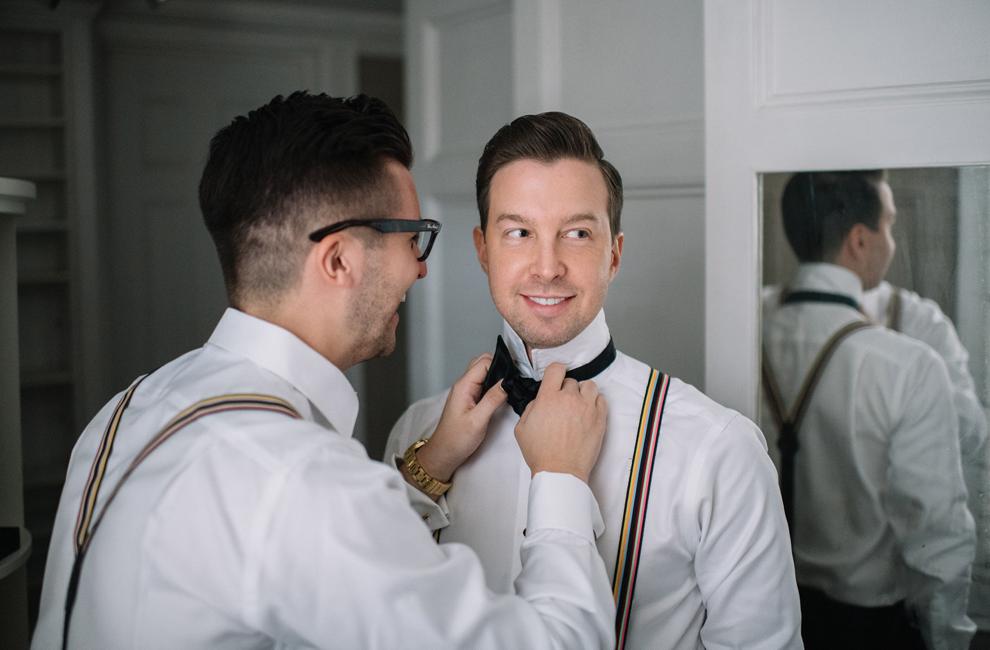 James and Ryan's matching Georgio Armani rainbow suspenders added a fun touch to their monochrome tuxes: black jackets for the ceremony, white for the reception. The duo also sported matching Christian Louboutin shoes.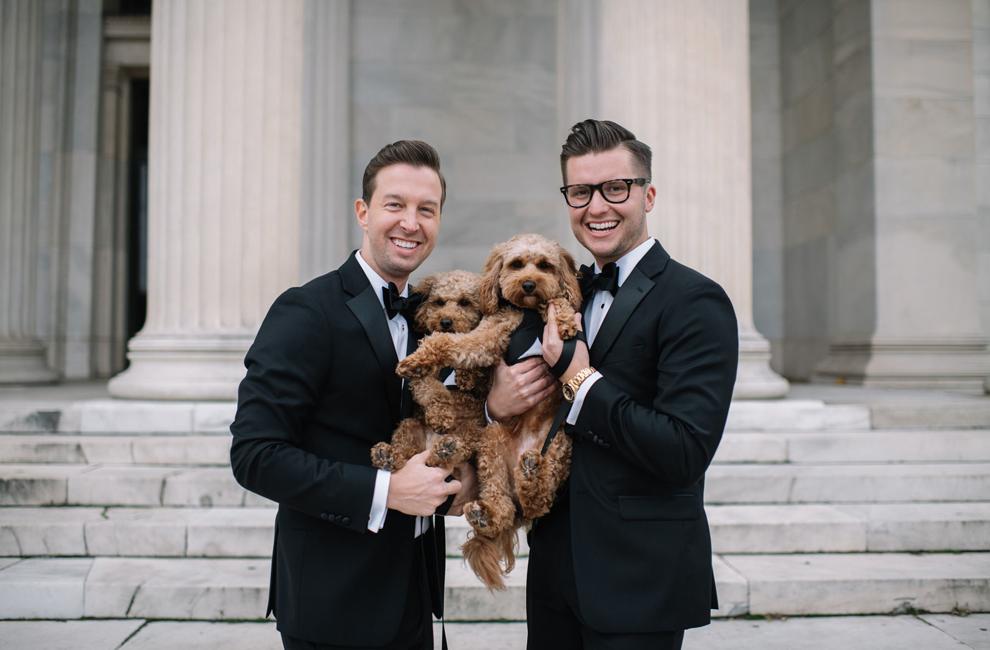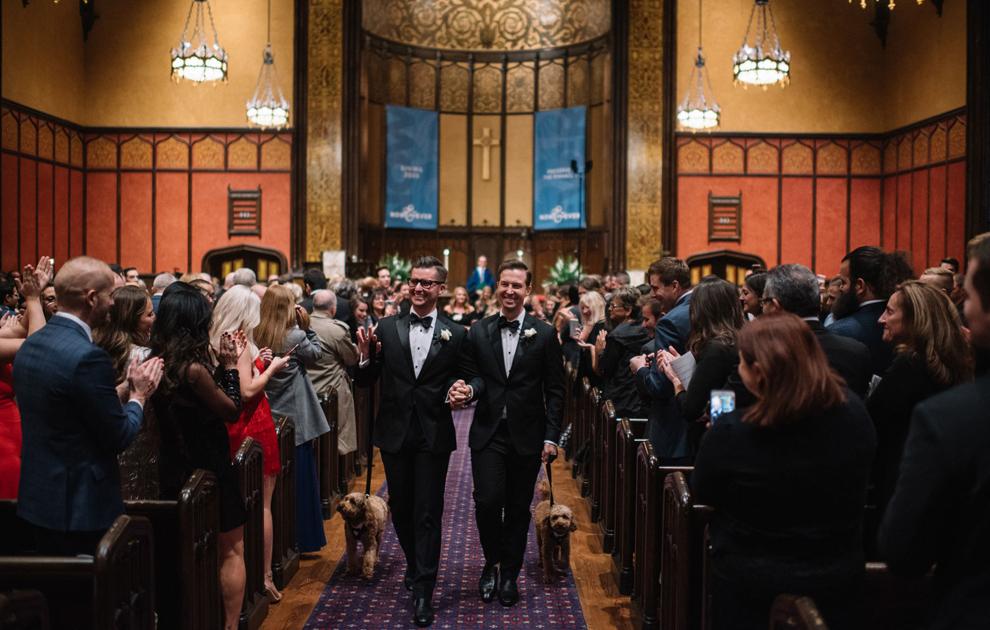 With 350 guests, all their friends and family were in attendance, including the most important family members: their dogs Henry and Remington, who walked down the aisle with newly married couple.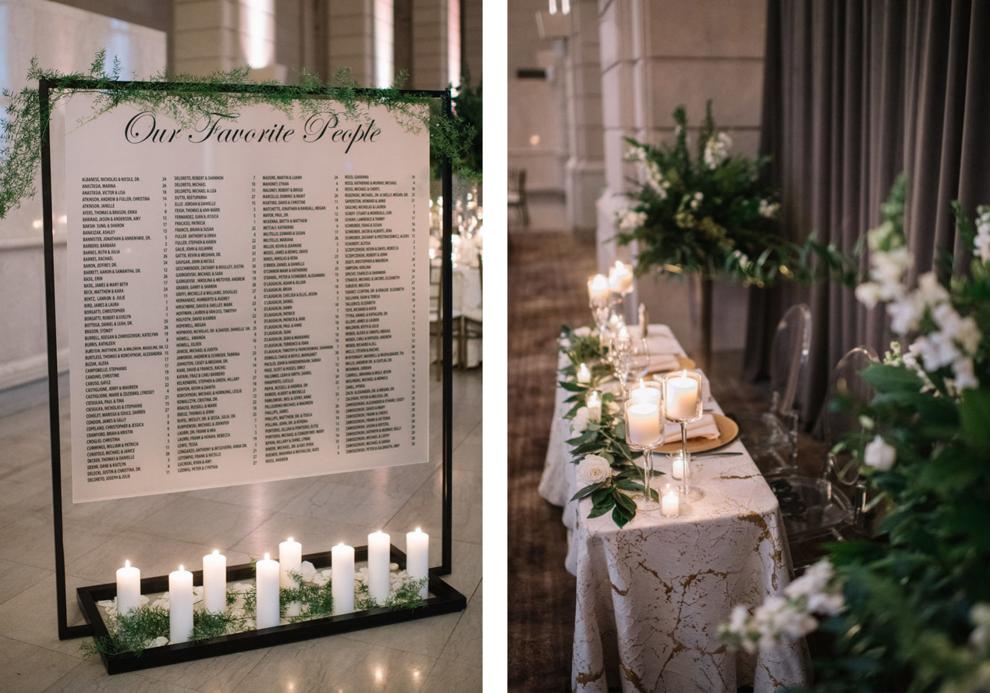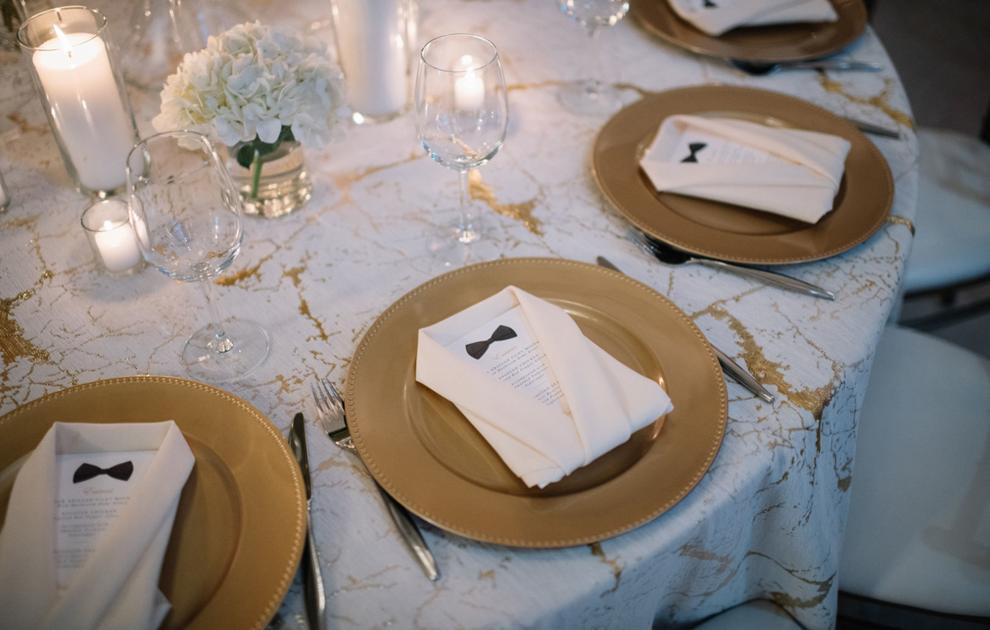 Golds and greenery were woven throughout the reception, including the subtly striking gold marbled tablecloths. Menus were tucked delicately into tiny tuxedo napkin holders matching the white tuxes the couple wore for the reception. They took eight hours to create day-of by wedding planner The Refined Host!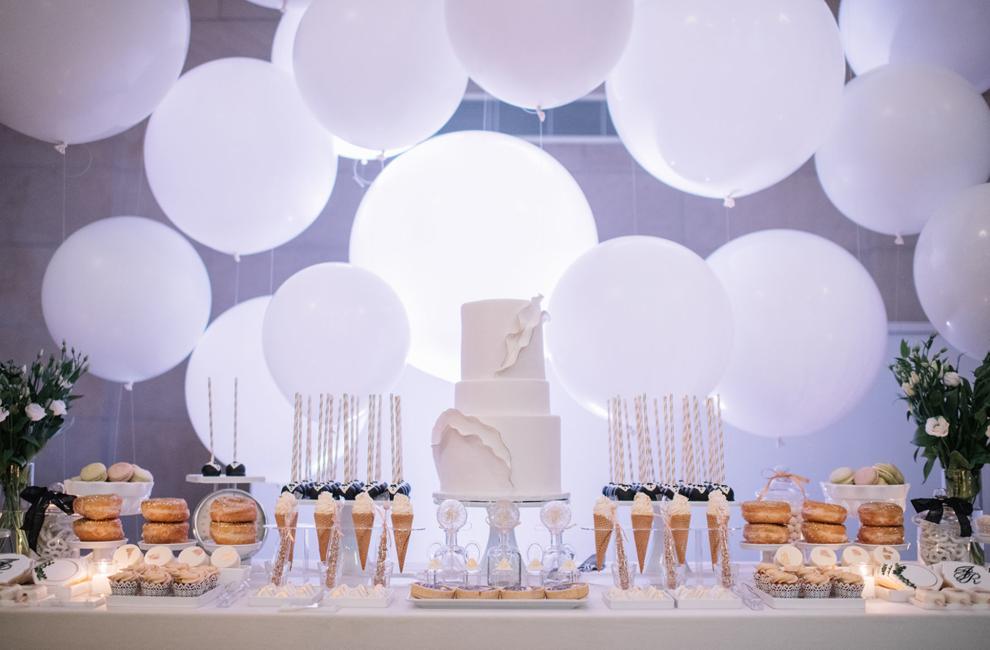 James thought of adding balloons the week before the wedding, which only made the dessert table, complete with glitter frosted donuts, all the sweeter.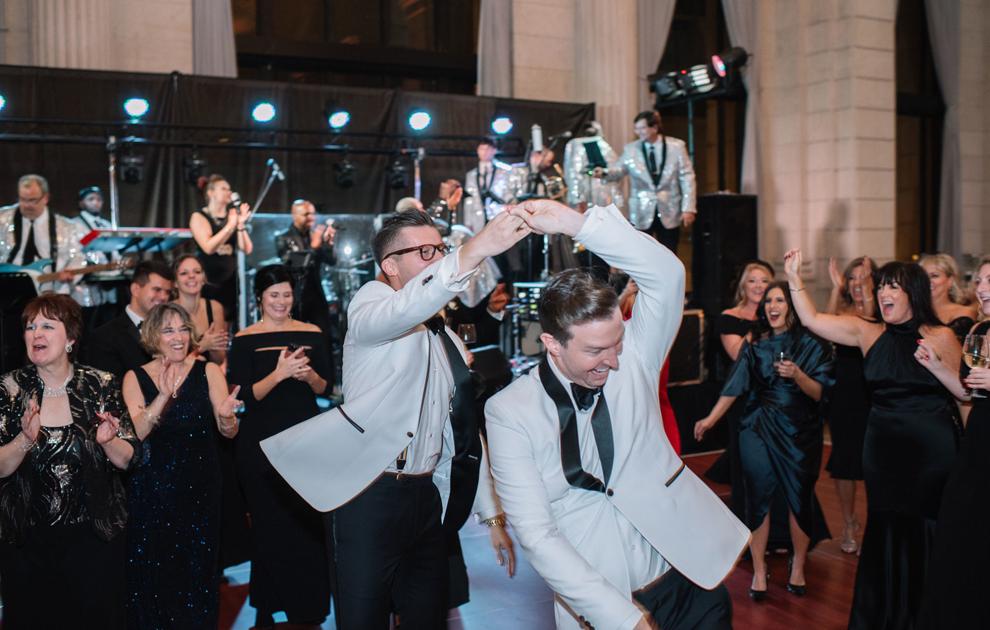 ---
The dream team
Who helped the couple make it happen.