Elizabeth Hays describes herself as a naturally happy person, and her husband and herself as dreamers. For them, and the family they've created, their Buffalo residence on Soldier's Circle near Delaware Park aptly represents their values and sensibilities.
The Hayses have come a short distance—but a long way—from their former home around the corner on Bird Avenue, where they lived back when they began their family and when husband Steve launched his business, Alleyoop.
They now have five children ranging from 4 to 15 and have expanded their Buffalo-based sales development business to encompass an outpost in Puerto Rico. As their company and family expanded, Liz and Steve never forgot a pre-marriage trip to St. Lucia, and the sun-inspired promise to someday have a Caribbean home.
Hence, with the decision to set up shop in Puerto Rico, they decided to move their family to the island, too. The Hayses now split their time: During the school year, they live in an ocean-side home near a resort in El Yunque rainforest outside of San Juan; and for the summers, long Christmas breaks and other special occasions, they occupy the serene historic residence in one of Buffalo's most beautiful neighborhoods.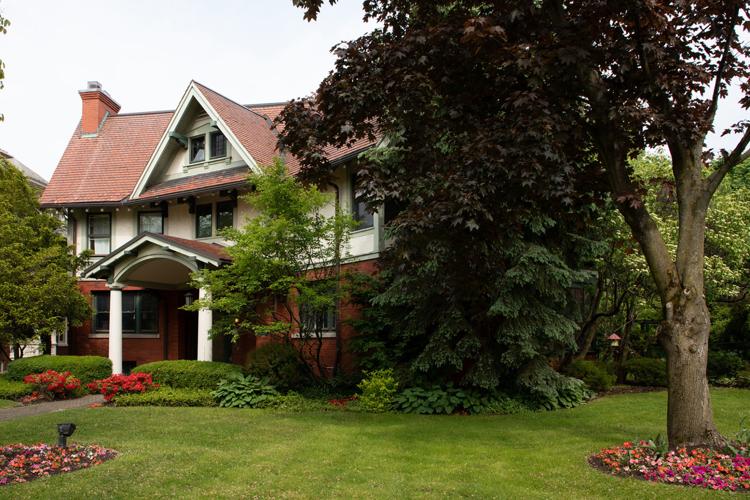 "Our connections to people—neighbors, friends and family—are very important to us; we wanted to maintain those connections and our family traditions," said Liz Hays of the decision to live between two places while continuing to run both business locations. "So, when the kids think of Christmas, it's in Buffalo—the fresh Christmas trees, the rituals and traditions."
When she and her husband first viewed the home on Soldier's Circle, it stirred her. "The minute I walked in, I knew it would be an honor and a privilege to take care of this house, and to create here," she said. (She even gave birth to their youngest child in the house; since having an emergency Caesarean with her first child, she's been "fascinated with the body and with birth.")
Plus, the young family already had an affinity for the area. "We lived in this neighborhood; our older kids played on the circle," she said. "Because it has no driveways and long stretches where you can ride scooters and bikes, and large grassy areas for play football, we appreciated the space."
The 1905, 5,000-square-foot house was most recently a residence and event venue for the Canadian Consulate, and when the Hayses bought it and moved in around 2015, its decor was subdued and classic. They then set about putting their personal stamp on it: While her style favors historic touches, her husband likes modern; and overall, they wanted comfort.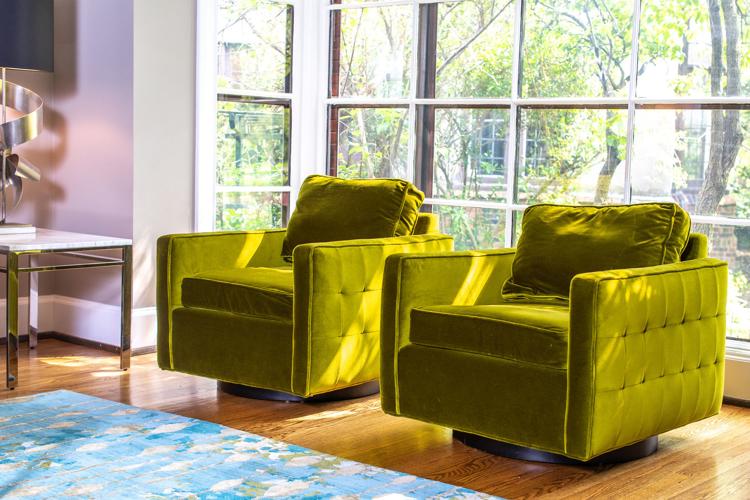 Hays consulted Michael P. from Room to create a welcoming living space. "For the first floor, we wanted sophistication with whimsy, while still being comfortable for our family," she said.
The house is non-linear with a meandering spirit, being built on a curve. Your first step inside is an airy octagonal foyer, which carries through to the second floor. Hays adores all the little nooks and turns as well as the back and front staircases and a large kitchen with a eat-in sunporch angled off of it.
"Out of every window you see a different natural element," she said. The house's exterior and surprisingly deep backyard feature gardens, patios, decks and terraces. "All the visible nature creates art just by those vistas." That being said, there's also artwork hanging throughout the home—some by hometown favorite Peter Fowler, and by her neighbor, painter and printmaker Monica Angle.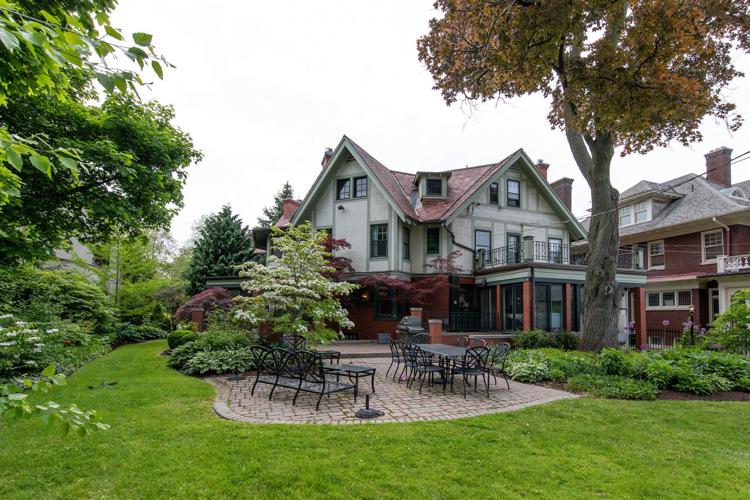 The dining room is a sophisticated space, with soothing gray walls and iconic mid-century modern Louis Ghost Chairs by designer Philippe Starck lining the long dining table.
A downstairs bathroom is one of the few spaces to warrant any renovations. It's now outfitted in a whimsical fish-print wallpaper, sourced by Room. One wall is lined with dark-wood shelving, most likely from an original library—it's the ideal place for Liz's "apothecary" of essential oils.
"I'm into natural remedies and holistic healing. When you walk into the house, you sense the oils in the atmosphere," she said. (There was a pleasant piney, eucalyptus scent the day I visited.) "I'm aware of all our parts—physical, spiritual, emotional, and I want the house to have that authentic feel."
That authenticity extends to hospitality. "We love hosting—the Canadian Consulate used this house for entertaining," she iterated. "I feel like the house loves to entertain; it gets happy." It also tends to be a gathering place for a lot of their kids' friends, which she loves.
Heading upstairs, comfort starts to take priority over sophistication. "The second floor is where the girls' bedrooms are right now," said Hays. Her sons are the youngest and eldest of the bunch, with three daughters in the middle. A small second-floor bathroom is painted in a lovely pale pink, gently highlighting a leaded-glass window.
On the partially finished third floor are the boys' bedrooms, as well as a cozy peaked-roof hangout for the kids, an entertainment room with videos and games. Liz dreams of creating a master suite in the unfinished portion of the attic one day, imagining it would be like a treehouse or something out of the Chronicles of Narnia.
Liz, who grew up in South Buffalo and is a graduate of Nardin Academy, also works as a life coach, and has her sights set on presenting inspirational and educational events.
Whenever they're in Buffalo, she said, the family keeps in touch with community. "My kids loved going to Nardin Academy Montessori, the Waldorf School in East Aurora and Nichols. They loved their friends, so we intentionally stay connected to them."
They also partake of everything the city has to offer in its joyously fertile and temperate season. "In the summer, we love being near the Albright-Knox Art Gallery, being able to walk to music festivals, the Bidwell Market and Shakespeare in the Park. We go to concerts at the harbor and Artpark, and love being able to go to Canada."
Despite not cooking "ever," said Hays, she and her family appreciate Buffalo's rising awareness of locally sourced food. "We love the quality of food, the dairy, meats and produce; the cycle of all of that coming alive. We'll go blueberry and cherry picking, and in the fall, we pick apples."
Family favorites for dining out or prepared foods include Hutch's, Vino's, the Grange in Hamburg, Elm Street Bakery in East Aurora and the Lexington Co-op. "Because there's nothing like it in Puerto Rico, the kids go crazy for Bagel Jay's," she added.
How does all the back-and-forth affect her family? "Because we're dreamers, our kids are aware that anything is possible," Hays attested. "They also know that simplicity is a gift. They appreciate seeing the world and doing normal things like having family meals and coming 'home' to Buffalo. No matter where we are, we keep the rhythms of our lives grounded by doing some of the same things, like the children's bedtime rituals. That's another way to stay connected."
See even more of the Hayes home here.
Be the first to know
Get local news delivered to your inbox!