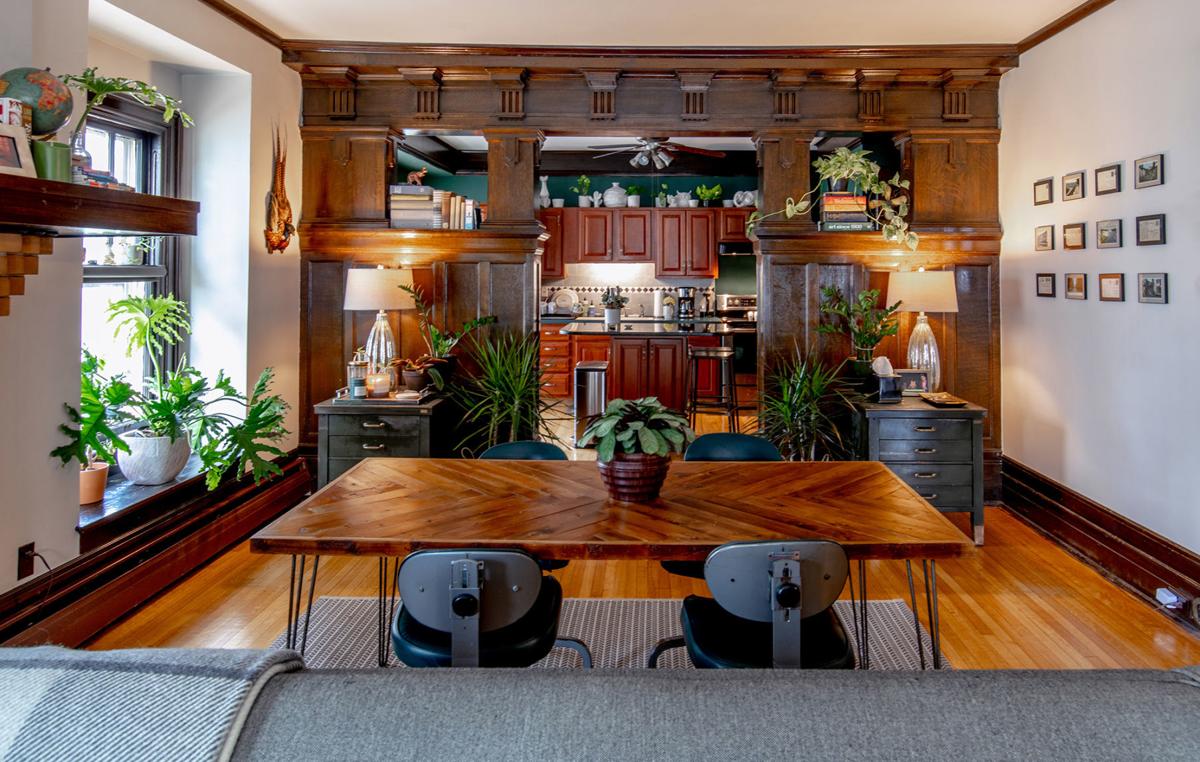 You've likely already peeked inside Billy and Pat Sandora-Nastyn's home without realizing it. Flashes of their Hamlin Park house guest star in a host of videos on the duo's YouTube channel (Billy & Pat)—and pop up in the occasional social teaser photo for Daddy's Plants, the lush houseplant business they launched last year.
Spotting beautifully preserved woodwork or stained-glass windows hiding in the background of shots is a dead giveaway they're posting from home and not out on location. And it's those distinctive, stately features that first drew the couple to the 1900 American Foursquare three years ago, despite its somewhat haphazard state.
The house, located in the Hamlin Park Historic District by Canisius College, had taken on a life as student housing, with shared living spaces and individual deadbolts on each bedroom. The space was divided and dark, and certainly not doing proper justice to its covetable turn-of-the-century bones.
"We loved the charm of the house and the details that come with a traditional 'Buffalo house,'" says Billy. "We were of course drawn to the woodwork and the stained-glass windows, but also in the great potential we saw in the space."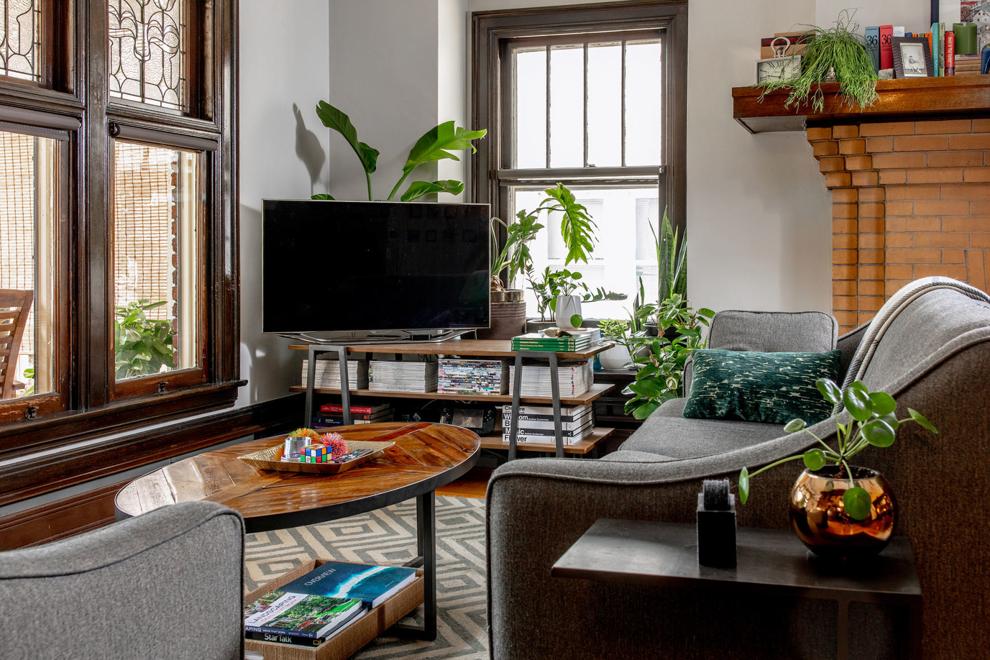 It was also situated in an ideal spot for the city dwellers—steps from the Metro Rail. "Taking the train to and from work each day was a NYC habit we really wanted to try to keep with us in Buffalo," says Pat.
Both Billy and Pat called New York City home when they met in 2009, but after marrying in 2013, decided they wanted to plant roots elsewhere.
"We knew we wanted to stay on the East Coast and still live in a city environment. At the time, marriage equality was not federally recognized, so we needed to stay in a state that had same-sex marriage," they recall. And each had ties to Buffalo that made the final decision easy: Long Island-native Billy went to UB for undergrad and loved the time he'd spent here, while Pat grew up in Pittsburgh and appreciated its proximity to family. "We knew that Buffalo was on the upswing and saw the potential for new opportunities."
The two relocated into a rental found the typical Buffalo way, through a friend, in spring 2014—then became homeowners two years later, deciding on the very first house they saw after viewing a few. They then set to work, slowly reviving and making the place entirely their own through an eclectic collection of new, antique and thrifted pieces.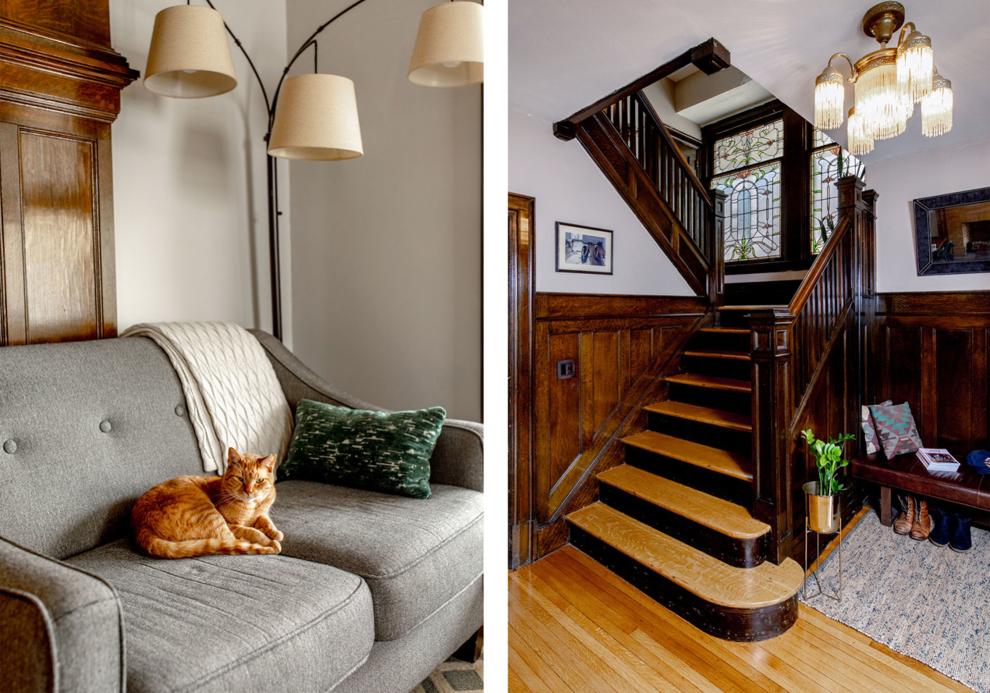 "We like our home to feel lived in and comfortable, but purposeful," says Pat. "We don't want to have one of those homes that have rooms that are just meant to be looked at. We want our guests to feel comfortable to sit, stand or lie down anywhere."
In the nearly three years since moving in, Billy and Pat have chipped away at their project list, big and small, only as time and want dictates. The two eschewed a craze of renovations for a more flexible, long-term approach—and make the most of its evolving in-between state in the meantime.
"It's a bit like throwing a dart and working on whatever project it hits," says Billy. "Big picture, we work on projects when we can and at our own, pleasurable pace. Sometimes we take weeks (or months) and sometimes we decide to put our heads down and finish a project over a weekend."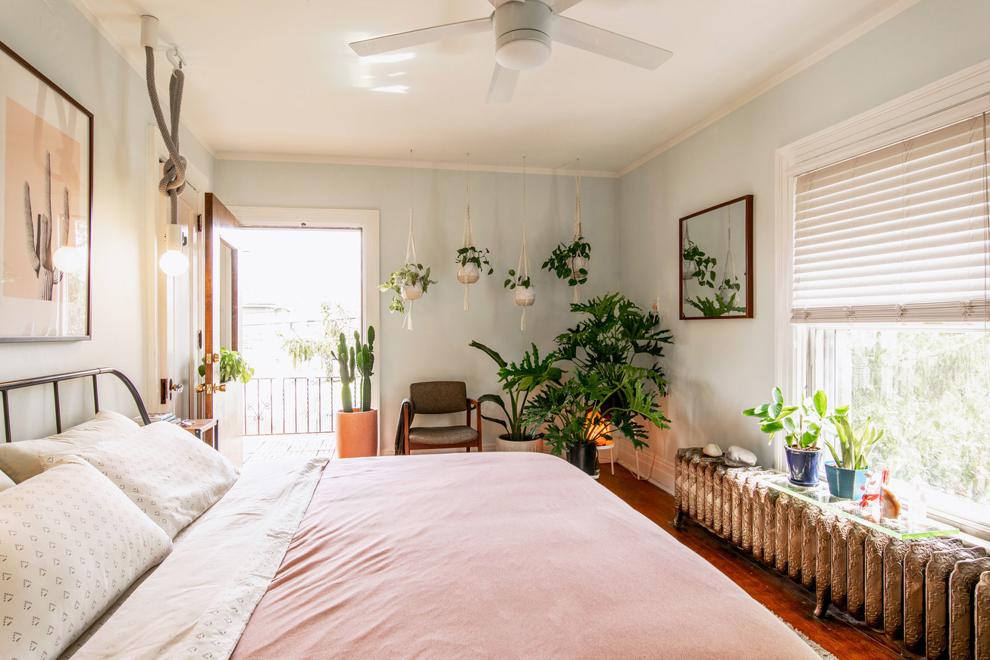 First up for the couple was tackling the outdoor living spaces. The quintessential Buffalo front porch "needed a bit of love," while the backyard was "an absolute disaster; it was basically a swamp parking lot," they recall. Billy and Pat transformed both into inviting extensions of their living spaces overflowing with greenery that proved to be two of their favorite spots in the whole house.
They've also refreshed their master bedroom with dusty-blue walls and new statement lighting framing their bed, overhauled the bedroom next door into an enviable dressing room and recently knocked out their first wall, a non-original one that unwelcomingly divided and darkened the upstairs hallway. The teardown went surprisingly well, with the original hardwoods revealed to be in better-than-expected shape. ("When will we fix the ceiling? Eh, who knows, but we'll get around to it eventually.")
Each completed piece gradually builds toward Billy and Pat's grand plan for their home. It brims with vision—like moving the kitchen back to its original 1900s place at the back of the house—but without any of the end-state tunnel vision that can sour the process. Instead, the two happily embrace the journey of it, saving the bigger jobs for when the time is right and dreaming up ingenious design solutions in the interim to make the most of what they have.
"It doesn't matter if you have a ton of money to spend on new things or if you have to work with what you already have," they say. "Your home is yours and you should design and decorate it however makes you happy. We're not super into the Marie Kondo style of organizing, but we do believe that what you have around you should spark joy, so ditch the things that don't."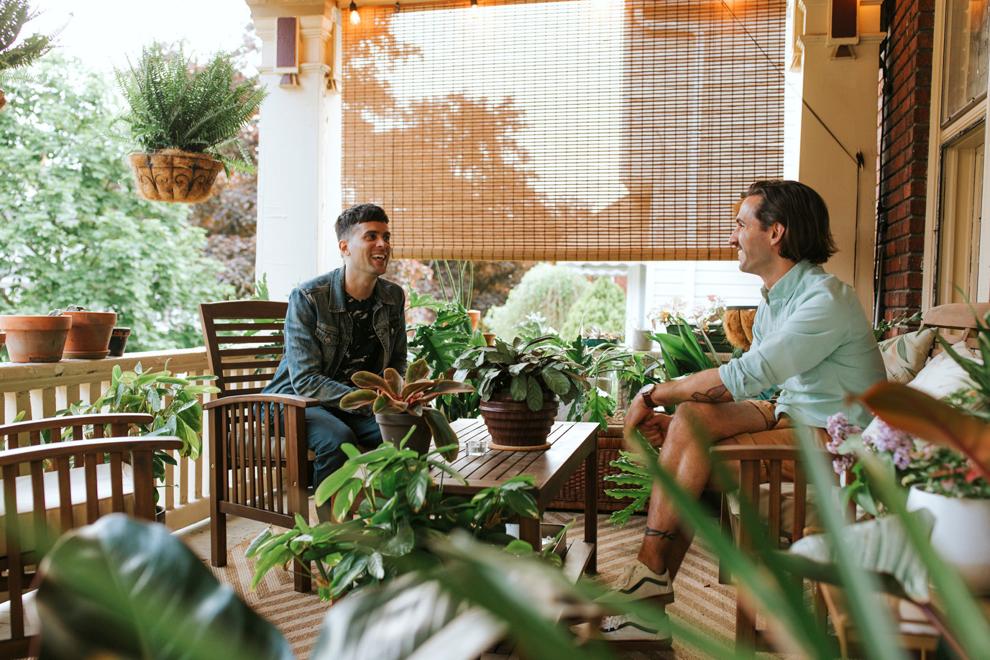 Billy and Pat tucked greenery into every nook, cranny and sun-kissed spot in their home. (And the shady ones, too.) They live above radiators protected by thrifted glass shelves, cover the window and its sill in the kitchen and cascade down from perches atop books.
"Our love of plants just kind of grew naturally (pun intended). Beyond the health benefits for the air we breathe, the plants just make our home feel more welcoming and comfortable. There's just something about having the greenery around us that brings the outside in, especially during the long, gray days of winter," Billy says.
Their home abounds with indoor plant inspiration—from the containers they're housed in and where they're placed to the types themselves—that in a glance explains why the duo launched Daddy's Plants in 2018. They scout out and curate an impeccable assortment of quality indoor tropical and desert plants for their pop-up shop, where eager Buffalonians already flock to find their greenery fix. (Rumor has it a storefront home is coming soon.) And the two are always on hand to talk shop and offer advice, whether you're an experienced plant parent or want to become one.
"We have plants all over the house and in quite literally every room. We've had many years of practice—and many plant casualties along the way—which has helped us understand which types of plants work best for us and our home conditions," says Pat.