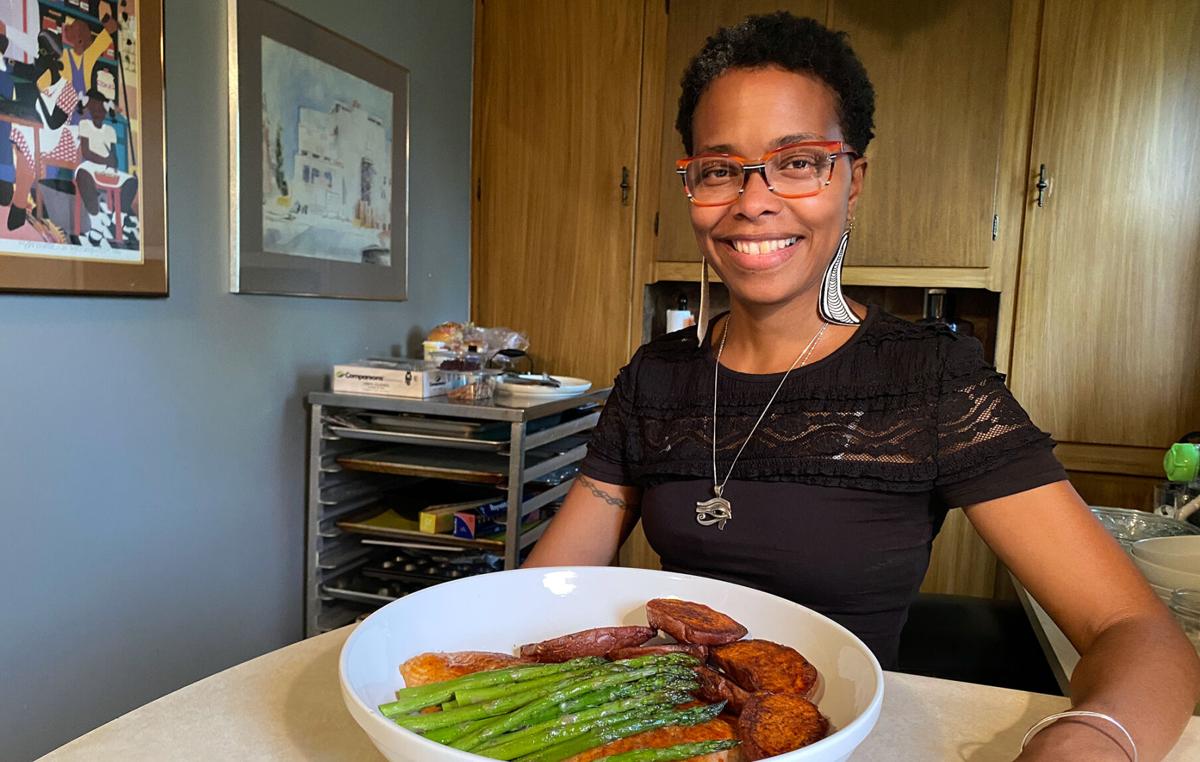 Alexa Joan Wajed does not use measuring cups, spoons or scales in her kitchen. There's no room for stress, rushing or doubt in there, either. Instead, Alexa Joan's cooking studio runs on love, individual expression and the notion that food should always make us feel better.
Her background is as nuanced as her philosophies on food. Alexa Joan is a visual artist, entrepreneur, jewelry designer, educator, chef, mom, wife, activist and a well-composed force of kindness and creativity. But she started her career in the corporate world, working in training, customer service and project management.
"I was forgetting about the things that made me happy and gave me life," she explains. "I was living everyone else's expectations, and I had settled there."
When the company suddenly moved its operations to Toronto, Alexa Joan had a choice: uproot her husband and two sons and move the family to Canada, or, take a reset and rethink life. She chose the latter.
The first thought in Alexa Joan's life reset was food. Growing up, she was the youngest of three kids and the designated celery and onion chopper in the family. Her dad presided over weekend cooking with hash browns, waffles and rice pudding to use up the leftover Chinese takeout rice. Her mom handled weeknights and parties, with simple pasta dishes at the family dinner table and fancier fare like little tea sandwiches and canapes for get-togethers.
"I have always loved cooking, and it is a big part of my family memories," she says.
With her food roots fueling her future, Alexa Joan went back to school to study culinary arts at Erie Community College. After her first year, she got a rare opportunity to study in Italy where the kitchens ran like clockwork and cooks wasted nothing. Old bread became croutons, vegetable scraps flavored stocks and creativity was a valued skill in finding ways to use every morsel.
Back in the states after graduation, Alexa Joan reluctantly took a job in a busy restaurant kitchen. With two young kids and a husband who worked full time, the late hours and dizzying pace weren't a good fit. So she became the pastry chef at Farmers & Artisans, rising at 4 a.m. to bake the bread, muffins and cookies. Then she expanded into the prepared foods kitchen, where her no-waste training came in handy as the cooks tried not to leave any of the farm-fresh, local produce unused. She grew into a catering role and began teaching cooking classes, where her customer service and training past met her food present—and something clicked.
"I like working with people and helping them figure things out and be more comfortable in the kitchen—the heart of the home," she says. "Convenience and technology have made people leave the kitchen. Together we learn to recognize the treasure of taking the time, cooking at home and engaging your family. There is so much magic and love and communication that takes place in the kitchen."
Chef Alexa Joan's lessons, taught in private classes and as an adjunct professor at ECC, cover both the joy and practicality of cooking at home. Her long-practiced no-waste food ethos makes particular sense for home cooks, who save money on grocery trips by finding uses for even imperfect produce. As someone who researched the connections between food and inflammation to address some of her own health issues, Alexa Joan strongly encourages students to pay attention to how certain foods make their bodies feel. She helps her classes get more comfortable in the kitchen by setting rigid recipes aside, tasting often and riffing on ingredients according to what's in the kitchen.
"I believe in cooking with feeling, intuition and love," she says. "I don't use measuring utensils in my classes—I'll go from a ratio aspect or eyeballing and tasting. No matter what you do, it'll be fine. You can fix it. It's just food. This is not life; it's eggs, butter and sugar."
The culinary arts aren't the only place Alexa Joan's creativity thrives. She's an accomplished visual artist whose abstract black-and-white line drawings adorn canvas and her line of jewelry called "fleathers"—lightweight, reclaimed leather cut into graceful feather shapes and painted with her signature, organic linework. She and husband, Edreys Wajed, also a well-known local artist, recently launched a company called Eat Off Art to challenge the widely held notion that people who choose to work in the arts will falter as starving artists.
"People have been running away from art because everyone says you can't make a living with it," she explains. "We want to change that narrative. That art is not just a hobby, it's an expression that needs to be shared without bias or judgement. Especially for young people."
The Wajeds have fostered freedom of expression, an entrepreneurial mindset and comfort in the kitchen in their sons, Emeka, 16, and Eman, 18. Both young men are self-sufficient cooks who feed the family often enough that Alexa Joan, who loves cooking as a want-to, not a have-to, really only takes the culinary reigns two or three nights a week. Vegetables feature more heavily than meat on every menu, and flavors travel the world—Burmese cauliflower, Thai green beans, Peruvian marinated mushrooms.
Evenings spent with her family, coaxing flavors from their garden produce and bouncing ideas off one another, are full of love. Alex Joan, not one to waste anything, savors every minute of this precious time.
Sheet Pan Roast Salmon with Asparagus and Sweet Potatoes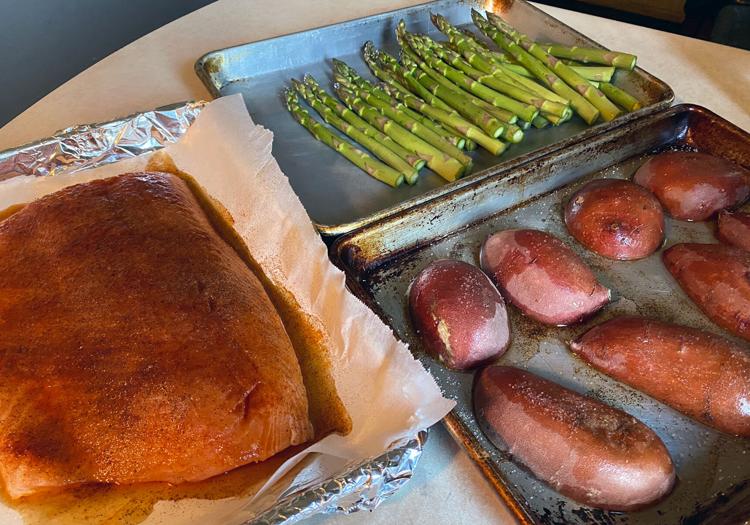 This recipe can feel like a completely different meal just by changing up the salmon seasoning; some of Alexa Joan's favorite flavor combinations are included below as inspiration.
For the salmon
1 tsp. olive oil
2 tbsp. sesame oil
Granulated garlic
Paprika or smoked paprika
Kosher salt
Black pepper
Creative seasoning blend of your choice (see below)
For the asparagus
1 pound of asparagus, cleaned, dried and trimmed
Oil of your choice
Salt & pepper
For the sweet potatoes
2-3 medium sweet potatoes, scrubbed and halved lengthwise
Oil of your choice
Salt & pepper
Chili powder
Granulated garlic
Cinnamon
Equipment
Two rimmed baking sheets
Thermometer
Parchment paper or tin foil
Instructions
Pat salmon dry. Rub all over with oil. Place skin side down on a baking sheet lined with aluminum foil or parchment paper. Season generously with garlic, paprika, salt and pepper. Let stand for 15 minutes.
Meanwhile prepare your sweet potatoes. Rub each cut side with oil and season with salt, pepper, chili powder, granulated garlic and cinnamon. Place the sweet potatoes cut side down onto a second sheet pan (no parchment).
Top your salmon with any of the suggested seasonings listed below.
Place your salmon and sweet potatoes in the oven. Turn it on to 400 F (yes, start with a COLD oven). Set your timer to 15-20 minutes; thinner pieces may take 15 minutes, while thicker may be 20.
During the last 10 minutes of the salmon's cooking time, arrange the asparagus tossed with oil, salt and pepper to the pan around the salmon.
When your timer goes off, check the salmon for doneness, leaving the sweet potatoes in the oven while you check. The fish should flake easily when pressed with a fork or reach an internal temperature 130 degrees at the thickest part. Rest 5 minutes or until the potatoes are done.
The potatoes will take 20-30 minutes. They're done when they feel soft and the cut sides are browned and caramelized.
Transfer fish, asparagus and sweet potatoes to a platter or just consolidate all ingredients onto one sheet pan and bring it to the table. Serve with easy aioli, optional.
Easy aioli
1/2 cup mayo, homemade or store bought
1 tbsp. white vinegar
1 tbsp. lemon juice (you can use more to thin it out if necessary)
Fresh herbs like lemongrass, basil, parsley, dill, or a combo
1/2 tsp. granulated garlic
Salt & pepper to taste
Combine all of the ingredients, rest at least 15 minutes. The flavors will intensify the longer it sits.
Alexa Joan's favorite salmon seasonings
Simply combine and spread over meat side of salmon filet.
Brown sugar and mustard
Fresh herbs: dill, parsley, scallions, lemon, wine
Whole-grain mustard, olive oil, fresh parsley
Cajun: jarred Cajun spice, plus granulated garlic, cumin, smoked paprika and sweetener
---