"I think my love of baking is from my youth," says Sarah Greber. "I baked from a very young age. It's a way I show love."
At this comment, Sarah's 9-year-old daughter, Reese, jumps in: "Then you show a lot of love to me," she says with a smile.
A visit to the Greber kitchen makes clear the connection between baking, love and family. Whether working side-by-side with Reese and 13-year-old Gwen, or on her own, it's all about "sharing the love" for this Amherst mom. It's also about sharing chocolate delights.
"Honestly, I eat chocolate every day," Sarah admits. "I even have hot chocolate almost every day—summer, winter, doesn't matter. For the most part, everything I bake has chocolate in it. And Reese loves it as much as I do."
In fact, Reese's name comes from—you guessed it—Reese's Peanut Butter Cups. "When we were naming the girls, we loved the classic feel of Gwyneth. But with Reese, it's definitely because of the peanut butter cup! That's the other ingredient I eat daily, peanut butter. I love peanut butter, I love Reese's cups, and I always have."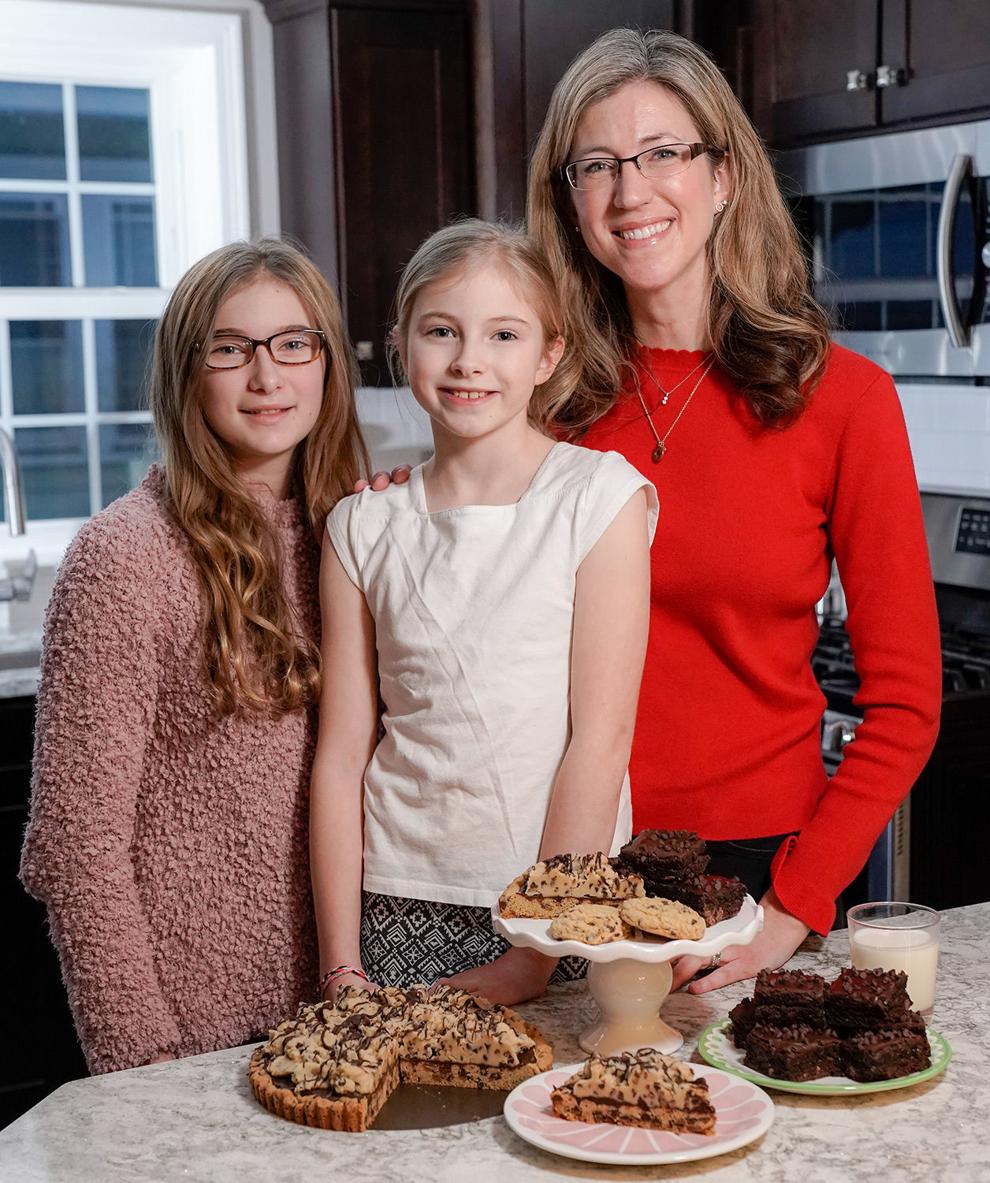 Sarah, a senior integrated campaigns manager with Cengage, based in Boston, Massachusetts, moved to Western New York with her husband and their girls five years ago. While their schedule is packed with work, homework, dance lessons and soccer, Sarah still finds time to make the family's favorite desserts—cakes, brownies, cookies and more.
"My kids will tell you that cookies are my favorite thing to make," she says. "There was a time when I made a million different types just to try them out. But chocolate chip cookies are my favorite."
Love is a word used often in the Greber house—and kitchen. It's at the heart of why Sarah enjoys baking, and especially with her girls.
"The first real thing I baked when I was younger, from scratch, was a birthday cake for my mom," she says. "It was a yellow cake with chocolate frosting. The cake was falling apart, and I didn't have enough chocolate frosting to cover the sides. I'm sure it looked hideous, but I also remember it tasting good!"
Sarah grew up in Michigan, in a house that encouraged her love of baking, especially her father's favorite dessert: chocolate chip cookies.
"My parents bought me a Mrs. Fields cookbook, and I would make the chocolate chip cookies over and over again," she says. "My dad of course said that I made the best cookies that he'd ever had. For his birthday one year I made three batches of cookie dough and formed each into a large letter: 'D-A-D.' I baked each one—basically, little cookie cakes in the shape of those letters. Then I wrapped them, somehow put them in boxes, and that was his birthday gift."
After moving from Michigan to Ohio to attend college, Sarah's adventures in baking continued. She and her college friends would try something later popularized on Netflix's cooking show, "Nailed It."
"We liked to find recipes that we had never tried before and see if we could make them look like the pictures," Sarah says. "So we would do it and then take a picture of our masterpiece to see if we nailed it. And my friends and I nailed it quite a lot!"
After Gwen and Reese were born, they began to take part. While Gwen still jumps in with regularity, it's Reese who seems to most enjoy baking side-by-side with her mom. "As long as I could involve her, I always did, even if it was just mixing things," Sarah says. "She knows how to do everything now."
Reese fondly recalls her first real "solo" effort, a cinnamon bundt cake. "It was actually very good! And it was all me." For a recent school project that involved baking bread, Reese "took control," Sarah says. "She kind of owned it."
Sarah, Reese and Gwen adore sharing their desserts with the people they care about—family, friends, neighbors, teachers. The act of baking together is a joy, but, as Sarah explains, so is savoring the end result with others: "Sharing a little bit of sweetness, sharing the love—that's pretty much why I do it."
Cookie Truffle Brownies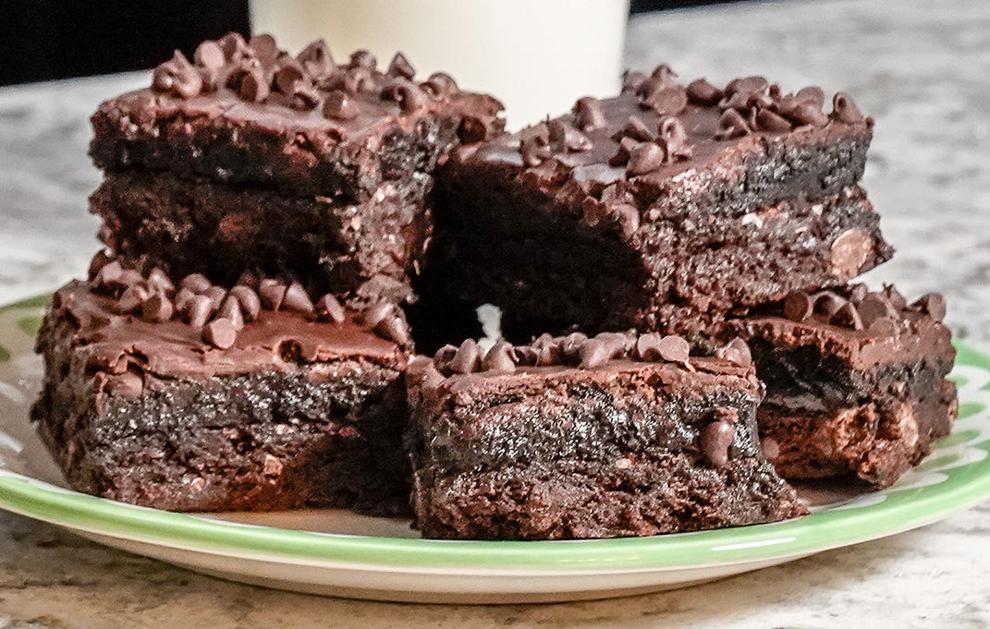 Based on a recipe from "Out of the Box Desserts: Simply Spectacular, Semi-Homemade Sweets" by Hayley Parker.
"The whole idea behind this book is, 'Hey, use a box mix and make something better,'" Sarah says. "So for these, I used a cake box brownie mix that I think is really good."
• 1 box brownie mix (Sarah prefers Ghirardelli)
• ½ cup semi-sweet chocolate chips
• ½ cup mini chocolate chips
Preheat oven to 350 F. Grease an 8 x 8 or 9 x 9-inch pan. Prepare the brownies according to the box. Let cool. In a food processor, pulse the Oreo cookies until they are ground up. Add the cream cheese and pulse until combined. Spread this Oreo filling over the cooled brownies. Melt the semi-sweet chocolate chips and the heavy cream together in the microwave for 45 seconds. Stir until melted and smooth. Pour this ganache over the Oreo truffle layer, then sprinkle with the mini chocolate chips. Refrigerate for 2 hours until set. Store in fridge, but best eaten at room temperature.
Chocolate Chip Cookie Dough Tart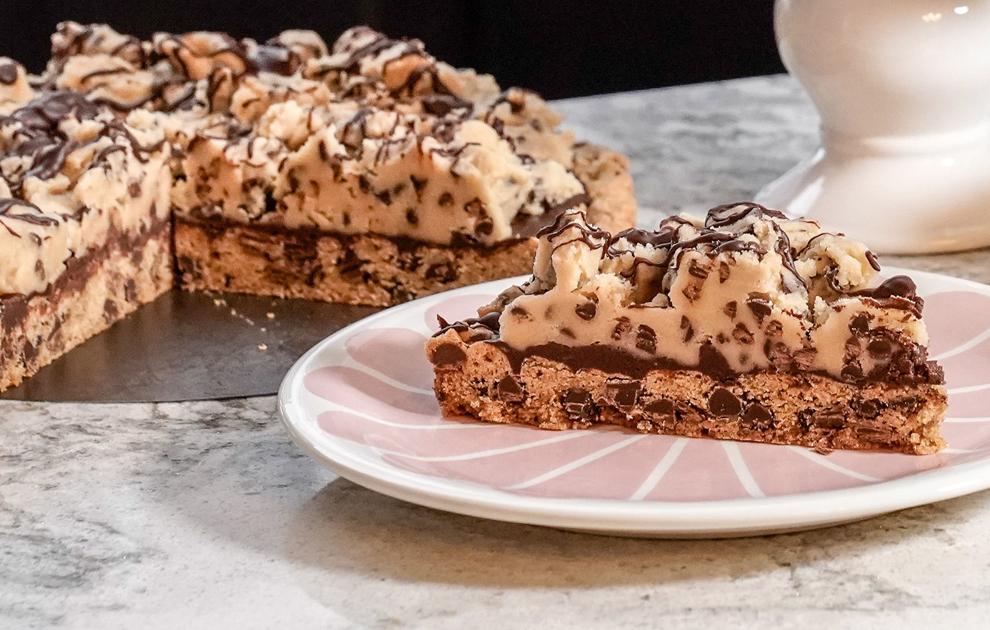 Based on a recipe from "Out of the Box Desserts: Simply Spectacular, Semi-Homemade Sweets" by Hayley Parker.
Sarah calls this her "no-fail, turns-out-good-every-time, everyone-asks-for-it recipe. This is the chocolate chip cookie recipe that I love." The first part is cookie dough that can be used for cookies, but the final product is an edible cookie dough tart. "I use my favorite cookie dough and put it on the bottom," Sarah says.
Cookie dough for tart base
• 8 tbsp. butter (1 stick)
• 12 oz. semi-sweet chocolate chips
Edible cookie dough filling
• 1 cup mini chocolate chips
• 1 12 oz. package of semi-sweet chips
Preheat oven to 350 F. Make the cookie dough for the crust by combining butter, sugar, eggs and vanilla, then add in the dry ingredients, ending with the chips. Press the dough into the bottom of a tart pan.
Bake for 15-20 minutes, until golden brown. Let cool.
Cream together the edible cookie dough filling ingredients, adding the salt and flour at the end. Stir in the mini chips.
Make the ganache by melting the chips and cream in the microwave for 45 seconds, stirring until melted.
Pour the ganache over the cooled tart crust, spreading to the edges, saving some for topping at the end.
Add the edible cookie dough filling over the ganache layer, covering the entire surface. Finish with a drizzle of the ganache. Chill for 20 minutes before serving. Store in the fridge.