Though the road he took to get here had some twists and turns, there's a strong case to be made that destiny saw Jason Ryder end up essentially living a foodie's dream.
To be sure, Ryder has always had a keen interest in food. And it certainly features prominently in present-day as sales director for a locally based wine and spirit wholesaler. But well before Ryder was overseeing the division selling wine and spirits exclusively to restaurants at Empire Merchants North, he was that guy who truly enjoyed the entire immersion as it relates to food.
The term barista hadn't quite made its way into the daily vernacular yet when this Buffalo native had his first taste of working in the food-service industry. Back in 1999, Ryder began at Caffè Aroma, an Italian coffee shop located in Amherst. In addition to honing an appreciation for the finer points of caffè americano, he also developed an affinity for the hospitality industry—and, best part, met his future wife Jessica, an Amherst native.
The pair enjoyed caffè life so much that when its owner opened the highly regarded Trattoria Aroma, it was natural for the couple to follow. Ryder spent several years there while also completing his undergrad plus a master's in informatics from UB. His 2003 senior thesis was a marketing plan for small-production wineries, exploring how New York wineries could market themselves using new technologies like online sales and advertising, still new at the time, while navigating interstate sales laws.
Working front of the house at Trattoria Aroma inspired Ryder's interest in Italian wines. Good pals with the back-of-the-house staff, he also spent time in the kitchen watching how to prepare dishes like pasta and chicken and learning how to master the base sauces he still uses today.
Revealing that cooking is both his passion and hobby, Ryder loves to prepare meals daily for Jessica and their 6-year-old daughter, Gianna. As their little one is going through a picky stage, Jessica usually feeds her early in the evening before they sit down to dinner later as a couple.
Ryder has an epicurean approach to dining that extends beyond his nine-to-five interactions with the area restaurateurs. His dinners always feature a protein and vegetable—as well as a thoughtful wine pairing—including in the recipe below. He's also particularly invested in ensuring the food looks as great as it tastes, believing there's an artistic element to food's presentation that adds significant appeal to any meal.
Rack of lamb with shrimp & roasted parsnip puree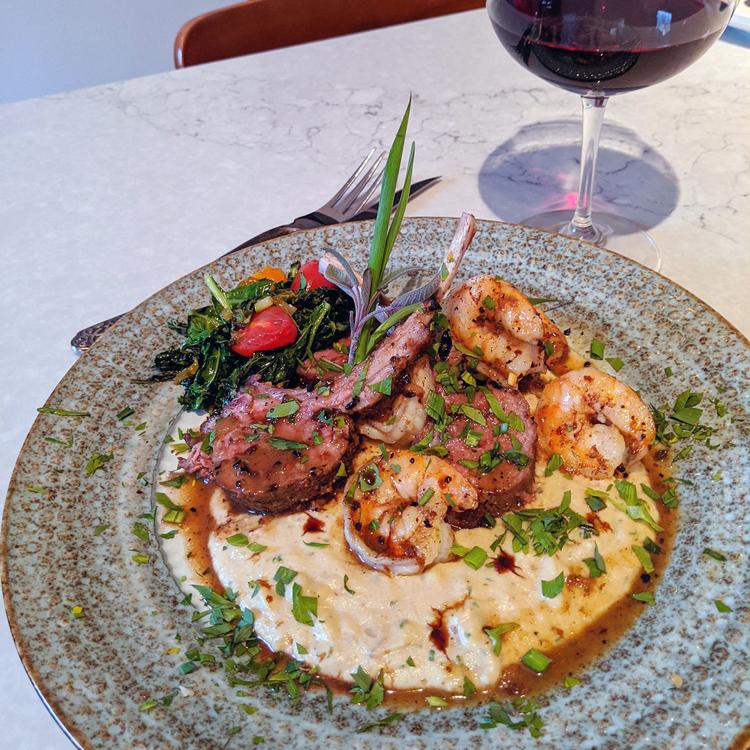 Perfect for two to three people, this relatively easy recipe can be broken down into stages, depending on when your workday ends and parenting duties start. (You can substitute the lamb with pork tenderloin, steak, chicken breast, bone-in chicken thigh or fish.) As enjoyable as the choice of protein is, the parsnip puree ends up stealing the show, though cauliflower works well too.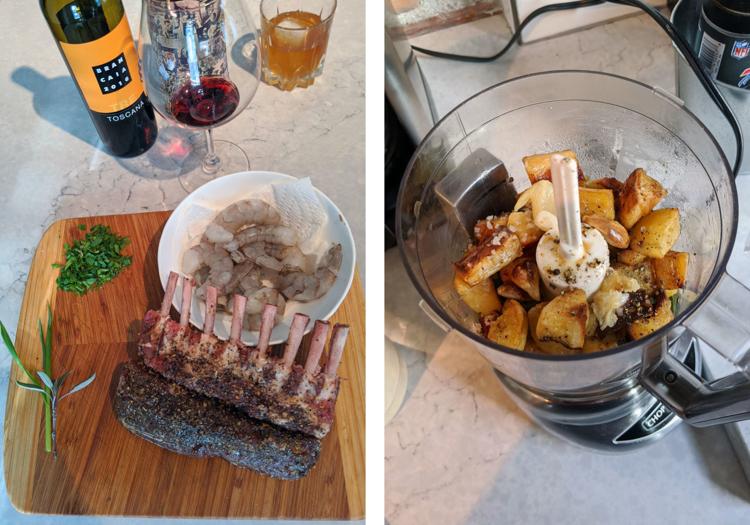 • 8 rib rack of lamb, frenched
• 6 large shrimp, shelled and deveined
• ½ cup chicken stock or white wine
Preheat oven to 425 F. Rub rack of lamb with olive oil and your favorite course seasoning. (Jason suggests Montreal or Herbes de Provence with kosher salt and crushed black pepper.) Toss shrimp with coarse salt and pepper or your favorite light seasoning.
Drizzle olive oil in a medium oven-safe sauté pan over medium-high heat. Sear lamb on all sides. Transfer to the oven and cook lamb until medium rare, 125-130 degrees, approximately 5-8 minutes. Move lamb to a cutting board, cover and let rest.
Return hot pan to the stove top over medium-high heat and cook shrimp until pink, about 3 minutes. Once cooked through, transfer to the cutting board with lamb. Deglaze the sauté pan with chicken stock or wine, scrapping up any brown bits. Add butter and let reduce.
To serve, plate warmed parsnip puree and top with 3 or 4 lamb ribs and 2 or 3 shrimp. Spoon pan sauce over the top and garnish with micro greens or chopped parsley. Serve with Brancaia Tre Toscana, Orin Swift Abstract or your favorite glass of wine.
• 2 large (4 medium) parsnips
• 5 garlic cloves, peeled
• ¾ cup Parmigiano Reggiano, grated
• ¼ cup fresh basil, chopped
Preheat oven to 425 F. Clean and dice parsnips into one-inch pieces. Toss in oven-safe sauté pan with olive oil and 1 teaspoon coarse salt. Roast for about 20-30 minutes, turning twice until soft and browned on the edges. With about 10 minutes remaining, add garlic cloves to roast with the parsnips, being careful not to let them burn.
Remove from oven and transfer parsnips and garlic to a food processor. Add milk, basil, Parmigiano Reggiano, ricotta cheese and butter, plus salt and pepper to taste. Pulse until smooth. Thin out, if necessary, by adding more milk.
Serve immediately or transfer to deep saucepan to rest. Reheat over medium heat when ready to serve.
Be the first to know
Get local news delivered to your inbox!