Some dinner parties surround a general theme that dictates dishes and decor. Maybe there's a supper with an Italian sensibility serving pasta, antipasto, wine and some opera, or a build-your-own taco night with Coronas and sombreros for all. But then there are the themed extravaganzas hosted by Allentown residents Gary and Merry Constantino and a dinner club of 10 long-time friends. Now entering its 12th year, each gathering becomes a mini master class in culture, culinary technique and whole lot of food-inspired fun.
It works like this. Once every three months or so, one couple of the group volunteers to host a dinner, decides on a theme for the evening and begins to research a main dish they'll prepare. Guests run with it to come up with a menu of appetizers, side dishes, drinks and desserts to bring to the feast. Most of the time, club members end up discovering something they've never eaten—much less cooked—before.
"Learning is part of the fun," explains Gary. "Everything we've had at dinner parties was the first time most of us had it at all. You don't want to make the same old thing all the time."
Theme inspiration can come from anywhere. There have been dinners around holidays like Halloween; meals based on a place, like one member's award-winning backyard garden; or a single ingredient, like one dinner that featured chocolate soup, chocolate beer and chicken with chocolate in the sauce.
"We thought it would be so intense and we'd all have chocolate highs," says Gary. "But it was great." Merry adds, "We were in charge of appetizers, so I talked to the cheese guy at Wegmans who helped me pair chocolates with cheese."
Many themes have been inspired by movies. All members of the club watch the film ahead of time to get a real feel for the concept and sometimes use scenes to draw reference for outfits or table settings. "Big Night," a 1996 movie starring Tony Shalhoub, Stanley Tucci and Marc Anthony that features two brothers who plan an epic feast to save their Italian restaurant from stiff competition in 1950s New Jersey, led dinner club members to make most of the dishes featured in that pivotal scene—like this timpano. A culinary career change made by the main character in "Chef" turned into a menu of Cuban food truck eats. "Julie and Julia" sparked Gary and Merry to make the beef bourguignon and a duck stuffed with pate and baked in pastry.
"I can't believe Gary was deboning a duck," muses Merry. "I didn't expect it to be successful." Gary adds, laughing, "I didn't either!"
Given the intricacy and study involved in pulling off some of the chosen dishes, it may come as a surprise that not a single member of the club is a chef, cook or otherwise works in food. Merry is an industrial engineer, Gary is a director of facility planning and an architect; others in the group are creatives, psychologists and other white-collar professionals. What they all do have in common is a love for food—cooking it, learning about it and enjoying it with good company.
"Our creative backgrounds come out as cooks," explains Merry. "It's an outlet and another way to put things together in a different way and enjoy them."
At a time when many home cooks opt for premeasured ingredients delivered to their doorsteps, meal services offering prepackage dinners or a quick order from Uber Eats to pick at solo in front of the television, the cooking and eating involved with the Constantinos' dinner club get-togethers lasts for hours—and that's the beauty of it.
"Everyone in the group prefers to dine than to eat," says Gary. "There's love and pride in it, and an elegance and an enjoyment in putting the effort in to create a wonderful meal to share with friends."
Timpano alla "Big Night"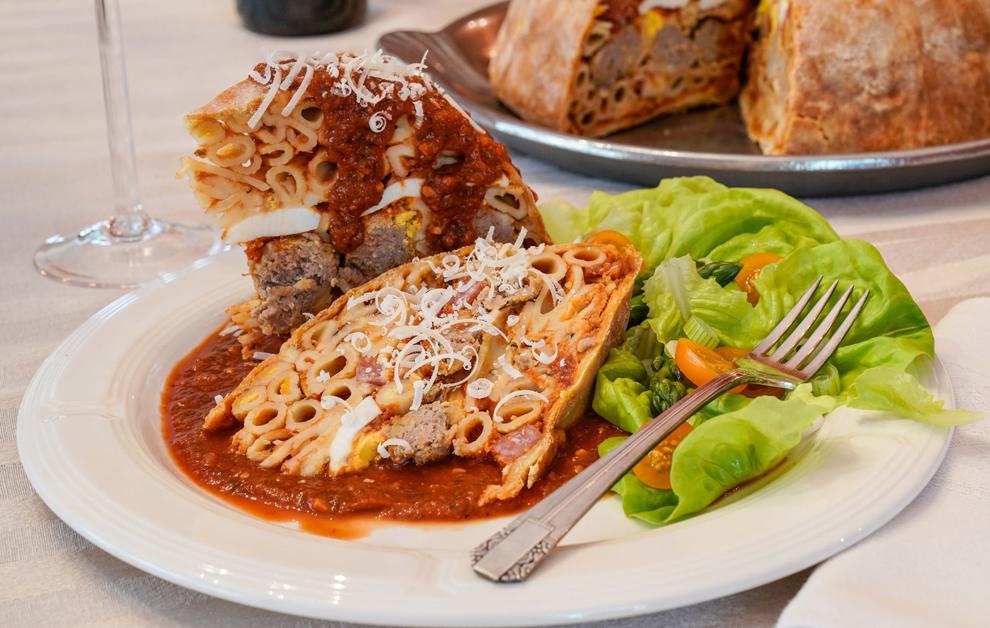 Timpano, the show-stopping course featured in the movie, is essentially a birthday cake-shaped calzone stuffed with several other Italian meals. Both the meatballs and dough can either be made from scratch or purchased premade; piece together packaged piecrust into a larger disk that will fill and overlap your pan.
• 2 cups all-purpose flour
• 2 cups (¾ lb.) Genoa salami pieces, cut into ¼-by-½-inch pieces
• 1 cup (¾ lb.) sharp provolone cheese, cut into ¼-by-½-inch pieces
• 6 hardboiled eggs, shelled and cut into chunks (quarter lengthwise then cut in half)
• 2 cups meatballs, cocktail size
• 4 cups meat-based tomato sauce, plus more for serving
• 1½ lbs. ziti pasta, cooked very al dente (about half the regular cooking time)
• 2/3 cup finely grated pecorino Romano cheese
Place the flour, eggs, salt and olive oil in a stand mixer fitted with the dough hook. Add 1½ tablespoons of water and process. Add more water, ½ tablespoon at a time, until the mixture comes together and forms a ball. Turn the dough out onto a lightly floured work surface and knead to make sure it's well mixed. Set aside to rest for 5 minutes.
Flatten the dough out on a lightly floured work surface. Dust the top with flour and roll it out, dusting with more flour and flipping the dough over from time to time, until it is about ⅟₁₆-inch thick and will fill your pan with enough hanging over the sides to cover the top once filled.
Generously grease a 3-quart oven-safe pan with butter and olive oil. Fold the dough in half and then in half again to form a triangle and place the point in the center of the pan. Unfold the dough and arrange it evenly, gently pressing it against the bottom and sides of the pan, draping the extra dough over the edges. Set aside.
Preheat the oven to 350 F.
Toss the partially cooked pasta with olive oil and 1 cup of sauce. Distribute 3 generous cups onto the bottom of the timpano. Top with half of the cubed salami, half of the cubed provolone, half of the hard-boiled eggs, half of the meatballs and ⅓ cup of the Romano cheese. Pour 1 cup of the sauce over top.
Repeat, layering on 3 more cups of the pasta. Top with the remaining salami, provolone, hard-boiled eggs, meatballs and ⅓ cup Romano cheese. Pour on 1 more cup of the sauce.
Top with the remaining 3 cups pasta (the ingredients should now be about 1 inch below the rim of the pan). Spoon the remaining 1 cup of sauce over the pasta, then pour the beaten eggs over the filling. Fold the overhanging dough over the filling and seal completely, trimming away and discarding any double layers of dough.
Bake until lightly browned, about 1 hour. Cover with aluminum foil and continue baking until the timpano is cooked through and the dough is golden brown, about 30 minutes. (The internal temperature will be 120 F.) Remove from the oven and allow to rest for 30 minutes or more. Grasp the pan firmly and invert the timpano onto a serving platter. If any part sticks, carefully detach with a knife. Remove the pan and allow the timpano to cool for 20 minutes.
Using a long, sharp knife, cut a 3-inch diameter circle in the center of the timpano, making sure to cut all the way through to the bottom. Slice it into individual portions, as you would a pie, leaving the center circle as support. Serve with warmed meat sauce to spoon over the slices, as desired.