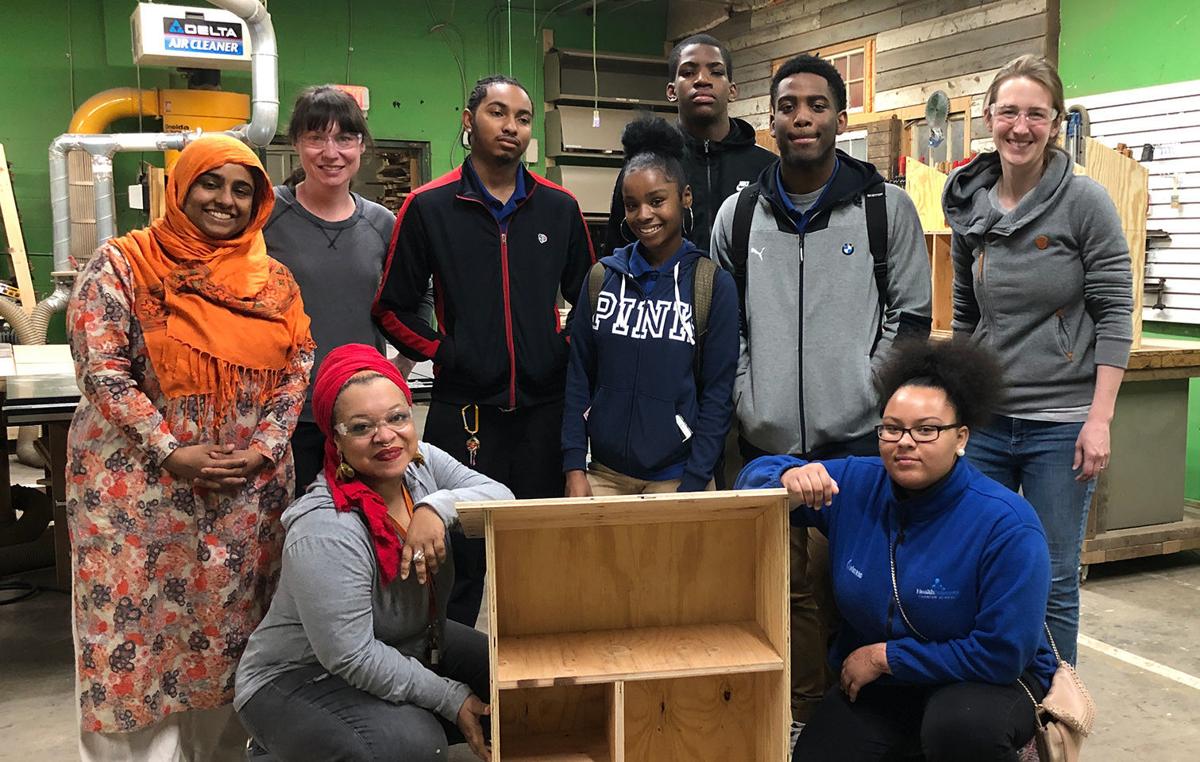 What does a healthy community look like to you?
That was the question Drea d'Nur, founder of the nonprofit Feed Buffalo, posed last year at one of the organization's first events. As participants enjoyed a free and nutritious vegan meal, they met their neighbors, discussed their ideas—and, in a way, brought their vision one step closer to reality.
"A healthy community, to me, is a community where neighbors know each other, where neighbors talk to each other," d'Nur said. "A neighborhood that is safe. A community where you can go outside and play, and you don't have to worry about your kids—and you don't have to worry about how you're going to feed them."
Central to a truly thriving community, d'Nur said, is access to healthy food for every resident.
"You know what they say the heart of the home is?" d'Nur said. "The kitchen. You cannot have a healthy community when the people in that community don't have access to healthy food."
With Feed Buffalo, she is doing her part to make Buffalo a healthier and more just community. In 2018, the mother of five turned her own experiences using food pantries to feed her Muslim family into inspiration to launch a nonprofit that provides access to free organic and halal food in a welcoming community space.
"I envision this to look like a modern-day grandmother's kitchen," she said, showing off the organization's space on Massachusetts Avenue on Buffalo's West Side. When renovations are complete, the space will have wooden shelving on the walls, a kitchen-style island and a bar that serves coffee, tea and natural juices.
In the meantime, the pantry already offers an array of fresh produce, organic and halal meat, and nonperishable items that are low-sodium or sugar-free for anyone in the community who needs them.
"A lot of the pantries I would to go, you see a lot of high-fructose-corn-syrup products, a lot of bleached products like white flour and white sugar—things that are not so healthy for the community," d'Nur said. "I wanted a space that was more inclusive and thought about the dietary restrictions of Muslims, refugee people and people who are sick in our community."
But the brick-and-mortar pantry is just the beginning of Feed Buffalo's work. D'Nur said the organization has taken people grocery shopping and passed on donated grocery gift cards so community members can purchase their own nutritious food. Through a free series of Healthy Community Sessions, the organization collaborates with local chefs and other organizations to host a free, healthy meal and teach participants how to cook it, as well as other critical skills like budgeting.
The first session—where d'Nur asked participants to brainstorm what makes a healthy community—was held at the Massachusetts Avenue Project and featured a multicourse meal prepared by her aunt L. Judith Carroll, a vegan chef. Toward the end, a child playing at the park nearby came in and asked if he could have dinner for him and his mother.
"That is why I do this," d'Nur said. "If that event was just for that little boy to take healthy food home to his family…that's the whole point."
This year, Feed Buffalo plans to install several Little Free Pantries around the city, host quarterly Healthy Community Sessions and launch a community project that incorporates art and healthy food.
With every endeavor, Feed Buffalo relies on volunteer support and collaborates with other community-based groups on initiatives and food drives—including PUSH Buffalo (which owns its West Side building), the Women's Resistance Revival Chorus, Project Mona's House and The Foundry—all in an effort to "transform food deserts into thriving communities."
"The heart of a healthy community is healthy food access," d'Nur said. "I want to challenge community members, community leaders and large corporations in our community to think about their contribution in building a real healthy community."
The City of Good Neighbors, on every block
When she was a child, you'd often find Drea d'Nur in her grandmother's neighbor's kitchen, sharing conversation and shortbread cookies.
"I really knew almost everybody on my block," d'Nur said. "I could be at anybody's house and my grandmother and my mom felt comfortable because we knew who our neighbors were."
It's that spirit of community Feed Buffalo is hoping to create with its Little Free Pantry project. Similar to the now-ubiquitous Little Free Libraries around town, each Little Free Pantry is a wooden, weatherproof structure with shelves inside. But instead of books, each pantry will be stocked with healthy, nonperishable food, toiletries and hygiene items.
Last year, Feed Buffalo partnered with The Foundry, a makerspace, to construct the pantries with help from Buffalo student volunteers—they now have six with plans to install soon.
"The point of the Little Free Pantries is to get communities talking again and thinking about their neighbors," d'Nur said. "How often do we ask our neighbors, 'Did you eat today?' or 'What are you cooking for dinner?' That question could lead to...'What do you need? Can I help you?' "
Be the first to know
Get local news delivered to your inbox!