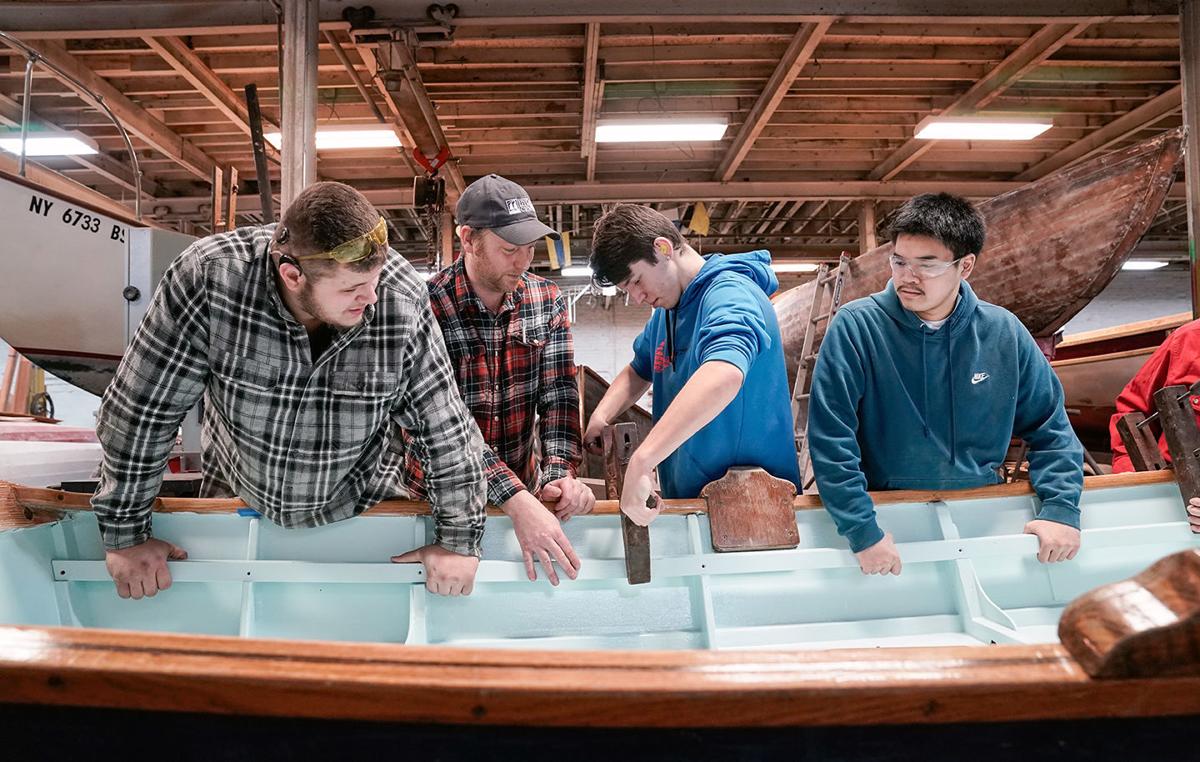 Every Tuesday and Thursday, tucked away in an industrial section of Riverside, groups of diverse high school students are shuttled to the Buffalo Maritime Center (BMC), a long, greyish, nondescript building a couple of blocks off of Niagara Street. They file in, maybe goof around a little bit. But in very short time, they don work goggles, grab their tools and determinedly get down to the hands-on business of making boats.
BMC, a non-profit, is an intergenerational, community-learning center. Their mission includes promoting traditional hand skills and a craftsman-like attitude, in addition to deepening an awareness of Western New York's maritime heritage. Their educational programs embrace high standards of workmanship and encourage self-discipline, self-sufficiency and the pride of performing meaningful work with one's hands.
So don't be fooled. These kids—students from Riverside Academy, St. Mary's School for the Deaf and WNY Maritime Charter School—are not simply making boats. (Though, as a point of pride, it should be known that they are making the rowboats used in Delaware Park's Hoyt Lake during the rental season.) Through the Hand-to-Hand program, they are also acquiring and practicing all kinds of skills, doing things that are way out of the traditional comfort zone for mostly city kids—kids who may not have been exposed to craftsmanship, the wisdom and patience of elders and the sense of accomplishment and empowerment that comes with making something.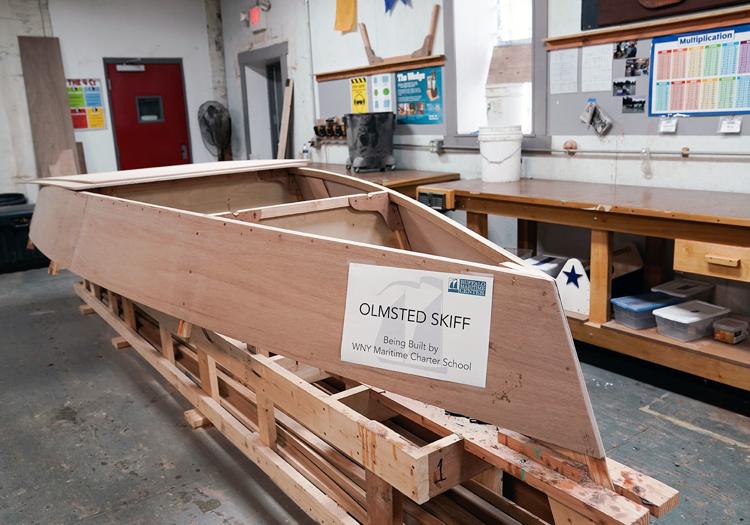 "The overall goal of Hand-to-Hand is to reach a lot of students so they can experience something they might not have the chance to in a regular school, especially since things like vocational and shop classes have been eliminated or reduced," said Brian Trzeciak, the Maritime Center's executive director. "Hand-to-Hand does support kids realizing other career options, like going into a trade through this experience, but we also emphasize giving them choice and agency. They might say to themselves, 'I made a boat. I had ideas, made—and explained—my decisions. Maybe I can be a designer or an architect.'"
The program—a yearlong course with classroom and hands-on time—values and promotes hands-on and minds-on education guided by the critical thinking needed to build, learn and problem-solve. Its culmination comes in the spring, when the boats that the kids built are launched in Hoyt Lake. (Whether it will take place this year remains uncertain, though BMC remains hopeful.)
The student groups work with dedicated volunteer mentors, ideally at a ratio of one mentor to three students, to learn how to craft with the tools at hand. What they actually get out of the program is so much more. Along with the craftsmanship, they are practicing STEM principles and life skills.
"The program also stresses craftsmanship, that you can't just slap something together," said Scott Pugh, Master, naval science instructor at WNY Maritime Charter School. "You want it to look nice, you want to be proud of it. If they have that mindset and need to fix something as an adult, the students will have that imprinted."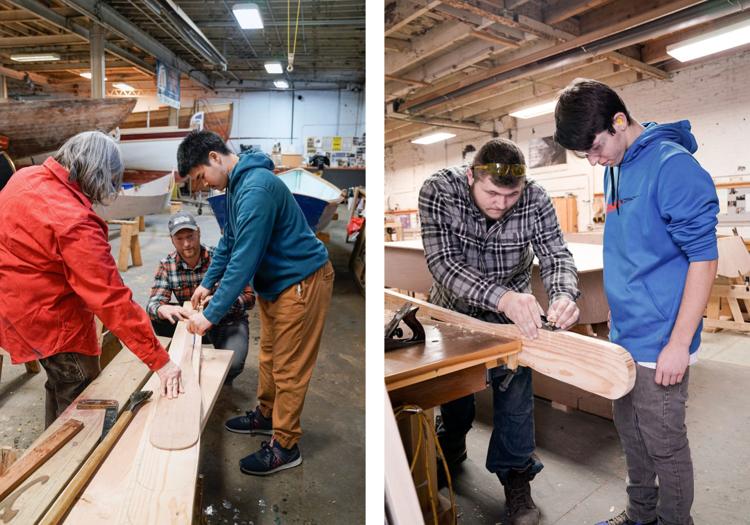 The BMC was cofounded in the early '90s (under a different name) by John Montague, a retired Buffalo State design history and technology professor with a long interest in Buffalo's boat and maritime history and culture. When word got out that he'd started designing and building boats way back when, he was approached to engage students in the practice as a way to connect those who might not have been responding to traditional STEM classroom teaching. The Hand-to-Hand program has been officially running through the Center since around 2007.
"We have been using the process of physical boat-building as groundwork, leading into inquiries about more abstract issues," said Montague, now board president emeritus with the Center. "The other key educational piece is self-esteem. The problem was that they didn't think they were successful. The kids are amazed that they can do something. They might have been sleeping through physics class, but here they get to deal with the physical world. They start asking questions like, 'Why does glue stick? How does wood bend? How is that different than how metal bends?' And now, they're getting into physics even though they don't know it. This program shows that there are different paths to get to ideas."
The mentors—and the students' relationships with them—are another important piece of the equation.
"One challenging thing for the mentors teaching in this program is that we don't want them to just start building the boat and let the kids watch," Trzeciak said. "Kids need the opportunity to practice…and to fail, then figure out what went wrong and try it again. The mentors have to learn patience."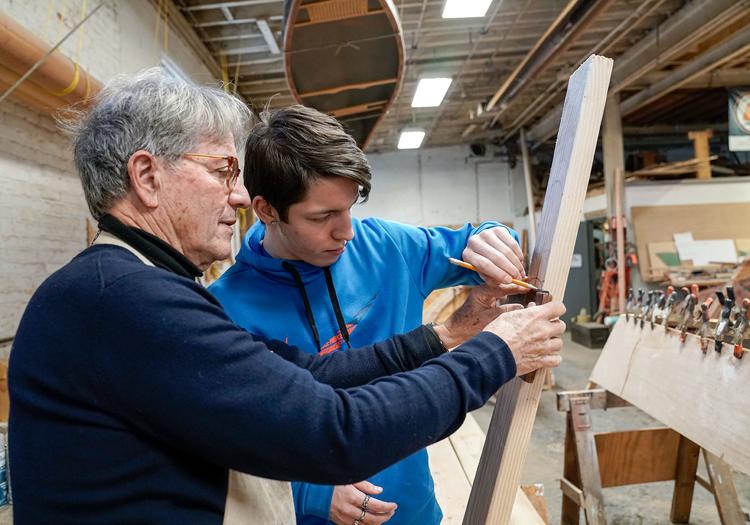 Pugh, the instructor at WNY Maritime Charter School, said that the experience of working with mentors is one that cannot happen in a traditional classroom.
"Communication for teenagers is usually texting while sitting next to each other, with their heads down and no eye contact," he said. "When they are at the Hand-to-Hand project, they are forced to talk to and interact with their mentors, who are mostly older than their grandfathers. It's a great way to work on their confidence and communication skills. I have seen them improve in that area."
There is also an intrinsic cultural exchange.
"We generally have older white folks dealing with young people of color. It's an opportunity to learn about each other, and where they come from," Trzeciak said. "A lot of the kids from Riverside are immigrants. They might start out extremely shy, but as their comfort increases, they start having fun and this becomes a place they want to be."
This fits in with one of the Maritime Center's deeply held tenets: that boats and boat culture are not only for the privileged. "Anyone can use boats and can get out on the water. That's ultimately what we want, is to get more people on the water," said Trzeciak.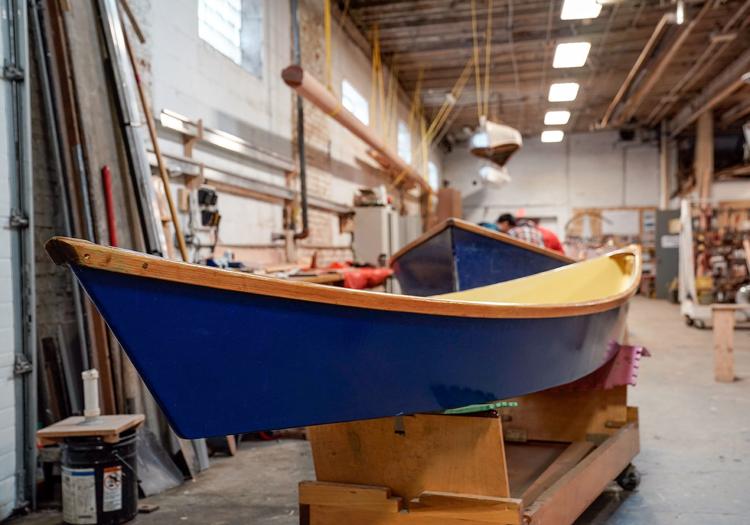 The effectiveness of Hand-to-Hand has now been further validated by the announcement of a $245,000 grant from the Ralph C. Wilson, Jr. Foundation to study, scale and spread the program. The Buffalo Maritime Center will produce manuals that other programs and their mentors can use to guide them through the process of making the boats and finding STEM moments within the activity. To begin with, data is being analyzed and evaluated to show what's working and what's not.
"Our program falls under the category of Youth Development in STEM—across the country, similar programs are struggling with relevance and youth voice," Trzeciak added. "Also, it's easy to make a boat; it's more difficult to teach someone to make a boat. This isn't a typical science program, but it really is STEM: math, problem-solving, engineering."
Montague is gratified to know that the program he's been a part of for over 30 years is having a positive effect. "This is a great opportunity for the mentors—volunteers and retirees—to engage. We teach them how to pull ideas and concepts, and create curiosity about the world through the process," he said. "It's also so exciting to see students perk up when they have this physical experience and can try and do the science. That's what we've been cultivating."
"The real change that I've seen is that our students are learning more than one way to solve a problem," said Ardrey Manning, art teacher at St. Mary's School for the Deaf. "And that's something they're going to use later in life."
Be the first to know
Get local news delivered to your inbox!