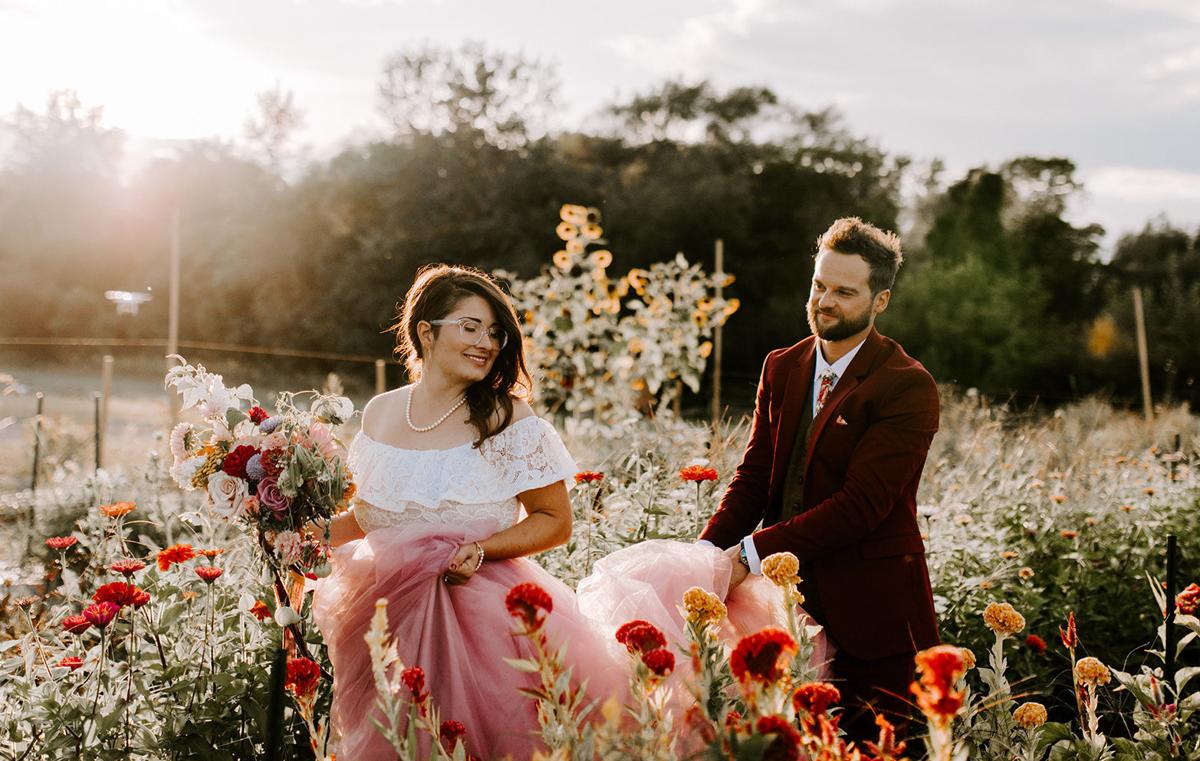 Fran & Jesse
Kin Loch Farmstead, Lockport
You could say Craigslist has been good to Jesse and Fran DePalma. The newlyweds got their new air conditioning unit from the site, but even before that, they got each other.
"We met when we were living in Chicago. I needed a place to live, so I found Jesse and his friend on a Craigslist posting," said Fran. "I don't believe in love at first sight but I do with him. We started to date three weeks later."
The couple eventually moved back to Western New York, where Jesse is from and where Fran knew would be the perfect place to start Heirloom Soul Florals, her flower farming and wedding florist business. She grows out of Kin Loch Farmstead in Cambria, which became the venue for their nuptials.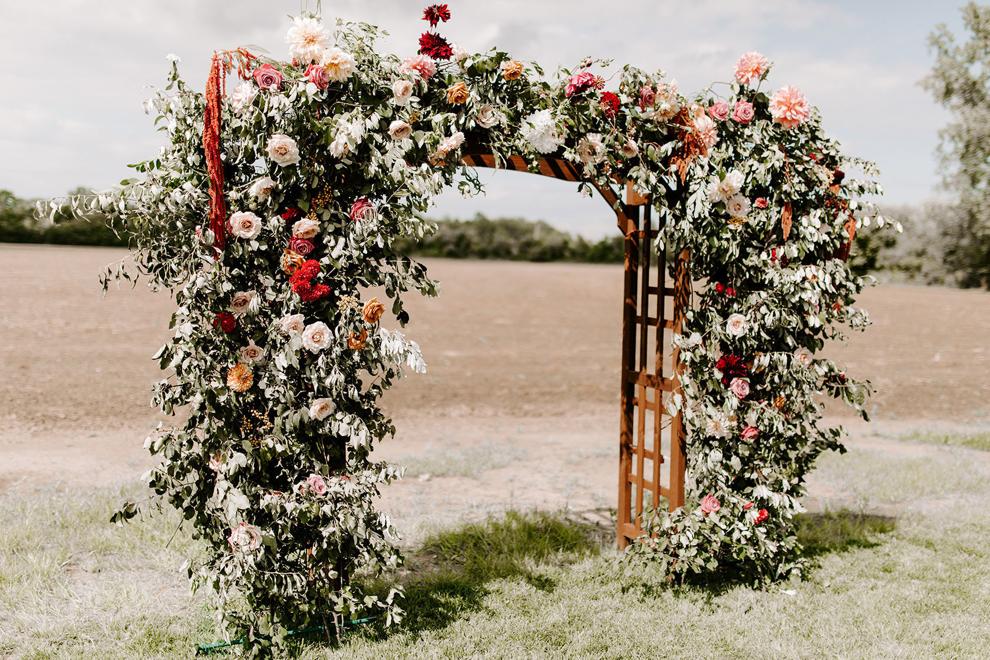 The 50-by-60-foot monitor-style barn is a beautiful blank canvas, which enables couples to bring in personal wedding elements. This played into Jesse and Fran's wedding planning philosophy.
"We wanted it to be authentically us," added Jesse. "Filled with things we love that mean a lot to us."
Enter the dahlia flower, a favorite of Fran's that would be in full bloom for their fall wedding. But the couple didn't want to commit only to one or two colors.
"It's a richer experience when you use the full spectrum of the colors you choose," said Fran.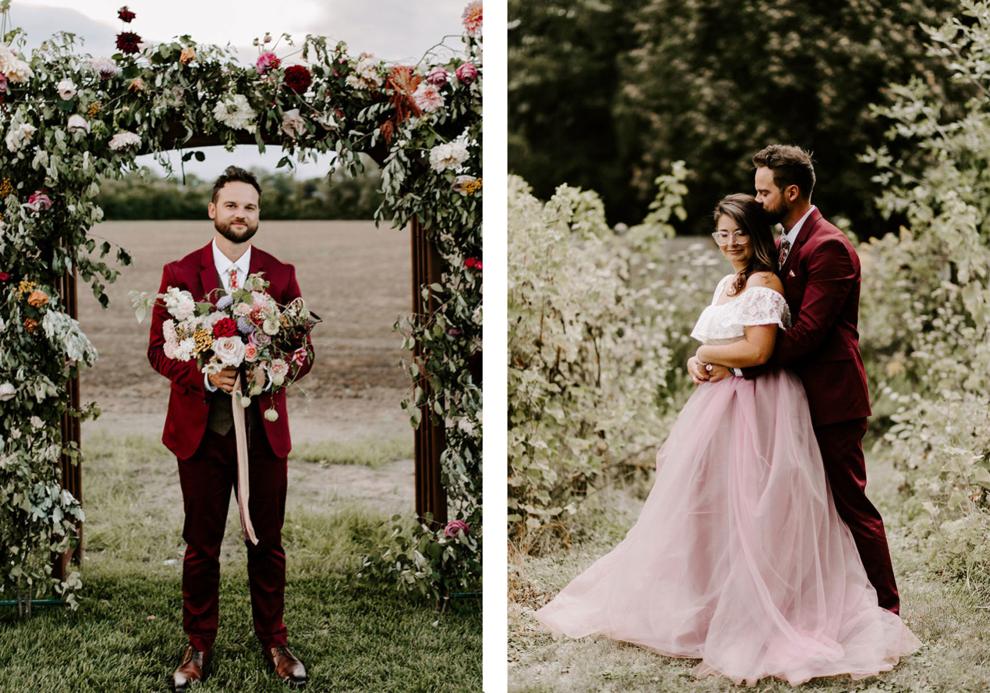 It's why garden roses, tansies, goldenrods, China asters, zinnias, hydrangeas and raspberry green flowers were all featured to provide vibrant burgundy, pink, purple and beige hues to the festivities.
With a loose color scheme in place, the pair dressed for the occasion. Jesse sported a burgundy suit with a brown vest and a floral tie and Fran chose a puffy pink tulle skirt pulled straight from her daydreams.
For a couple with a natural knack for DIY, their personal touches were everywhere.
Jesse built the tables and benches with a friend, while the vintage floral plates and water goblets were hand-collected by his mother and sister over the course of a year.
Fran put her skills on full display for the elevated tablescapes, which were made with copper frames, chicken wires and zip ties to avoid the use of floral foam that is harmful to the environment.
"It perfectly reflected our personalities. And that's because we literally picked everything out. Little details that we will remember forever," said Fran.
---
The details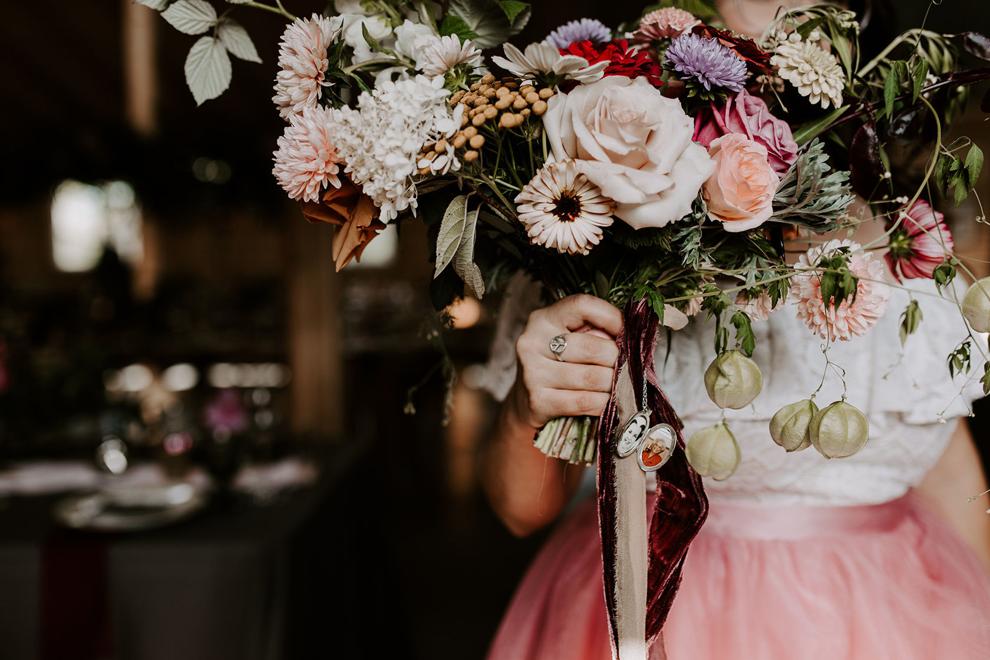 Assembled the day of the wedding in under 30 minutes, Fran made her bouquet wider than usual with hand-dyed velvet and silk ribbons along with a locket of her grandmother and great grandmother.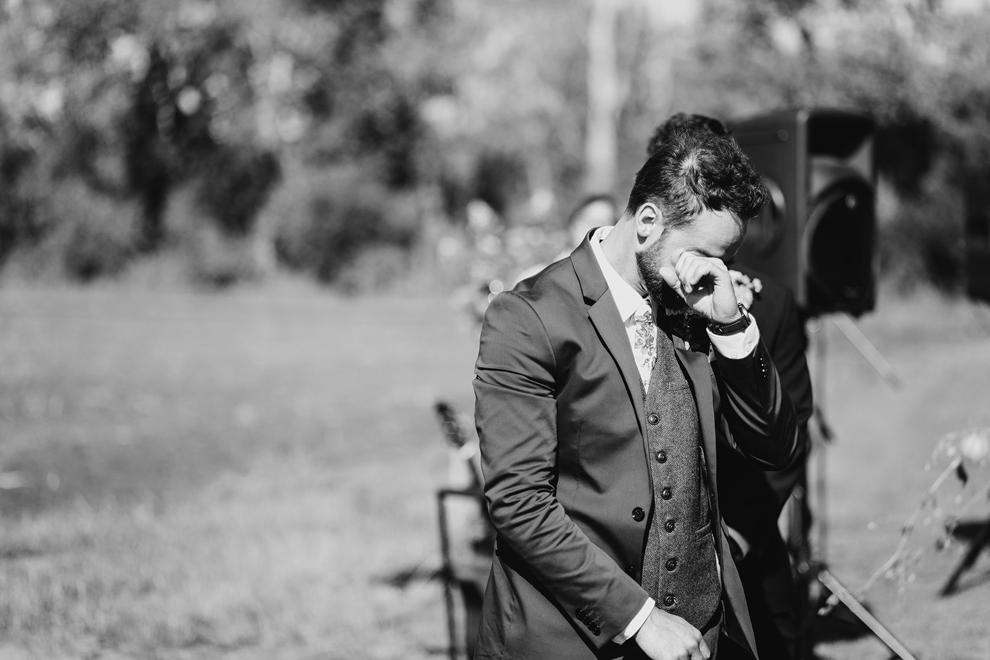 Jesse got teary as Fran walked down the aisle. It was a culmination of all their hard work.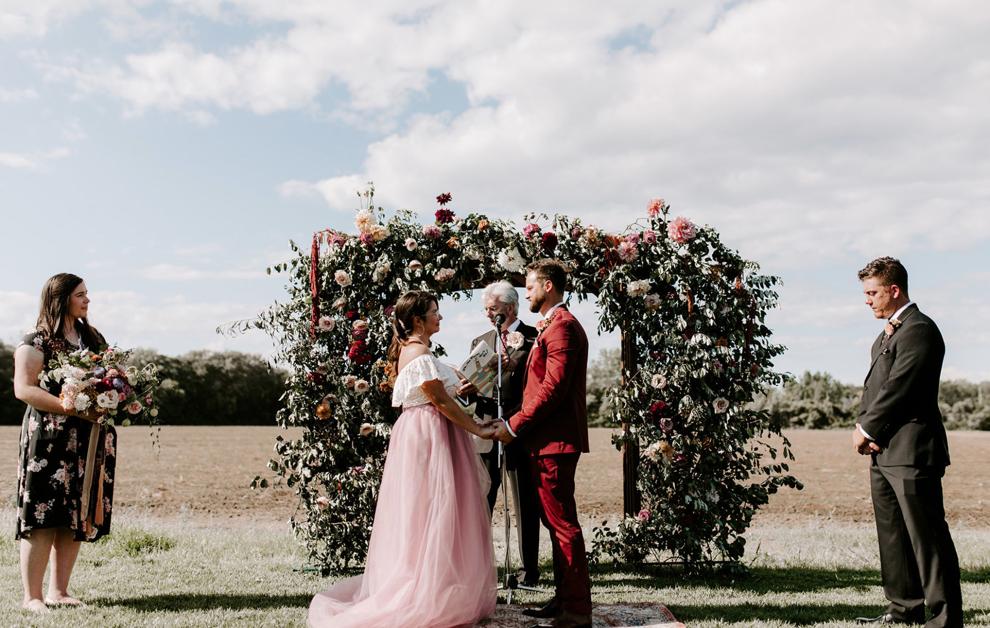 Fran's uncle, Dan Young, officiated the wedding and felt strongly about needing a sturdy book or podium to preside from. Fran handed him her childhood favorite, "Oh, The Places You'll Go" by Dr. Seuss, which added a sentimental touch.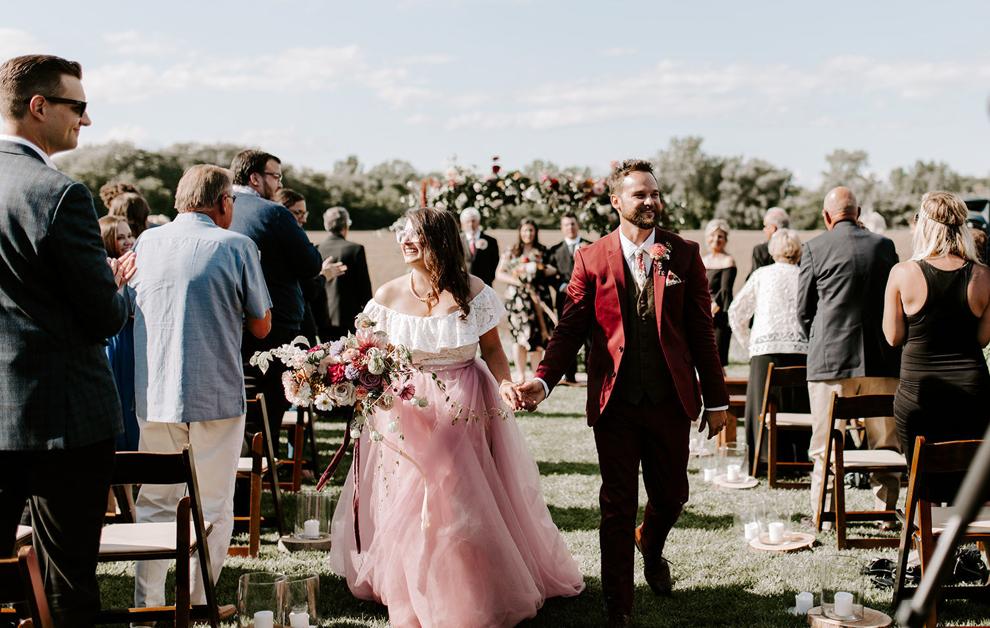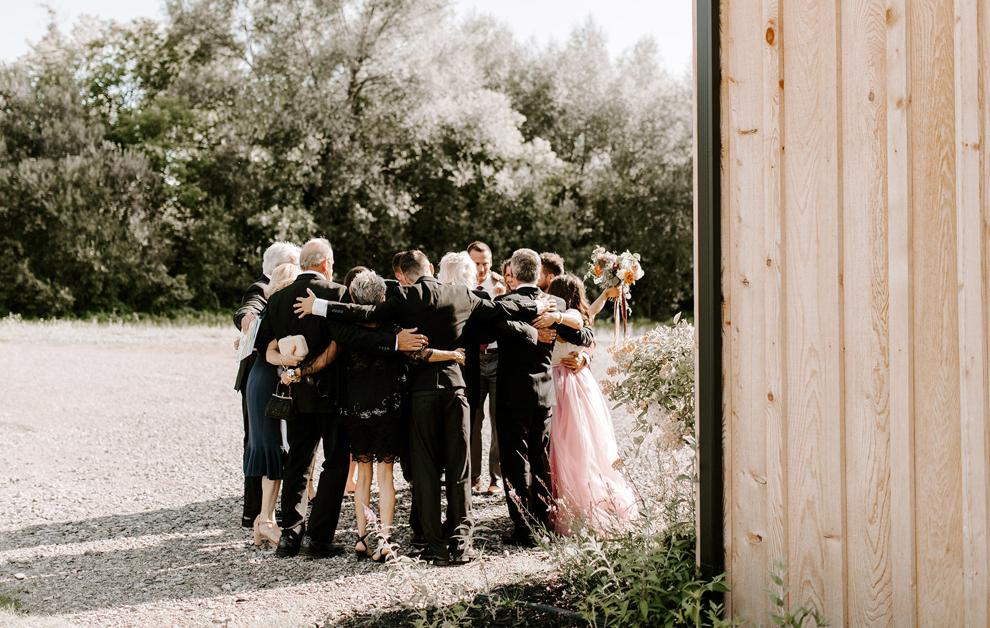 Following the ceremony, the two families joined together for an impromptu hug.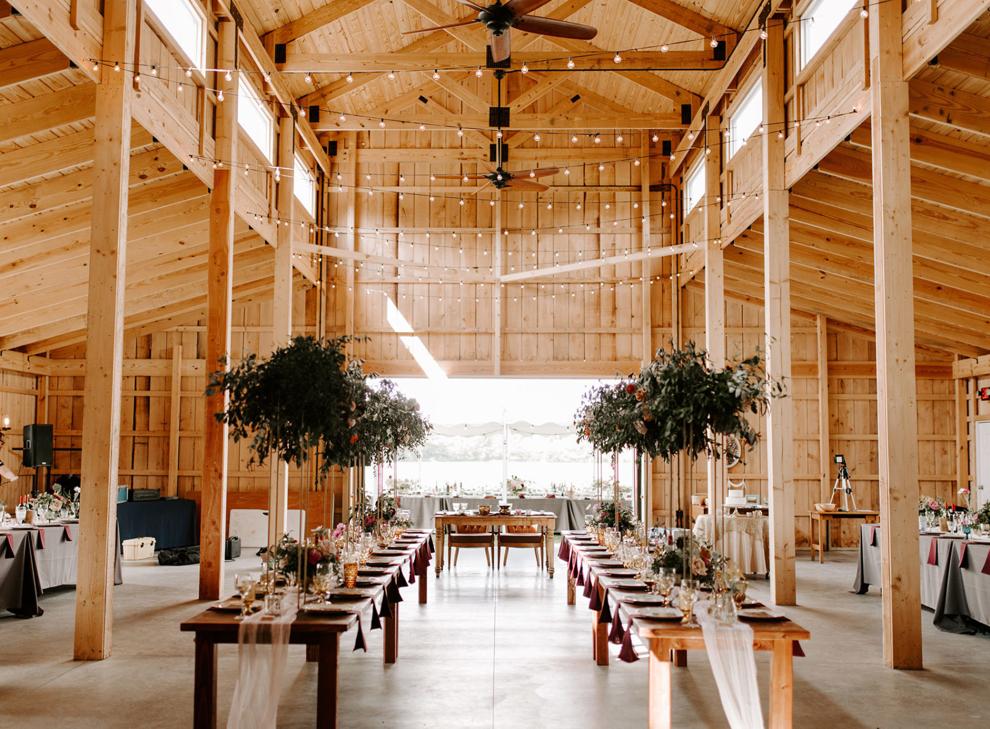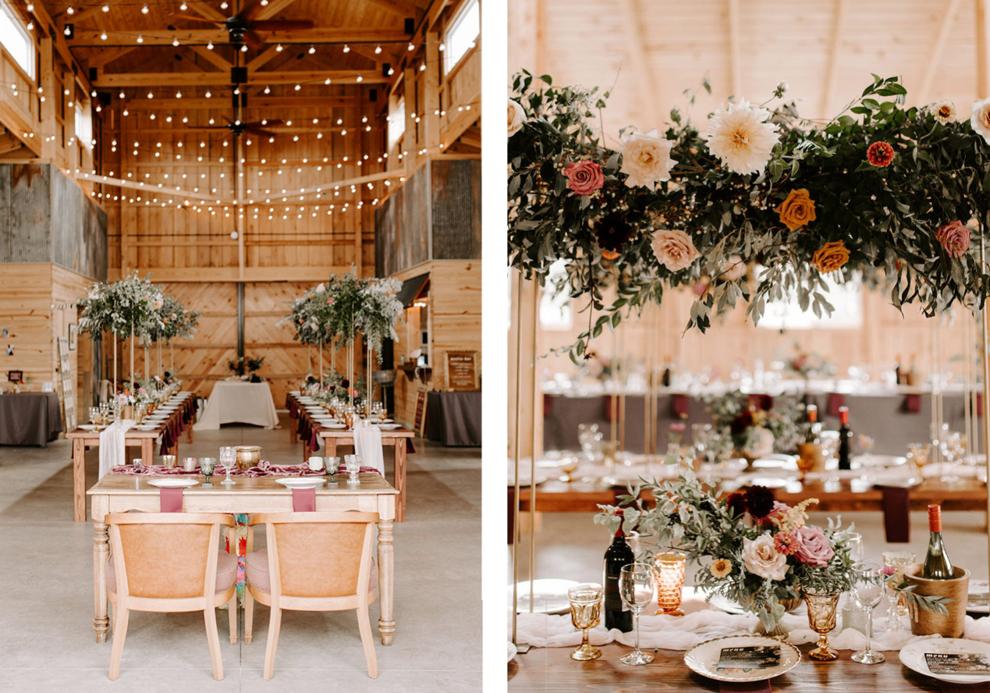 The table settings were a family affair. Fran created her vision with tableware collected by Jesse's family.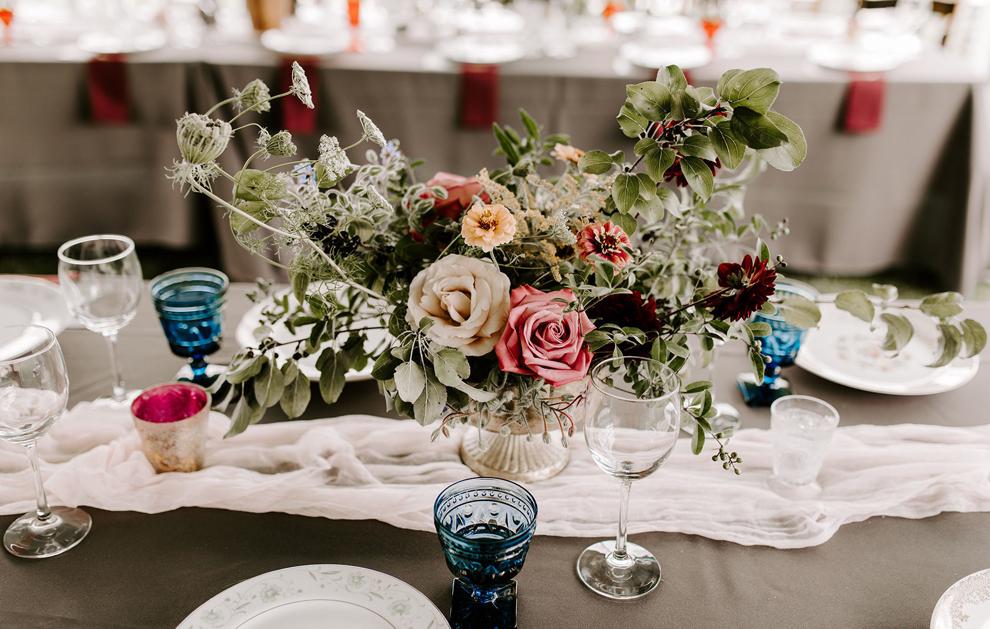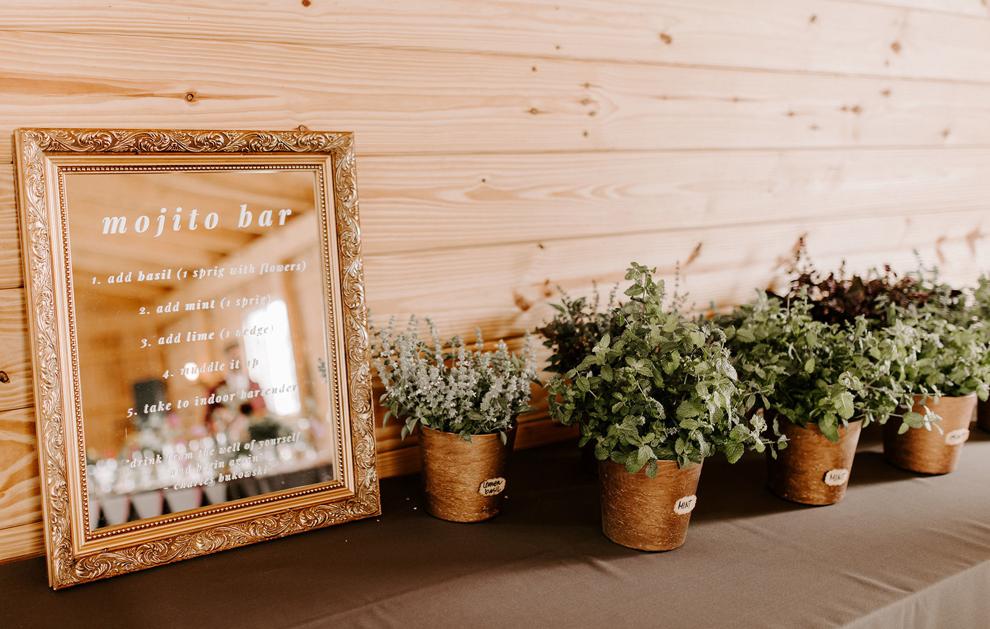 With five varieties of basil grown on the Kin Loch Farmstead, guests were invited to muddle their own mojitos.
"Those were a big hit because every basil tastes different. My family cut the basil the night before in the field," said Fran.
---
Dream team
Who helped the couple make it happen
Musicians / James Kibby and Evan Manstey