When I think of aerial arts I think of Carrie Bradshaw and the flying trapeze episode, Pink performing at the Grammys and—of course—the iconic scenes of Cirque du Soleil. You know, professional performers doing professional things.
Did I ever think it could be a way for me and the masses to work out? Not until I stepped into The Bird's Nest tucked-away studio on Fillmore Ave.
"I didn't have any dance or performance background growing up," shared now-aerial instructor and The Bird's Nest marketing manager, April Eaker. "Before I was doing aerial, I was just doing yoga and going into the gym. This was a way to really just test my strength at first."
The Bird's Nest boasts a wide range of circus arts class options from $10 to $20 for an hour session, including silks, lyra, aerial hoop, trapeze, hammock, acrobatics, pole, dancing and conditioning from beginner to advanced level-three students. Private and kid sessions are also available to book through their website.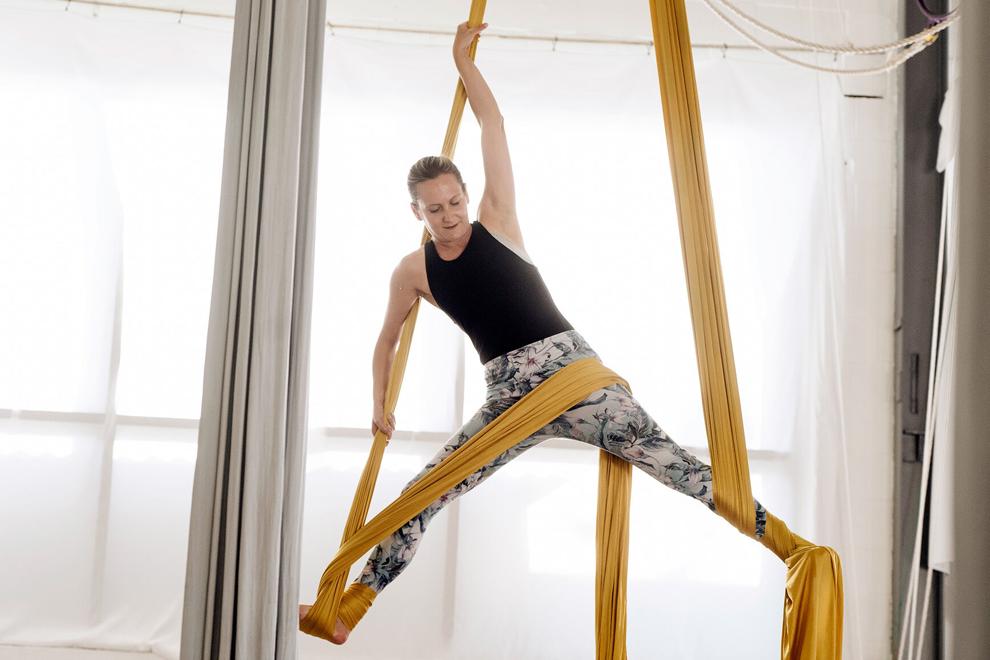 "All of our level-one classes are made for beginners to show up the first day and they can learn how to do it," continues Eaker.
The studio originally opened in 2016 when owner Ben Madoff saw a growing need for Buffalo's circus arts community to have a year-round practice space. The 3,000-square-foot, sun-lit studio features 20-foot ceilings now outfitted with colorful hanging silks, hoops and trapezes.
"There were a lot of acrobats in Delaware Park and from around Western New York, like Acroyoga Buffalo, who really didn't have a place to practice consistently in the winter," explained Eaker.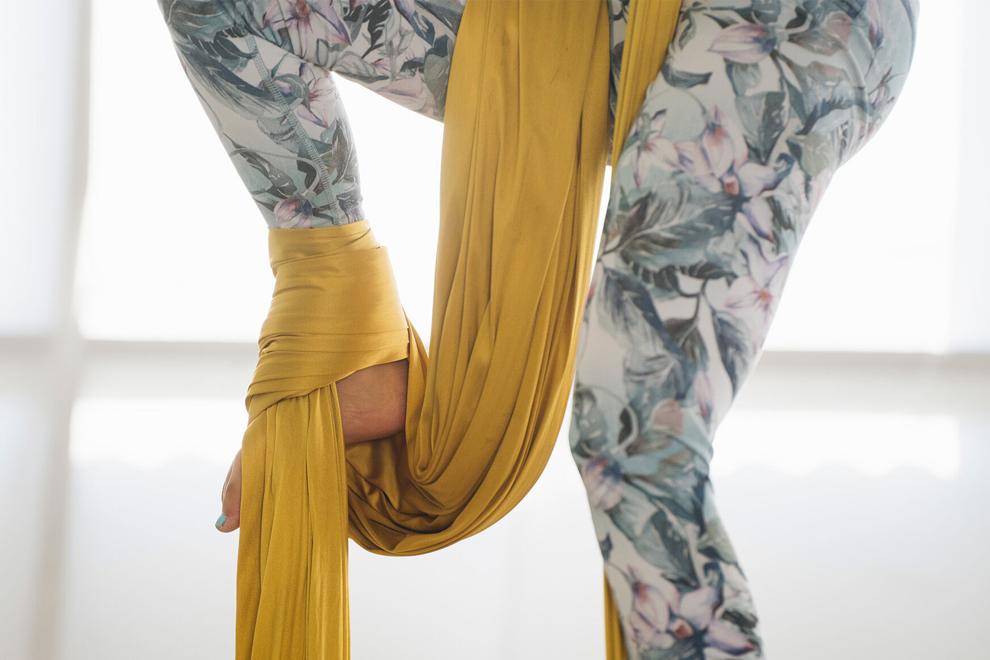 "Ben was part of that community, and he was planning on purchasing this space when coincidentally a group of aerialists were interested in expanding their practices. They were really excited about how high the ceilings are here and collaborated with Ben to become part of the space as well."
Undeniably a good workout just by the looks of it, a 2016 study from the American Council on Exercise (ACE) confirmed its many health benefits—a 50-minute aerial session burns 320 calories on average. Participants who took three or more sessions a week for six weeks lost an average two and a half pounds and an inch from their waist.
"The modern circus came out of traveling shows. They were called 'freak shows,' you know? But they just had people who were really good gymnasts or ballerinas, and they would put them up high. So trapeze, for example, a lot of its classic moves are just ballet on a bar."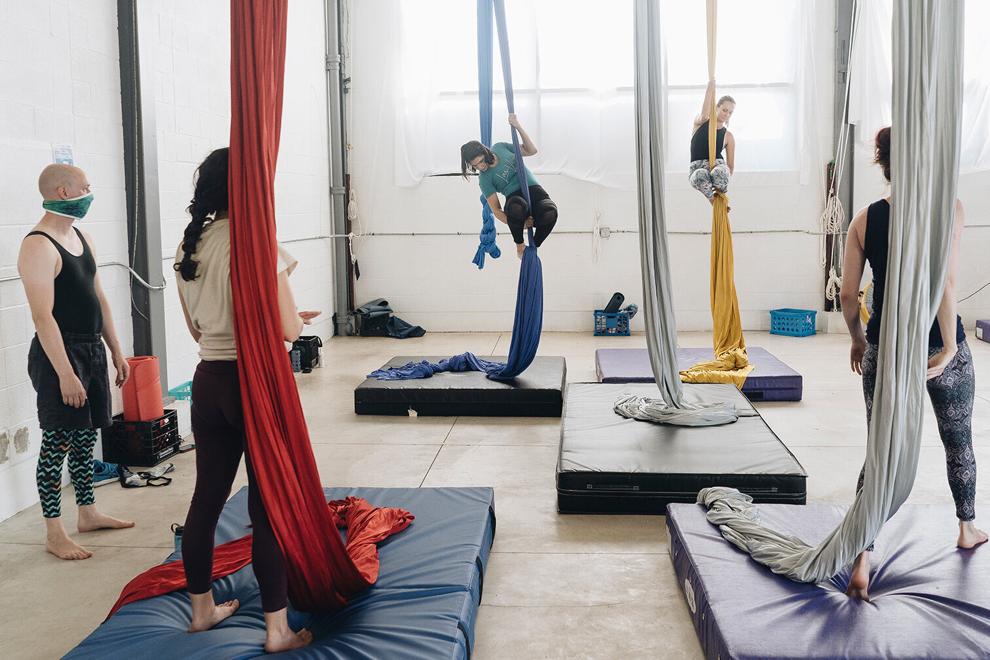 While the notion of learning aerial tricks can be intimidating for some, the carefully trained staff at The Bird's Nest encourage safety above all and finding the joy in connecting your body to the movements.
"Regardless of your previous movement experience, all of our instructors are very supportive and interested in helping people find their own beauty in what they're moving through," says Eaker. "It's not necessarily about doing the trick or completing the sequence; it's about moving yourself up to a space that you're not familiar with. In the air it's about getting to know yourself, challenging yourself to create shapes and move the way that you want to move. Creating a shape that you otherwise wouldn't be able to and also challenging yourself to explore. Like, what else can I do when I'm not held down by gravity, right?"
Make flying a breeze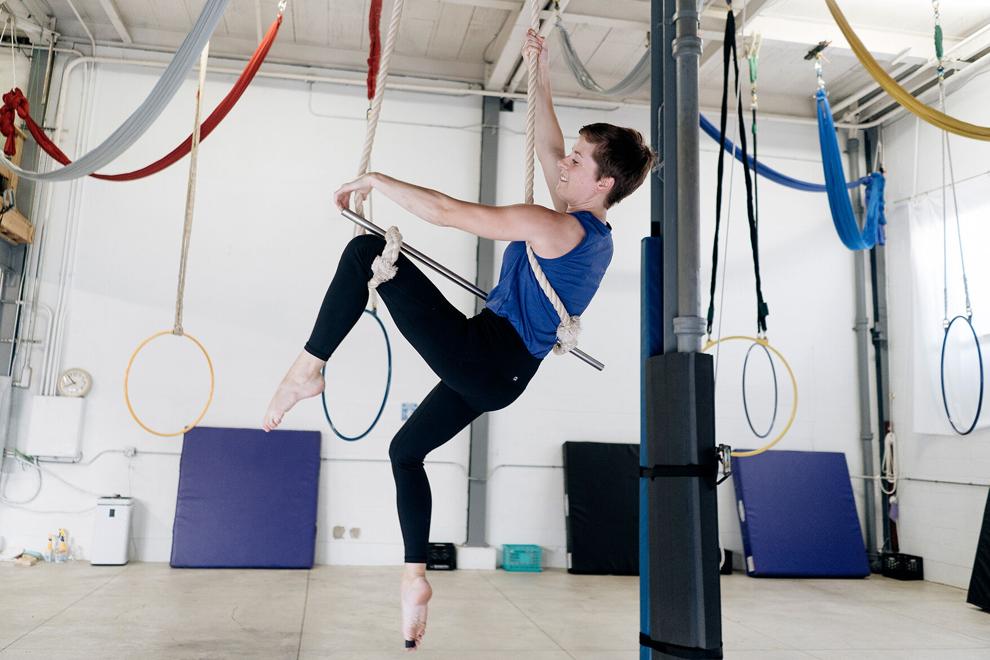 Ready to move through the air with the greatest of ease? Take note of these four expert tips before you go.
1. Wear pants! Free from metal bits.
2. Remove or tape down piercings.
3. Lotion is a no-go prior to class.
4. Check for any age requirements.