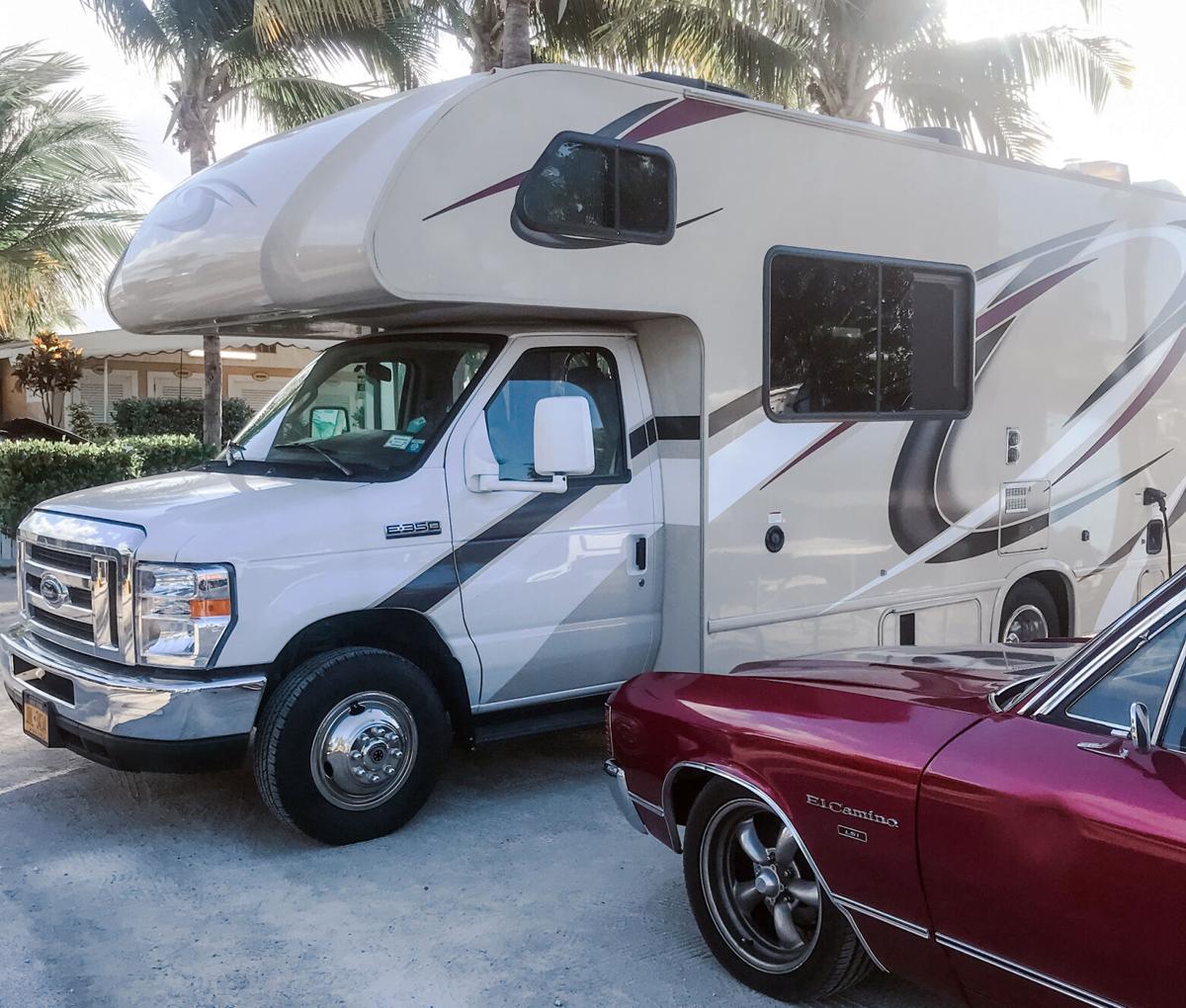 We decided the last leg of our maiden voyage as full-time RVers, before returning to Buffalo, was to make it down to the southernmost point of the United States along the East Coast: Key West. And let me tell you, she did not disappoint!
After a two-week stay in Sarasota, we made our next move to a small, urban campground called Easterlin Park, a hidden oasis just outside Fort Lauderdale. The scenic walking trails surround a beautifully serene lake right in the very center of the park. An iguana, living its best life, sat perched atop one of the many giant cypress trees, which stand well over 100-feet tall. We spent a few days here to enjoy nature at its finest before heading south towards Key West.
The journey down the Florida Keys is an absolute sight to behold. Once we made it over to Key Largo, there was definitely a shift in energy. The hustle and bustle of Miami and city life was quickly left behind as the road morphed into a one-lane highway. The vast, lush greenery of our previous Florida adventures quickly dissipated and all we were left with was glistening, blue waters surrounding our little house on wheels.
It was nothing but us, the pavement and miles of ocean as far as the eye could see.
We drove deeper down the Keys, through Islamorada and Marathon, and really began to pick up on the laid-back island vibes. Everything seemed to slow right down. Key West is as colorful and eclectic as the very roosters and chickens that strut around the streets, roaming free. Taking it all in, we took a big, deep breath of the crisp, salty ocean air and moseyed on over to Boyd's Campground, our home for the next week.
All walks of life exist down here. Folks traveling by van, travel trailer, fifth wheel, motorhome…you name it. It felt like home the minute we pulled in.
We parked next to a couple who had a Burning Man symbol on the back of their van, and we shared stories of our experiences with one another. The couple parked behind us had a small trailer setup that allowed them to take long weekend trips to Key West from their home in Naples.
A good friend of ours, Neil, who we caravanned with to Burning Man in 2019 (back when we first purchased our RV, but hadn't transitioned into full-time living just yet) also recently made the decision to live his life out on the road. He tows a custom-built, compact travel trailer behind his apple red El Camino, just him, the open road and endless possibilities.
Neil had been traveling down the East Coast of Florida at the time and as luck would have it, was able to secure a last-minute spot right next to our motorhome for a couple days. We met up with my parents who had been vacationing down here for the week, and we all explored the vibrant streets of downtown Key West together—from Duval Street, with its diverse array of restaurants, pubs and shops, to the harbor, complete with boats and yachts of all shapes and sizes.
The sunsets here in Key West are otherworldly. As we watched the sun dip beneath the horizon on the calm, still waters, I felt a sudden rush of gratitude wash over me. One of the greatest lessons we've learned while out on the road is to consciously choose to surround ourselves with energy that feels like sunlight; with people who bring us joy, who support us and feel like home, whether that's friends and family we've known for decades or new friends we've met along our travels. We have the power to choose whom we share our joy and energy with.
Life is about supporting one another on our own individual journeys, together. Some people will enter our lives for a reason, while others a lifetime, each serving a valuable purpose. While some, I believe, are simply meant to help guide or teach us, offer new perspectives or shine a light on what may need deeper healing, others will come into our life for the long haul and ride shotgun.
Wherever you choose to roam, above all else, just remember to have faith; faith in yourself, faith in each other and faith that what (or who) is meant for you will never pass you.