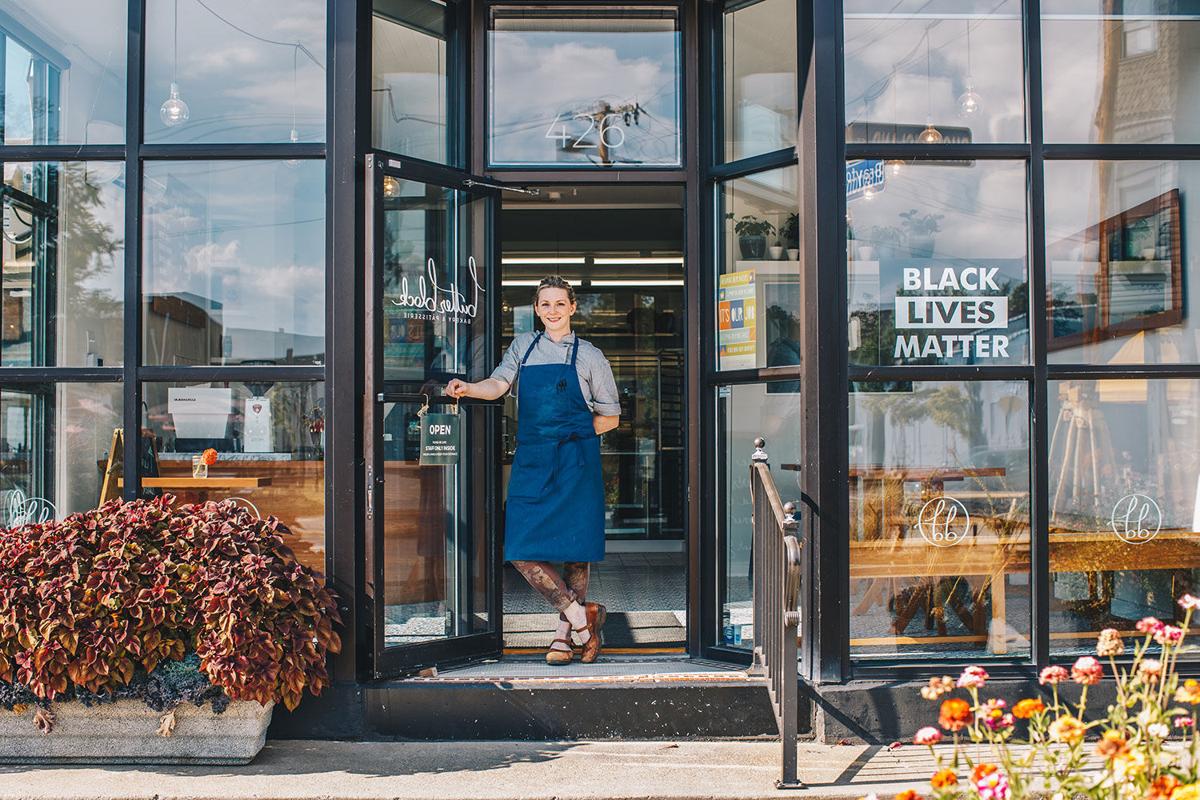 This feature is part of a shop local series inspired by It's Our Job and the mantra: Put your money where your heart is.
Buffalo Magazine is proud to support this campaign by Buffalo Niagara Partnership to keep Western New York's economy bright and vital.
---
A few blocks west of Richmond Avenue is one of the most inspiring examples of Buffalo's transformation—the Five Points neighborhood.
Named for the unusual five-point intersection of Brayton Avenue and Rhode Island and West Utica streets, this West Side locale became home in recent years to some of the city's most buzzed-about shops and restaurants. There's Five Points Bakery, which features a variety of scratch-made toasts that draw customers from throughout Buffalo and beyond; Las Puertas, a Mexican-French fusion restaurant helmed by James Beard-nominated chef Victor Parra Gonzalez; Remedy House, a café whose open air seating and delectable specialties have quickly become a West Side staple; and Urban Roots, which has been supplying the neighborhood with gardening necessities for more than a decade.
Here are three other retailers with inspiring backstories to check out the next time you're in this unique pocket of the city.
Black Monarchy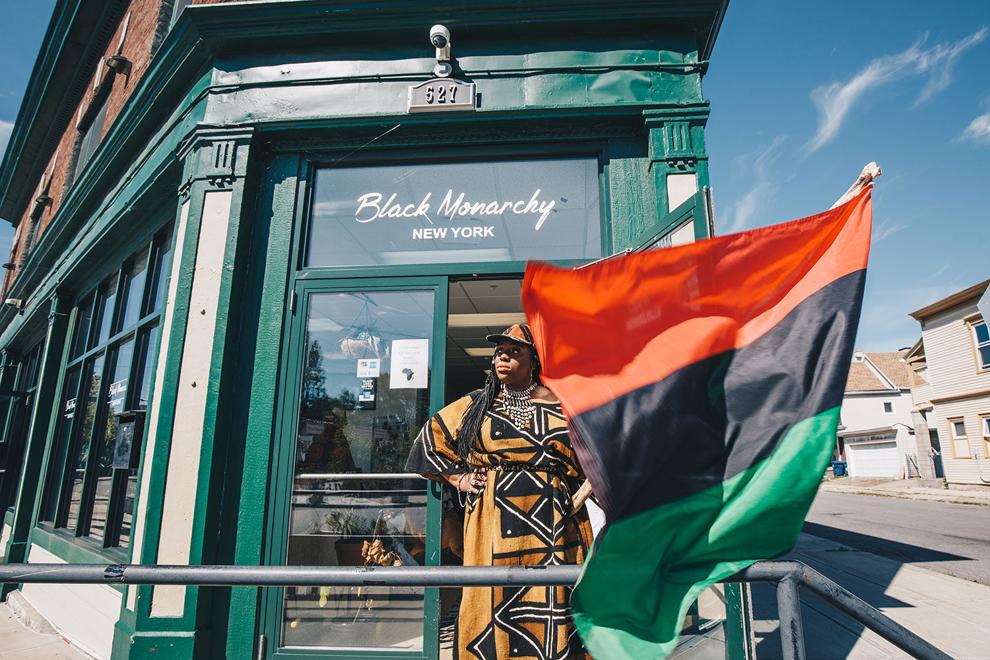 Phylicia Dove considers herself a fashion activist—a store owner and entrepreneur who engages in important conversations with her customers alongside the merchandise she sells. 
Dove, a native of Brooklyn, always wanted to make a difference, and worked in politics and government for several years after moving to Buffalo in 2009. She ultimately realized that fashion and retail provided her with the outlet she needed to create discourse in Buffalo about race, social justice and other topics she was passionate about, and opened Black Monarchy in 2017 in a 400-square-foot storefront.
"I really wanted to create community," Dove said. "The difficult conversations we want to have are so much easier to have when speaking over beautiful things."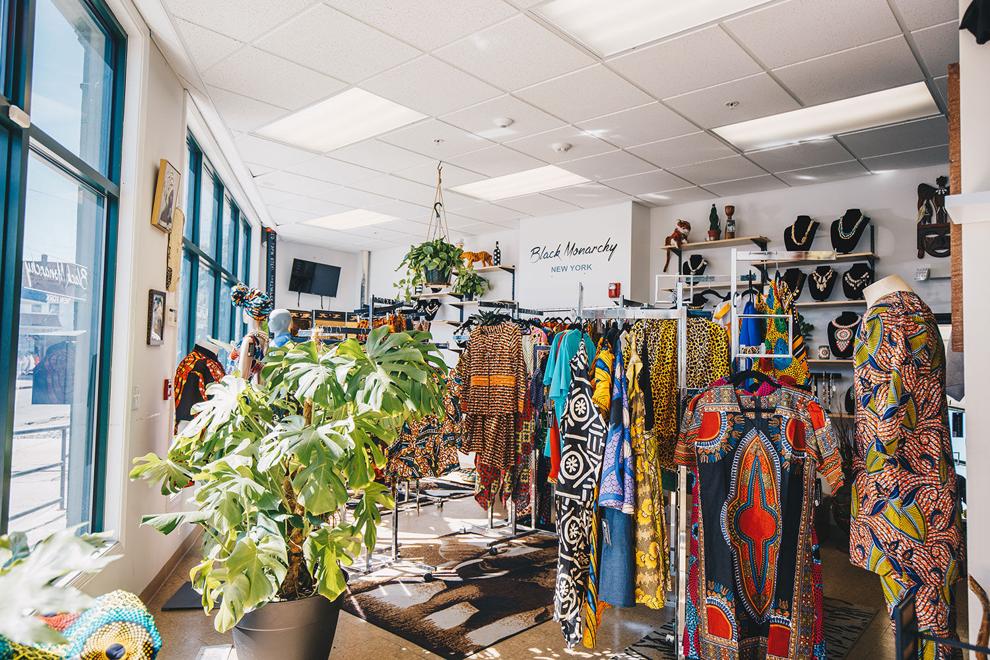 Black Monarchy specializes in traditional African garb and African-inspired apparel created with fabrics sourced from the continent, as well as jewelry, fragrance oils and other items with a connection back to Africa. Dove is a self-taught seamstress who created more than two-thirds of all the apparel sold in the store.
Black Monarchy secured grants from a 43 North pitch competition and Facebook that helped fuel its initial growth and secure an expansion into the storefront next door. Over the years, the shop has sold a variety of merchandise from other local artisans, including immigrants and refugees who call the neighborhood home.
Dove, whose father came from Jamaica and whose maternal grandfather emigrated from Barbados, wants customers from all walks of life to visit Black Monarchy and learn the stories behind the merchandise she sells. That storytelling and those conversations help cultivate a stronger appreciation of Africa—where humanity first originated—and in the similarities that all people share, she said.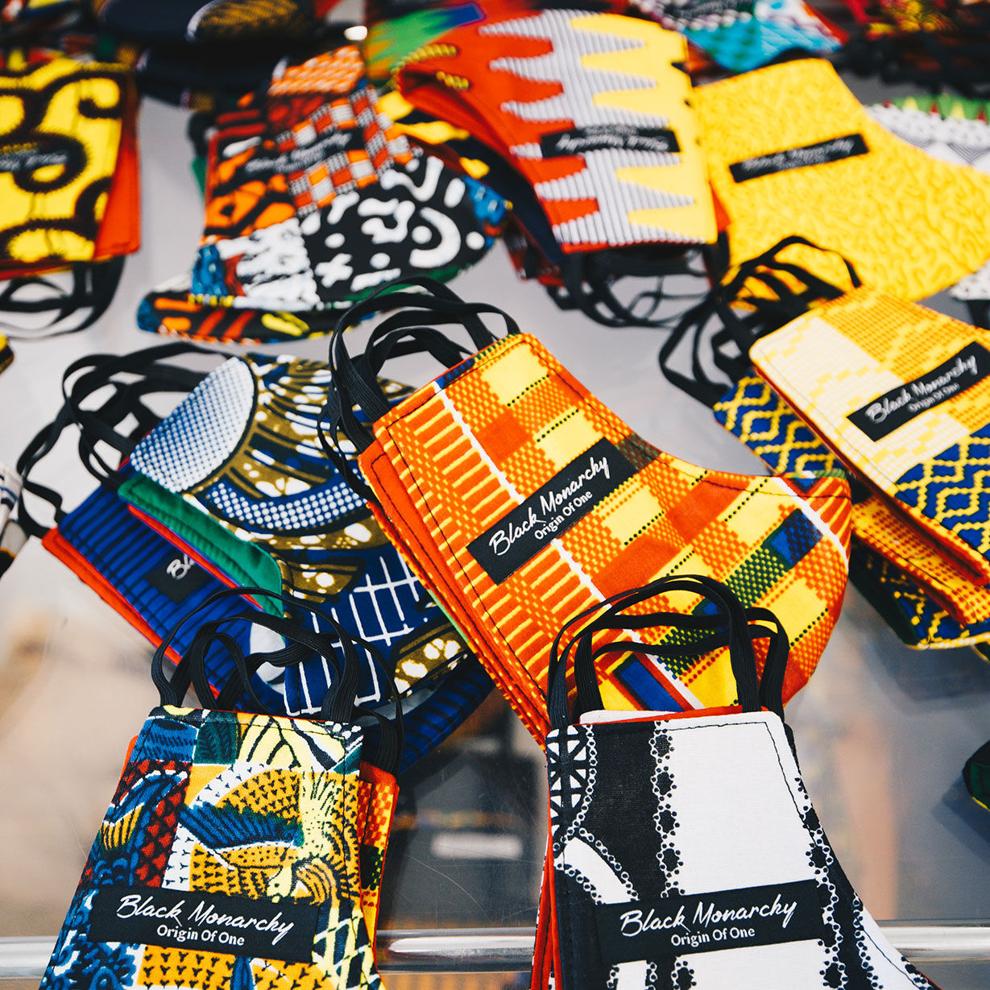 "If you get back to your origin, your beginnings, your roots, you're able to empathize and put yourself in your brother and sister's shoes," she said. "The goal for Black Monarchy is for our customers to return to their original state through fashion, skin care, health, wellness and through conversation and community."
It's Dove's hope that the conversations that start in her store have a lasting impact throughout Buffalo and beyond.
"If you see yourself in others, you're not going to hate that person," she said. "If you get back to your core, there's little time to hate because you're focusing on how similar you are to others."
Butter Block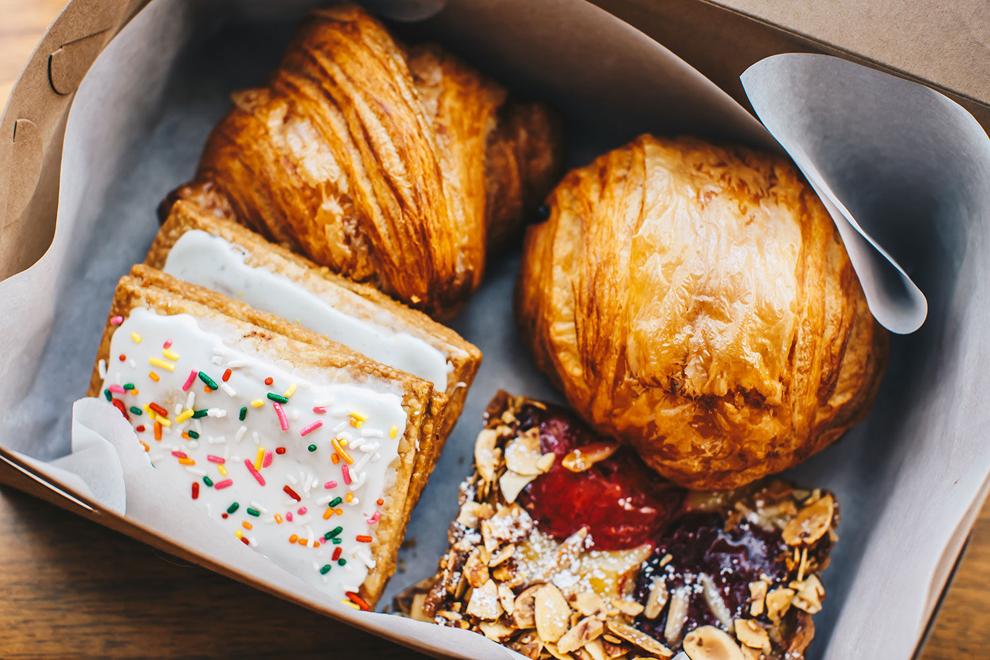 Every Saturday, Colleen Stillwell stares in disbelief at the long lines that form outside her recently opened shop and at her stand at the Elmwood-Bidwell Farmers Market.
It's a far cry from 2014, when Stillwell first began selling eight croissants a week to The Farm Shop in the city's Elmwood Village. Since then, Butter Block has gained a devoted following as a pop-up bakery stand and farmers market vendor—and opened its first brick-and-mortar location in the Five Points Neighborhood earlier this year.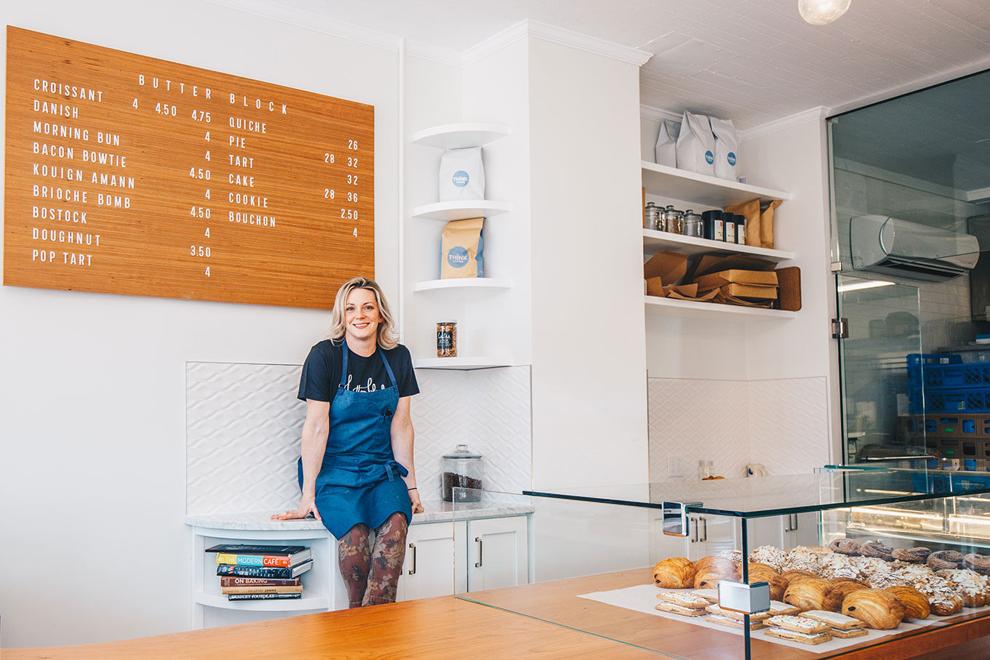 Stillwell now sells more than 1,200 baked goods on Saturdays alone. They range from pain au chocolat and sea salt chocolate chip cookies to a variety of treats filled with seasonal, homegrown produce, from a strawberry cream cheese Danish to raspberry pop tarts and blueberry peach pies.
"A lot of the ideas come from what's fresh, what's local and what's available," Stillwell said.
Butter Block refers to the baking method by which pastry chefs create croissants and other puff pastries through repeatedly rolling and folding layers of dough and butter together. A Western New York native, Stillwell attended the Culinary Institute of America in Napa Valley and worked as a pastry chef in California and New York City before returning home. Her start at The Farm Shop six years ago grew out of a desire to further hone her skills in making croissants, which take three days to prepare.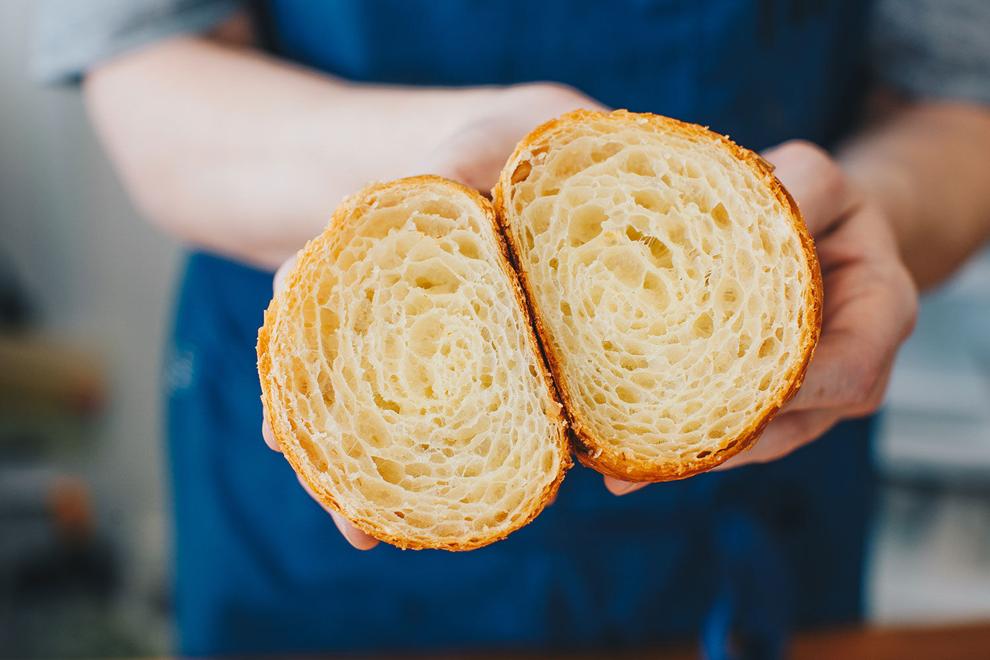 Stillwell credits our Western New Yorkers' desire for quality baked goods—and the commitment of her staff to work the early mornings and long days necessary to learn the same techniques she has mastered—with the growth of one of our region's most inspiring small business success stories of the last decade.
"I never knew people in Buffalo wanted croissants so badly. I'm so glad that they do," she said. "Making something that isn't the best version of itself is not interesting to me at all. It has to be so good, because otherwise what's the point?"
Paradise Wine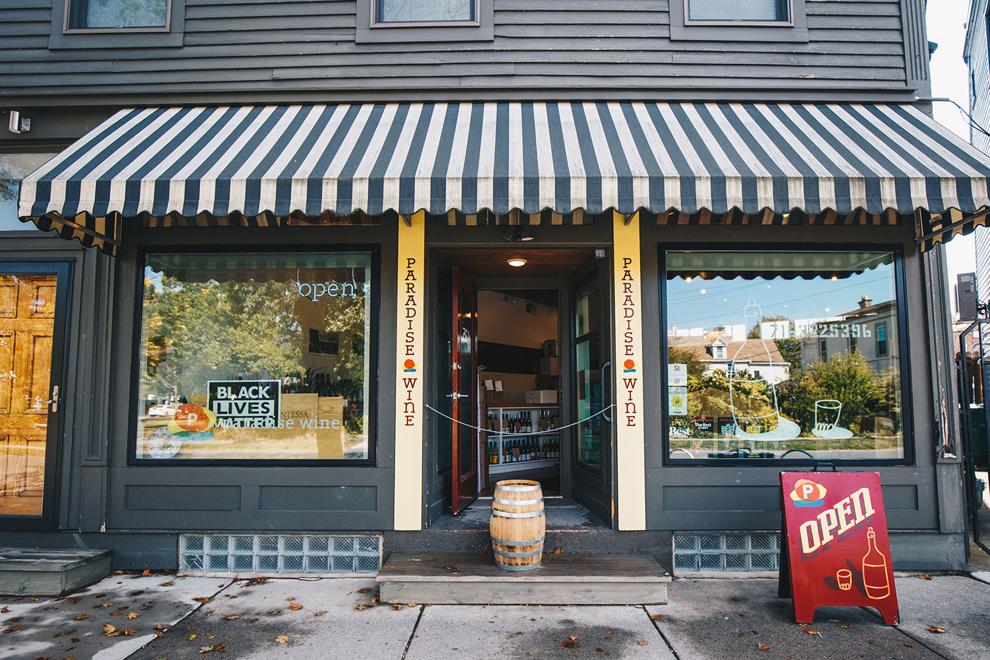 Paula Paradise and Lauren Kostek first dreamed of owning the 1890s building that would become their wine shop nearly a decade ago.
Back then, the two best friends of 30 years used to frequently grab toast and coffee at Five Points Bakery across the street and look over at the property, which once served as a general store and was in disrepair. If only a building just like that one would go on the market, they thought.
Their dreams came true. When the opportunity to purchase that building arose, the friends combined Kostek's experience as a real estate agent with Paradise's extensive experience in wine-selling to open Paradise Wine in 2015. Paradise, a certified sommelier, had a devoted following from her 12 years of working at Premier.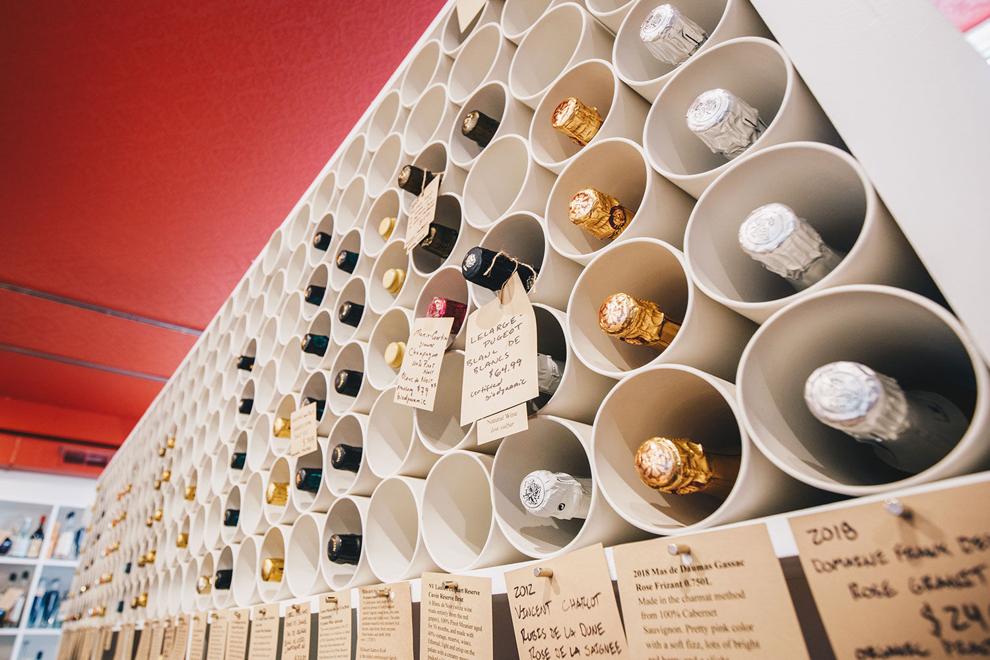 The store sells more than 1,500 wines sourced from five different continents, and its owners work with 40 different importers to bring in products from nearly 20 countries, including Austria, Slovenia, Greece, Australia, New Zealand, Argentina and Chile.
Paradise's mission is to support small business farmers whenever possible who engage in sustainable, organic winemaking that's free of additives and synthetic chemicals. Prior to the pandemic, the store frequently drew customers from Toronto who sought out its unique offerings.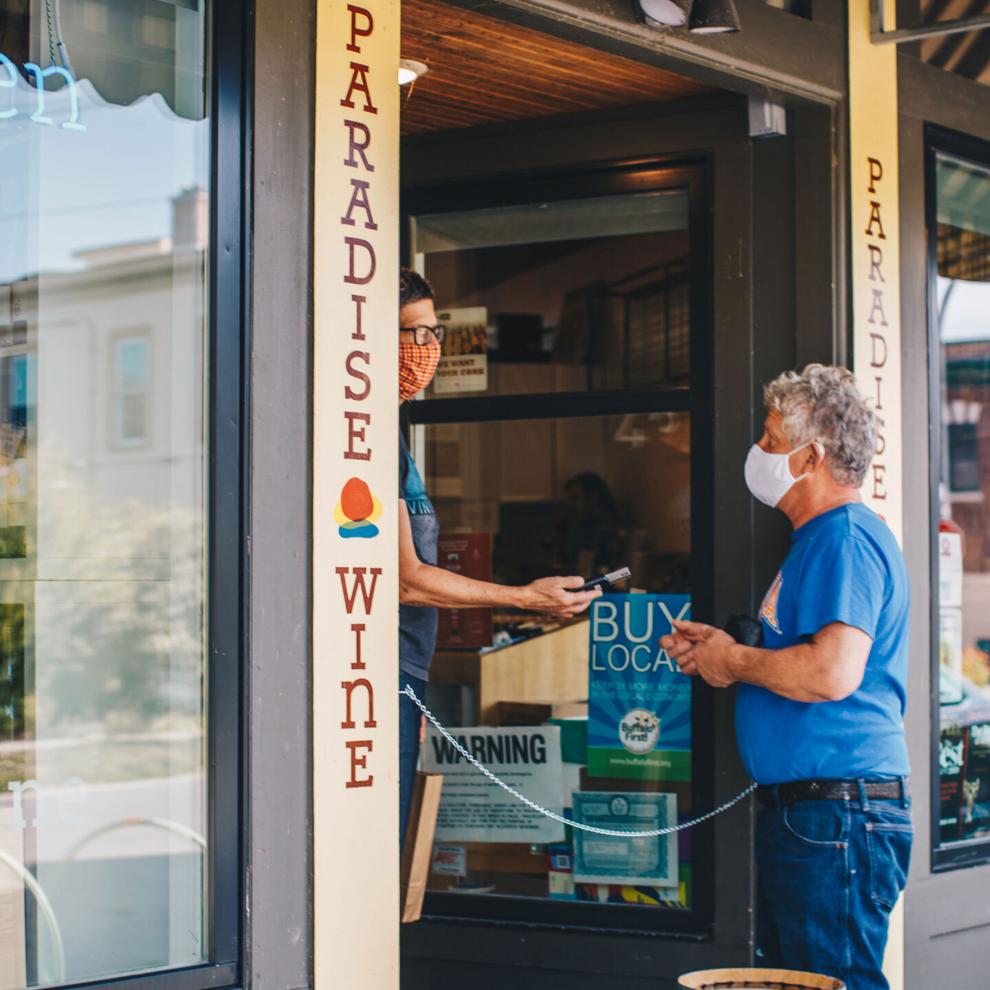 The shop also sells a variety of spirits, from vermouth and cognac to amaro and tequila. Even as the pandemic has prompted Paradise Wine to pivot towards curbside pickup and delivery, the owners still try to connect with their customers whenever possible to share their expertise and guide them through wines they may have never considered before.
"If I bring in one wine it probably means I've tasted a dozen before bringing in that one. We taste everything," Paradise said. "I'm so passionate about standing behind everything I sell. I really try to find the best wine for whatever (the customer's) taste is."
---
Plot your visit
---
This feature is part of a shop local series inspired by It's Our Job and the mantra: Put your money where your heart is.
Buffalo Magazine is proud to support this campaign by Buffalo Niagara Partnership to keep Western New York's economy bright and vital. Find updates from West Side businesses, along with many others throughout the region, in the It's Our Job: Shop Local Updates directory.