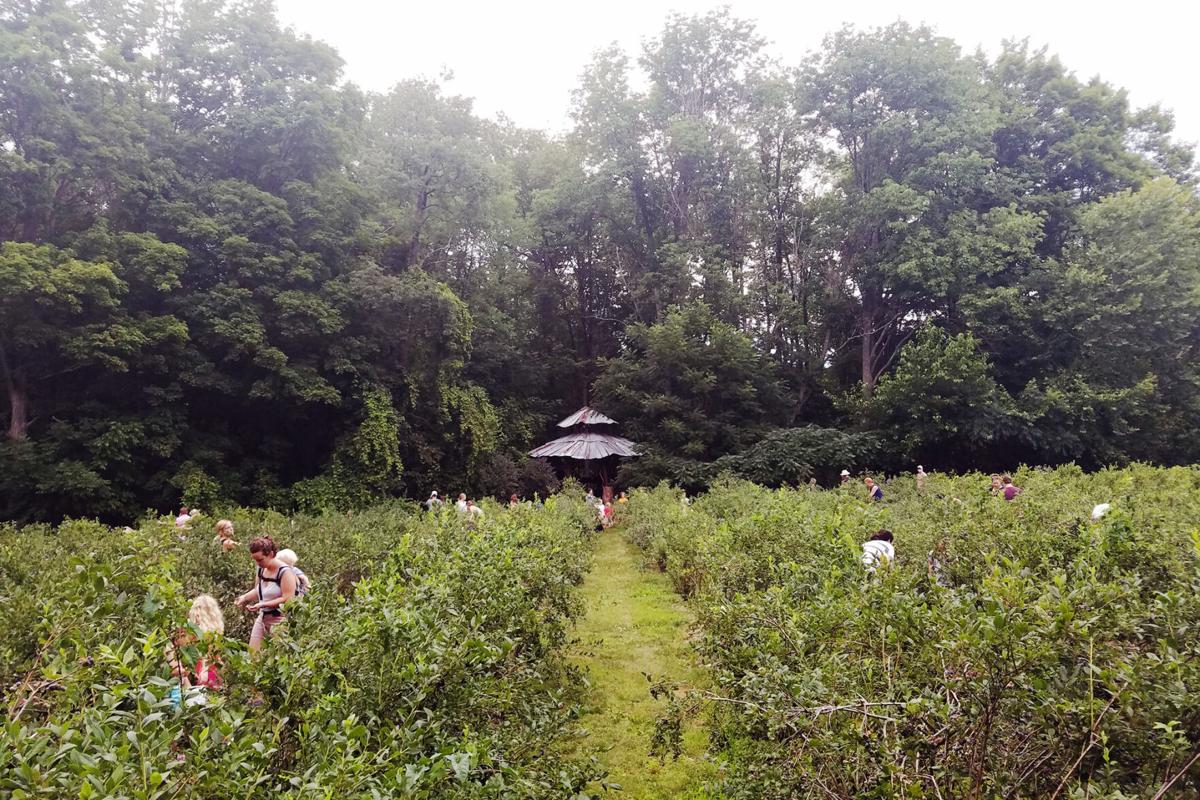 It might be easy to miss Blueberry Treehouse Farm while driving on Davis Road in West Falls. However, once turning into the driveway of this blueberry-picking-and-a-whole-lot-more gem, it is impossible not to be impressed.
One of the first visuals is a mammoth blue shark suspended near a gorgeous wooden playground. Chickens and roosters cluck nearby. A bit deeper in is a half-shell stage. Beyond are the rows of blueberry bushes, featuring 11 different varieties. To the right is the gazebo, which resembles the coolest, Ewok-esque treehouse an adult or child could imagine. And even further back is an actual two-level treehouse, still under construction. Eventually, this will be an Airbnb.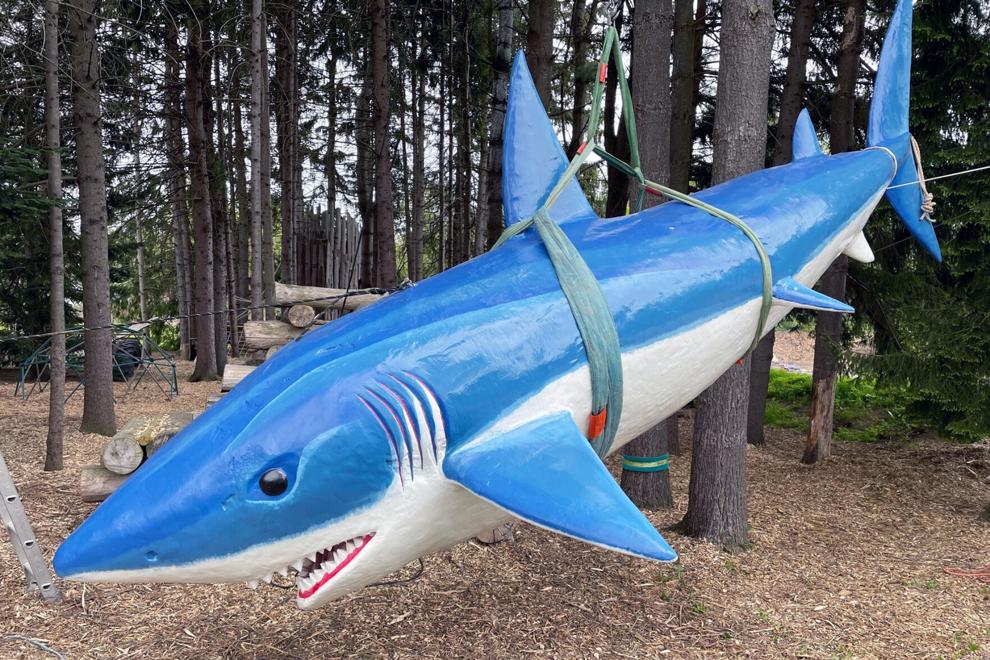 Clearly, then, blueberry picking is just part of the fun. But it is a big part, says Jyl Rivera, who co-owns the farm and property with her husband, Ricardo. The couple bought the Blueberry Treehouse Farm in 2015, growing its size and popularity each year since.
"We purchased an already established farm in 2015 and added a playground, nature trails, treehouse structures and stage," Jyl explains. "We started incorporating more on the farm—events, live music, yoga. We rent out the farm for weddings, reunions, birthday parties, basically anything you can think of. And we are building a large treehouse deck lounge and banquet area and hope to extend our season from two months to six-to-eight months. We really want to become a destination place."
Indeed, there is much for visitors to do even when blueberries are not in season. Mid-July to early August is peak picking season, when families and children can come to gather the fruit and check out the space. (Blueberries are $3.50/lb. plus entry fee.)
"One great thing about picking blueberries is they come off the bush easily and you can do most of it while standing," Jyl says. "They also don't weigh a lot, so it's perfect for all ages."
Part of what makes Blueberry Treehouse Farm so exciting is the sense that there's a lot on the way. Jyl and Ricardo have wonderfully ambitious plans—and it's all in the works. The gazebo will soon be a lounge cafe featuring beer, wine and cider. Food from local restaurants is also a possibility.
This is a passion project for the couple, and there is no one better suited to take on the job. After all, the Riveras also run Buffalo Treehouse LLC, a company that creates deluxe, unique treehouses and play areas.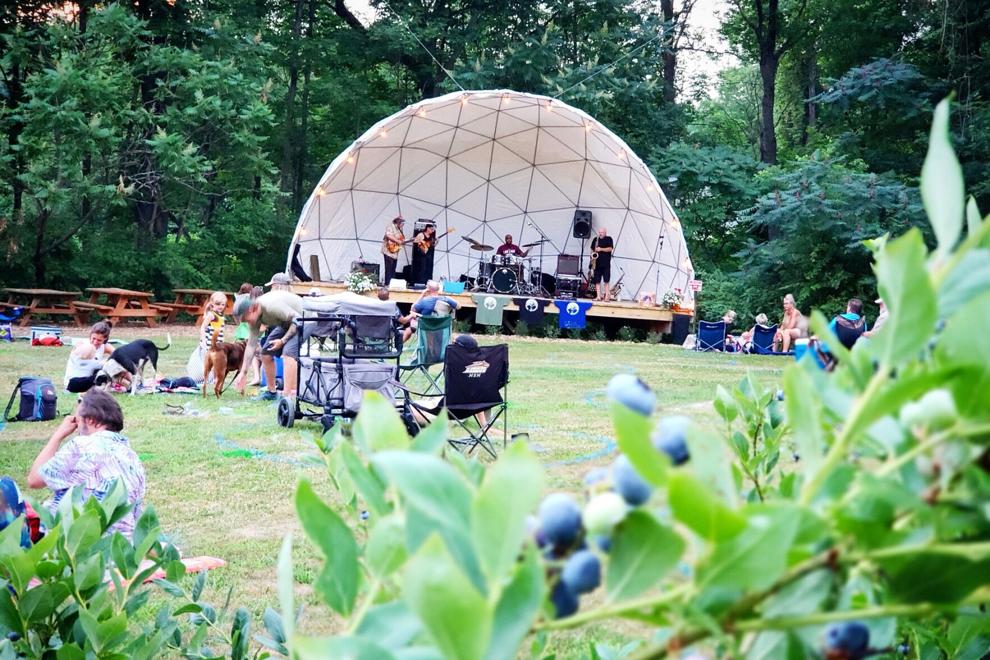 "The treehouse is 400 square feet and two stories, with a full kitchen and bathroom," Jyl says of the future rental. "It sleeps four to six people, has 150 square feet of exterior deck space, sits over 25 feet off the ground at its highest point and overlooks the blueberry field. We are hoping to have it available to rent in spring 2022."
Younger children seeking simpler pleasures will also enjoy the playground near the front of the property. My 6- and 10-year-olds remarked on the coolness of this spot throughout our visit.
Quite simply, there is no family-friendly option in Western New York that combines all of these amenities: fruit-picking, playgrounds, a gazebo and a host of events.
"Every Thursday we will have a live band, food truck, beer," Jyl says. "People can pick blueberries and play in the playground."
All of the couple's efforts are coming to fruition, and Ricardo calls that "an awesome feeling."
On the way…
Another element that makes Blueberry Treehouse Farm unique is its location—in West Falls, close to East Aurora (West Falls is a hamlet in the Town of Aurora), Orchard Park, Hamburg, Boston, Elma and myriad other towns and villages. Here are a few ideas for stops along the way, regardless of where you reside.
West Falls Center for the Arts
Down the street from the farm is this arts destination, which includes live music, kids programs and offerings for veterans.
This EA gem bills itself as part shop, part studio and part event space. It is a wonderful place to pick up art supplies or join some workshops.
Aurora Theatre and Popcorn Shop
Movies are back, and so is one of WNY's loveliest moviegoing spots. And the popcorn shop features a wide variety of popped options. (Poptions?)