The master bathroom of Aubrey Hlavaty, owner of Copper & Cotton Bath Design & Supply, and her husband, Jon the Plumber, began as a blank canvass. And as a designer who specializes in bathrooms and kitchens and has a whole showroom full of hand-picked, high-end fixtures, Hlavaty came to her own home's bath project with lots and lots of ideas.
But first, she had to carve out the room itself.
Like many 1880s Victorian homes in the city of Buffalo, the house wasn't built with a master bathroom. The space that's now the new bath was originally two back-to-back closets, each serving adjacent bedrooms. A previous owner turned one of the closets into a very small and very beige bathroom with a toilet and sink. Hlavaty added a custom built-in armoire to their master bedroom so the remaining closet space could be used to expand the bathroom.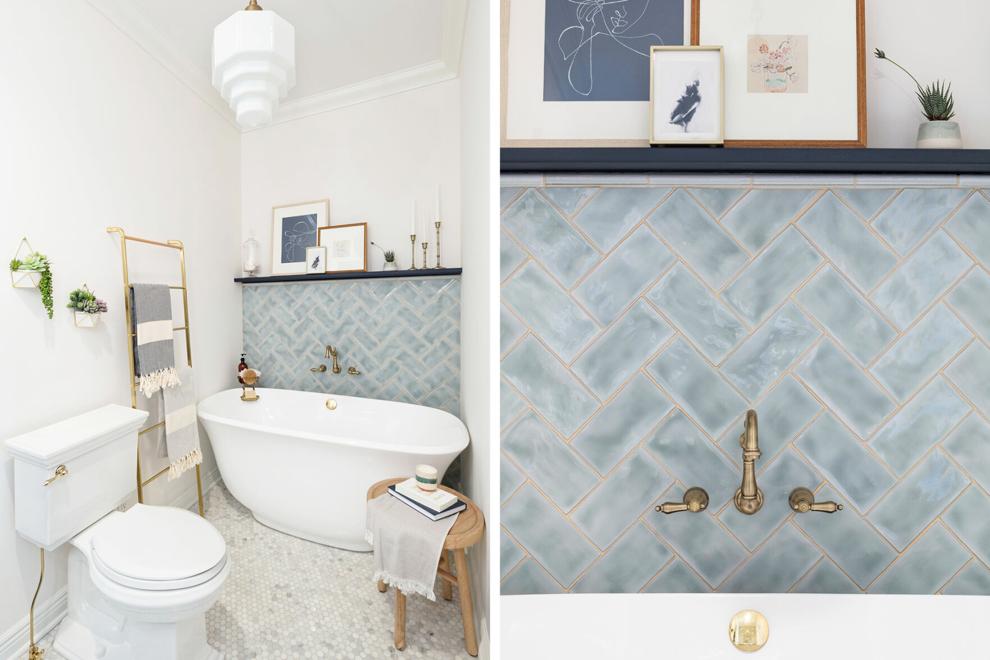 Rather than starting with a particular color scheme or commode, Hlavaty began by envisioning how she wanted to feel when she was in the space. As a business owner, wife of a business owner and mother of three young children, she wanted to instill a sense of calm and relaxation. She also wanted a room that felt modern but not out of place in a 19th-century home.
The most noticeable piece in Hlavaty's new master bath is the navy-blue vanity that anchors one end of the room. It's a former antique dresser, complete with its original brass drawer pulls, that was converted into a sink. Compared to new vanities available for sale, old pieces like this one, Hlavaty explains, have solid wood craftsmanship and more character—both important elements in a utilitarian focal point.
"The vanity is the most used part of a bathroom," she says. "Every day you're standing there to wash your face, brush your teeth, wash your hands. It gets a lot of use. Making an investment in it is important. It's also a great way to make a statement in that space. There are only a few large fixtures, and the rest are probably going to be porcelain."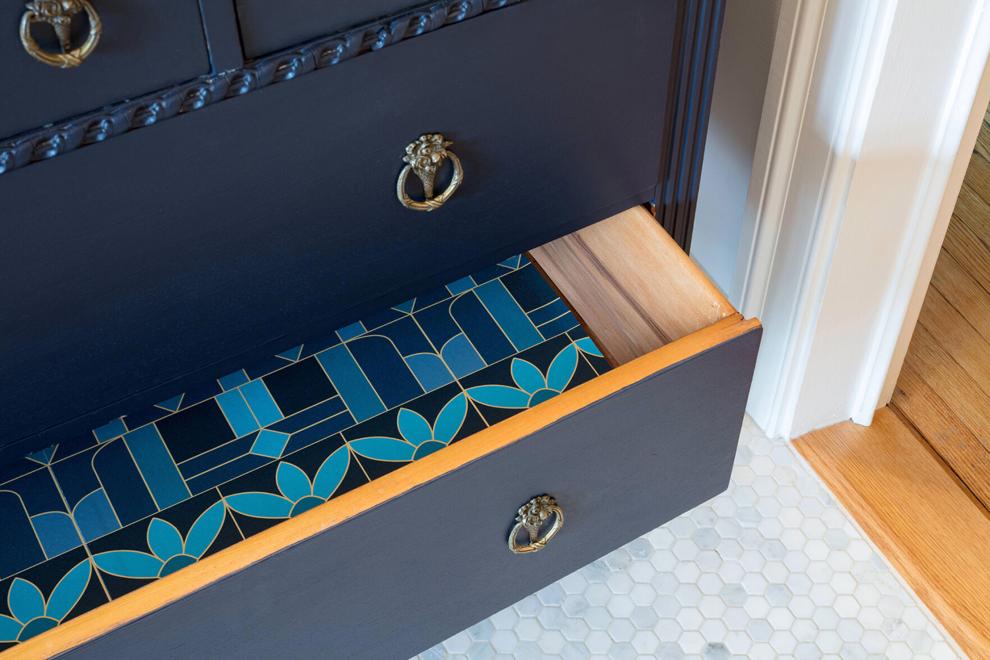 Another intentional bridge between old and new is the tiles Hlavaty chose. The floor is made of tiny hexagonal pieces reminiscent of ones found in Victorian homes, but in a randomly laid subtle palette of whites and warm greys. The backsplash behind the tub and sink has the familiar look of subway tile, but with a hand-applied pale blue glaze and set in a herringbone pattern to feel fresh.
Light fixtures follow the same logic. The center pendant has an art deco flair with a milk glass layer-cake globe; it's brand new but feels like it's been there for a century. The pair of vanity lights skew slightly more modern but still fit in amidst the bathroom's brass finishes and provide ample light to apply makeup.
One modern amenity is intentionally missing from this master bath: a shower. Hlavaty is a self-described "bath person," so she opted for a deep free-standing soaking tub instead of a shower that would take up valuable space. The home's other full bathroom has a walk-in shower, so the option for a quick rinse exists elsewhere.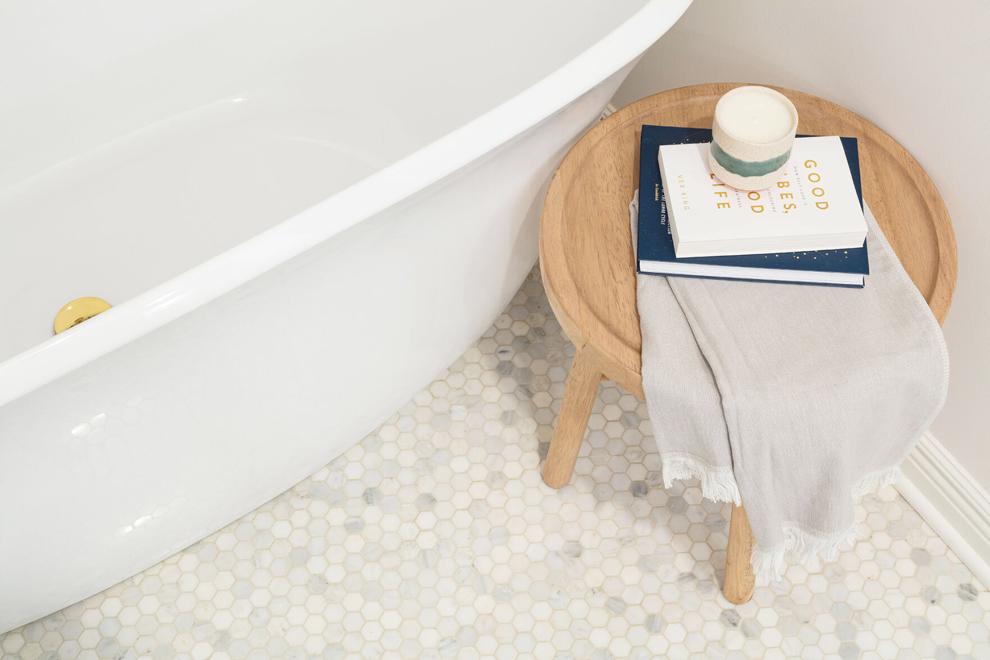 It's also a decision that underscores the original intention of the master bath concept.
"You should come home, and you should create a moment in your space," says Hlavaty. "Softer touches like great linens and artwork give you the opportunity to sit in the tub and look at beautiful things instead of just tile. It's all about the feeling of calm and being at home."