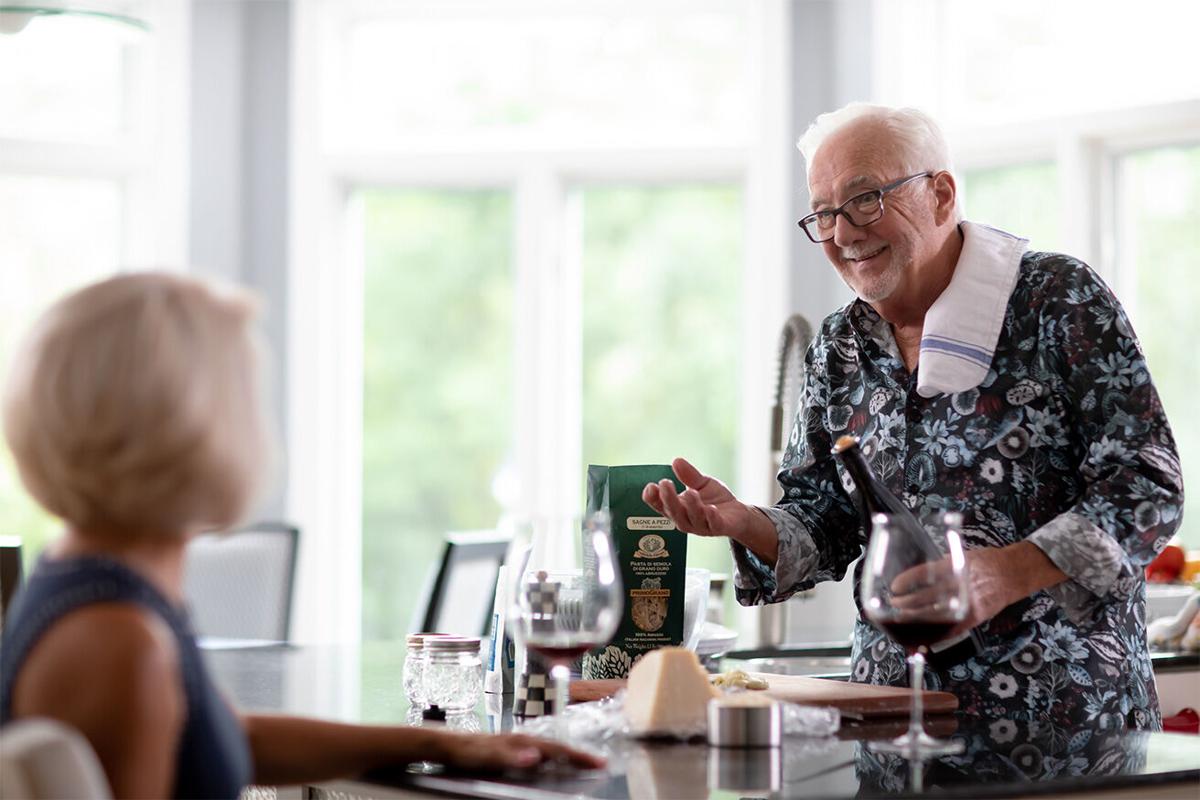 Good friends, good food and good wine are all things we enjoy. We've been carefully returning to our old haunts now that I'm vaccinated. So let me tell you about our recent Italian food and wine adventures.
I like to feel like family when we dine out. Getting to know the owners and the employees and even sharing a glass of wine makes the experience so much better.
Linguine's
I've been here four times since we started to dine out again. I always have veal Parmesan and request homemade pasta because it is awesome. You'll be hooked just like me. Vinny's calamari are delicious, as is the Godfather sandwich with a side of pasta. My wife loves the Dandelion salad. I am so glad they reopened and that their food is as great as ever.
Bobby J's Italian American Grille
All in the family. I was bummed out while Linguine's was closed, so my friend suggested we go to Vinny's brother's restaurant. I never knew about Bobby J's but once you try it, you'll love it. The menu is similar to Linguine's. The veal is great, the meatball trifecta app is delicious, the bread is right out of the oven and the bruschetta is amazing.
Smelts are a favorite both here and at Linguine's. Our friends say the beans and greens are the best they have ever eaten. They also have a terrific dinner theater and not only is it good, but it's also a real bargain.
San Marco
We've been going to this upscale Italian restaurant three or four times a year for 25 years or more. It's romantic—one for special occasions and a place where memories are made.
Some of our favorite dishes are gnocchi made in a delicious Italian gorgonzola sauce. Almost every time I go to San Marco, I order a half portion of Penne Arrabiata as my appetizer. This spicy sauce with Italian sausage is outstanding. My favorite entree is the veal Saltimbocca: veal in a white wine, garlic and sage sauce topped with Prosciutto and mozzarella. Make sure you consider the specials too. Sometimes they have wild boar, which is excellent. Once you try San Marco, I think it will make your favorite list of restaurants too.
Mulberry
I love the location right in the middle of a neighborhood. Once you find it, you'll always find your way back. This place has a cool vibe, excellent service and terrific food. If restaurants were solely judged on their meatball, then Mulberry would be one of the best in Buffalo. I love the giant meatball as my appetizer and that's almost a meal by itself. You must try the meatball.
My favorite entree is the chicken parm, always done to perfection. If you want to feed a family of four, order their fantastic lasagna—it's huge and outstanding, no skimping on the meat or cheese. The bone-in veal chop is a bargain and it's excellent. Normally I don't order dessert but when I'm at Mulberry I almost always order their ricotta cheesecake. It's the bomb.
Cipollina
So I asked why would we drive from Orchard Park to Akron for pasta since there are so many excellent choices locally. I had low expectations. When we arrived, we noticed a small sign for the restaurant and looked for the entrance, which was halfway past what I have come to find out is a famous sub shop.
Don't judge a book by its cover. If you like excellent homemade pasta, that alone is worth the trip. If you like outstanding meatballs, don't wait. The entire menu is excellent. Very friendly people.
We regularly ride the Clarence bike path all the way to Akron and now I'm wondering if I could take a detour and buy some meatballs to take home. Did I mention that the prices are very reasonable?
JT's
If you're looking for the city feel, JT's is the place. Our table was almost on the sidewalk. Plenty of people walking by; I even saw an old friend that I haven't seen in years walking by. We got a chance to catch up. When we lived in the city, we walked to the restaurants on Elmwood all the time.
The food at JT's is excellent. Huge Caesar salad perfectly prepared. I loved the Pork Trilogy (meatball, sausage, pork shoulder) and Riccia pasta. Lots of leftovers to take home for another meal the next day. One of our friends had the pork chop and said it was one of the best he had ever had. The next time we go to JT's I will order one of their wood oven pizzas, which looked wonderful. 
Stop the presses...
I'd already submitted this column but was able to sneak in one more restaurant under the wire!
It was January of 1994 and Karen and I were lucky enough to get tickets for the Super Bowl in Atlanta. We were on a plane filled with Bills fans. Everyone was having a great time. That's where I first met Tom Lombardo, the owner of Ristorante Lombardo on Hertel Avenue. We became instant friends and still are today. Tom is one of the great restaurateurs in Western New York. You can't miss him—he's always perfectly dressed with a great smile and he really makes you feel welcome.
Karen and I have been going there ever since. So when a very good friend, Byron Gregory from St. Croix, USVI, was coming to Buffalo and my best friends wanted to go to a great restaurant with him, we decided that Lombardo's was the place. It was so good to catch up.
The menu is outstanding and there is something for everyone. I always order The Continental, which is shrimp scampi, veal Francese and handmade tagliatelle. It's a great dish, but maybe for the first time ever I ordered something a little different.
I wanted to try their Bolognese and I asked if I could get a half order as my appetizer—the answer is always yes at Lombardo's. For my entree, I had veal Francese. My dinner was perfect. Other selections that were a hit were the Halibut, crispy octopus, wood-roasted figs; stuffed zucchini blossoms are a specialty. I promise you that you'll have a wonderful dining experience at Lombardo's, which also has an excellent wine list.
Let's talk wine
2012 Sokol Blosser Dundee Hills Pinot Noir
On our first trip to Willamette Valley, we tasted many fantastic Pinot Noirs and Sokol Blosser is one of them. Plenty of cherry flavors. Look for a more current vintage and give this wine a try. I think you'll like it.
2018 Williams Selyem Westside Road Neighbors Pinot Noir
Russian River Valley, California; $60-$100
We have been drinking these wines for more than 20 years and it seems like anytime we serve them, they quickly become the favorite. Prices for this wine have increased over the year, but believe me, they are worth every penny. The raspberries are there in force and, as always, a little spice to dance on your tongue.
Walla Walla, Washington; under $20
Rasa Vineyards has many different types of wine, all excellent. The first time we tried this wine, we loved it so much that we ordered five cases. This blend is wonderful and has tons of dark fruit, very approachable and goes great with almost any food.
Walla Walla, Washington; blue label, under $50
Northstar makes great Merlot and if you see it, buy it and try it. I just love what they are doing with their Cabernet. Plenty of dark fruit, a little chocolate and a long and beautiful finish. I bought several cases of this wine; it pairs so nicely with many Italian dishes. These are wonderful people making wonderful wine.
2017 Domaine Drouhin Dundee Hills
Willamette Valley, Washington; around $60
Domaine Drouhin quickly became a favorite when we visited the winery about 10 years ago. Sexy Pinot Noir that everyone enjoys. An excellent food wine. Nice raspberry and dark cherry plus just the right amount of spice make their wine very special to me.
2016 Leonetti Cabernet Sauvignon
Walla Walla, Washington; about $100
While that seems like a lot for a bottle of wine, this one is delicious and compares to California wines that are selling for twice as much. This is the real deal Cabernet, it's stunning. I have been drinking Leonetti for more than 20 years. I always get a hint of chocolate to go with the dark fruit. I love the beautiful color, the nose and the finish. One of my favorite wines.
2018 Far Niente Cabernet Sauvignon
Napa Valley, California; $150 or more
This was a surprise that my friend brought to dinner. I was so lucky to have a chance to try this. Dark cherries, huge mouth filling, great finish. This wine has it all. They also produce wines under the Nickel and Nickel label that are also delicious but not as pricy.
A blend but with lots of Cabernet. This a baby—it can get better and better in a few years, but is wonderful now. Big and bold. Plenty of dark fruit, pipe tobacco and a hint of chocolate. Their regular Cabernet is also very good and is more reasonably priced.
2017 Poggio Scalette Sangiovese
Tuscany, Italy; about $65
I don't like Sangiovese unless you have food with it. Lots of delicious berries and cherries and a lingering finish. Many of the great Tuscan wines are now in the $200-$300 range.
2017 Ridge Estate Cabernet Sauvignon
I only had a little taste of this wine, but it was enough to tell you that it is an excellent California Cab. Lots of dark fruits including black cherries, coffee and a hint of chocolate. I would definitely buy this wine. If you ever get the chance to try Ridge Monte Bello, it has always been one of the top
Cabernet from California. I have only had Monte Bello a few times and I loved it.
2011 Altesino Brunello di Montalcino Montosoli
Tuscany, Italy; $60 or less 
I loved almost every 2010 Brunello that I have tried but the 2011 was new territory. When I took my first sip, I knew I had a winner. Silky smooth, plenty of fruit, elegant, just delicious and I need more.
Warren T. Colville is Publisher Emeritus of The Buffalo News.