Chef Matt Gunther makes pretty food. It's tweezed and precise and inordinately conscious of balance, rhythm, unity, proportion and contrast.
In short, it looks nothing like the food you'd make at home.
But "homey" is exactly what Matt and his wife and business partner, Courtney Gunther, are going for. At their soon-to-open restaurant, Bidwell, 12 guests per night will be made to feel like they're at an intimate dinner party in the couple's own dining room. And while the food may look fussy, it's wrought appearance belies nostalgia-inducing flavors—albeit expertly coaxed and expressed.
"What we really want is for someone to take a bite and go, 'That is so good, and it reminds me of this,' or, 'I've had something like this before. It looks different, but the flavors are the same,' " Courtney explained.
"We don't want to present food that someone says, 'I don't know how to eat this,' or 'Hm, that's interesting,' " Matt said.
At the same time, the couple is committed to using ingredients from and of the area—not just vegetables, meat, grains and legumes but also larder staples like vinegar, oil and soy sauce as well as whatever fresh produce they can preserve to see them through our low-yield winters. The cumulative effect is a cuisine that tells a distinct story, specific to one region, one moment and one restaurant.
"I really want to highlight these smaller farms and show what New York State and the Northeast can produce. Especially after working at Craft Bar and Gramercy Tavern, where Union Square Green Market was right there," Matt said. "Walking through that market every day shows how these ingredients are so fleeting and how precious they are and how much work goes into creating them. I just completely nerd out."
A dish that exemplifies the Bidwell ethos and the food guests can expect on the restaurant's ever-changing nine-course menu is Matt's squash agnolotti. Here's how he makes it.
Rustic yet refined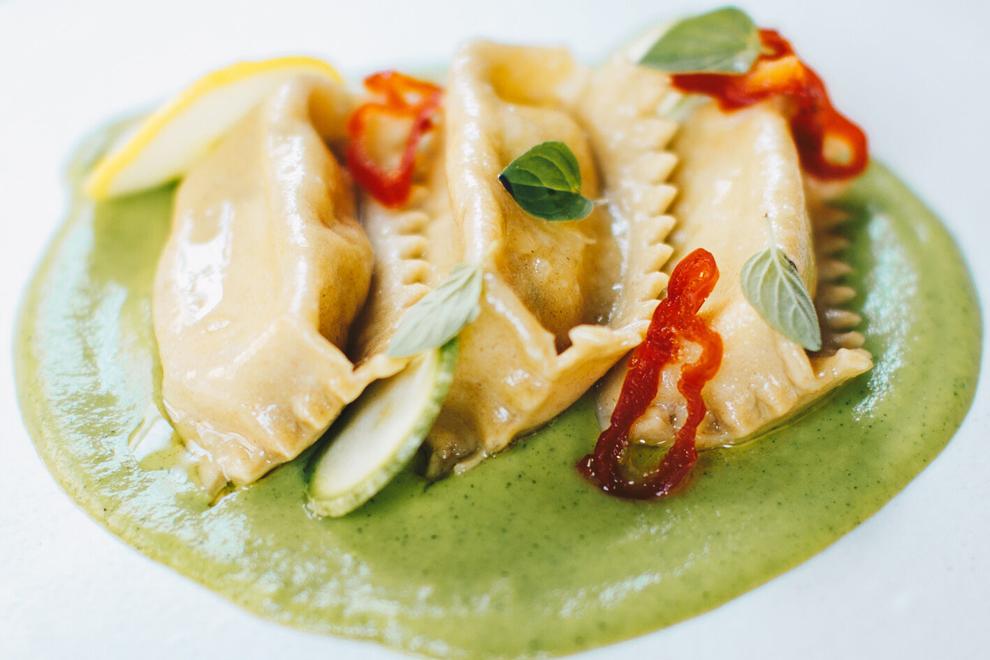 Matt was trained to make rich, soft pasta with finely milled 00 flour and loads of egg yolks but loved the pronounced flavor when he switched to local spelt from Farmer Ground near Cayuga Lake—even if the dough is more difficult to work with.
"It's inconsistent from the mill; it changes almost every bag that you open," he said. "But for me, taste is paramount." He also opts for whole eggs (a more homestyle approach) in an effort to reduce potential waste. Once rolled, filled, formed and boiled, the agnolotti are bathed in butter.
Filled to the brim
Speaking of butter, Bidwell is conscientious about where it sources its dairy. Much of it will come from Teacup Farm in Barker, New York, a small family operation, and Pittsford Farm in Genesee County. Both use old-fashioned, low-heat pasteurization to preserve their products' integrity.
For this agnolotti, Matt combines Maplebrook Farm ricotta with sautéed garlic scapes and Lively Run Goat Dairy's Finger Lakes Gold, a firm, aged cheese that brings a nutty, parmesan-like quality to the table.
Hitting the sauce
Summer squash is the basis of the dish's sauce. Matt begins by cooking scallions or first-of-the-season onions, then zucchini, in house-made green garlic oil, which he infuses in spring as a way of preserving the local bumper crop.
"I like to try to be as thoughtful as I can…preserving to extend their season, whether that's in a jam or a jelly or a vinegar or a sauce or a puree or an ice cream," Matt said. "It's building that…stocked pantry that can really push the ordinary."
The alliums add depth and body, while a handful of fresh spinach, pureed with the cooked-down vegetables, keeps things vibrant and verdant. A pass through a chamois or tamis ensures a silky texture, and a hit of pickling liquid from the aji dulce peppers (more on those to come) rounds things out with acidity, salt and a hint of sweetness.
All the accoutrements
The dish is finished with charred summer squash and thinly shaved squash ribbons, then sprayed with a 4% salt solution to ensure even seasoning. As for the aforementioned pickled peppers, Matt says "they look like they will hurt" but promises there's no discernible heat, just tropical aromatics that enliven the plate. Fresh herbs like mint and oregano offer a final flourish.