At its barest, a stage is an empty platform surrounded by seats. But at its best, it becomes another world—set in a spaceship, tomb, bedroom or battlefield—with a rapt audience forgetting, for a moment, what's real and what's imagined.
That transformation takes place courtesy of a talented group of veteran set designers who transport theatergoers through time and space directly into the storylines behind the captivating plays and musicals presented on Western New York's stages.
A set designer's creative process follows a similar sequence at most theaters, with variations depending on the size and make-up of each technical staff and the preferences of individual directors. In most cases, the designer will start by reading the script, meeting with the show's director to hear their artistic vision for the production and picturing how physical elements like props and backdrops might help the story play out on stage.
Visual and technical inspiration comes from anywhere and everywhere—television, film, books, folders of reference clippings, theater, art, memories, conversations and even the local Tractor Supply Company.
"For the 'Jungle Book' last year, I knew I wanted things to climb and swing," explains Kenneth Shaw, who has been the head of design for Theatre of Youth for the past 23 years. "But that's expensive and time consuming to do so safely. Then I remembered driving by Tractor Supply years ago and seeing these huge, round hay-bale feeders for cows made of metal piping; they had one standing upright like a wheel in the parking lot, and I thought that could be perfect—sturdy, inexpensive, interesting and the silver surfaces ended up taking different colored spotlighting beautifully."
Designers render the details of their visions in sketches, digital mockups, small-scale dioramas or a combination of these in order to share them for collaboration with the rest of the theater's creative team, which may include the people who will direct, construct, paint, light, score, choreograph and costume the production. Together they'll fine-tune the particulars until the set is ready to be built.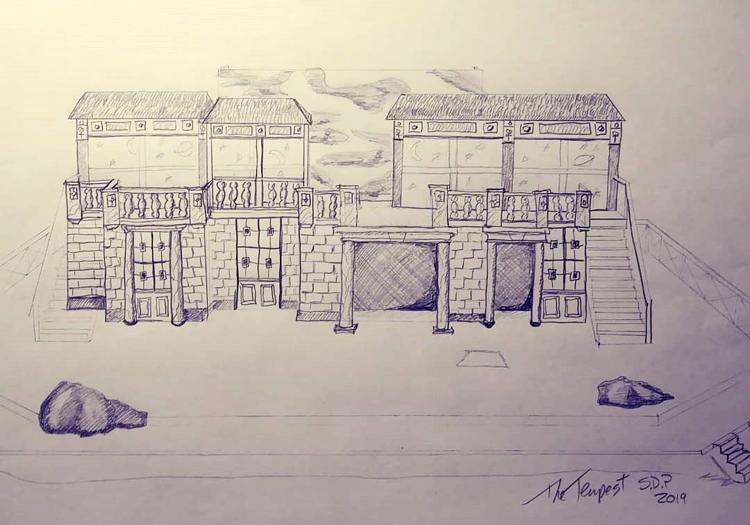 In larger theater companies a dozen people might fill those roles; in smaller ones, it might be just two or three people who wear several hats each. All told, it takes anywhere from three to 12 months to complete a set depending on how far in advance the theater company determines its next lineup and the unique spatial considerations inherent in each performance space.
David Dwyer is a professor of technical theater arts at Niagara University and a freelance set designer who creates more than 25 backdrops each year for productions at Niagara University, Irish Classical Theatre Company, Lancaster Opera House, Jewish Repertory Theater and Shakespeare in Delaware Park. At the park's Shakespeare Hill stage, there's a two-story base structure that stays in place all season, which Dwyer completely refaces for each of the company's two productions every summer. He says the stage's public outdoor location comes with its own distinctive challenges.
"The set is open 24/7," he explains. "Certain materials that are often used to create details on indoor stages, like cardboard, can't be outside in the rain. We put in extra anchors for the wind. And I try to make things as hoodlum-proof as I can."
Dwyer says one thing that makes his job easier at Delaware Park is that Shakespeare plays often establish where the action is taking place without help from the backdrops.
"On the stage at the Globe Theatre, where all of Shakespeare's work was performed originally, there was only one facade," Dwyer explains. "So Shakespeare used 'spoken decor' in his scripts. Actors will come on stage and say out loud where they are—which room, which city—and that helps."
The stage for Irish Classical Theatre Company, situated floor-level in the center of the theater with audience seating surrounding it "in the round," presents creative considerations of its own.
"There's no formal front or back of the stage," explains Dwyer. "Everything is visible from all sides, so even the backs of things like dressers need to look good. There's also a 30-inch height maximum for props—any higher and the people in the front rows won't be able to see over them to the rest of the stage."
To accommodate this reality, Dwyer will shorten things like bed headboards and tables in a way that's barely noticeable to theatergoers, or hang a curtains and a rod from the rafters so they hover above the floor to suggest the presence of a window without building the whole wall.
The new stage at Ujima Theater Company, which opens its 41st season in a brand-new black box theater inside a former school building on Buffalo's West Side this year, is also a floor-level stage surrounded by the audience on three of its four sides. "Off stage" at Ujima is a 6-by-6-foot opening at the back of the stage through which actors and set changes must pass simultaneously; there are no wings.
Technical Director Robert Ball, who has been designing and fabricating Ujima's sets for 29 years, says that while the new theater offers more seats and a larger stage, the new setup is drastically different from the company's former, more traditional one—and will challenge him to completely rethink how he approaches set design.
Ball says one thing that won't change in the new Ujima space is that the set has always been considered secondary to the story and action onstage. The theater's lineup focuses on narratives of the unheard, underrepresented and underserved, especially people of color and those experiencing poverty.
"Cultural understanding is a big part of what we do," Ball explains. "Lorna Hill, our founder and artistic director, has always said that if you're paying attention to the set, you're not paying attention to the play. The set needs to be simple and support the action. It's about negotiating and navigating the space we have, and will continue to be on the new stage."
Simplicity is a sentiment that echoes in the design philosophies of Ball's compatriots, too. In Dwyer's 25 years of doing set work within an entertainment age that has become increasingly digital, he has also seen changes in the intricacy audiences expect.
"People want more of a spectacle these days," says Dwyer. "Broadway has become mostly a spectacle. But simplicity still works best."
Shaw agrees. One of the most powerful effects he's ever seen was in a production of the "Lion King," when the drought came and all the animals gathered around a shrinking pool of water. He says the entire audience was audibly concerned as they watched the pool become smaller and smaller, eventually disappearing.
"The whole effect was simply a large circle of shimmering blue fabric on the stage, pulled slowly through a hole in the center of the floor from below. It was mesmerizing."
That careful curating of what's onstage and what's intentionally left out even applies to productions Shaw designs for elementary school audiences at Theatre of Youth, despite the common assumption that kids need more detail to understand and stay engaged in a story.
"In children's theater we have to approach things with broader strokes," he says. "We capture where we are and why, and children's imaginations will fill in the rest. Schools will send us pictures the students draw of a show they've seen at the theater, and the kids will have filled in the imaginary world around what we've built. That's how I know I've done my job."
Be the first to know
Get local news delivered to your inbox!