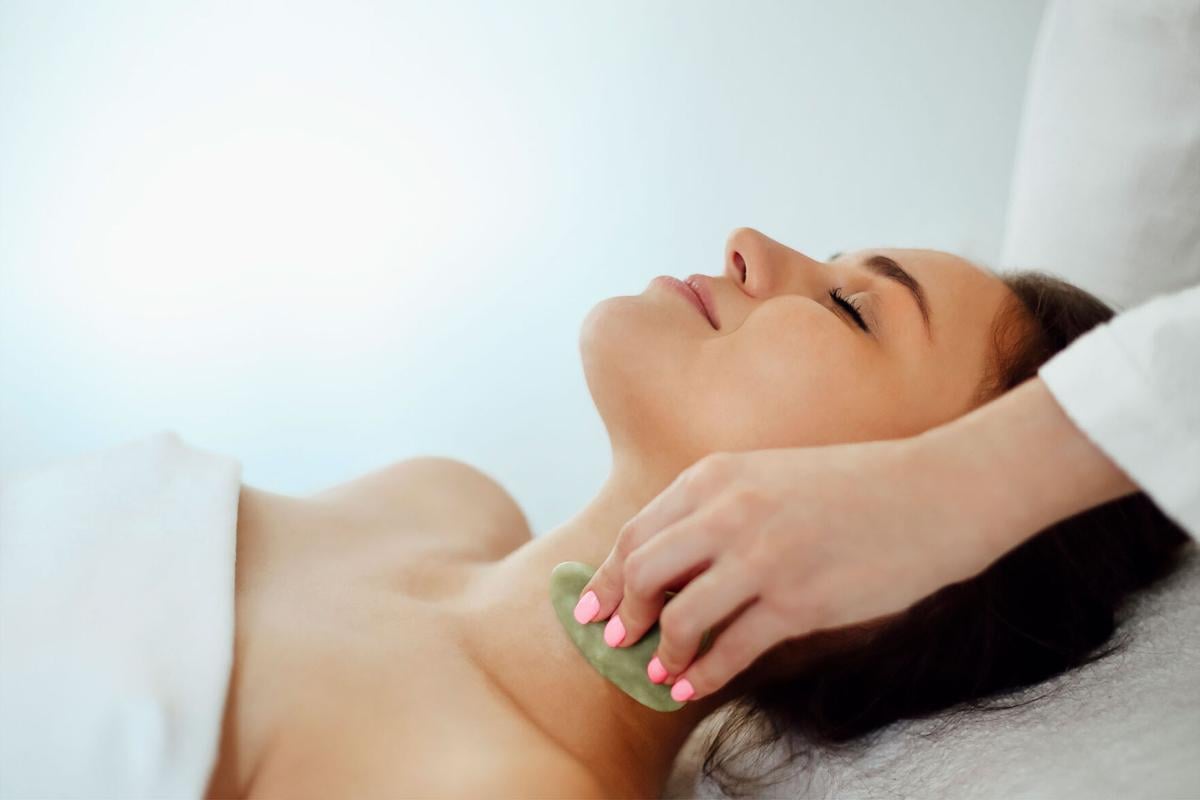 Carving out time to dedicate to ourselves may be difficult, but penciling in moments for self-care can make all the difference in how you feel. And while that can take many different forms, the cliche image of effortlessly lounging in a robe at the spa packs unique self-care appeal thanks to the physical benefits of treatments along with the mental break from reality.
Sit back, relax and consider these ideas for your next me-time pampering.
Enzyme Therapy
"This is a facial treatment unlike any other," says owner Jeanine Zaleski. "It's a non-invasive skin revision treatment that conditions and activates the deep layers of the skin and works with your body's natural chemistry to re-educate the skin, create true oxygen therapy through blood flow and leaves your skin firm, healthy, nourished and performing its best."
Recommended for its instant results, the 45-minute mask is applied after cleansing and exfoliation. While on your face, it removes dead cells, stimulates collagen and elastin, improves circulation and hydration, and more.
If you are looking to achieve a specific skincare goal, a series of six to 10 therapies is recommended for maintenance. Different pre-exfoliants and pre-mask treatments are used to instigate specific responses in the skin.
A 75-minute mini enzyme is $110; an introductory enzyme therapy special, which includes two treatments and a 30-day home care products kit, is $315.
Gua Sha Massage
A traditional Chinese technique, Gua Sha is an instrument-assisted soft tissue stroking done with a smooth-edged tool like jade. Deborah Centofanti, M.S., LMT, RYT, MF, utilizes this approach to target areas of tension in her clients.
"Gua means to stroke, scrape or scratch," she says. "Sha means the presence of blood coming at the surface of the skin, which is where tightness usually is due to stagnation of the blood and tissue."
Pressured strokes of different weights are applied over lubricated skin to promote lymphatic drainage, circulation, increase range of motion and release tension. Where it is applied depends on where you are feeling tight or tense.
A Gua Sha treatment is $50 for 30 minutes; it's also incorporated into therapeutic massages depending on client needs, according to Centofanti.
Full Body Seaweed Wrap
Sea salts, essential oils and seaweed come together to stimulate and exfoliate skin in this head-to-toe wrap tailored to detoxify, hydrate and improve skin elasticity.
"It removes the dead skin cells from the epidermis layer, which in turn makes the skin smooth and soft," says owner Cindy Wilder.
Followed by a light massage, this is an hour of pure hydrated bliss. A 60-minute treatment is $90.
24 Karat Gold Facial
"Gold is rich in antioxidants that interact directly with the blood pumping just below the surface of your skin," says Maureen Hammad, skin therapist and senior esthetician. "These antioxidants improve the blood's circulation and ability to fight against bacteria, rashes, hives and other allergic reactions that occur on the surface of the skin."
Ideal for all skin types, the facial begins with a full cleanse followed by an exfoliation and a facial massage to encourage blood flow. Then sheets of gold are applied and a 24 karat jelly mask is massaged on until it is absorbed.
This treatment can also improve skin elasticity, brighten skin tone and promote lymphatic drainage. A 90-minute facial is $160.
Salt Therapy
From lamps to body scrubs, himalayan salt has an established place in wellness routines. Samana Salt Spa's Salt Therapy room uses it to relax you inside and out. Sit back on a recliner and breathe in the dry salt aerosol emitted by their Halogenerator.
"The Halogenerator pulverizes the pharmaceutical grade salt and mixes it in with the current in the air," says Drew Stella, licensed esthetician. "It gets on your skin and when you breathe it in, it can relieve anyone with respiratory issues."
No talking or electronics are allowed in the Zen space—only the salt and soothing music. A salt therapy session is $40 for one hour.
Bring the relaxation to you
Owner Elizabeth Pakenham, LMT, provides traveling services (or can host you at her own space in Buffalo) for anything from gel manicures and pedicures to a Swedish or deep tissue massage.
Manicures start at $25; pedicures at $45; and massages at $40. Treatments are by appointment only Monday through Saturday after 9 a.m., and thorough Covid-19 precautions are taken.