A jewelry maven on her self-taught passion turned beloved, ever-evolving brand.
Why this medium?
I've always loved and had a fascination with jewelry. I'm not sure why, but I have either collected it or coveted it from afar. As a kid, I can remember taking out my mom's jewelry boxes, trying on all the necklaces, bracelets and rings, studying them, then putting it back and doing it again and again and again as the years went on.
How has Peg's evolved?
In the last seven years there has been a major learning curve. Between experimenting, freelance classes, a mentor, material education and proper sourcing, Peg's from the beginning till now has done a complete 180.
Buffalo might get a lot of flak, but one thing it isn't is unkind to local artisans. I have been extremely lucky and grateful that I've held onto many of the same clients year after year and keep finding new ones. I work really hard to keep elevating Peg's, to keep it fresh. Granted, I do have staples and those might stay around because there's a demand, but I always try to offer something new, even if it's a one-off for a show. One main consideration when designing a new line is it has to appeal to a very broad demographic. I like having a little something for everyone.
On being a holiday market staple…
The thing I enjoy most about working markets is the one-on-one interaction with the customers. I think customers like to see who's actually making these pieces and learn about the materials, inspiration for design, etc. For me, I crave the feedback. I love seeing people's faces when they see a piece they like or have them try on a pair of earrings they never would and really like them. It's also a great feeling getting emails years later from people who need a chain fixed or a single earring because they lost the other one and are devastated because it was their favorite.
How do you prep for the holiday rush?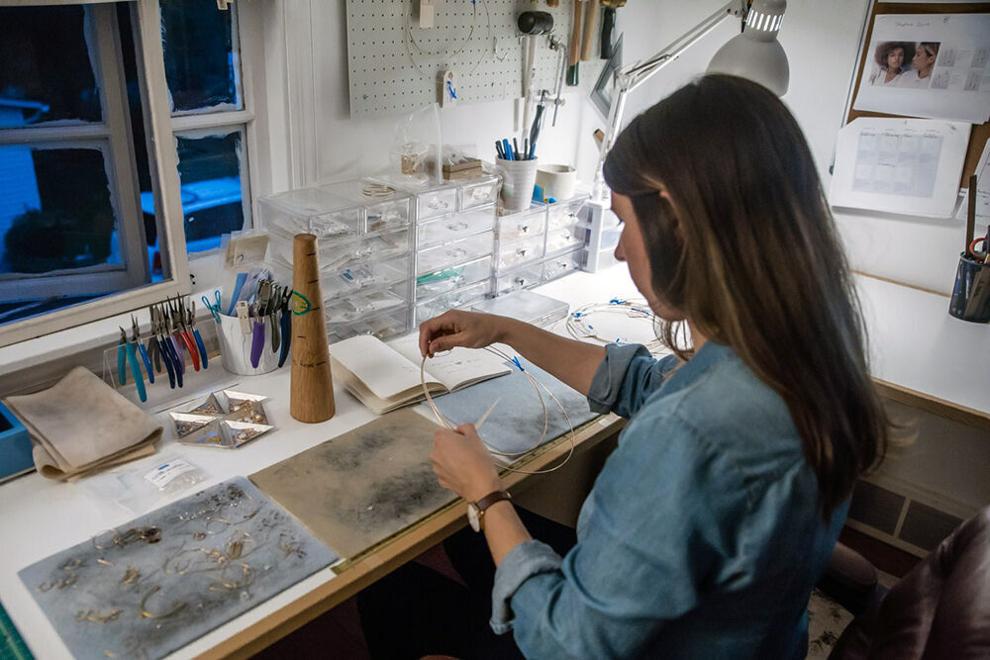 That's a pretty loaded question. You're never as prepared as you need to be, but I have a formula now that absolutely makes it a lot easier. The older I get, the more selective I become as to what I take on. I'm no longer interested in going 200 mph to straight burnout. I have an 18-month-old boy and want to enjoy time with him and my husband, especially around the holidays.
Pieces of yours you wear?
The Goldie's. Love me some hoops always and forever! I also rotate in the Matchstick Half Hoops and XL Infinity Pins. If I'm going out, lately the Nadine's (Basically all hoop related).
Locally made jewelry you love to shop?
We have a great network of local jewelers! All incredible ladies that have their own design character and are crazy talented.
Felise Design, with her cast elements right from Mother Nature. Ashley Messana, who defies the laws of wire wrapping and uses the most beautiful stones. Pretty & Grit, who has modern and classic staples. Sunrae Love Jewelry, a novice on the scene with some real talent. Of course, Marisa, the OG from Interstellar Love Craft and a good friend of mine (technically out of Rochester but very well-known in Buffalo). Marisa is constantly reinventing herself and pushing the boundaries of jewelry design.
I have a piece from each of these amazing women. I literally could go on and I'm going to feel terrible if I left anyone out, but we're truly blessed to have such talent here.
Last word:
To anyone that's has ever bought a Peg's piece—thank you! You allow me to do a job I still wake up sometimes and am in awe I actually get to do on a daily basis. The PH family is extremely grateful!