"My artwork is in stark contrast to my hyper organized, type-A personality," says Heather Thurman, the owner and designer behind Babybird Home Decor. "My design aesthetic is much more relaxed and abstract. I like things that are simple, effortless and comfortable. I do not like things that are contrived and pre-planned."
That sense of unpredictability is evident in the subtle bursts of color found in Heather's coasters, magnets, planters and vases.
"That's what drew me to alcohol inks," she says. "The alcohol ink medium is fluid and harder to control than many other mediums. You have to allow it to go where it wants to and hang on for the creative ride."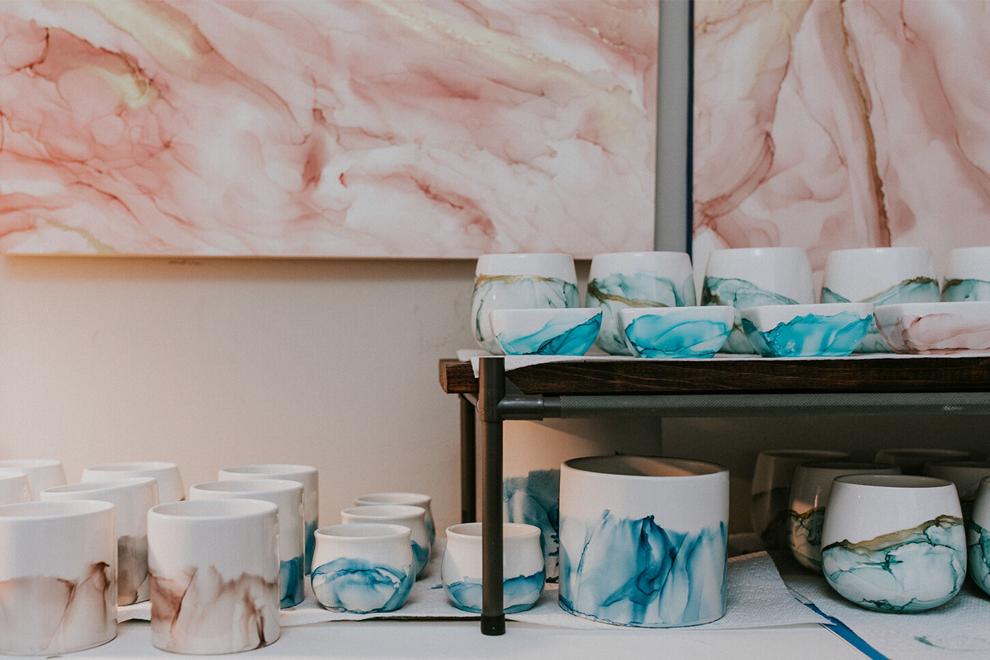 That creative ride took Heather, a Buffalo native, to New York City and back again before founding Babybird. She moved to New York at 19 to attend the Fashion Institute of Technology.
"I worked my way up the corporate ladder," she says. "However, my priorities shifted after I became a mom, and I began to feel a pull back to my hometown."
Moving back to Buffalo with her 3-year-old was the right move, she says, but also a stressful one.
"Creating art with alcohol inks became a version of self-care, and it started gaining recognition from friends and family," Heather says. "I always dreamed of having my own small business and putting to use the business skills I'd learned along the way. So, Babybird was born."
Named after one of Heather's nicknames for her son, Babybird Home Decor's creations are both beautifully vibrant and serene, and always functional.
"I like to take everyday objects, such as coasters, magnets and planters, and use them as a canvas to create artwork," she says. "Art can be incorporated into our everyday living."
Heather recently started a monthly workshop series and is also launching a wedding program featuring customizable favors and a centerpiece rental program.
"There is beauty and art in the simple things around us," she says, "and I hope Babybird helps to remind us of that."
Heather's favorites
Sage statement vase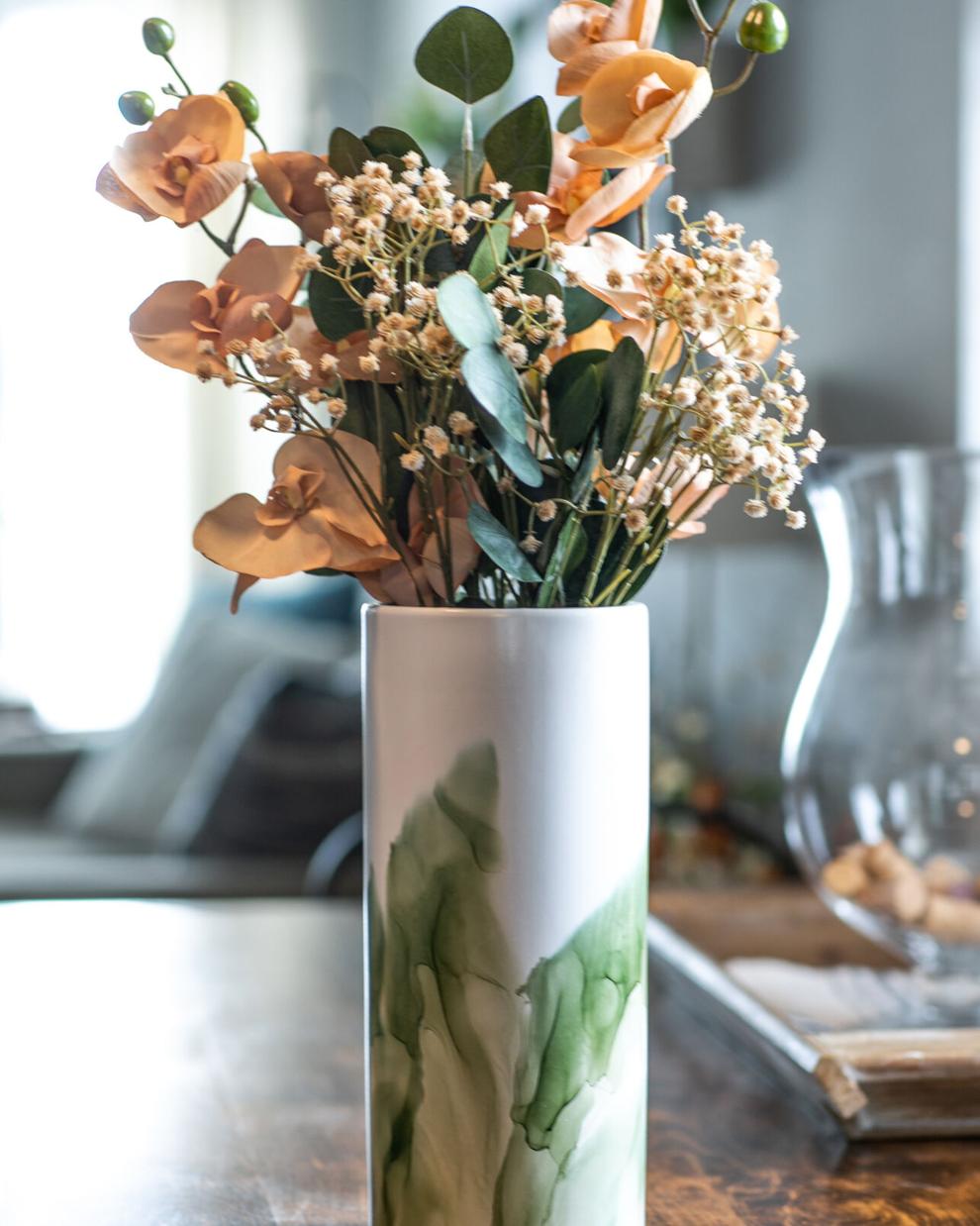 How it's created: "I use Copic Inks on my vases and planters because of the range and depth of color. Diluting with alcohol, I use a pouring and painting technique, layering ink and alcohol and moving it with a heat gun to get the general shape and contrasts I am looking for. Once complete, all my pieces are sealed with three different products to ensure the artwork can withstand handwashing without damage."
Why it's a favorite: "I am absolutely obsessed with the way flowers look in this vase. It's tall enough to be a little dramatic, but effortless enough to put any kind of flower in it since the color gives an abstract stem vibe. Blush-colored florals are one of my favorite looks and I cannot wait to see these on tables as centerpieces at weddings."
Lavender magnets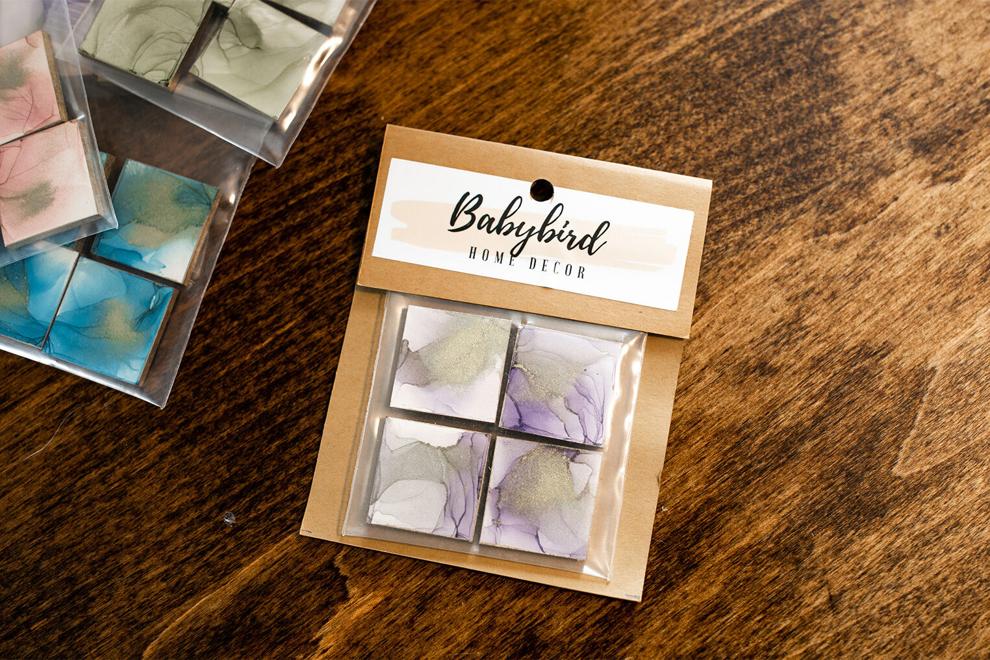 How it's created: "I use Copic Inks and Jacquard Piñata Rich Gold Ink. These little guys are tough because you don't have a lot of room for error, and there isn't a ton of space for the ink to flow. It took lots of practice with a heat gun—moving little drops of ink and alcohol around until I got just the aesthetic I was looking for. But in the end,
I love how this color combination turns out."
Why it's a favorite: "I love the ridges and the hints of gold on these magnets. Most importantly, I also took great care to test out the magnets themselves, because nothing irritates me more than what I call the 'slide of shame.' When you receive a beautiful invitation on thick cardstock or your child makes you fridge-worthy art—but it's seven layers of acrylic paint—regular magnets do not cut it, and everything just slides shamefully down your fridge. I use extra-strength magnets to make sure that my magnets are not only pretty to look at but do their job."
Denim mug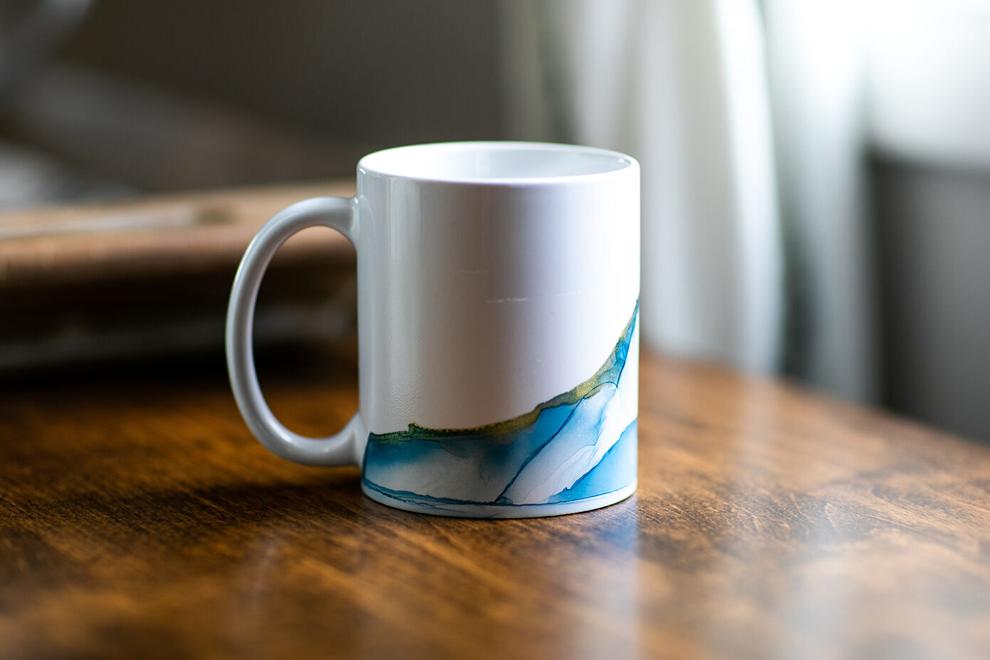 How it's created: "In a similar fashion to the vases, I use a painting and pouring technique, layering the ink with alcohol. However, all mugs have a hint of gold for a little a.m. pick-me-up. These are also triple sealed to ensure that they can be handwashed."
Why it's a favorite: "I love getting up early so I can enjoy the quiet before the house is up, but I need a cup of coffee in order to function. These are my go-to mugs because I love the soft lines and the hint of sparkle to get my day going on the right foot."