There's no way around it. The first few months of the year in Western New York can feel like a slog. The holidays have passed, snowstorms have lost the November novelty and the days, though slowly lengthening, are short and cold.
However, those of us who make this special region our home know there are beautiful benefits to living here during this season. The romance of a hot toddy by the fire after a few runs at Holiday Valley, ice skating under twinkling lights at Canalside and a home warmed and perfumed by a cooking project for which time and affection are critical components.
While there might be a place for salads and water in an effort to correct some of the indulgences of November and December, this time of year really belongs to soups, stews, braises and ragus accompanied by glasses of red wine and candlelight. And there is not a more perfect centerpiece for this wintry scene than cassoulet.
If you are not yet familiar, traditional cassoulet is a simmering pot of contradiction.
What began as an unfussy stew of meat and beans created by French farmers in Languedoc has become decidedly special in a modern world in which time can be a luxury. While there are many "musts" and "nevers" when it comes to cassoulet, there are enough variations to allow for the personality of the cook to be a key ingredient.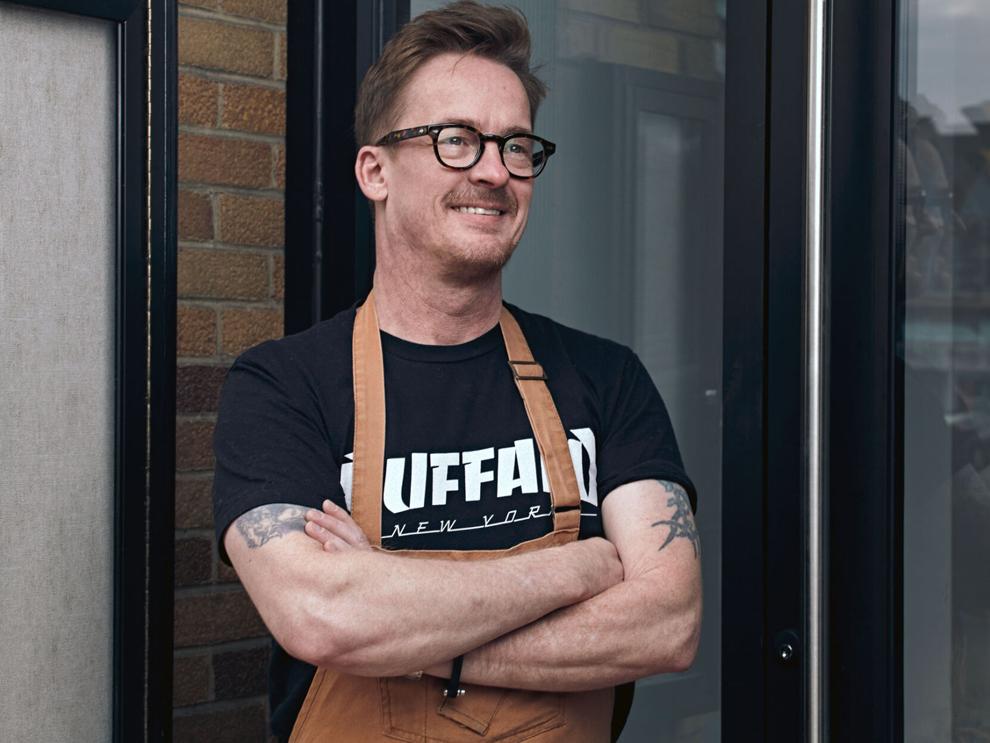 Chef Bruce Wieszala was kind enough to indulge me in a conversation about his version—as he's featured a cassoulet on every winter menu he's curated since 2014.
"It's duck, pork and beans. I mean, what's not to like?" says Bruce, who will be opening his first restaurant, Beacon Grille, on Allen Street with his wife Amanda later this spring.
Bruce's cassoulet takes several days to come to fruition. The first step is to cure and confit duck legs—a process that can take 48 hours. Once the duck is ready, it combines with Toulouse sausage, lardon (bacon), beans and stock made from duck carcasses and fortified with chicken stock, cooking slowly over several hours. He finishes with a gorgeous, garlicky breadcrumb topping.
Bruce is particular about using traditional Tarbais beans, often stocking up to ensure an adequate supply because they can be difficult to source. If need be, he'll substitute Flageolet beans.
As a home cook, cassoulet is my once-a-year undertaking.
It's an extremely rich dinner that requires time and attention. There are plenty of "faux" and "quick" recipes to be found that might approach the shape of the real thing, but for me, creating this in my kitchen is as much about the ritual of the recipe as it is the final product of creamy beans, rich sauce, succulent duck and crunchy breadcrumbs.
My ritual begins at Moriarty Meats, where owners Tom and Caitlin Moriarty provide home cooks and celebrity chefs alike with thoughtfully and locally sourced meats butchered in the French tradition in their shop on Elmwood Avenue in Buffalo. Tom studied at The French School of Butchery in Paris, and we are now the beneficiaries of his education and attention to detail. He and his staff are also generous with their knowledge and quick to offer tips and suggestions.
Available at the shop is every meat needed for cassoulet: lardon, duck legs and the aforementioned Toulouse sausage. Tom makes this traditional sausage with garlic, white wine, nutmeg and allspice.
Like Bruce, when I make cassoulet at home, I begin with the duck confit. This is worth the price of admission on its own. Plump duck legs rest in salt and herbs for a day or two before settling into a slowly simmering bath of its own fat.
I usually use dried cannellini beans, soaking them overnight in water before cooking in the stew. These are easier to find than Tarbais or Flageolet beans, and I don't mind the substitution.
The rest of my home version can change a bit from year to year, but along with the duck and beans, it always contains Toulouse sausage, lardon, carrots, onions, garlic, bay leaf, thyme, white wine and chicken stock. Sometimes pancetta or pork shoulder will find their way into the pot. Sometimes a tomato does.
Buttery breadcrumbs always complete the dish.
Should you want to fill your own home with the rich scent of pork and duck as the union of these components slowly forms in your oven, I'd recommend spending a little time researching a recipe most suited to you and use it as a guide that can be adjusted rather than an absolute.
Luxuriate in the fatty, salty process and enjoy a good bottle of wine. I love Cornas with this. It's a Syrah from the northern Rhône region in France that complements the meatiness of the dish beautifully.
We have the good fortune to be living here right now. Let's make the most of it!