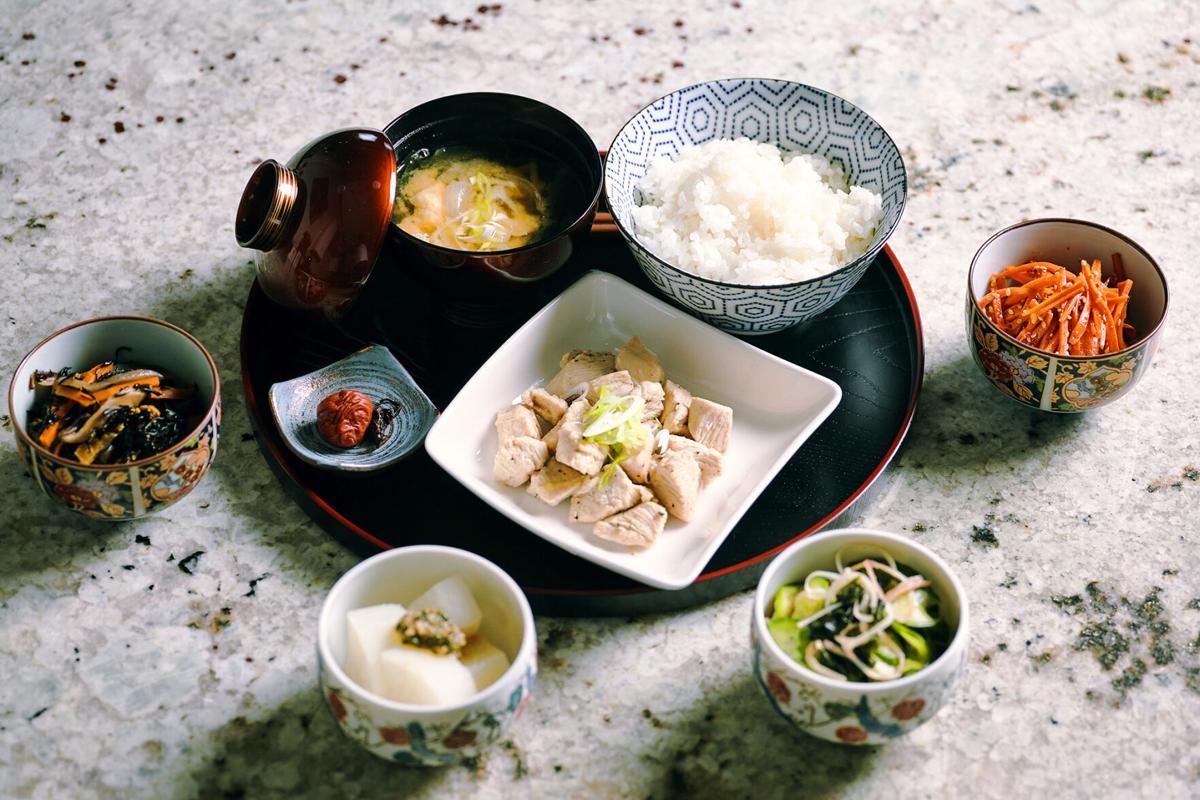 Meet the Buffalo Food Otaku: attorney and food writer Joe Leta and his partner, the charmingly humble and enthusiastic Sadako, or Sadie, are self-described "food nerds" and local restaurant-insiders' insiders. As Buffalo Food Otaku, the pair blogs on Facebook and Instagram—they have about 1,500 followers on each platform, many of whom are industry professionals.
From chef-driven restaurants to their own adventurous, creative home-cooking and entertaining, they're not snobs. They've touted hot dogs, strip-mall Chinese joints and pub food, and featured a tutorial on cleaning fresh sea urchin. She takes pics, he writes; using an impishly imperious "I," he peppers his prose with sometimes-obscure literary and historical references.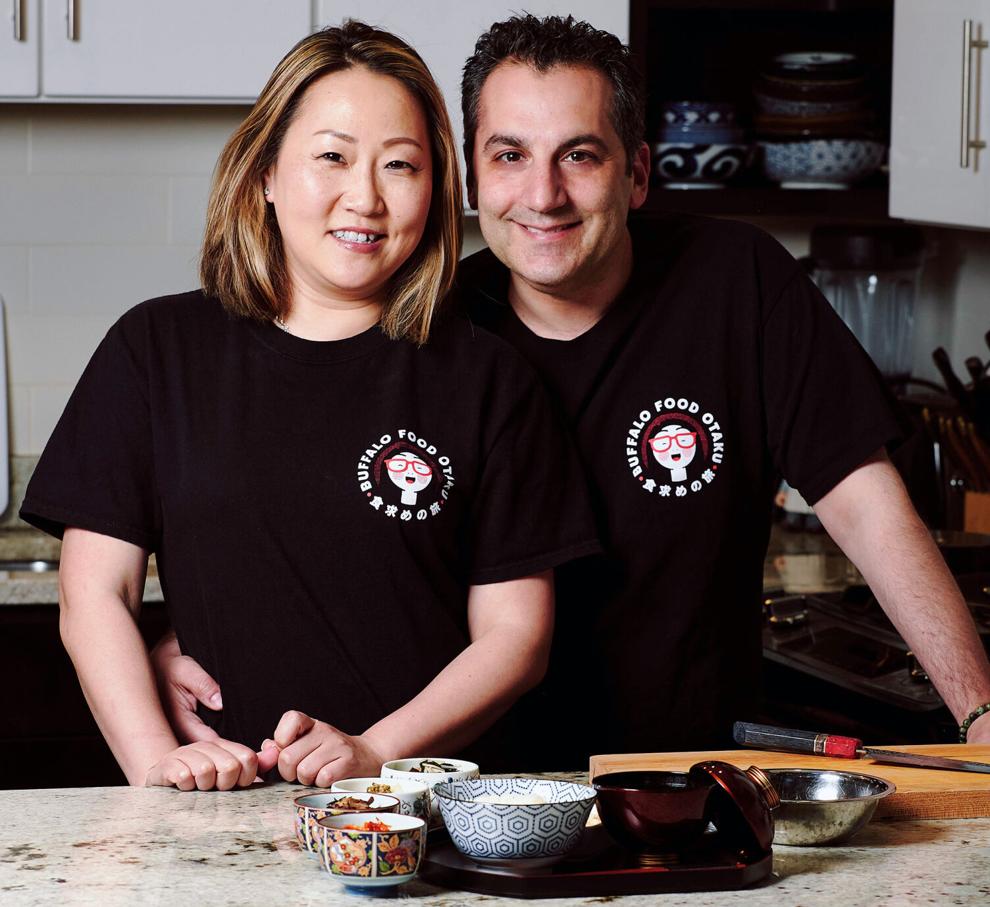 How did you two know you'd be a "food fit"?
Sadie: When I worked at a magazine in Japan, we went to many restaurants and bars every night. On our first date, we discovered that we both like to do that—sometimes one restaurant has one good dish, the next one a great cocktail, and so on.
Who are your cooking influences?
Sadie: I'm from a large Korean family, and I grew up in Japan, where people eat a lot of prepackaged foods at home. In the Korean tradition, everything is made from scratch.
My stepmom made every meal for our family of nine, and many meals for our 20 employees. She got sick, and we all had to help. By 18, I lived alone and was cooking for myself.
Joe: If I didn't say 'my mother,' she'd hunt me down with a shotgun. She cooked from scratch all the time—my family ate things that you don't really see anymore, like tripe. I also read cookbooks by Harold McGee and Tom Keller for pure technique; watched Emeril Lagasse…I learned a lot. Anthony Bourdain—the weird stuff he was eating. That excited me; pushed me toward the edge.
Any early food memories?
Sadie: Kimchi is a Korean staple—it stinks, so families have dedicated kimchi refrigerators. My mom made different kinds. "Banshan" is the Korean word for small dishes—at every meal, in addition to soup, rice and a main, it's normal to have seven to eight side dishes including kimchi; those are almost more important. If you have them plus rice, you can eat.
Joe: I would eagerly wait for the piece of bread that my mother used to seal up the turkey on Thanksgiving after stuffing and cooking it. It had soaked up the delicious flavors from the aromatics, the onions, the fat.
Before sushi was well-known here, my family went to Hawaii; I was around 10. My mom took us for pizza, but my dad snuck us some sushi. I took a bite and, WOW! Since then, I've been chasing that dragon, seeking rarer and rarer tastes.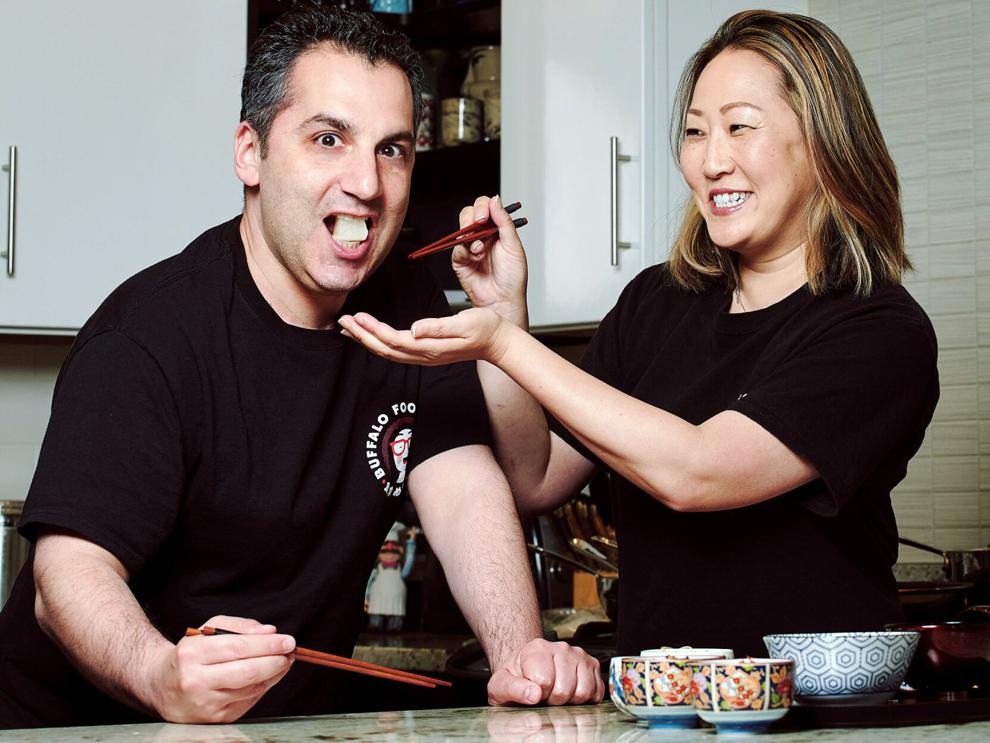 How do you two differ in the kitchen?
Joe: I use a meat thermometer, she doesn't. I used to season a lot, Emeril-style—she's taught me to stop doing it as much; to let the food have its own taste. With some things, I'm more experimental; if I make a suggestion about her cooking, she'll say, 'No, this is how you do it!' And she never fails.
Sadie: He's the scientist, I'm more like a big mother. I don't measure, just feel it. When we cook together, we say, 'What can we do different, or better?'
Any tips for ingredients?
Sadie: In addition to the Asian markets, we shop at farmers markets for fresh vegetables and love Flat 12 Market for foraged, imported and house-made things.
Joe: We look for seasonality; eat something when it's at its best. We love Moriarty Meats.
What does "food nerd" mean to you?
Joe (proudly): Every meal we eat, we have to talk about it.
Sadie: Sometimes I'm tired, I'll think, 'Why can't I just enjoy the steak?' But I'm a nerd, so I have to ask, 'How is it cutting?!' Even an instant ramen cup noodle—you are supposed to just add water and eat it after three minutes, I will add an egg and green onion.
Tori Negi Shio Lemon 鶏ネギ塩レモン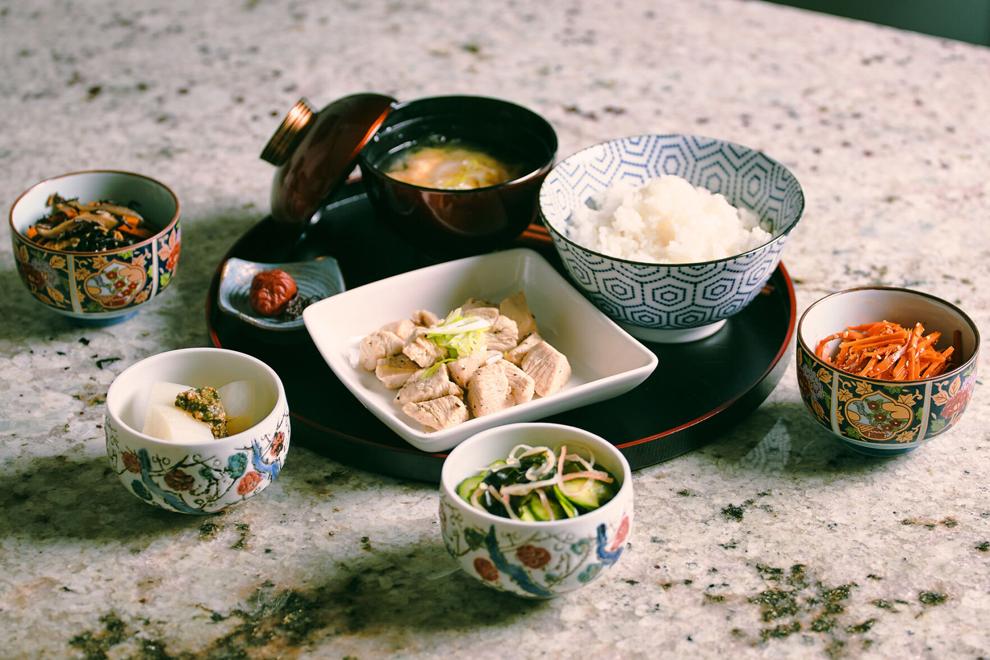 This traditional Japanese summer dish—the name means chicken (tori), green onion (negi), salt (shio) and lemon—is simple and delicious. Bite-sized pieces of chicken thigh are briefly marinated in shio dare, a salt-based sauce. The dish, meant to be eaten as an appetizer alongside other things, can easily be multiplied to make a larger batch. The flavors pair well with other small, simple dishes, like Japanese pickles (tsukemono), rice and miso soup.
1 or 2 boneless, skinless chicken thighs
2 green onions, chopped
1 tsp. chicken dashi powder (or ½ of a chicken bouillon cube)
1 tbsp. sesame oil
1 tbsp. neutral vegetable oil, such as canola or safflower
1 lemon, zested (set aside for a garnish) and juiced (for the marinade)
1/4 tsp. salt
Pinch of black pepper
Optional: 1/4 tsp. minced garlic
Preparation | Set the chicken out at least a half hour before marinating—bringing it to room temperature helps it cook more efficiently when added to the hot pan.
In a small bowl, whisk the shio dare ingredients—sesame oil, vegetable oil, half the lemon juice, salt, pepper and garlic, if using—until the salt is incorporated.
Cut the chicken into bite-sized pieces, about 2-inch square. Place in a large Ziplock bag and pour in the shio dare. Seal the bag and lightly massage the chicken, mixing well. Let sit on the counter for 10–20 minutes.
Heat a medium frying pan (metal, cast-iron or nonstick) over medium-high heat. When it's hot, add the chicken and the shio dare to the dry pan. Cook quickly, stirring several times until the chicken is cooked through, about 8 minutes. Remove the pan from the heat and taste. Add more salt, pepper or lemon juice to adjust the flavor. Toss in green onions.
Transfer it to a decorative small serving bowl and garnish with more chopped green onions and the lemon zest.
If you are planning a meal around this dish, make some rice ahead of time, heat up some miso soup and plate some pickles in another decorative bowl.
召し上がれ Meshiagare (Enjoy your meal!)
Some ingredients—like sesame oil, Japanese rice and miso paste or ready-made miso soup—are available at Wegmans. Others, like dashi powder and tsukemono (pickles) are available at most Asian markets around town, like the Asia Food Market, Hana Mart or Lucky Dragon, all located in the Amherst/Tonawanda area.