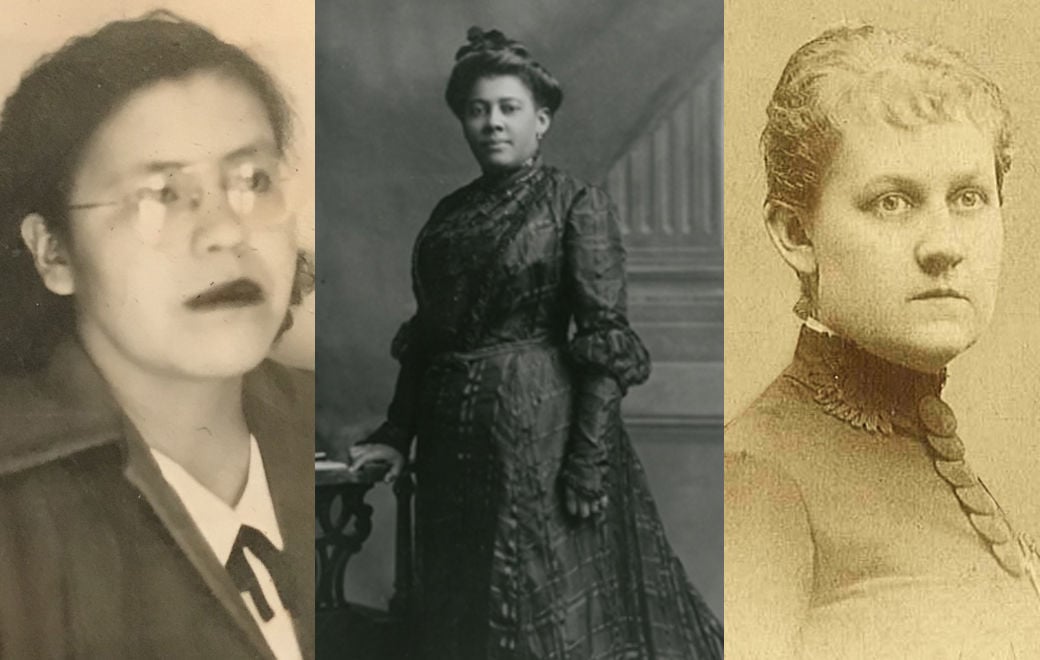 "This is the psychological moment for us, as women, to show our true worth," wrote Mary Burnett Talbert.
Her earnest words, a clarion call for action, appeared in a 1917 article she wrote for The Crisis, the nationally circulated house magazine of the NAACP, edited, in those days, by the illustrious W.E.B. Du Bois. Like most contributors to The Crisis, Talbert was a well-known civil rights leader. She was also a long-time Buffalo resident.
Indeed, Talbert may have even penned her article in Buffalo, where she worked and lived, first at 521 Michigan Avenue and later 118 Northland.
The article was a fundraising appeal, written in her capacity as president of the National Association of Colored Women's Clubs (NACWC). In it, she beseeched fellow African American women to band together to save from disrepair and enshrine for posterity the historic Washington D.C. home of the great statesman and abolitionist, Frederick Douglass. In championing its preservation, Talbert was carrying out a specific sort of resistance women had long practiced: collective memory-making.
Before women had the right to vote, memory-making was one way they could exercise civics and cultural authority without deviating from the expectation that they avoid the fray of politics. They practiced memory-making in their roles as mothers and schoolteachers, passing on interpretations of the past to children in homes and classrooms. They put on history-themed pageants in their communities and wrote history-themed articles for publication. And they waged campaigns to have monuments—statues and other memorials—built in honor of historical figures and events.
Their agenda wasn't always admirable. In the late-19th and early-20th centuries, white women in the South, organized as the United Daughters of the Confederacy (UDC), erected monuments to the Lost Cause to construct new meanings from the past.
"A memorial," American culturalist Kristin Ann Hass wrote, "gives shape to and consolidates public memory. It makes history."
In their efforts to make history (or remake it, in this case), the UDC monuments depicted slavery as a benign institution and romanticized the Civil War as a just conflict over states' rights and Southern honor. The effect was an attempt to rationalize the racial oppression that continued to undergird their way of life long after slavery ended.
In other words, historian Joan Marie Johnson argues, memory-makers practice the power of delineating who belongs to a nation and who does not. On the other side of the coin, Talbert and the African American women stewarding the Douglass memorial were counterbalancing efforts like the UDC's, insisting that people of color are deserving of honorific public representation. They understood, Johnson explains, that monuments help dictate how we view history and, in turn, how we construct the present.
It's only fitting, then, that Talbert will soon be one of three women memorialized with a representative statue of her own in downtown Buffalo. Joining her will be Geraldine "Gawö:Sid-tah" Green and Louise Blanchard Bethune.
Today, women activists in Western New York are carrying the torch lit by women like Talbert to bring parity to our historical narrative through our built landscape—this time with a focus on gender.
"We memorialize people we attach value to," said Karen King, executive director of the Erie County Commission on the Status of Women, who formed the project's steering committee. "I think it's important for all of us, not just women and girls, to start valuing the contributions women have made."
Their project, Trailblazing Women of Western New York, seeks to erect monuments across the region that spotlight the hidden history of local women who made significant contributions to their communities and our country. The effort will help bring gender equity to our cityscape, which hitherto has focused almost solely on historic men and traditional masculinity.
In fact, only two of the 106 public statues in Buffalo honor women. Meanwhile, figures like Theodore Roosevelt and Millard Fillmore, who effected great contributions, to be sure, but who also aren't without their own issues (think, the Fugitive Slave Act and imperial conquest) are given the full hero's treatment.
For the three inaugural statues—Talbert, Green and Bethune—the project will break ground later this year, just in time for the anniversary of women's suffrage. Once complete, organizers will turn their attention toward uncovering the histories of other notable Western New York women to memorialize by plaque and statue across the greater Buffalo area.
To suggest the name of a monumental Western New York women you'd like to see memorialized or to make a donation in support of the project, visit their website.
The inaugural three
In addition to serving as president of the NACWC and leading the Douglass memorial campaign, Talbert helmed a nationwide anti-lynching crusade in support of the Dyer Bill, which sought to fine counties where lynching occurred and make it a capital offense triable in federal court. Prior to that, she helped organize a protest in Buffalo calling on the board of managers of the 1901 Pan-American Exposition to include achievements of African Americans among its exhibits. In 1905, 27 of the most prominent civil rights leaders met secretly at Talbert's home to adopt the resolutions that would become the Niagara Movement, forerunner of the NAACP.
Geraldine "Gawö:Sid-tah" Green
A fluent Seneca language speaker and faithkeeper, Green presided over the longhouse ceremonies of her matrilineal Haudenosaunee clan, a people among whom women have long held special leadership roles, with many rights and responsibilities not afforded to Euro-American women until much later. Green devoted her life to sharing her knowledge of her community's language, traditions, philosophies and ways of life, helping to sustain her people's cultural sovereignty across generations. In her role, she educated anyone who sought information and advocated for the Haudenosaunee on national and international stages. Notably, Green spoke before Hillary Clinton, who wanted to learn about the importance of women in Haudenosaunee society and their impact on the women's suffrage movement.
Bethune was the first woman admitted to the American Institute of Architects (1888), earning her the distinction as the country's first professional woman architect at a time when women were considered ill-suited for the physical demands of the drafting table and construction sites. Based in Buffalo, Bethune was a staunch supporter of co-educational training and encouraged women to learn all facets of the profession, even those deemed too physically taxing for the fairer sex. She believed in equal pay for equal work and was a founding member of the Buffalo Women's Wheel and Athletic Club, which sought to make it socially acceptable for women to ride bicycles unchaperoned. Among many other buildings in Buffalo, Bethune was the architect of the Hotel Lafayette and a three-story retail and apartment complex at 588 Niagara Street, currently undergoing historic rehabilitation by a woman-owned, female-majority development and construction company. A number of Bethune's other projects still stand in the region.
Be the first to know
Get local news delivered to your inbox!