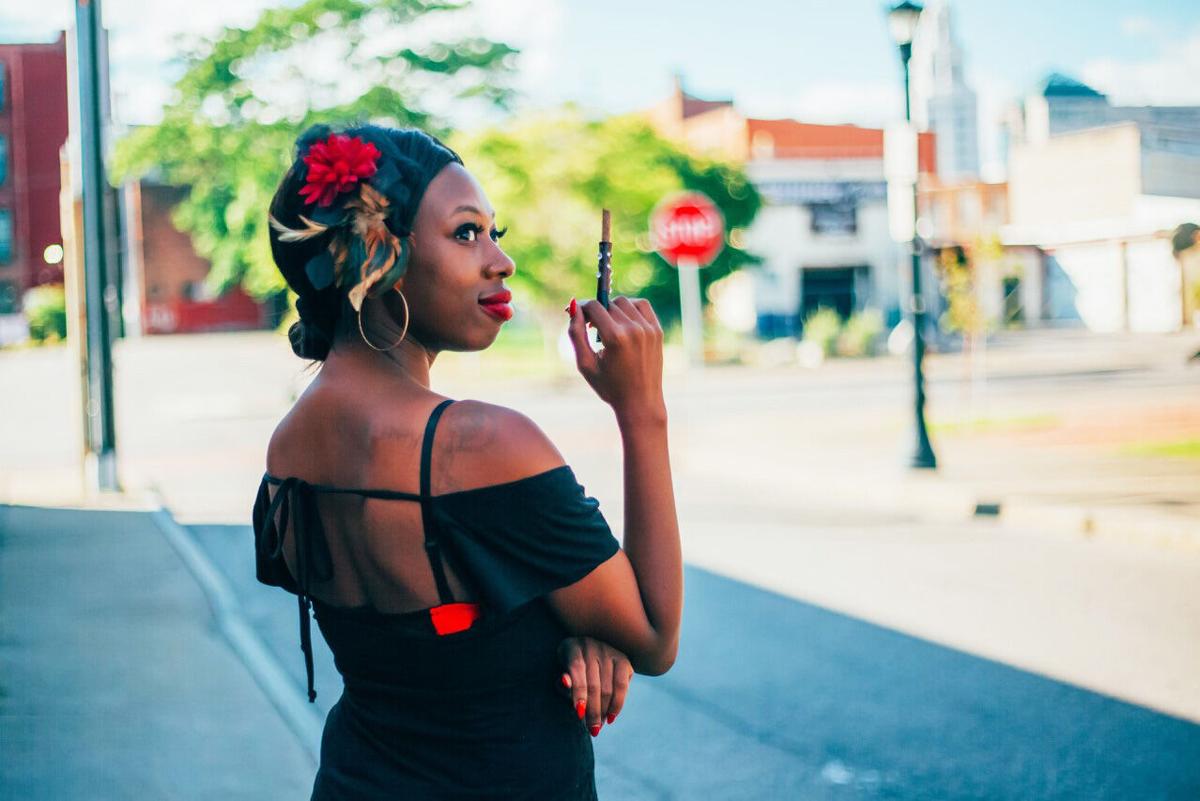 Finding passion in life is a different journey for everyone. Some have a goal from the time they're children to go on and be doctors or singers and performers. For others, it takes a while to unearth. And sometimes, you stumble upon that passion in the throes of academic research in the human sexuality archives at Cornell University.
For Adrienne Hill, cofounding the Buffalo-Niagara LGBTQ History Project was the ideal intersection of her interest in LGBTQ history and her desire to share what she learned with the masses.
"For me, it became a calling," says Hill, who initially shared her findings on Facebook and was inspired by the reception it received. "I realized that this is the culmination of everything that I want to do."
Since its inception in 2016, the Buffalo-Niagara LGBTQ History Project has become known for its large community events that celebrate the city's LGBTQ history and educate on the rich history to be found in Buffalo. In the summer of 2020, it kicked off its Gay Liberation NOW! series about Buffalo's Gay Liberation Movement. Designed to be a traveling exhibit for local libraries, schools and community spaces, its debut was at the Karpeles Manuscript Library Museum.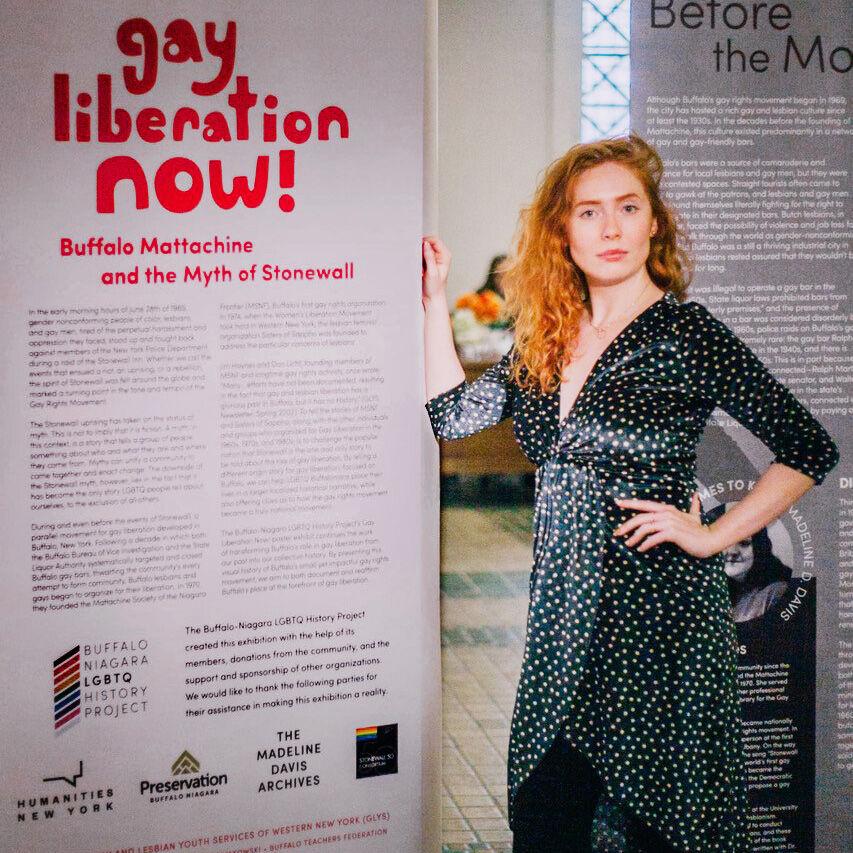 "The way that we talk about LGBTQ community in history was really inadequate because we only talked about these sorts of coastal urban areas," says Hill. "And that was something I'd already had in my mind that I wanted to challenge."
When it comes to discussions on LGBTQ history, it can seem like the most notable moments took place in NYC or San Francisco, and the rest of the country slowly fell in line. But there were also monumental LGBTQ moments that happened in Buffalo that don't get the national spotlight as say Stonewall does, according to Hill.
Hill referenced quite a few stories and landmark New York State cases that were about the legality of gay sexuality, including those of C.J. and Bob Uplinger. Both Peoples and Uplinger were arrested on the basis of New York's sodomy laws. At the time of their arrests, both men decided to fight their convictions all the way to the New York State of Appeals.
Peoples' case was one of those consolidated into in the famous 1980 New York v. Onofre case, in which the court declared that New York's sodomy laws were unconstitutional—a precedent used to repeal sodomy laws nationally. Uplinger, who was entrapped by an undercover police officer posing as a gay man and arrested for loitering and soliciting deviate sex, had the predatory loitering law struck down. Although Uplinger's case did not become a federal precedent, it did invalidate the local police's practice of entrapping gay men by making the law itself unjust.
Moments like these in LGBTQ history are so important to recognize, and just like conversations around Jim Crow and segregation laws, shows that it was not that long ago that minorities and queer people in this country were being met with criminal charges for simply being themselves.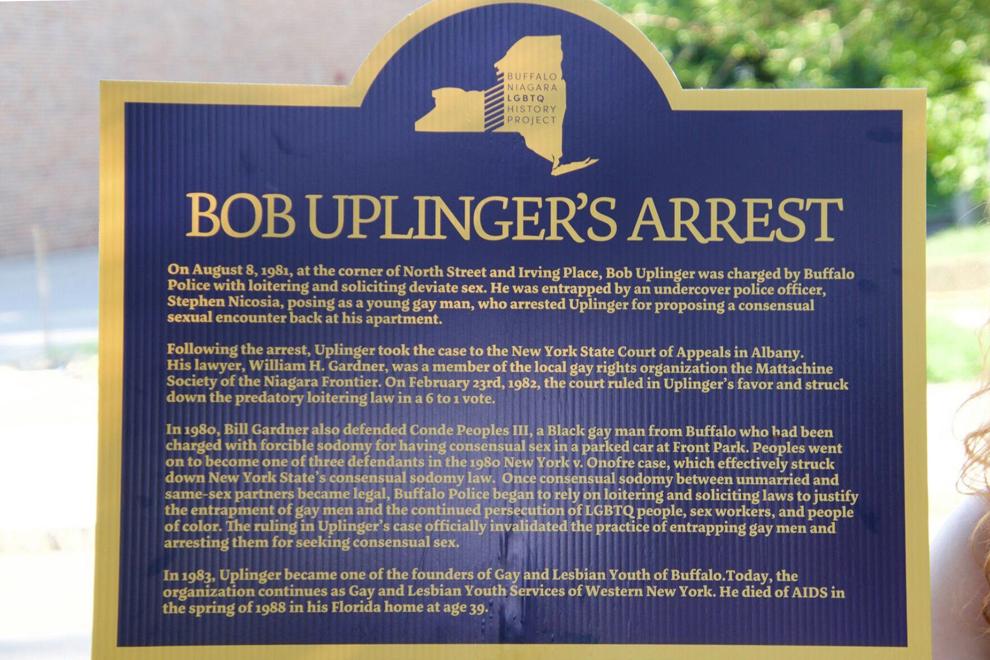 In continuing with their mission of preserving and sharing the knowledge of LGBTQ history in Buffalo, the LGBTQ History Project is working to get Buffalo's first LGBTQ-themed historical plaque at the location where Bob Uplinger was arrested: on the corner of North and Irving streets in Allentown in front of The Lenox Apartment House, now Lenox Hotel.
The all-volunteer project is raising money to unveil the plaque this summer in commemoration of the 40th anniversary of his arrest. Securing a historical plaque is a laborious process, and Hill and her team are hoping that with help from the Buffalo community, they can reach their fundraising goal in time to have an outdoor celebration for the unveiling in August.
Want to get involved with the LGBTQ History Project? The completely volunteer-run organization is always looking for folks to join their passionate team. Follow along and reach out via Facebook and Instagram. You can also help by donating directly to help raise money for the Bob Uplinger plaque and operating costs.