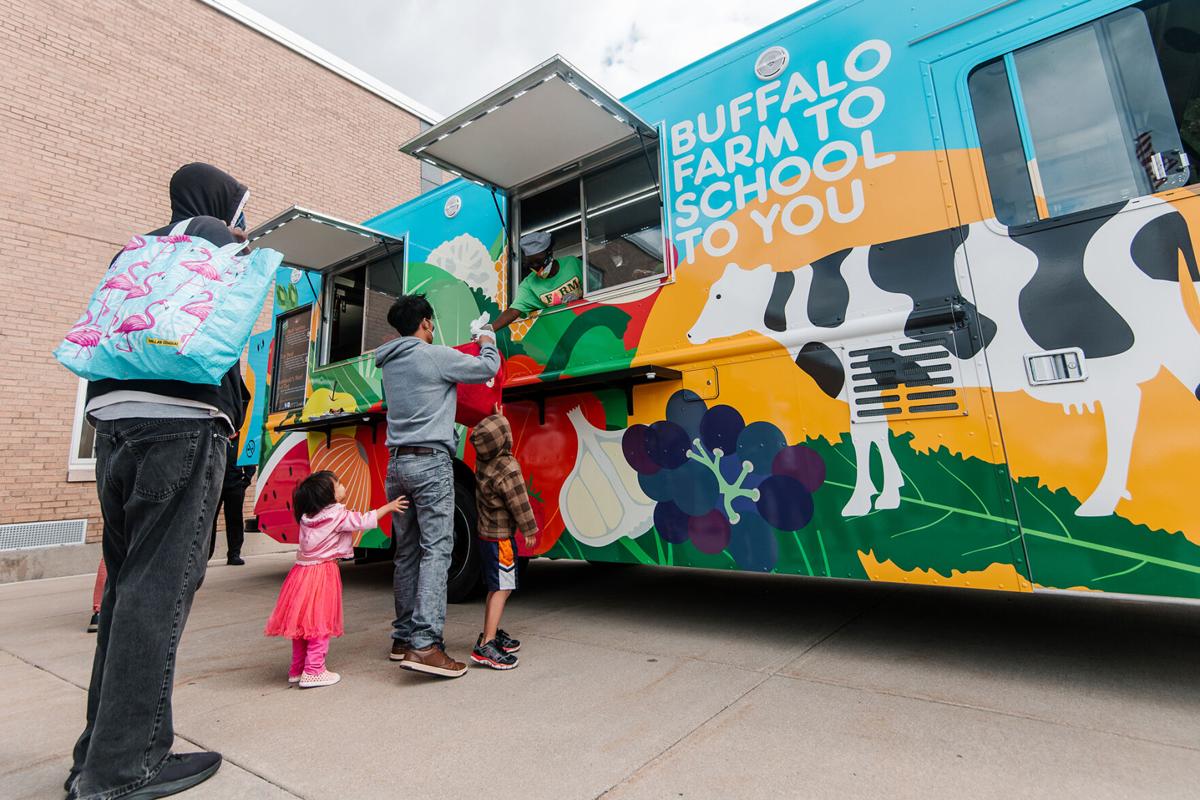 From the delicious snap of well-grilled hot dog to creative cuisine crafted by emerging and innovative chefs, Western New York is a foodie's delight. But not everyone in our region has ready access to a nutritious meal.
According to Feeding America, the lack of consistent access to food as part of a healthy lifestyle impacts 11.4% of Buffalo households, who are food insecure all the time. Finding healthy food options can be challenging; becoming a low priority in the face of other needs, like housing and living expenses. And the ongoing impact of Covid-19 is only heightening food insecurity in our neighborhoods.
Here are a few organizations stepping in to provide new opportunities to feed both the hungry bellies and starving souls.
A free food truck for students
Buffalo Public Schools rolled its Farm to School to You Food Truck into city school parking lots last fall as a "way to re-energize the Farm to School Program," said Bridget O'Brien Wood, food service director for Buffalo Public Schools.
The school system started the program in 2016 to introduce healthier alternatives to the typical school lunch menu and utilize the bounty of locally grown food. O'Brien-Wood thought adding a food truck would be a practical way to keep students enthusiastic about eating healthier options.
"It's the same food," she said, "but you put it on the food truck and kids think it's way better."
Typical menu options include side salads made with locally grown lettuce and produce, potato chips made from NY-grown spuds, pita chips made by local purveyor, Issaa's, and an all-beef hot dog made by Wardynski with NY-raised beef.
The Farm to School to You Food Truck also became a key grab-and-go destination for prepared meal pick-up when schools switched to remote learning. More than 67% of Buffalo students qualify free meals, and the pandemic caused even more hardship for struggling families. Students can pick up a second, frozen meal from the truck to take home along with their hot one.
A help-yourself fridge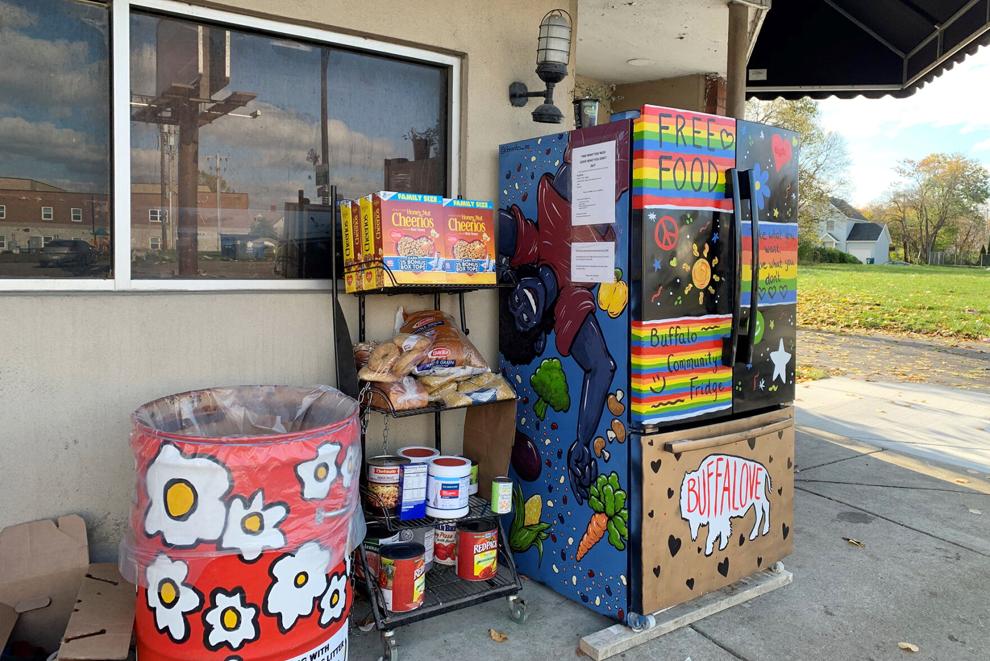 After Little Libraries and Little Food Pantries sprouted up in neighborhood front yards, Jessie Reardon felt something was still missing—and so she created the Buffalo Community Fridge.
It's a simple premise: Put a working refrigerator on easily accessible public space and count on donations to stock it. Anyone is welcome to help themselves to the contents.
Reardon, a 24-year-old registered nurse at Roswell Park Comprehensive Cancer Center, had no experience running a not-for-profit enterprise when she was inspired by a similar project in New York City. She rallied friends and strangers on social media last July and had the fridge up and running by October 1.
The former Gigi's Soul Food was an East Side icon at 257 E. Ferry St., and the current owner agreed to give the fridge free space and electricity.
"At first the neighbors were skeptical," Reardon said. "Then more people accepted it and now it's part of the neighborhood."
Anyone can drop off food: farmers with produce, restaurants with surplus, kind-hearted folks who are making soups or chili. Only raw meat and seafood are prohibited, and the organizers ask that premade foods are labeled with ingredients and the date it was made.
Volunteers monitor the contents every day. Outside of that, it's all run on the honor system. Reardon hopes the fridge—with its "take what you want, leave what you don't" motto—will inspire others to put fridges in different communities.
"With the pandemic, people are distancing themselves," Reardon said. "This is a way the community can come back together again."
An everyone-eats gathering spot
A meal is meant to be a shared experience. But when you're low on funds, friends and family, eating good food is just…eating.
Enter The Big Big Table, a pay-what-you-can-café planning to open this March where no one is denied a nutritious meal and good conversation. The community café model is popular in other cities, according to Allison Hyman, a volunteer on the board of directors.
"If you can't pay, you can volunteer your time by helping with café operations or other duties," she said. "We build community through food."
The Big Big Table will open at 272 Hudson on Buffalo's West Side, where head chef Mandy Bailey, who has building relationships with regional farmers, plans to feature locally sourced, seasonal food.
The cafe will be open for lunch only, and all diners will eat together at the signature big table (pending pandemic safety precautions). Camaraderie makes delicious, nutritious food taste even better.
Only the cashier will know how much a person pays for the meal. Keeping that transaction private is part of the experience to make The Big Big Table "a dignified response to hunger and food insecurity," said Hyman.