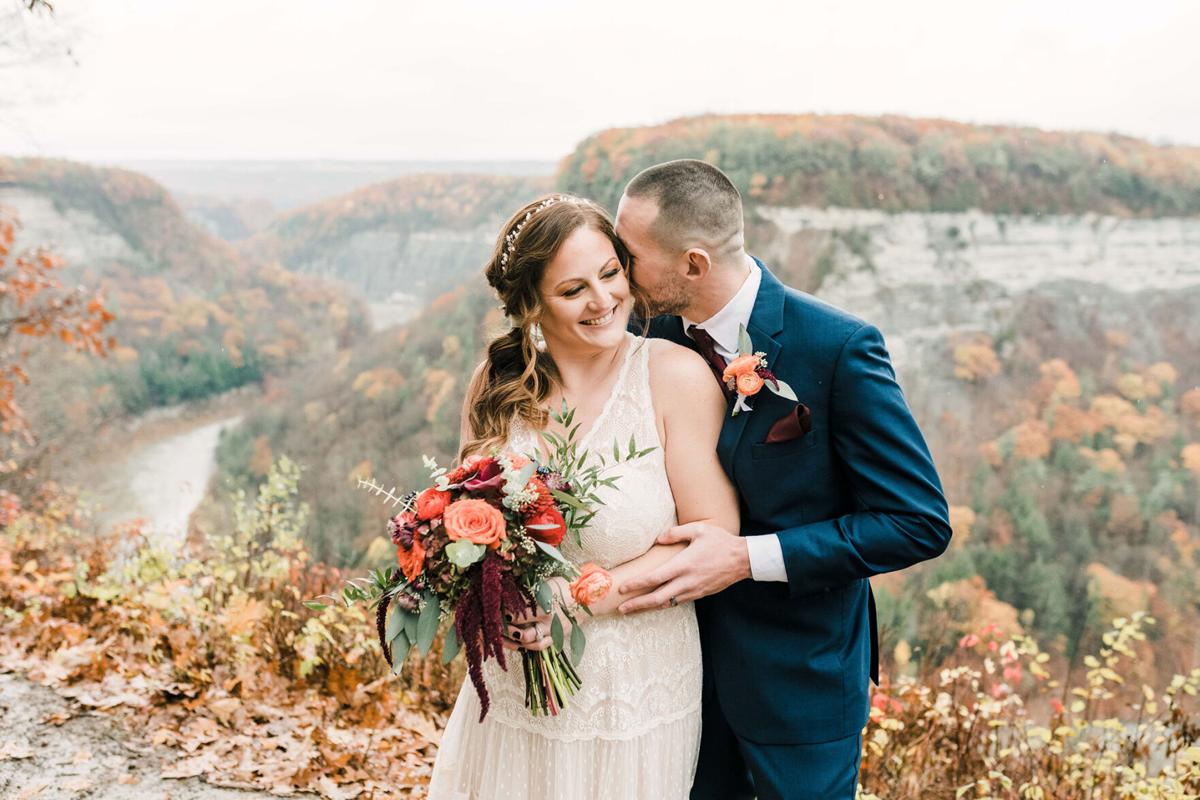 Tom proposed to Michelle at Highland Park Reservoir in October 2020. Just two weeks later, they were married.
Because Tom is in the army, they wanted to tie the knot before he deployed later that month. The couple decided to do an elopement-style wedding at Letchworth State Park with only their closest friends and family in attendance.
"Neither of us likes to have attention on us so something small and intimate seemed picture-perfect," says Michelle.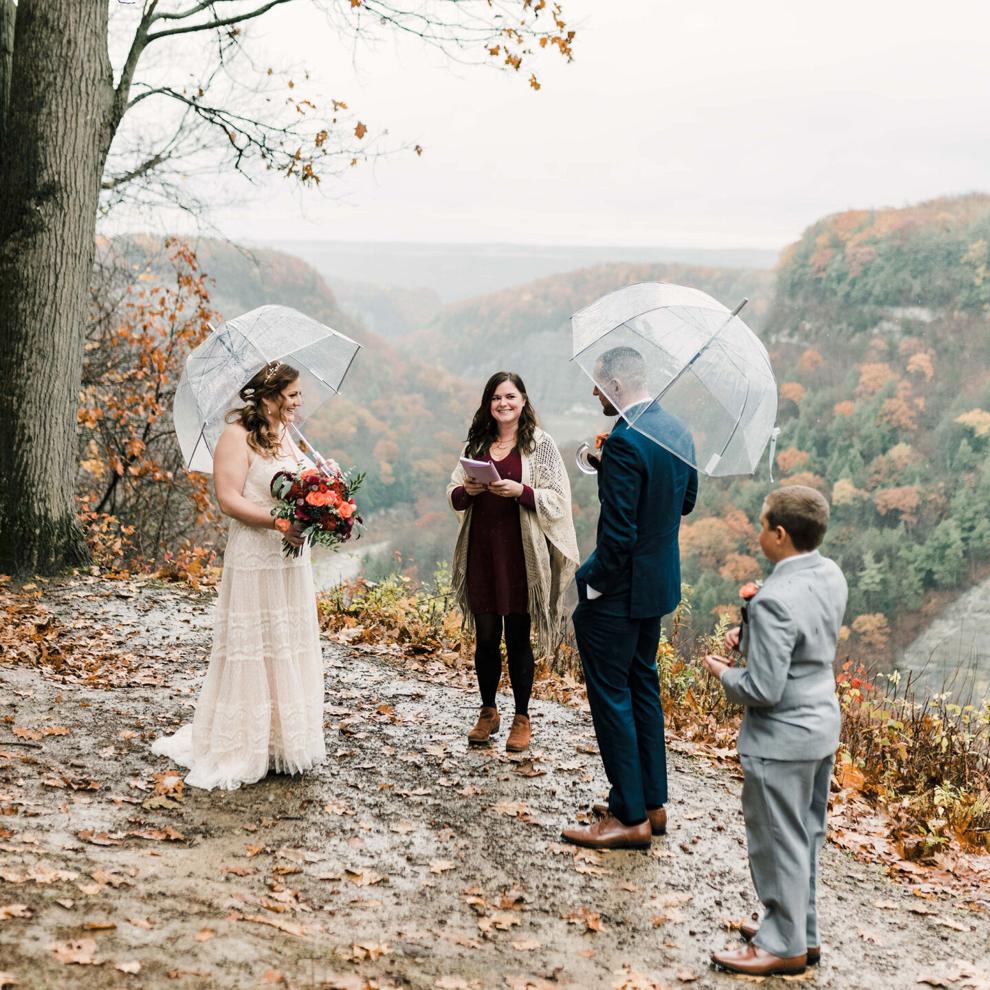 Michelle's friend Kristin officiated the ceremony, and both Tom and Michelle's moms were witnesses. Also in attendance was Tom's son Landyn.
"Our wedding didn't need to be large because it was just about us and Tom's son, Landyn," Michelle says. "Not only was I marrying Tom, but I was also promising a life with Landyn."
Michelle and Tom wrote their own vows, and Michelle even said vows to Landyn to thank him for welcoming her into the family. She wanted to show him how the day was as much about him as it was about the two of them.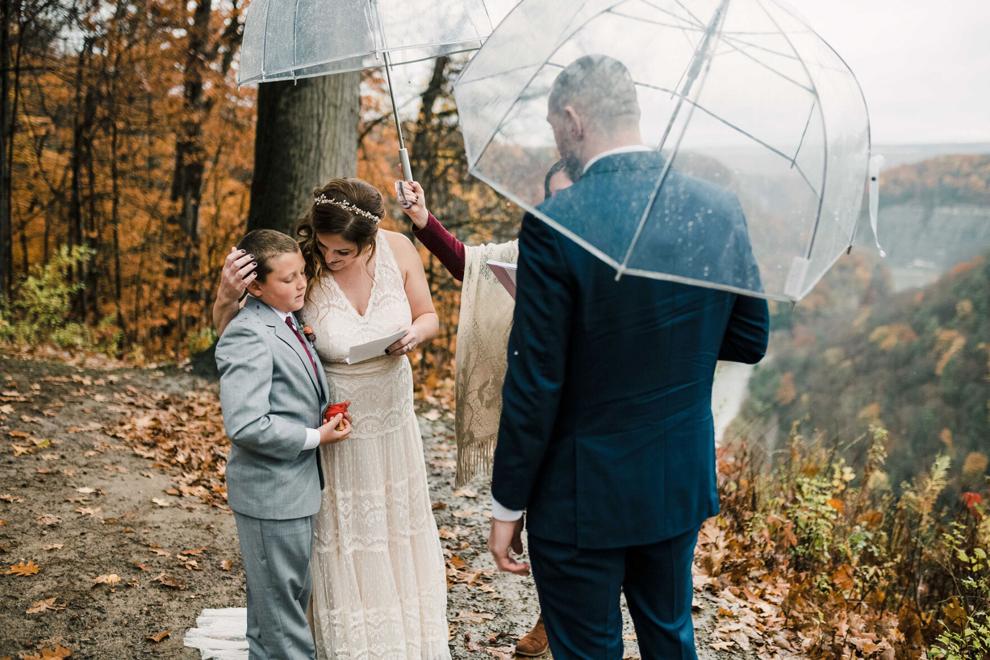 It was the perfect day for Tom and Michelle, but it didn't proceed without its challenges.
When Michelle woke up on the day of the wedding, it was raining. She tried to tell herself rain on your wedding day is good luck, but still worried that the weather would ruin the day. Luckily, the rain slowed to a drizzle as the ceremony began and cleared right after. They were able to take the beautiful photos the couple was hoping for.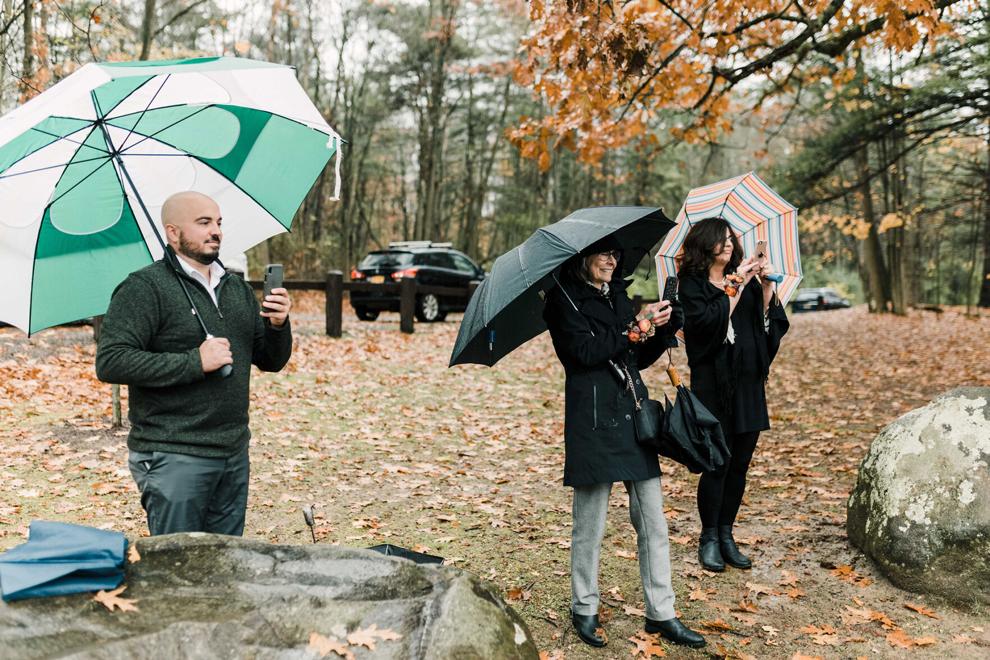 Now that Tom is away, Michelle cherishes those photos.
"I find myself looking at them all the time when I am missing Tom," she said. "Tom keeps a couple of those pictures in his pocket as well so he can look back on our day."
The Details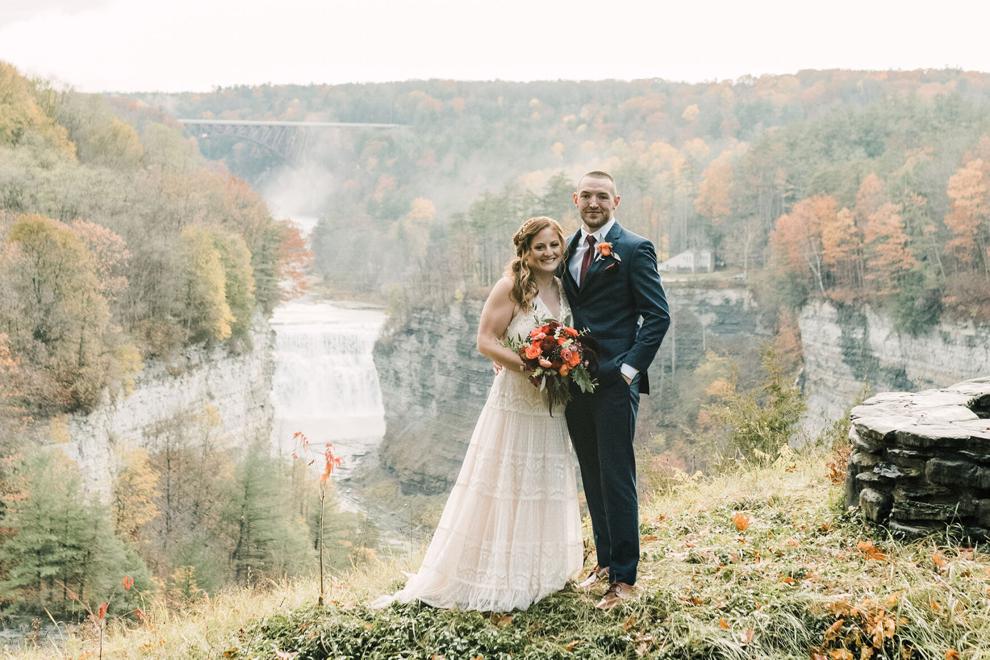 Michelle's two requirements for her dress were lace and a color that wasn't white. She found a dress that fit the bill at David's Bridal. "As soon as I put it on I fell in love with it, and I knew it was the one," says Michelle.
Michelle wasn't sure what she wanted in a bouquet, except that she wanted it to have fall colors. Maggie at Petal & Twig created a stunning bouquet that perfectly complemented the beautiful fall landscape.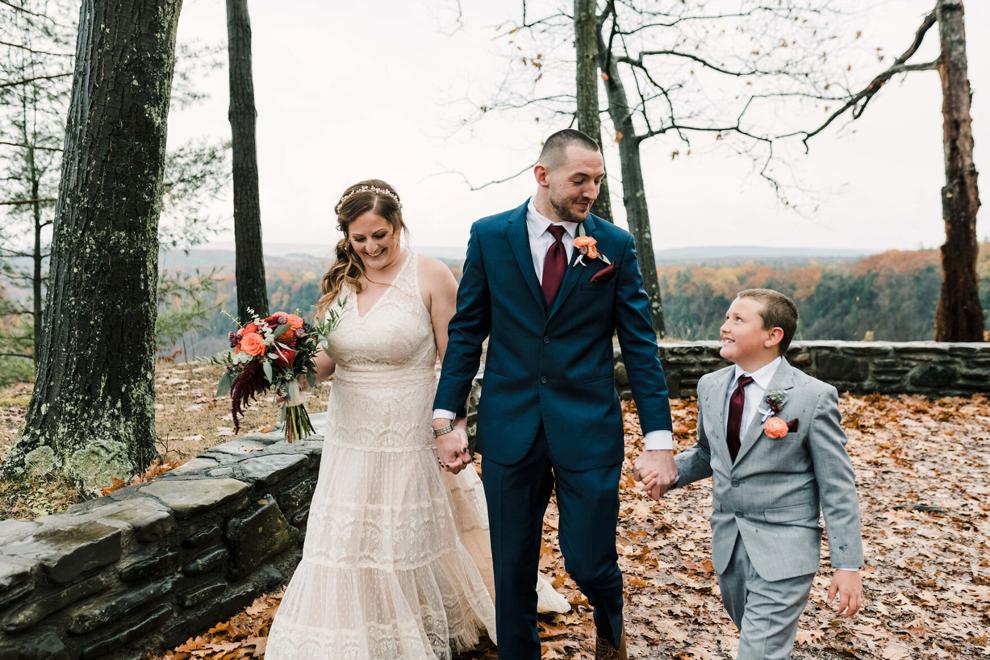 Tom's son Landyn was a key part of the day. He helped Michelle with her dress and flowers, and even got her a blanket when it got cold.
Letchworth State Park was a place Michelle and Tom frequented but hadn't considered for their wedding until their photographer suggested it. Michelle says, "it felt easy and simple. It was the perfect place for us."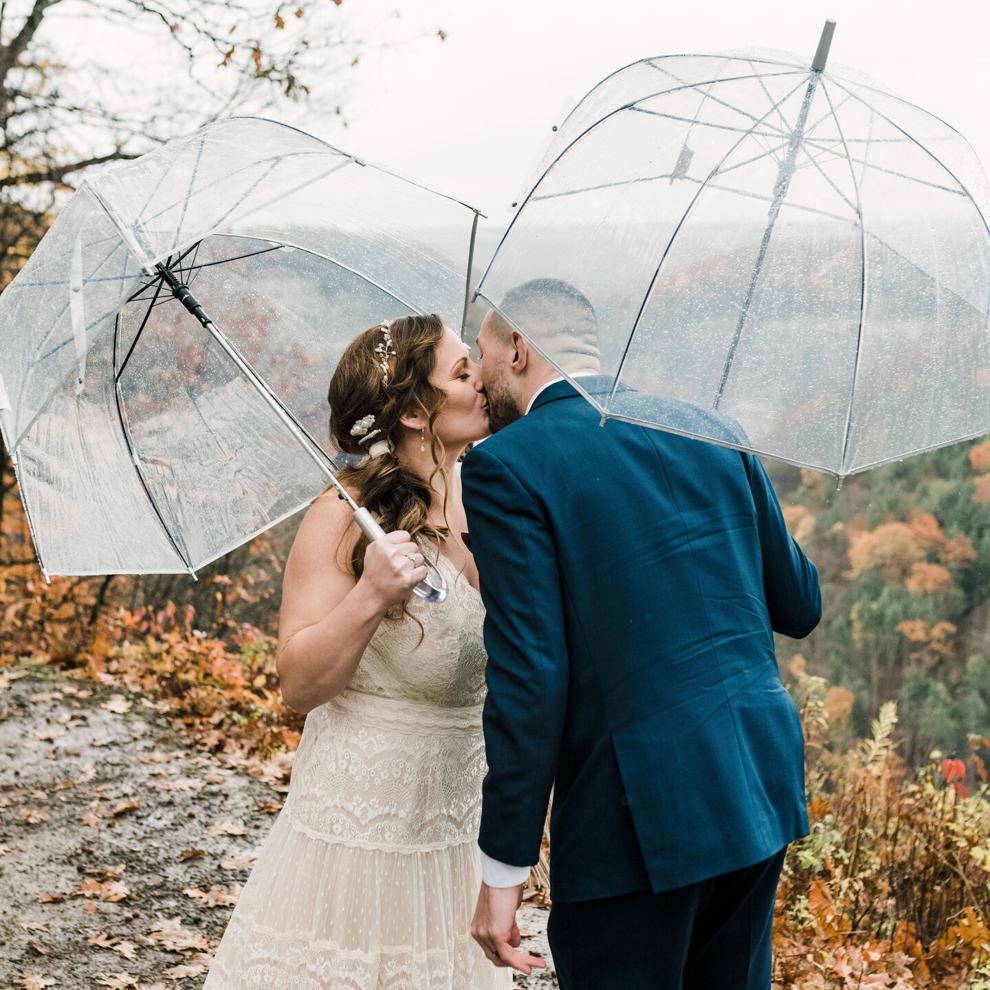 Rain didn't stop this wedding! Their photographer, Brittany Ford, provided clear umbrellas to protect against the elements, but by the end of the ceremony, the weather cleared and the couple no longer needed them.
When they were planning their wedding, Tom and Michelle knew the photos would be their top priority. "Brittany did better than we could have ever dreamed of with our pictures," says Michelle.