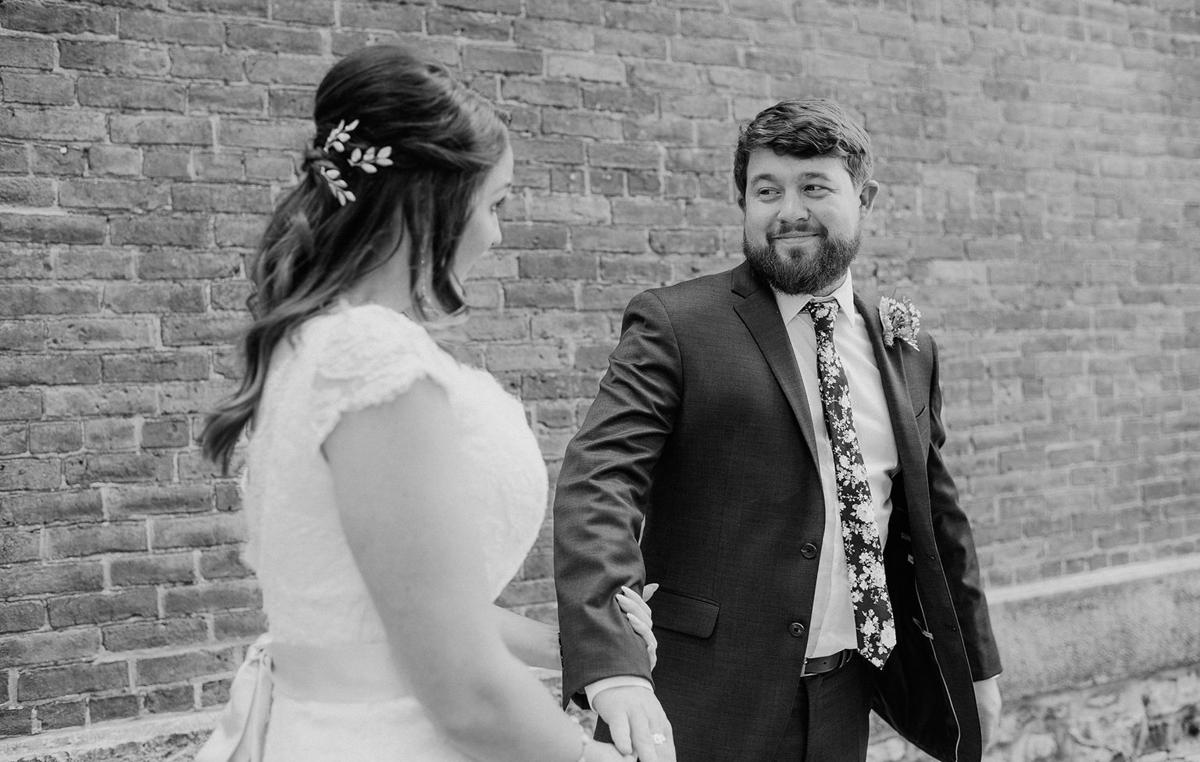 When I was heavily in the midst of wedding-hopping (circa early 2000s), the first look wasn't a thing. No one I knew considered seeing their betrothed until the moment the ceremony began—it was bad juju, some said, for the groom to see the dress before the wedding, much less the bride.
So 15 years later, I wondered why the first look had become common practice. Superstition aside, why would couples want to compromise the once-in-a-lifetime ceremonial moment? I was skeptical, so I reached out to the recently married—plus some wedding pros—to understand.
I soon discovered the majority of wedding photographers are fans of the practice. Not only does it provide more controlled environments for them to capture better quality shots, but they say there are big advantages for their subjects, as well.
"Couples can relax and enjoy the rest of their day if they do photos beforehand," explained wedding photographer Lindsay DeDario. "This tends to make the ceremony more relaxed and fun, plus they don't have to miss cocktail hour."
Photographer Jay Terkel cites another practicality. "The bride gets her hair done, her make-up done, goes to the ceremony, sometimes in the heat, sweating, and then hugs and kisses 200 people in a receiving line, has rice or whatever thrown at her," said Terkel. "What was the best time to do portraits? Two hours before that."
Strong points, both. But what about the sheer romance? That special, once-in-a-lifetime moment when the groom first spots the love of his life in full wedding regalia?
Some argue that it's actually a more intimate, special moment without an audience (besides the photographer, of course).
"We anticipated that it would be the only private moment we'd have together all day, which wound up being true. Looking back, that was really nice for us," said recently-married Lauren Czora of Buffalo. (That's her first-look moment above!)
"I feel like I get way more raw emotions from my clients during the first look than walking down the aisle," concurs photographer Emily Easton.
Either way, the choice should be yours—and a good photographer won't pressure you either way. "I leave this decision to the couples, because their wedding is a day for me to document as they have planned, not how I want to curate it," said photographer Dawn Gibson Sousa. "Mainly it comes down to timing and logistics and if they'd rather spend more time mingling and enjoying their cocktail hour."
If you opt for a first look, here are some tips:
See if your photographer can shoot with a telephoto lens, so you'll feel the moment (a bit) more privately.
Aside from your photographer, consider keeping it totally private—no bridesmaids, groomsmen or family around.
Create something special. Share private vows, a prayer—something unique to you as a couple.
Of course, opting for a first look with the full witness of family, friends and officiant is also a fine decision, and there are still plenty of traditionalists.
"I clearly remember when I was a groom, nervously standing in front of the church and all of my family and friends, anxiously awaiting to see my soon-to-be-wife," explained photographer Rob Sigler, who has seen it from both sides. "When the doors at the back of the church opened, and light flooded in around my bride, it was truly a magical moment. It is the memory I think about most when I think about my own wedding."