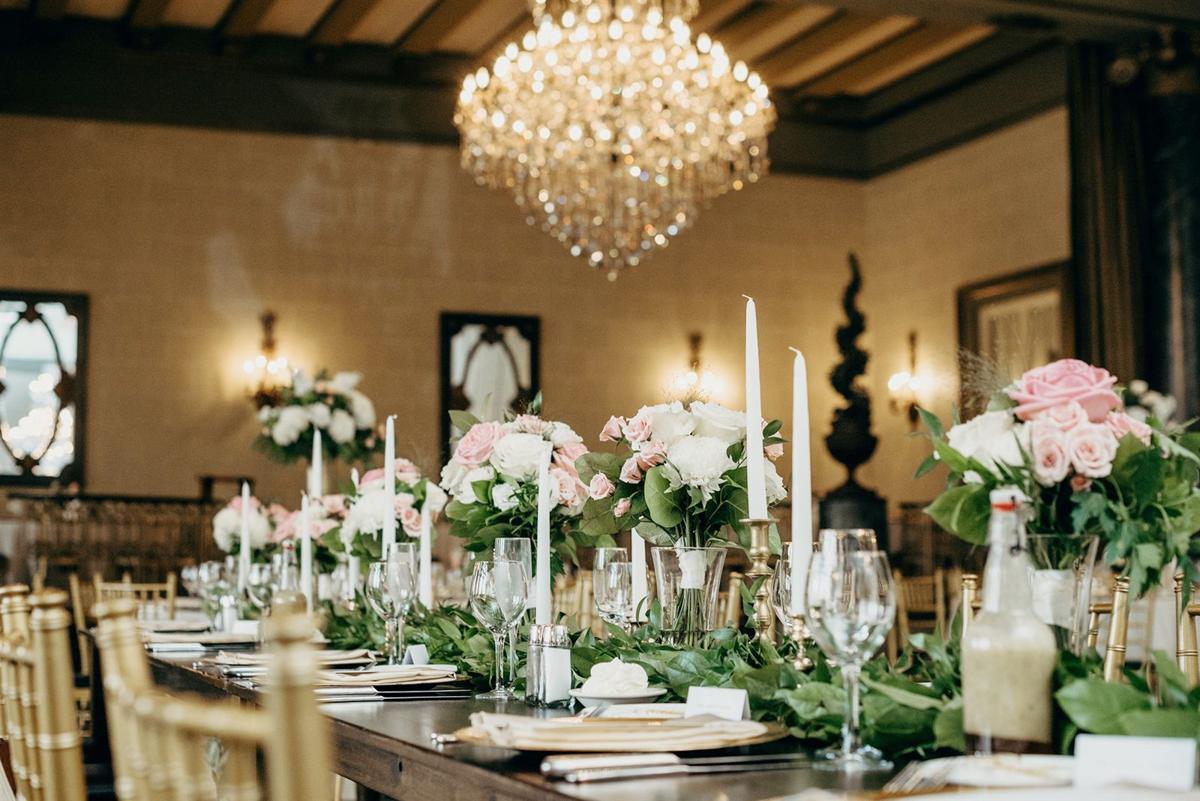 When it comes to classic romance for your big day, nothing compares to a traditional ballroom venue. Stately chandeliers, historic details and gilded touches set a timelessly elegant backdrop ideal for anyone that's dreamed of a Cinderella-esque affair.
Here are three of the best Buffalo has to offer, all currently open and accepting bookings.
Size listings are based on regular capacity and do not reflect Covid-19 safety restrictions.
Forbes Theater at 500 Pearl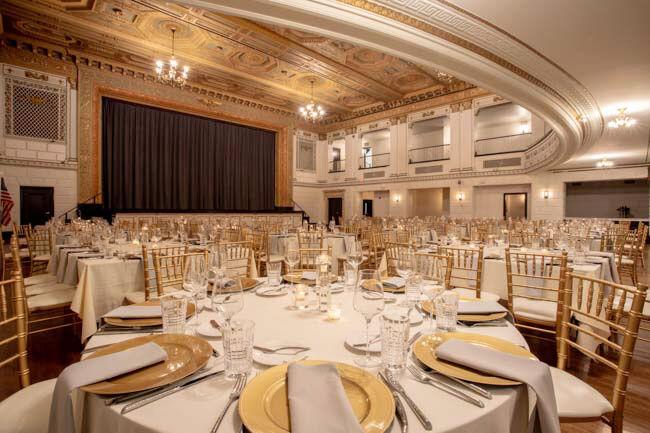 Constructed in 1914, 500 Pearl's Forbes Theater's grandiose ballroom is a sight to behold. The elevated head table for the newlyweds overlooks all the guests at round tables, making you feel like royalty for the day. If you've ever imagined a grand entrance, this is the venue for you.
Size: Up to 200 guests; 3,786 square feet
Special features: Photography at Patrick's Rooftop, Buffalo's highest rooftop bar. Plus, the on-site Aloft Hotel offers a complimentary guest room for the couple upon booking and special discounts for friends and family.
Price point: Available upon request, with a starting fee for weddings of $750. Currently, winter weddings held from December-March (excluding major holidays) get 15% off the Good Things and The Pearl packages, and 20% off the 500 and Forever packages. Find more details here.
Availability: Currently booking up to 2022, with some couples asking for 2023 dates already!
Statler City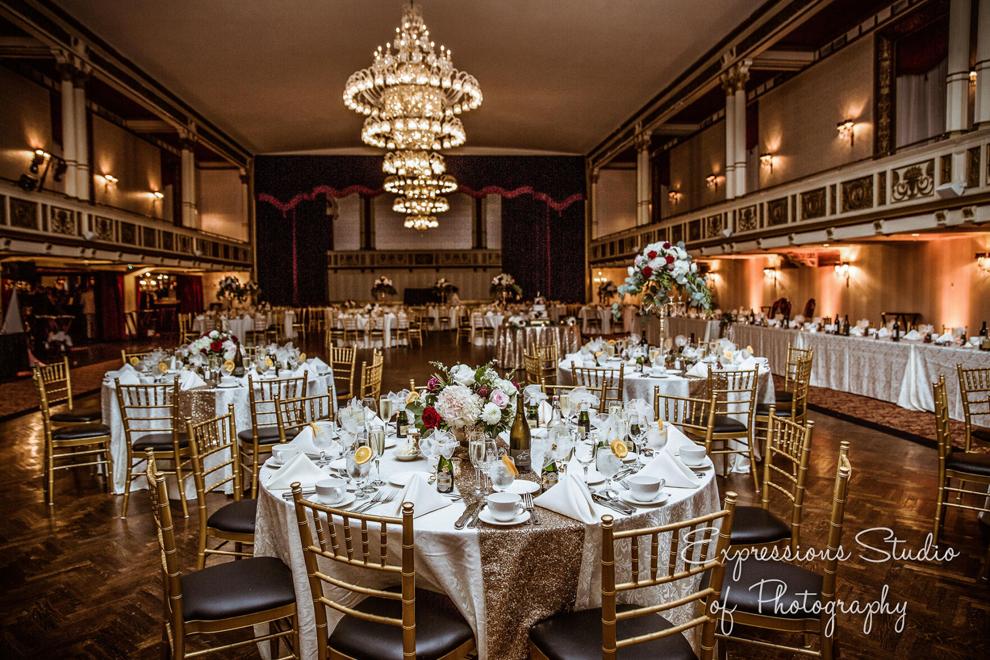 Elegant, sophisticated and timeless: that's Statler City. Formerly Hotel Statler, the local icon has seen the likes of John F. Kennedy and Elvis stroll in. The architectural marvels and picturesque details in the weddings spaces make this perfect for anyone craving 1920s flair.
Size: Up to 450 guests in the Golden Ballroom; up to 100 guests in Georgian Ballroom and Oriental Room.
Special features: Something old, new, borrowed and...sweet! Couples can add a ice cream or banana foster's station to the spread.
Price point: Food and beverage minimums are required (before tax and 22% service charge):
In season (May-October): $15,00 for Saturday weddings, $12,000 for Friday weddings
Off season (November-April): $10,000 for Saturday weddings, $8,000 for Friday weddings
Availability: Recently started booking into 2022.
The Westin Buffalo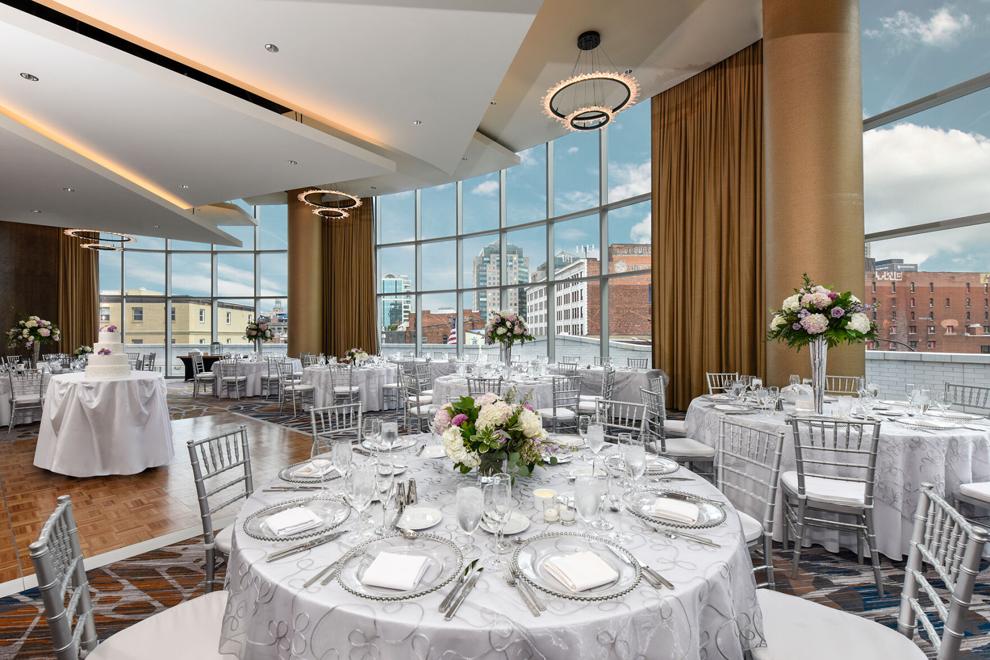 Located right in the heart of downtown on Delaware Ave. are two modern ballrooms with cityscape views. Large windows and a circular layout gives you a full view of all your guests along with plenty of room to dance the night away.
Size: Up to 200 guests in the Grand Ballroom (3,574 square feet); up to 180 guests in the Louis Ballroom
Special features: Both spaces are pet-friendly, so all your loved ones can join in on the day's fun.
Price Range: All Saturday weddings have $15,000 food and beverage minimum, before tax and service charge. Friday weddings have a $10,000 minimum. Price ranges on both days stays consistent year-round. Packages range from $100 to $155 per person.
Availability: Currently booking through 2022.