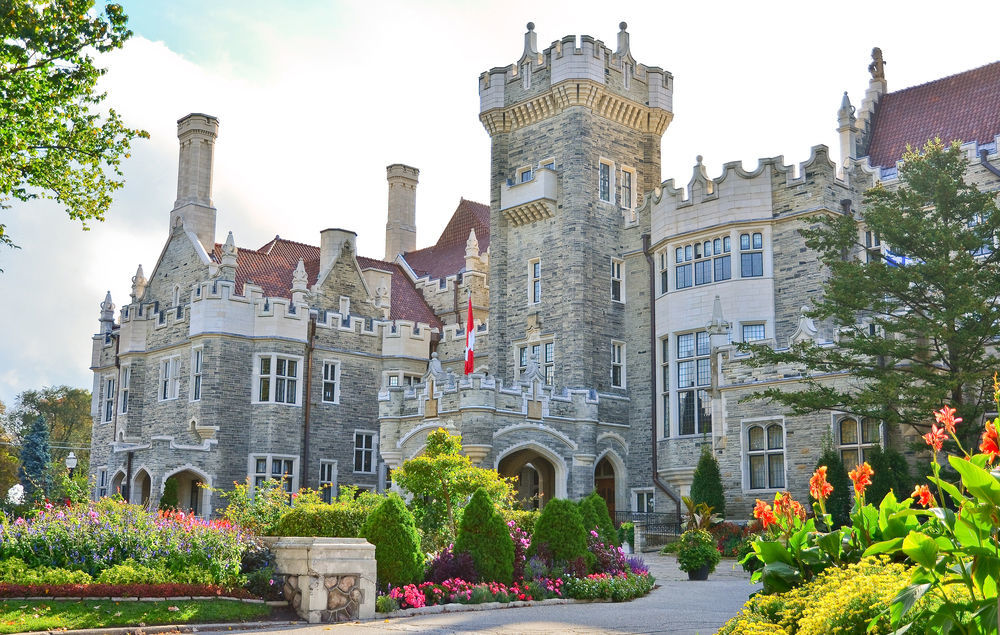 A castle in the middle of Toronto? I'm not sure how, but this was news to me.
As our cab maneuvered its way up to the estate, we first caught sight of the stone wall stretching around its outer boundary. (It was, we later learned, meticulously constructed by Scottish craftsmen brought in specially for the job that entailed over 2,500 stones.) Then glimpses of the massive stone-clad structure peeked into view—its battlements and turrets plucked straight out of another era and, well, country.
The full impact of Casa Loma hits when we approach the massive portico that frames the entrance. The rambling Gothic Revival castle, once the largest private residence in North America, is equally parts imposing and just plain impressive.
It's square footage clocks in at well over 60,000 spread across 98 rooms and seven levels—including three actual towers. (Two of them are open to the public, and you better believe we climbed the tight spiral stairs up both!) While the landscape looked a tad different back in the early 1900s when it was the edge of the city, the castle's situation on 5 acres of hilltop grows only more striking over time with sweeping views of downtown Toronto.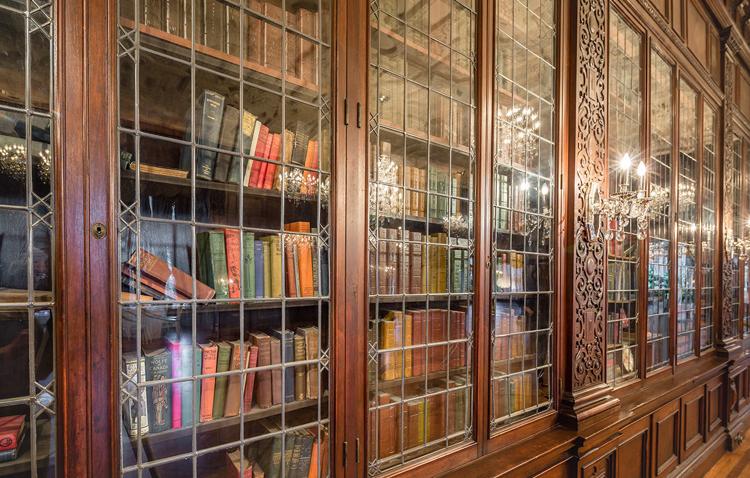 But it's not until we start our tour that Casa Loma's enigmatic splendor truly unfolds. The stately Great Hall boasts sprawling 60-foot vaulted ceilings and a fireplace nearly taller than I am. If you look closely, you can spot the seam hinting at how high the wood paneling once stretched up the wall, a relic of the castle's short stint as a luxury Prohibition-era hotel.
The immaculate wood-wrapped library showcases an expanse of leaded glass encasing rows of books, far more than ever filled the shelves when it was a private home. Connecting the two spaces is a long, stately hallway lined in woodwork with vaulted ceilings—the same one Wolverine (ok, Hugh Jackman) stalked during 2000's "X-Men." I was standing in the X-Mansion!
The conservatory's vibrant stained-glass dome instantly catches the eye, but it's what's hidden away that's just as striking: the steam pipes running through the marble flower beds, creating a happy environment for orchids to thrive come winter. In the space now playing dining room for BlueBlood Steakhouse, the original wood paneling features vines hand-carved directly into it rather than overlaid, a three-year endeavor by English craftsmen. Look up and find one of the first examples of indirect lighting, a cutting-edge fete for the house completed in 1914.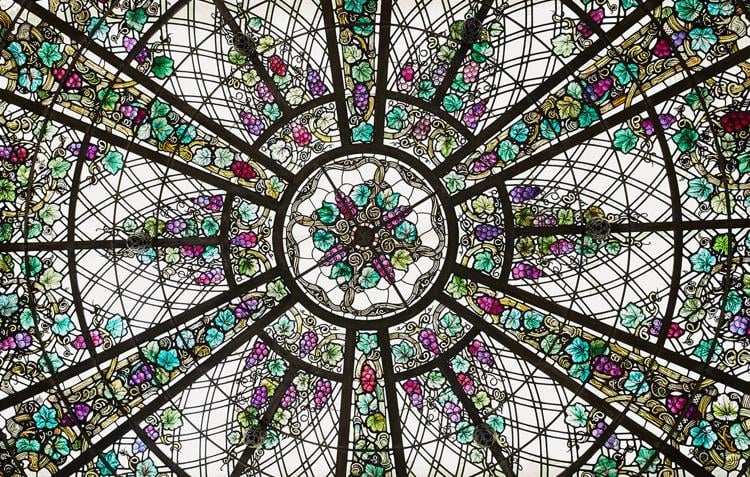 Throughout are subtle signs of Casa Loma's forward-thinking owner, Sir Henry Pellatt, from the house-wide electricity and built-in vacuum system to the oldest elevator in Canada, marked with Otis license one. But there are also cues to his—and, in turn, the castle's—tumultuous turns of fortune. It's too fascinating and intricate a tale to spoil for you here, but encompasses wars, money troubles, vacancies and a massive two-pronged main staircase lost at sea.
While you're in the neighborhood…
After a delightfully dizzying morning at Casa Loma, we set out to explore nearby before making our way back downtown. I would head back to Toronto simply to revisit either of these spots in a heartbeat.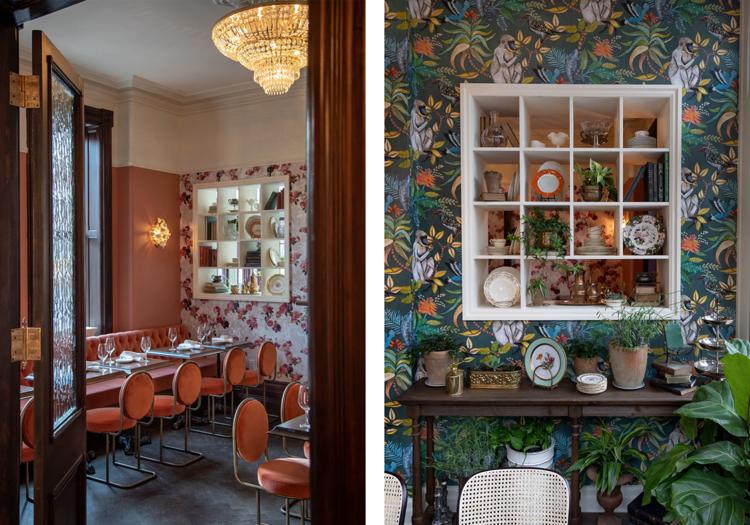 This bistro and cocktail bar tucked inside a historic house in St. James Town oozes charm—it's effortlessly chic and refined while also warm and welcoming. Each room features its own distinct style that amps up the ambiance (we were happily seated in the jungle-wallpapered, plant-packed one), and there's even a cozy speakeasy hidden behind a tile wall in the basement. The perfect bite of buttery, flakey pain au chocolat was rivaled by stellar craft cocktails like our favorite, the Pamplemousse Palmer, made with grapefruit and lemon juice, Earl Grey tea, grapefruit syrup and vodka.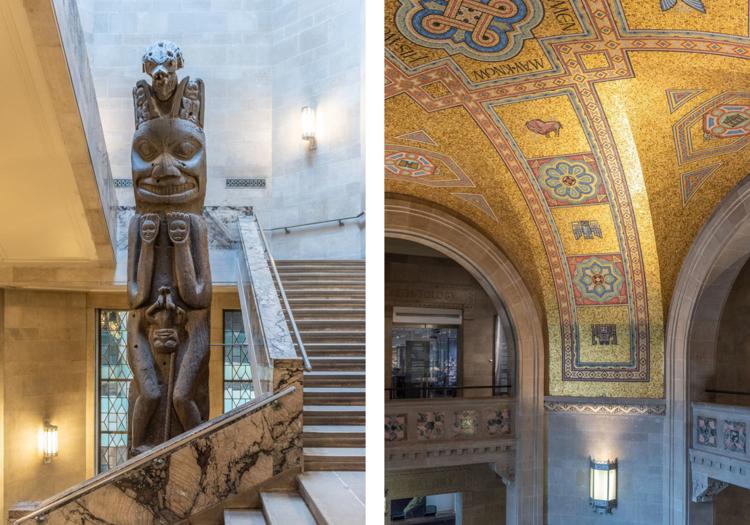 I know, this is included every Toronto to-do list—but that's doesn't make it less true! My husband's favorite museum from childhood heartily stood the test of time, from the dinosaurs to the Chinese Imperial Palace to the floor-spanning totem poles. The ROM's exhibits and galleries pack in such a wide variety of topics and eras that we ended up doing nearly a full circuit of the place before we knew it. I may have lingered in the Samuel European Galleries to fawn over the period room vignettes and midcentury future staples.
Be the first to know
Get local news delivered to your inbox!