The Butterfly Conservatory in Niagara Falls, Ontario, is a jolt of serotonin straight to the heart—a very welcome cure for your not-quite-spring cabin fever.
One of North America's largest at an impressive 11,000 square feet, the enclosed sanctuary featuring tropical trees and flowers is home to more than 2,000 butterflies (45 different species). For my money, the brightly colored, blue morpho may be the most impressive of all.
We've enjoyed taking our four kids to the conservatory on a few occasions. One of the nicest aspects of the experience is that the butterflies are free to move. You walk around on your own self-guided tour and explore zinnia, ixora and other plants that attract butterflies.
The winged insects flitting about are the stars of the show. If you move slowly, a butterfly may land on you. Of course, kids aren't masters at being calm and still. This tends to keep the butterflies at bay and has resulted in some humorous moments.
I clearly remember a flustered Elliott from a few years back. He was determined to have a butterfly land on him like his siblings. The more he tried, the more they kept away. Butterflies are attracted to bright colors…but clearly repelled by agitated elementary school students. Elliott kept extending his arms in a huff. When he finally got one to land on him, he was thrilled.
A butterfly may come to rest on you, but there's no guarantee. Our four kids went .500 on our most recent visit. The two that hosted butterflies were very happy. The two that didn't were decidedly less so. For some reason, butterflies seemed to avoid our increasingly flustered kids. Apparently, you really do catch more flies with honey.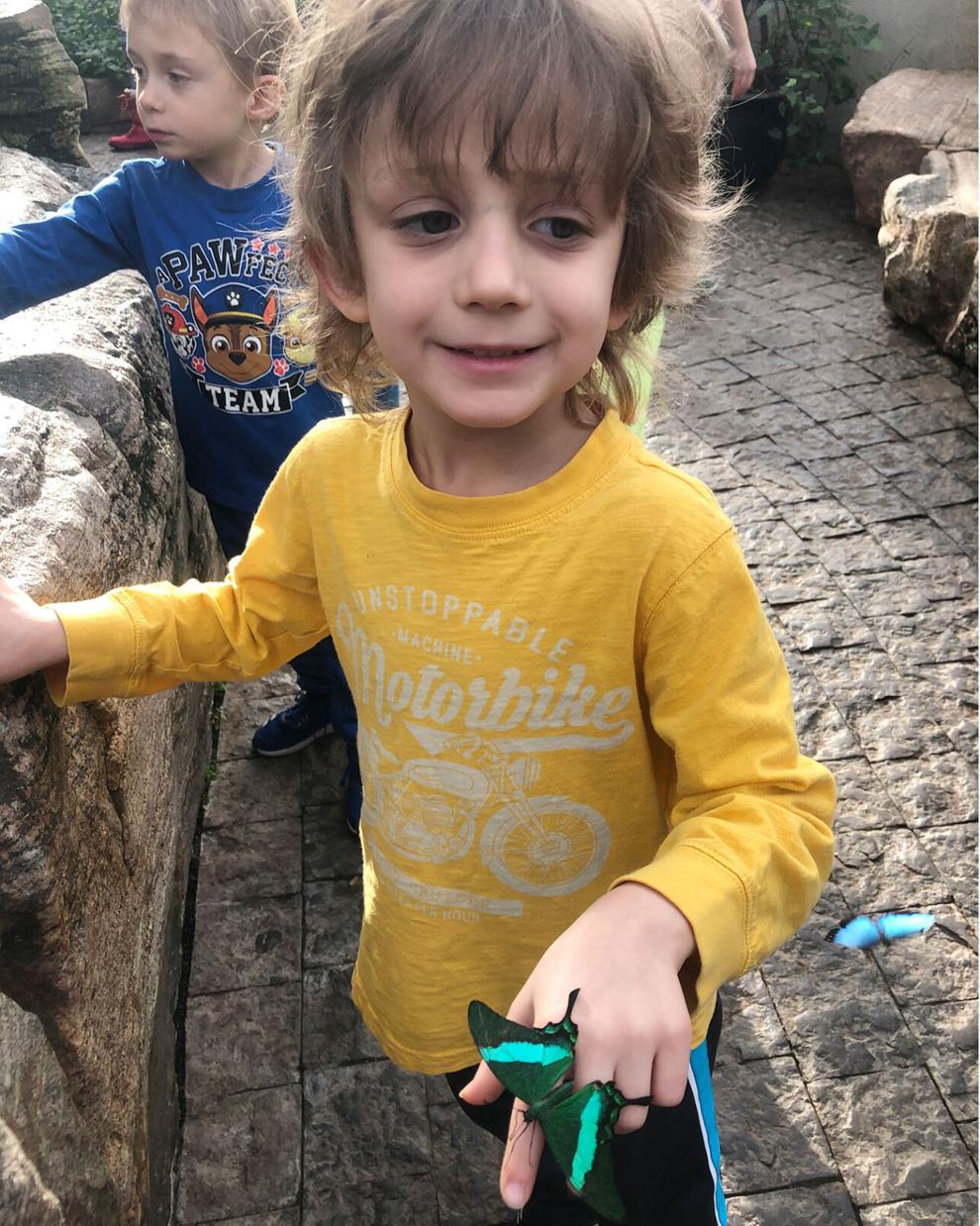 The conservatory features a creek and waterfall, the sound of which enhances the peaceful ambiance. Warm and bright, this is a true sensory experience. The gentle sound of rustling water blended with the accents of people from all over the world enjoying these winged marvels.
The Emergence Window is dedicated to caterpillars transforming into butterflies. Animal expert Nolan overheard someone refer to these as "cocoons." Of course, he let me know they actually meant a "chrysalis," since only moths form cocoons.
Each summer, we plant milkweed in our backyard to give the endangered monarch its only food source. One of the few animals that undergoes metamorphosis, you can learn a lot from the butterfly's life cycle. Advocating for them is worth sharing with the next generation.
I'll tell you what's an undoubtedly cool feeling: having a butterfly flutter past so close to your face that you can hear and feel its wings. That's the kind of up-close encounter the conservatory provides, and it's a recipe for happiness on a gray spring day.
And if you're looking for somewhere out of the norm to eat while you're there, stop by A&W in Niagara Falls. More than just a brand of root beer, A&W features delicious hamburgers and fries and cold, frosted glass mugs.