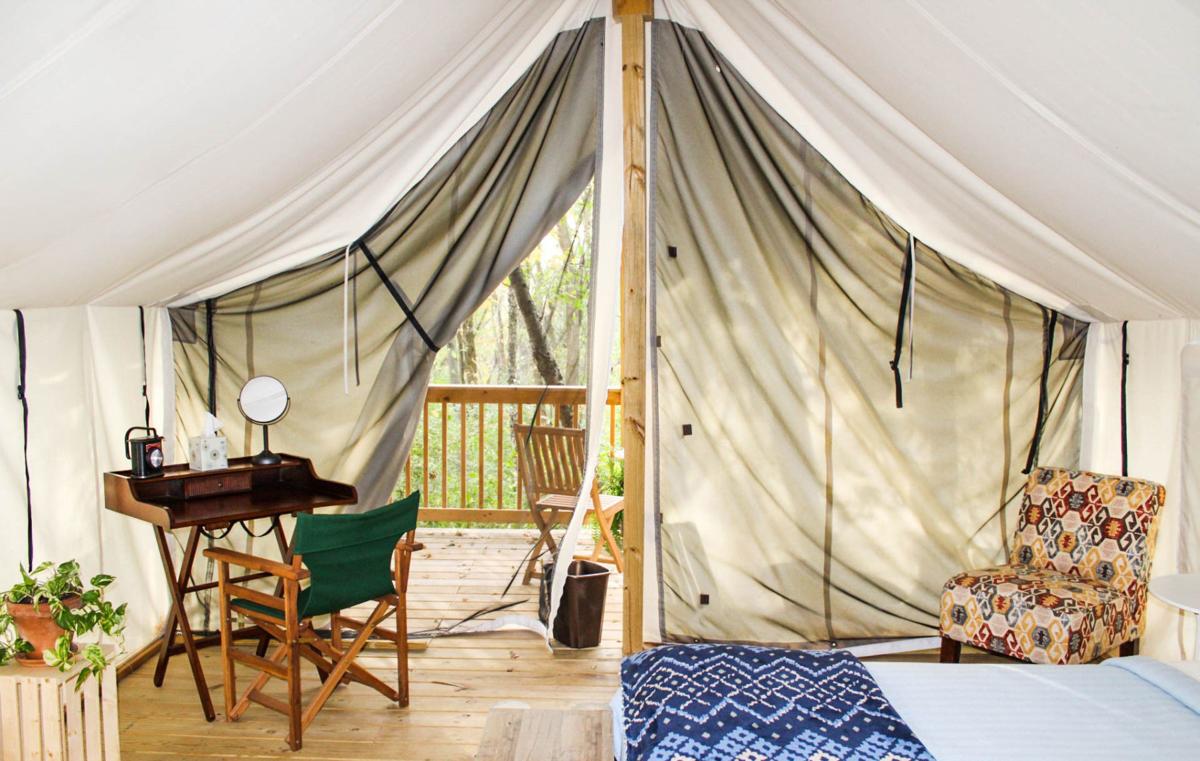 A getaway to nature no longer requires taking all the fun aspects of camping along with the not-so-much ones. If scouting for the least-rocky spot and pitching tent isn't your idea of ideal, then you're precisely the type of traveler that inspired the trendiest of outdoor experiences—glamping. This mashup word for when camping goes glamorous made official dictionary status in 2018, proving just how well received the concept of immersing yourself in the outdoors while still having a bed and hot shower has been.
From tipis to treehouses to safari-style tents and more, lavish options abound within a stone's throw of Buffalo. Whether you want to stay stateside or make it a cross-border adventure, here are a few of our favorites.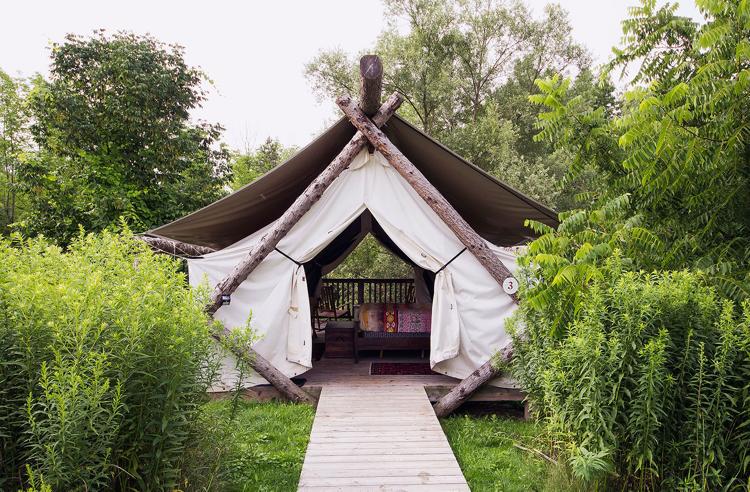 The idyllic location with direct access to Buttermilk Falls, a quintessentially Ithaca hike, isn't the only thing wowing campers here. This upscale spin on gathering in the great outdoors puts a premium on the complete experience, offering a wide variety of communal amenities like nightly campfires (find handmade s'mores kits in their shop), plenty of games and a camp bar open from 5-11 p.m. stocked with local and seasonal specialties. They also have trail maps and regional recommendations on hand to help guide your daily adventures.
A collection of tents—each outfitted with a king or two queens, hardwood floors and private balcony with rocking chairs—dot the campsite, which you can easily navigate come nighttime with provided lanterns.
For those weary about roughing the elements, book one of the select tents equipped with electricity, meaning heaters and fans (plus floor lamps and outlets). The shared bath house is a quick minutes' walk, providing hot showers with bath products and real toilets. Come morning, head to the lobby for the complimentary breakfast featuring locally sourced options like house granola and seasonal fruits—that's also where you'll find water, coffee and tea throughout the day.
Options: Tents with two queens or one king; 4 tents with heaters; pet friendly
Price: Starting at $189 Sunday-Thursday, $289 Friday-Saturday
Season: May 6 through October 31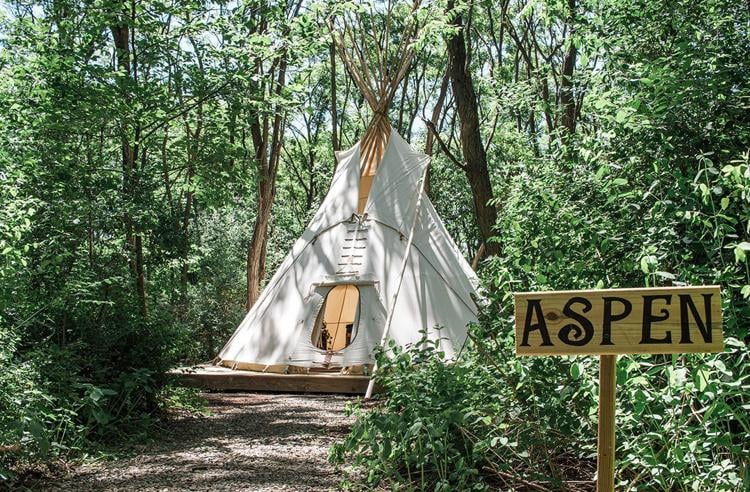 A quiet oasis in the Finger Lakes, this luxury campsite makes it easy to tailor just how disconnected you'd like to be. Its locale is beautifully secluded in the woods and outfitted with everything you'd want to self-sustain, including an outdoor kitchen, lounge tent and concierge service. Set on a ridge between Seneca Lake and the Finger Lakes National Forest, further outdoor exploration is a quick hop away—but so are countless wineries, breweries and eateries serving up a modern counterpoint to the unplugged experience.
You can opt for either a safari tent or tipi, all featuring elevated beds, hardwood floors and private covered balconies with untarnished forest views—but no electricity. You'll find that in the shared lounge tent and bath house. Nightly campfires and complimentary breakfast round out the amenities.
Options: 4 tents and 2 tipis, sleeping up to 2 to 4; pet friendly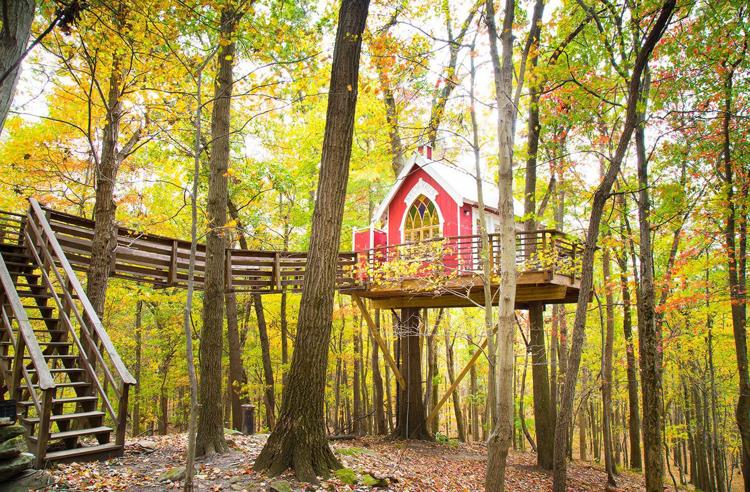 A collection of seven luxury treehouses nestled within their property, which also includes cabins, perch you amidst the scenic surrounds for a fresh perspective. Two of them were even designed by Pete Nelson, star of  "Treehouse Masters" on Discovery Channel. Each boasts a unique personality you can preview in detail on their website, from The Nest, which is aptly rounded, to Little Red, complete with stained-glass windows and vibrant exterior hue.
In true treehouse spirit, all feature the iconic experience of climbing up a flight of stairs and crossing a bridge to reach the front door. Once inside, striking treetop views take center stage thanks to thoughtfully placed windows and plenty of cozy spots to settle in and savor. The elevated spaces may not be huge, but they are packed with amenities like air conditioning, indoor and outdoor showers, balconies, charcoal grills, kitchens and all linens provided.
Options: 7 treehouses, sleeping up from 2 to 6; pet friendly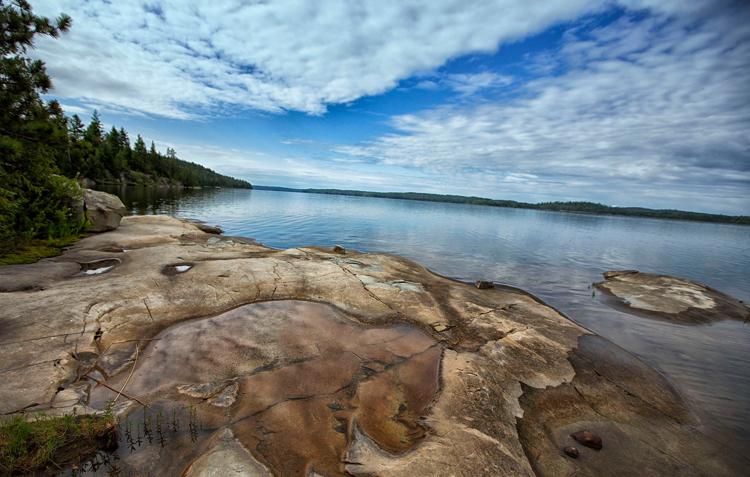 This high-end escape is the closest to quiet you'll find. Bask in the wilderness without any temptation of modern distraction at this off-the-beaten-path spot on north shore of Georgian Bay overlooking Killarney Provincial Park. There's no electricity or internet to be found—and they only welcome eight guests at a time to their campsite to ensure an intimate, unfettered stay.
A truly curated experience awaits you here, from the forest and lake to the dining table. You won't find average camping fare, but rather an elevated menu crafted by local chefs to be cooked campside with dishes like whole baked line-caught BC salmon. The rustic-chic tents rest on wood platforms covered in jute carpeting and feature plenty of luxury touches, including beds handcrafted from 250-year-old white oak, Egyptian cotton sheets and down duvets. There's also a communal lounge housed in a tipi, outfitted with a working fire pit, pillows and library.
Options: Tents with a queen or two twins, sleeping up to 2
Price: CAD $440 and CAD $660
Season: July 1 through September 30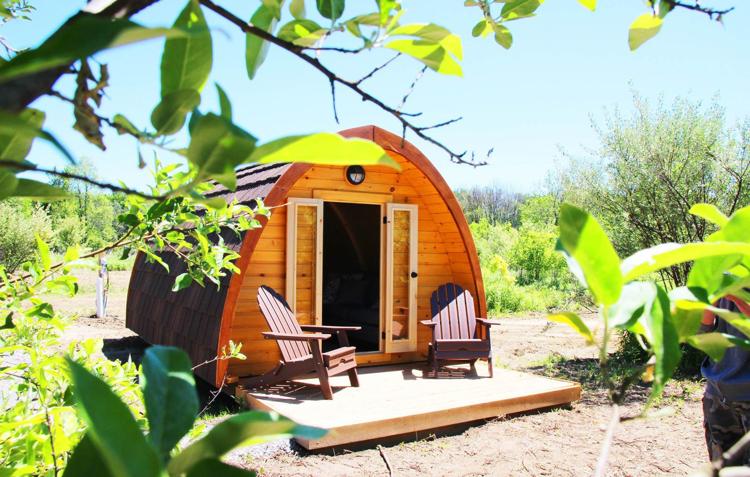 If adventure is more your speed than unwinding, this resort glamping destination won't disappoint. Perfectly situated for land and water explorations, there's plenty to pack your itinerary with—kayaking, mountain biking, fishing and stargazing, to name a few. Plus, you can throw axes, zip line or embark on a canopy tour, all on the resort grounds.
You'll find more typical amenities here, too: there's free wi-fi, a restaurant overlooking the marshland and a winery on the property. Their lineup of wooden pods and safari tents offer the spectrum of experience, from the most basic unplugged camping pod (shared bathroom) to a variety of ones equipped with electricity (even mini fridges) and full bathrooms with outdoor showers.
Options: Pods and tents, sleeping from up to 2 to 4; pet friendly
Season: April through November 2