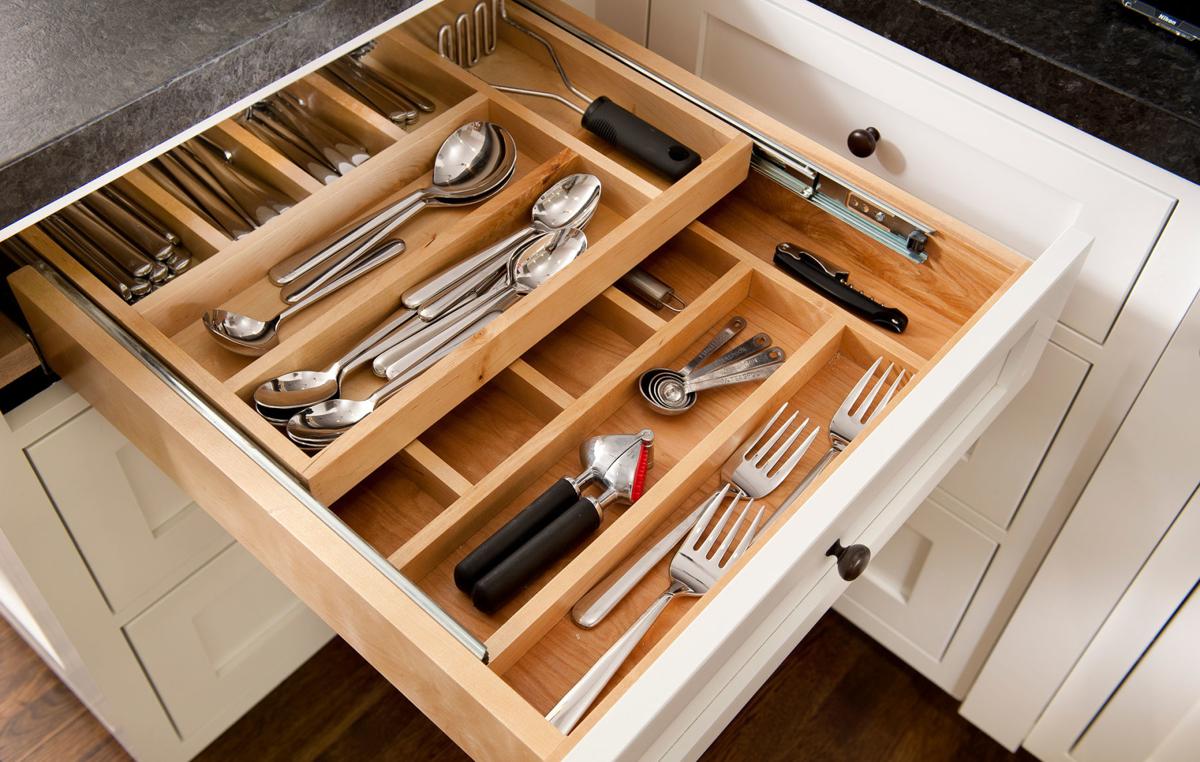 The kitchen is the heart of the home: it's where people gather. But its central hub status also makes it a natural landing spot for all sorts of stuff. Here are a few pro tips and tricks to help maximize your space from Jamie Shaner, a professional organizer with Home Solutions of WNY, Inc.
Gather like with like
In order to get an honest assessment of what you're working with, sort everything you're organizing, like with like. This will immediately expose the excess items.
Know before you go
Like any home project, it pays to have a plan.
"Resist the urge to shop too early in the process. Before you buy anything, know what it is you're storing. Otherwise, you won't have the right product for the job," said Shaner.
You may love the tea organizer from Pottery Barn, but if you're more of a coffee drinker, you can allocate those funds to other organizational tools.
Speaking of coffee…
Coffee mugs are a major crowded cupboard culprit. Shaner explained that when you use valuable real estate storing items you have too many of, you end up cramming things into already full cupboards. You can always donate extra mugs to the nearest Goodwill or AMVETS.
Measure once, cut twice
A simple modular organizer ensures everything has its designated spot but is also visible and easy to get to.
"Make sure you have measurements for your drawer depth and height. So often people will buy something that looks awesome, but doesn't fit in their space," added Shaner.
If you still have empty space after your measurements, be sure to use it up! Every item that has its own place is one that's not cluttering up your countertop. You can always add smaller boxes or containers within the larger organizer to make the most of every inch. (Make Marie Kondo proud.)
Stack it up
Shaner's favorite plastic stacking bins are by Sterlite, found at WalMart, Target and Lowe's.
"They're great in a cupboard for wrangling spice packets, snacks, small cans, etc. They come in small, medium and large sizes," adds Shaner.
Pick a corner
A marathon organizing event may burn you out and the last thing you want is to give up halfway through with miscellaneous items strewn about your kitchen.
"Choose a category, like mugs, glassware or utensils, gather like with like, keep what you need and will realistically use, and release the rest into the universe for someone else who needs it and will use it," advised Shaner.
Phone a friend
You may also consider activating a professional organizer. What overwhelms you will excite them. Shaner recommended not to do any pre-cleaning: It's important for the organizer to see how things are on a daily basis.