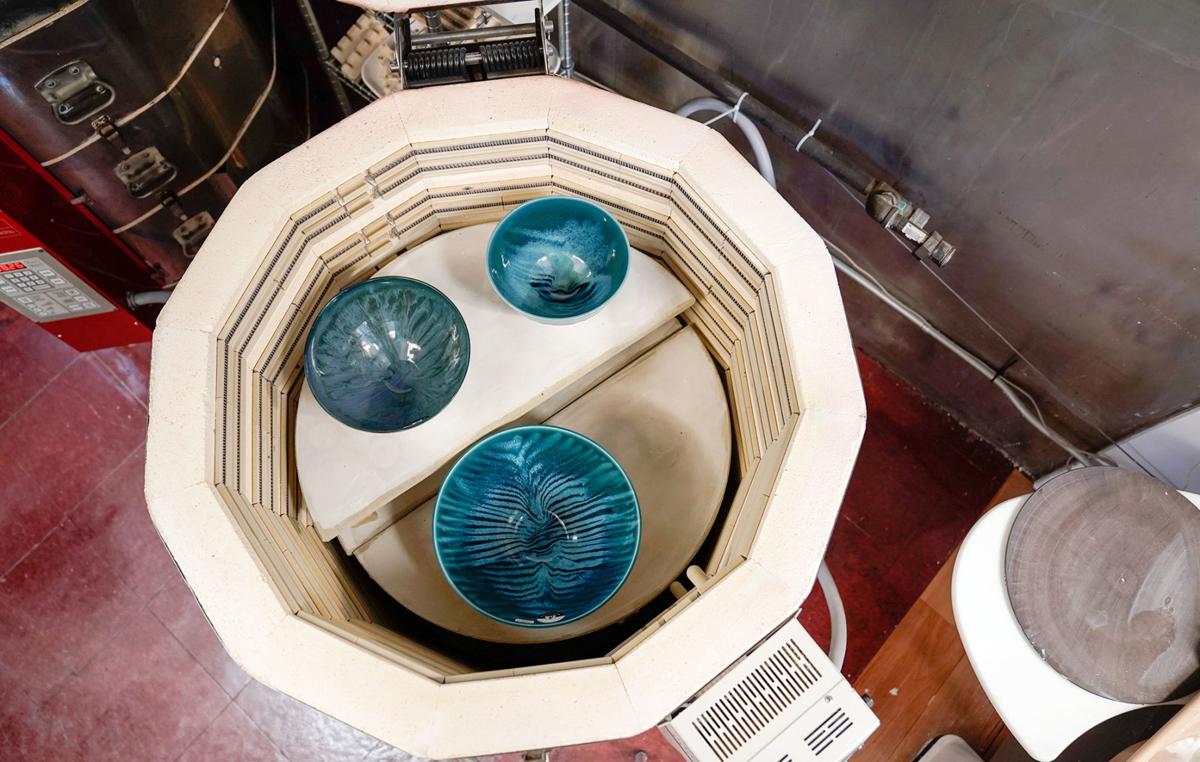 Greg Link, the artist behind the Cone Five Gallery, has become a businessman during his 23 years of crafting and selling pottery, but the art is what drives him.
"I love creating," Link said from his workspace in the back room of the gallery. "I've become a businessman by default. My passion is creating, I love coming into the shop at night when it's closed up and I can put my music on and just create. I think I'd get physically ill if I didn't have it."
For Link, the business started as a passion project. He always loved ceramics, and he had spent much of the '90s collecting pottery at various studios and art shows when he decided to try it himself.
He took an eight-week course with a local artist, and then bought himself a wheel and started creating on his own.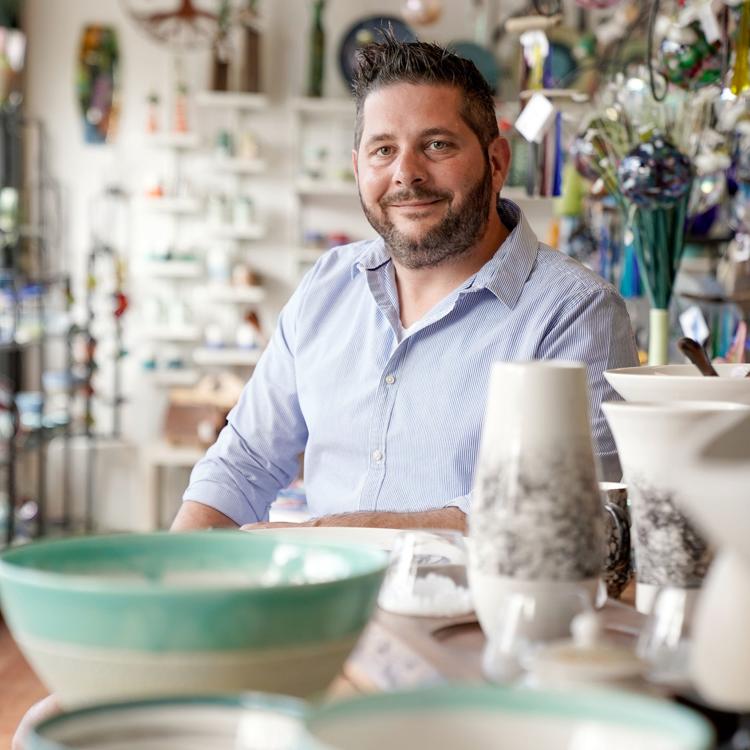 "Two years later I got a little studio and locked myself in."
After about a year, Link felt his work was finally up to snuff and he began selling pieces out of his studio. He eventually bought a gallery of his own in Allentown in 2001.
Since then his business has grown by leaps and bounds. He moved to the current location on Hertel in 2010, but his need to create has always kept pace with the growth of the business.
"I'm constantly evolving and trying new things," Link said. "I just started throwing pure porcelain in the last three years. There are so many possibilities, I have a sketchbook with three years' worth of ideas."
Link's pottery is artistic and beautiful, but eminently functional — everything he makes is designed to be used. All of his pottery is microwave, dishwasher, and oven safe.
Cone Five has also grown to include the work of over 100 other artists who specialize in metal, glass, jewelry and other ceramics.
"I've always loved supporting artists from all over," he said. "I'd rather buy a functional piece of art than spend $100 at Target."
Knead it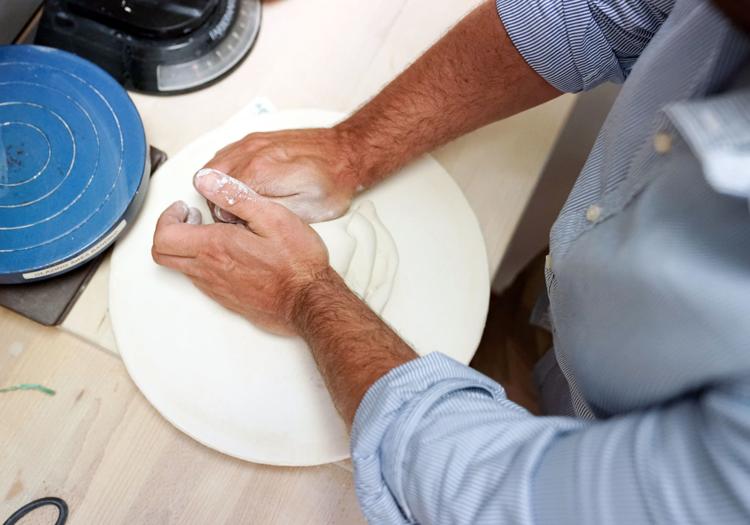 Link cuts a piece of clay to the appropriate size, then gets it ready for the wheel by pressing and folding it until more uniform and malleable — a process called wedging.
Throw it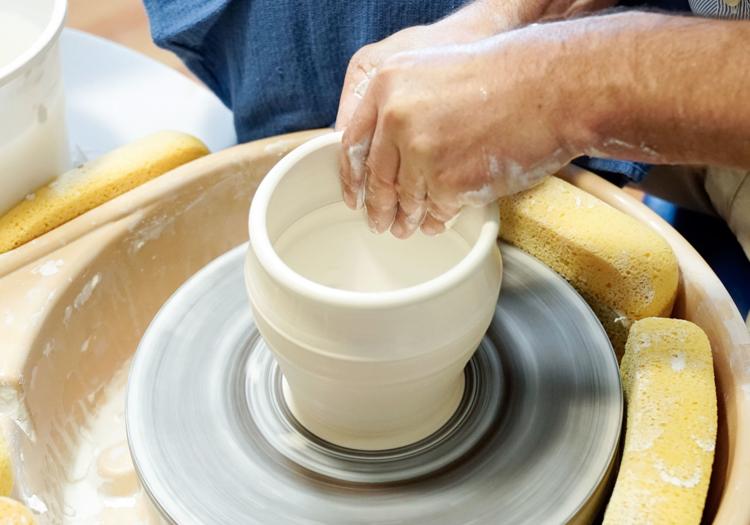 Each piece is then shaped by hand on his potter's wheel, called "throwing" the bowl.
Leather and lace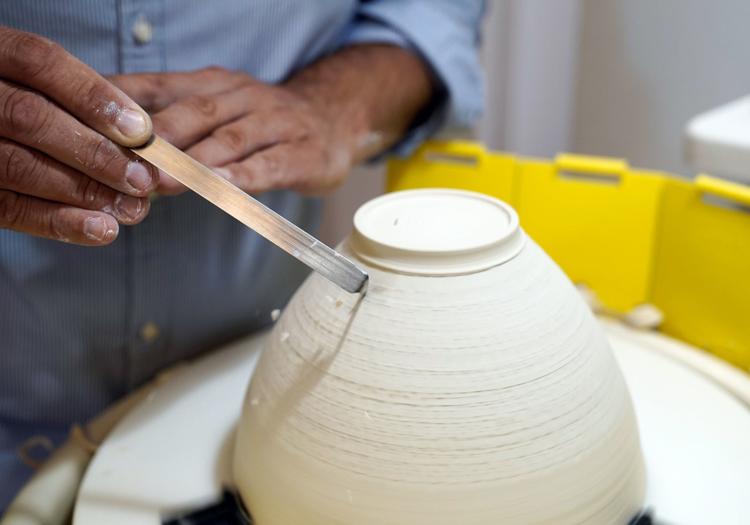 The thrown piece is left out to dry for several days until it reaches its leather hard stage. At this point, Link trims excess clay, cuts in the foot ring and adds the design. The design for this bowl is known as chattering — a series of small impressions made in the clay that form a unique pattern, as each is done by hand.
First firing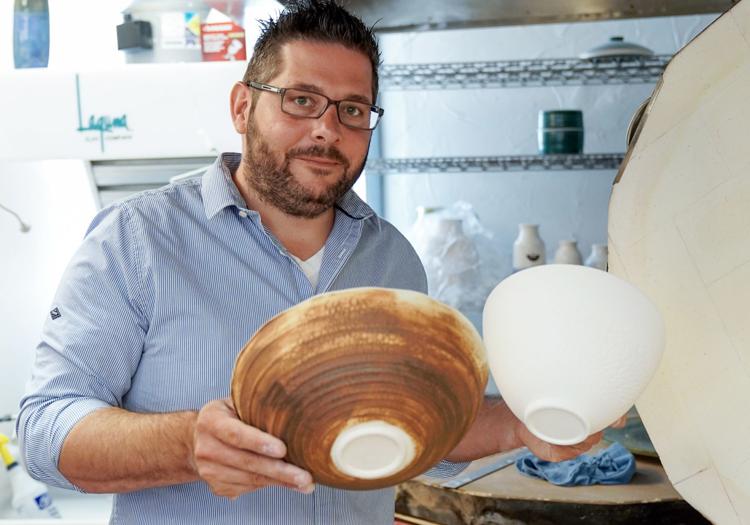 Link prepares the bowl for its first trip to the kiln with an underglaze and a way layer to protect it. The first firing, known as the bisque firing, will last for two days and reach 1800 degrees Fahrenheit.
Pop of color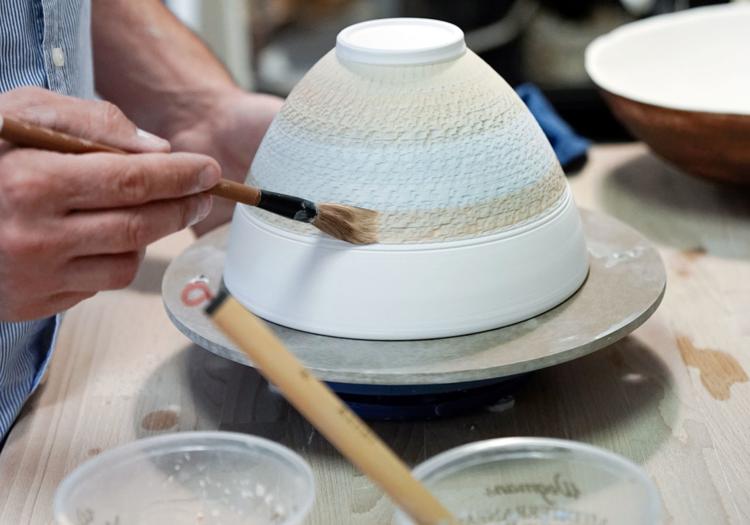 The glaze, made of powdered glass, is brushed on once the bowl has cooled down from the first firing.
Second firing
The second trip into the kiln melts the powdered glass in the glaze to create a shiny coating for the finished piece. For the glaze fire, the bowl is heated to 2180 degrees Fahrenheit for two days.
Be the first to know
Get local news delivered to your inbox!