Fashion designer Rashaad Holley is creating change in Buffalo's urban community, turning the fashion industry on its head and putting philanthropy at the forefront of his mission by teaching kids how to sew and style. His programming allows students to discover their creativity through the fashion lens and helps build a brighter future for the youth of Buffalo. 
How would you describe yourself as a fashion designer?
I think I'm a 'learning' designer and an 'experiencing' designer. My journey has been very important to the work that I put out into the world. I think that the quality of my work is something that I owe to the experiences that I've had in London, Italy and China. My style speaks to the time I've spent traveling and learning, where it's built into my aesthetic now. I've woven all of this inspiration into my work.
What fashion category do you feel like you design for?
I'm still discovering that, and I think that it's important I take my time to develop as a designer. I spent three years studying fashion at Buffalo State, and that's not enough. I think I'm going to end up learning as long as I'm blessed enough to be a participant in the industry. I'm nowhere near done developing my style, developing my work, taking chances and taking risks.
How would you describe your personal style?
My style has evolved to fit my profession right now. It's very important for me to be comfortable day-to-day. Even when I'm trying to impress people, being out, I simplify my style to focus on statement pieces and outstanding pieces that are timeless and tasteful. Quality is the most important thing to me. I don't buy things that I don't think I'll wear for five-plus years.
What are your favorite pieces that you have in your wardrobe right now?
My absolute favorite thing in my wardrobe right now is my Ports V coat. I'm also very into headwear, like my Acne Studio beanies. I have a boatload of sweatpants that I've made for myself that I really love. I have a few pairs that are more like carpenter-style pants with double knees and extra pockets and all of the details of a pair of carpenter pants but are sweatpants.
Let's talk about your footwear collection...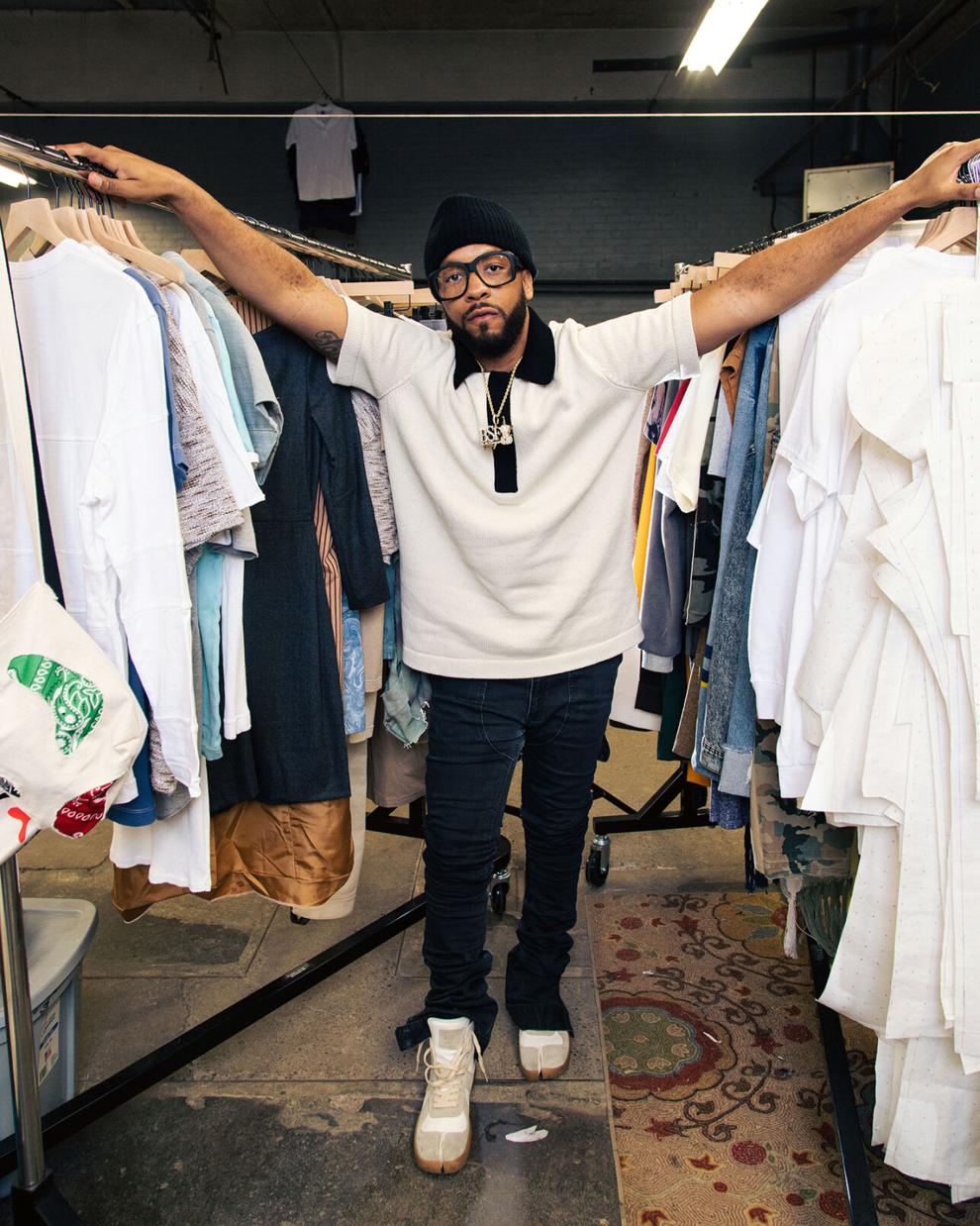 I love wearing Margiela shoes. One of my favorite sayings is, 'I never have a bad day while wearing a pair of Margiela sneakers.' They are my statement, I have a few pairs at this point, and of course, the Tabi replicas that I wore for the photoshoot are my favorite pair of sneakers that I ever bought while I was interning in Milan in 2018.
What are you currently working on?
I just recently came back from New York City. I took my interns, one of my former classmates and a colleague who does photography to New York City. We went to the MET, the garment district and Mood fabrics, which was a first for all of them. I picked up a bunch of tartan Balenciaga remnants, and I'm working on a bunch of new pieces right now.
What's next for Rashaad Holley?
I think that I'm going to continue to invest in my space, invest in the Ruth L. Holley Design Studio, and develop the creative lab that I hope to provide for fashion creatives in Western New York and beyond. I want to continue working with Western New York youth and developing design talent. My goal is to set them up to go to Buffalo State and prestigious fashion institutions. That would be my ultimate win to have someone who's come through my program end up at the New School or Central St. Martins.