"It's really not that complicated of a story," is a worrisome thing to hear before setting out to write hundreds of words on a given topic.
But this is what Cynthia Hammond, a docent with Explore Buffalo, candidly and kindly told me regarding "Little" Summer Street. The short lane that bends in the middle connects York Street and Richmond Avenue on Buffalo's West Side. It features 15 small brick cottages surrounded by much larger homes in the area, including the Birge Mansion and the former Fargo Mansion. The quaint, idyllic and extremely cute street is easily romanticized by passersby. You can't help but imagine all the whimsical ways it may have come to be.
In reality, it's fairly straightforward, as Hammond warned.
"The land was owned by Jesse Ketchum. In the 1870s, he was the largest private landholder in Buffalo. Ketchum was approached by Edward and Lydia Cox (Edward worked for him as a gardener) to specifically buy the section of property that included West Summer as it was known as at the time," says Hammond. "Lydia was English and had recently immigrated here. It is said she deliberately built the tiny homes to try to capture the English cottage town feeling that she had left behind."
"Coxtown" became the nickname for the area. The cottages were identical to one another—a one-story brick body with a front porch. Their architecture is often described as Italianate for the subtly sloping hipped roofs and arched-top windows. Though many of the cottages have been added onto, you can still see most of these signature features today.
While the street's history may be simple, I soon learned that that doesn't mean its story is uninteresting. Especially when you consider those who call it home. After all, what is a street if not the people who live on it?
The Mainstay
Biff Henrich has lived on "Little" Summer Street for 40 years. He was renting an apartment on the block when the cottage next door went up for sale. It was a happy coincidence that has worked out well for him and his wife.
"It was in pretty rough shape. I renovated it from top to bottom," says Henrich. "It was originally four rooms, two closets and a narrow staircase. Now it's wide open. One room and a closet, and that's it. We think it's a great room though and spend a lot of time in it."
The original exterior bricks remain as well as the rounded top window at the front of the house. Henrich thinks that is par for the course on Summer Street.
"People likely don't move in here to make major changes. They make the necessary changes," added Henrich. "The inside might get altered radically, but not the outside."
The houses will always have a small footprint. But it doesn't have to feel that way.
"I'm still here because I've never needed any more," says Henrich.
The Historian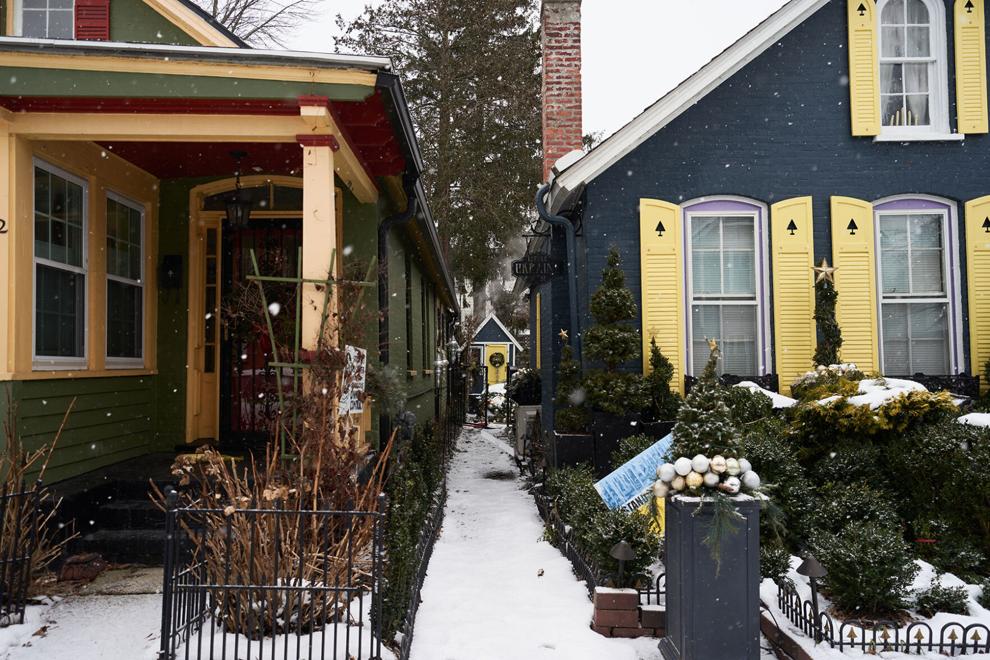 When Ellie Dorritie moved to the street in 1993, she was recovering from a recent surgery and had some free time on her hands. She spent it in the basements of Erie County and City Hall as well as local libraries. Dorritie was intrigued by her new neighborhood and interested to learn its history.
"The information I was finding often contradicted the rumors and myths that surrounded Summer Street," she says. "It belied all of the fantasies that people cooked up."
Her research, which regularly serves as a source for articles written on the topic, tracks the development of the street before it even was one.
"When I first moved in, most people had come to the conclusion that the cottages were built for officers from the fort after the Civil War. But that was never true," notes Dorritie. "The initial censuses indicate that they were rented and owned by working-class families with jobs in the industries along the canal."
Dorritie seems well aware of the lore that envelops her little slice of the city. For her, it was part of the street's appeal.
"I wanted to buy a house on the street for a long time," she says. "I really like old houses and the idea of preservation. This combines all of that."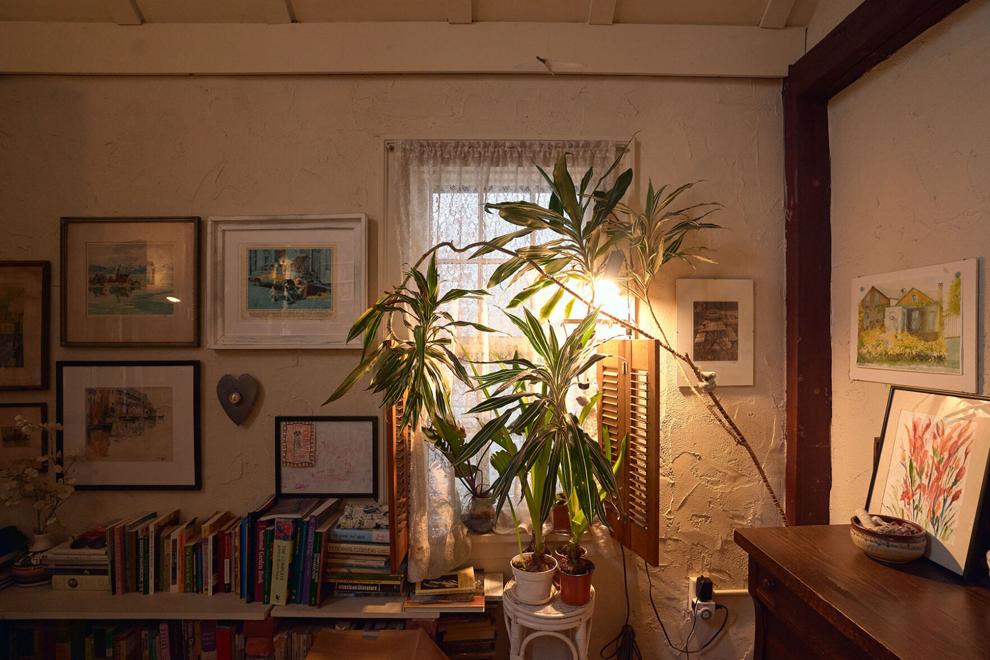 Her house reflects a reverence for the past. Dorritie converted an entire wall into a bookshelf. A collection that was once over 3,000 titles. It's mostly books on history and politics with a mix of science-fiction and murder mysteries now. Then there's "accumulated things," from family and friends covering nearly every other inch: a pal's first watercolor painting, a fossil and shell collection, hanging plants and silly toucan and puffin gifts from over the years.
Dorritie feels free to just be here.
"In order to live on a very small piece of property, in very close proximity to your neighbors, you have to have a very modified sense of land ownership and proprietary rights. It has to be very low on your list," says Dorritie. "I am surrounded by people who don't care where their property lines are or what you do with your life. I love that."
The Downsizer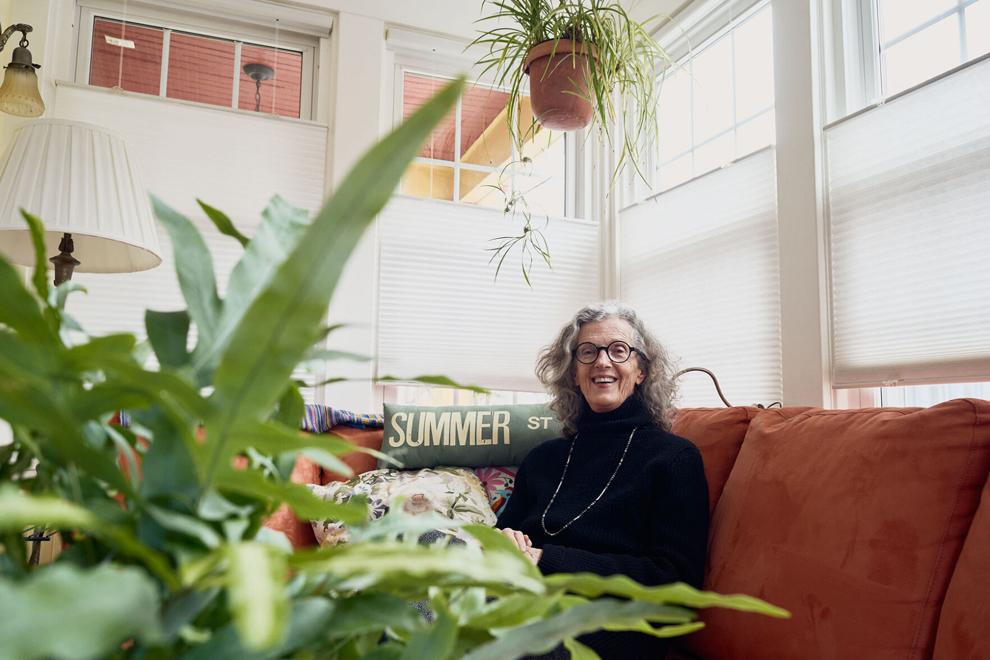 Catherine "Kitty" Herrick discovered her forever home in 2004. She was looking to downsize. In fact, Herrick told her realtor she was only interested in 2,000 square feet or less. A little 895-square-foot cottage on Summer Street become available. While it was much smaller than requested, Herrick instantly knew it was "the one."
"I had always lived in old houses. My parents collected antiques. All of the furniture I had was old. I felt like I belonged here," says Herrick. "I was excited but concerned. I had a lot of possessions."
Herrick's home would become a masterclass in maximizing a space. China plates and tea cups are on display above every doorframe. She built a bookshelf in one closet and houses her entire wardrobe in the other. Plus, there's a porch with a swing, which expands her living areas in the summertime. She's also a beekeeper. Her equipment is on a "bee deck" that was constructed on top of her garage.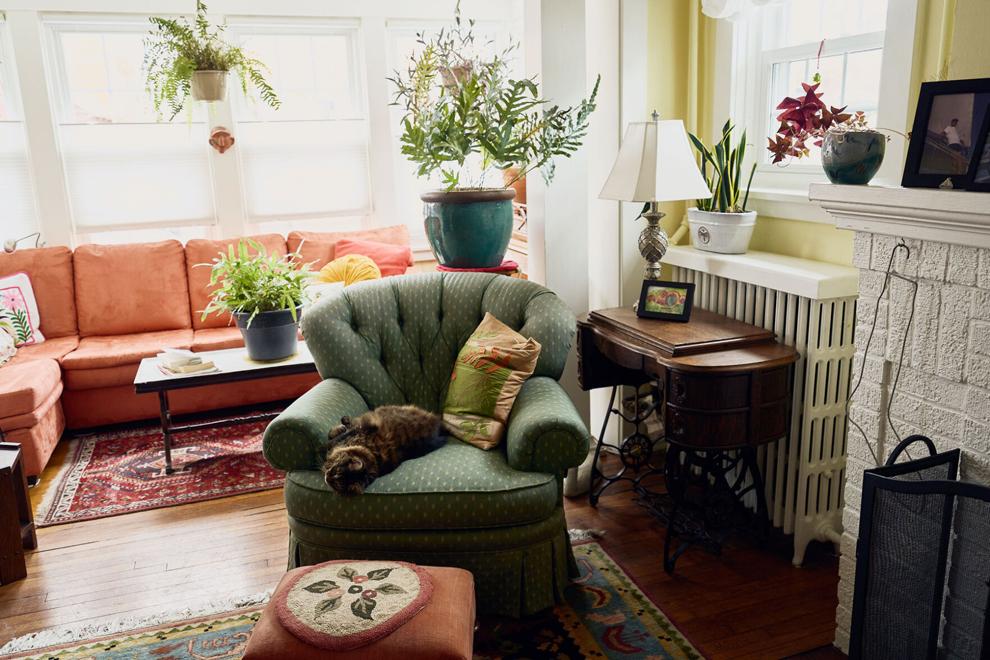 "I feel like I have taken every single corner that is possible here. I found a way to use all of the space. I live in all of it. All of it," notes Herrick.
She admits it does feel small sometimes, but even sees an upside to that.
"The tight space allows us to build friendships," Herrick says. "This neighborhood is a major support for me. They check up on me. Roll out my garbage cans and dig me out of the snow. It's nice to have good neighbors."
The Artist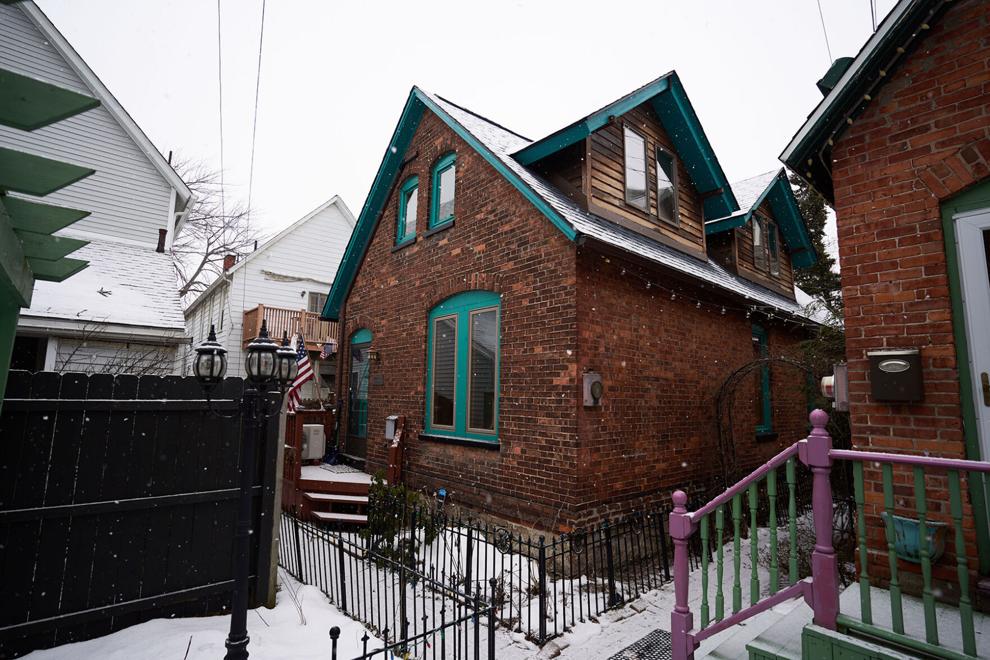 When Thomas Knab was looking to move to the City of Buffalo, he was seeking a condo, something that had a small footprint to maintain. His friend tipped him off to a house on the market that was among the row of houses on Summer Street that sit behind the main drag.
"We actually walked over and took a peek inside the windows. I saw the staircase, the skylights and the stacked stone. It was a very cool space. I knew I wanted to get inside," says Knab.
Once on an official tour, Knab placed an offer, won it and immediately thereafter made the house his own.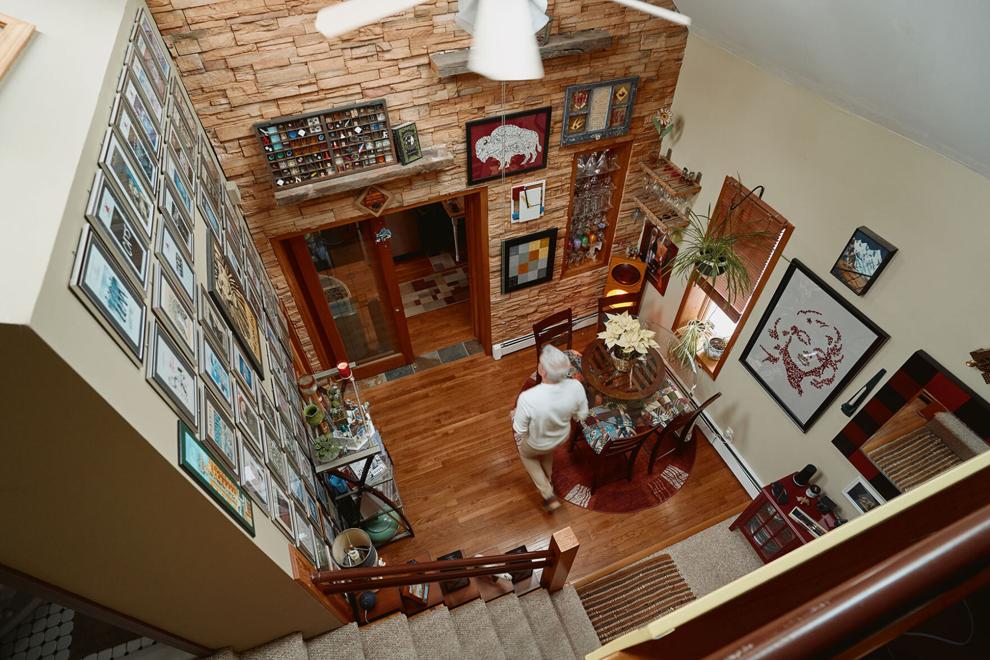 As an elementary art educator and exhibiting artist, Knab's interior is legitimately artsy. He has a lot of his own work hanging on the walls, including iconic portraits recreated with puzzle pieces. There's Marilyn Monroe, Elvis Presley and John Lennon. But Knab is a man of many passions and all are on full display.
"The theater is my church. I had playbills going back for years and knew I wanted to do something special with them," added Knab.
The finished product is over 50 playbills framed and arranged from ceiling to floor on one wall. Another shelf features several volleyballs, including a golden one. Knab has been coaching the sport for 39 years. The house, though small, is oozing with personality.
Experience Buffalo's cutest little street
While you can always take a walk or drive up the quiet street, there are more intimate (albeit non-intrusive) ways to appreciate "Little" Summer Street.
Take a Cottage District Tour
Cynthia Hammond leads Explore Buffalo's Cottage District Tour, which covers the many historical mansions in the area, as well as Kleinhans Music Hall, Symphony Circle and "Little" Summer Street. The tour provides an opportunity to see these architectural wonders up-close while learning from passionate volunteers. Check Explore Buffalo's calendar for upcoming dates.
Visit during the Garden Walk
The street is a very popular destination for the weekend-long event, which showcases private gardens throughout Buffalo. This story's own Ellie Dorritie was instrumental in bringing the free, self-guided tour to Summer Street. Foot traffic is so heavy that the entire street is blocked off. This year's event is July 29–30.