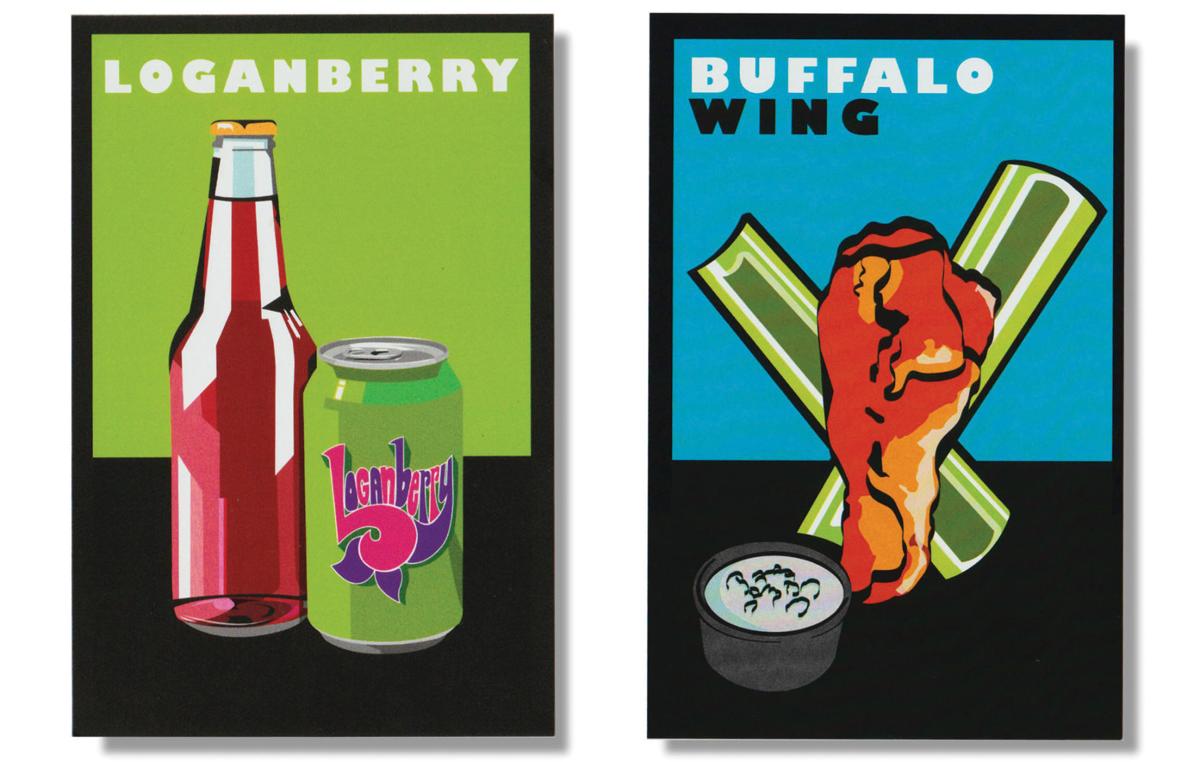 Art can make your place feel like a home—especially when it has meaning. Here in Buffalo, we're proud of where we live, so it's only right that we display our city love. Local graphic designers have created beautiful pieces to do just that, highlighting our classic sites, buildings and even our favorite foods in a clever, visual way. Here are a few of our favorite pieces and the stories behind what inspired their work.
Winter's charm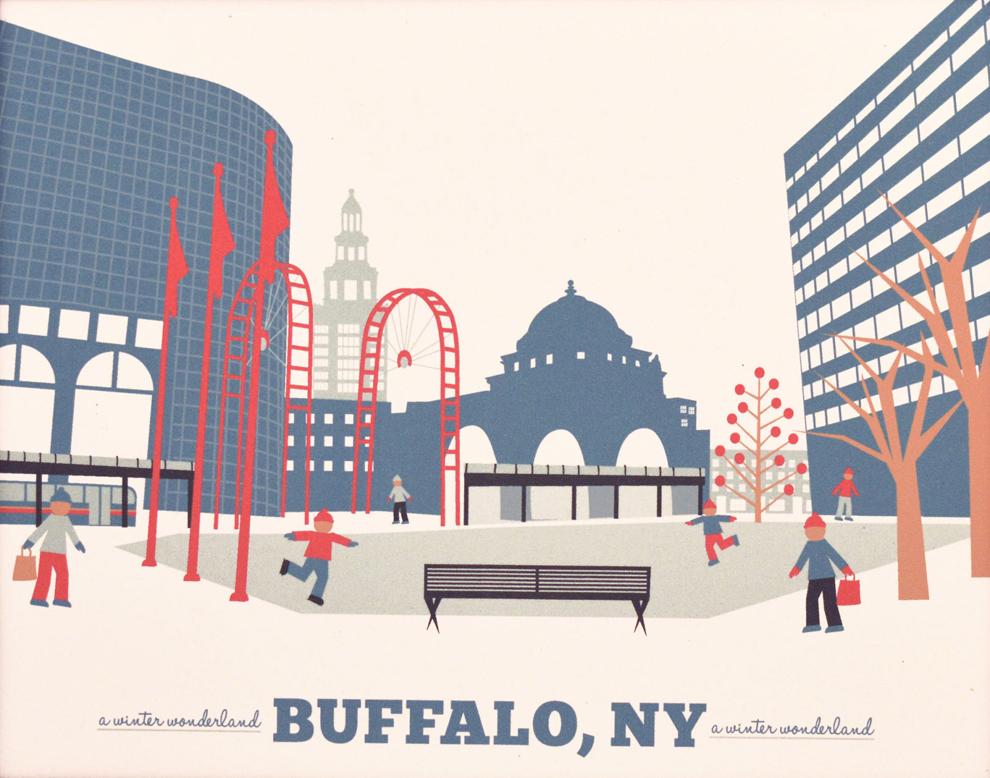 Christa Penner, the owner and operator of ShopCraft in the Elmwood Village, wears many hats. Not only does she own this artisan collective shop at its new location on Elmwood Avenue, but the West Seneca local also does freelance marketing and design work for other small businesses—and creates art herself for her own Etsy shop.
"My art is inspired by so many things in my everyday life," says Penner. "This work is inspired by the beautiful architecture of this city and amazing community that exists here in Buffalo."
Penner's work and support of local businesses comes from her love of the community. "Everyone is so willing to help each other out, it makes my heart happy."
Framed options also available
In the neighborhood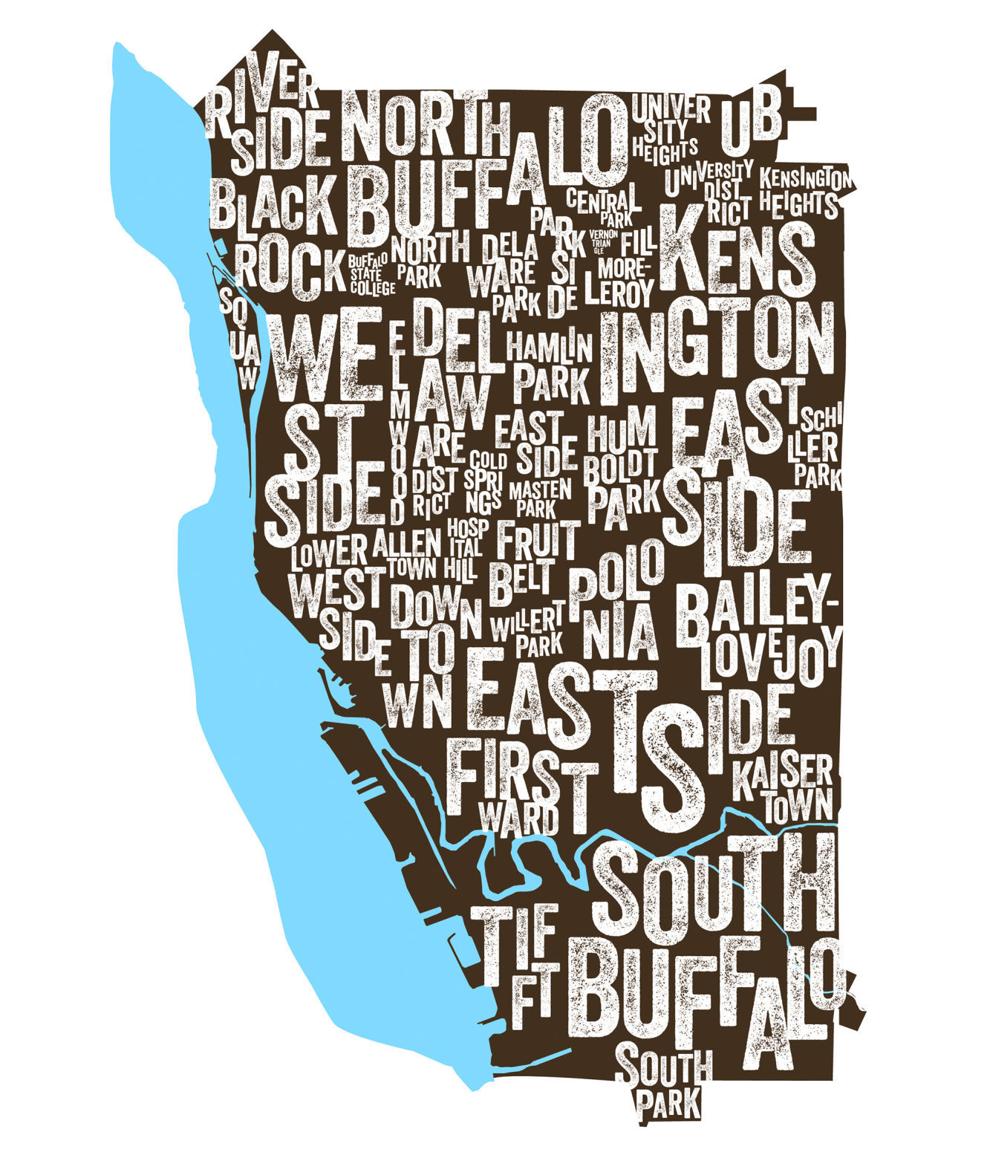 "As a graphic designer, I find inspiration in a variety of places, ranging from typography and symbols to architecture and maps," says Bob Vaccarella, Clarence Center resident, creative director at Independent Health and the owner-artist behind Carta Graphic.
"In my artwork, I spotlight specific cities, towns or regions. Everyone has a favorite place. Sometimes it's a distant vacation spot. Sometimes it's home. My goal is to highlight these places and create happiness."
When Bob thinks about what he loves most about the city, it's the abundance of hometown pride. "As Western New Yorkers, we all know it's a great place to live and visit. Now the rest of the country is starting to take notice," he says.
Rust Belt beauty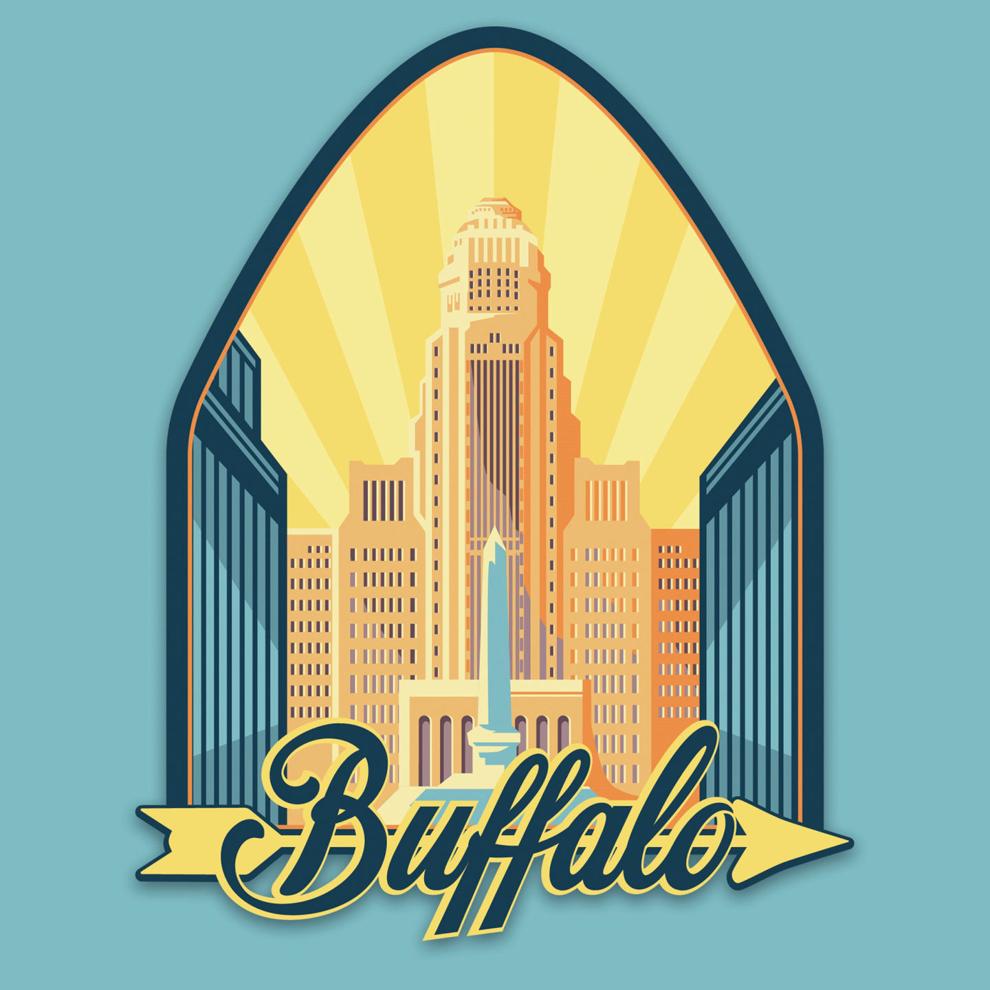 A graphic designer at Haley Marketing Group by day, Williamsville resident Joanna Eberts also channels her creative side by teaching circus arts downtown at Up Aerial Fitness, freelance illustrating and running her own Etsy business.
"I'm inspired by feelings in the sense of what defines a place. For portraits, I want to capture who the person is and what they stand for," says Eberts. "For pieces like this one, it's capturing a side of a city that's experiencing a resurgence, while nodding to its history. The beautiful architecture in Buffalo as well as its ties to former industrial glory like my hometown (also a rust belt town, Toledo) intrigued me, and this piece was part of a Rust Belt series I started where I include references to automotive parts in each city as well as their sports teams."
One thing that shocked her the most about this city is how friendly and welcoming everyone is. "Since I moved away from where I grew up, I never really felt I belonged anywhere until I moved to Buffalo," Eberts says. "The people want to share their stories and get you up to speed on the in-jokes, from sports frustrations to local hot spots past and present. Buffalo folks are welcoming and laid back."
8-by-8-inch print, $25 (printed locally)
Distorted interpretation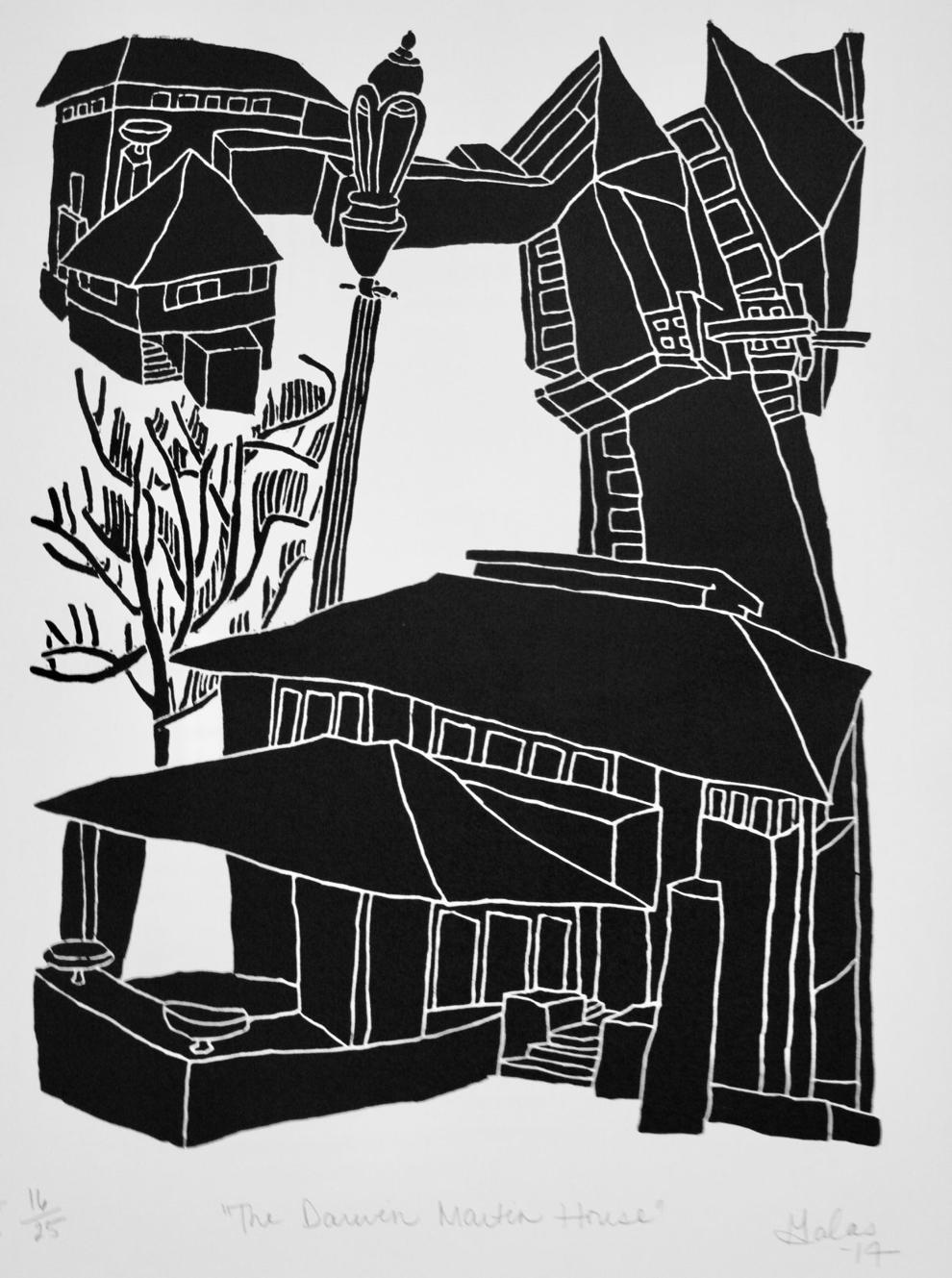 Daniel Galas planted his roots in the village of Kenmore with his wife and business partner, Jacquelyn Galas. Dan is the artist—and Jacquelyn prints the lino-blocks (a carving technique with linoleum) at the WNY Book Arts Center.
For his day job, Dan is a carpenter at Buffalo Treehouse in West Falls, building impressive, high-end creations. (They're even planning on an exhibit for Explore and More Children's Museum at Canalside, so keep an eye out for that.) When he's not building unbelievable treehouses, Dan runs his Etsy shop where he sells his art, which is also available at Burchfield Penney Gift Shop, Bonfire Craft on Hertel Ave. and WNY Book Arts Center.
"I'm often inspired by other artists' work and music, especially the blues," Dan says. "Broadly speaking, I'm inspired by things that have character. I've always been turned on by people, places and things that have a weather-worn exterior and colorful interior."
Dan loves exploring the city for ideas, taking the architecture and the urban decay into account when developing his own unique identity as an artist.
Local cravings
Shauna Bogdan works at Roswell Park's call center while running her Etsy shop on the side from her home in West Seneca.
"Many things inspire me," Bogdan says. "It could be a moment in time, a story, a memory from my childhood or just an idea that pops into my head while walking my dog. From the prints you can tell my inspiration was Buffalo food; I must have been hungry at that time."
In addition to the amazing breweries and restaurants we have locally, she loves the support she gets from not only friends and family but the local art community, too. "The support, knowledge and resources they provide to any new or experienced artist is welcoming."
8.5-by-11-inch prints; $15 each
4-by-6-inch postcards (set of 7); $11